At Orlando Informer, we view our readers as family. We want you to have the best experience possible when you visit our humble virtual abode. That's why I'm excited to share that we have removed traditional (and, often, intrusive) advertisements from our website, though you may still see one or two pieces of sponsored content with brands we trust over the course of a year.
Why we're removing ads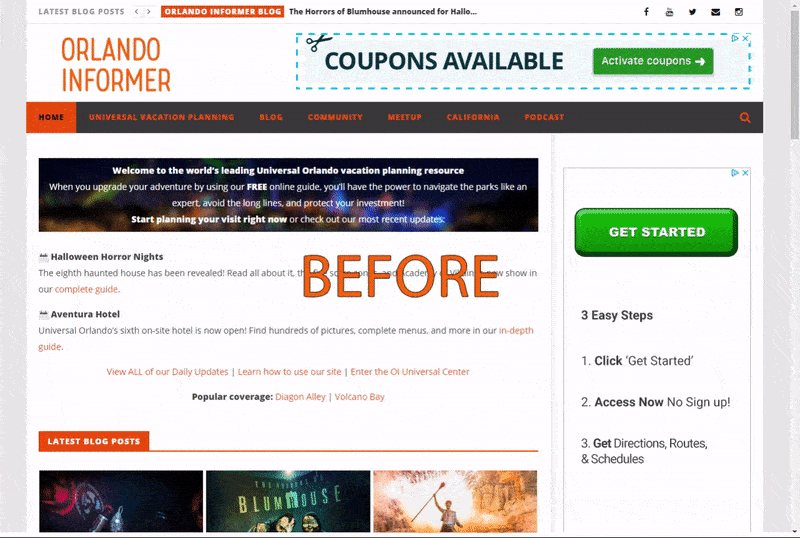 We've found that these advertisements lead to a less-than-ideal experience for you. Like most sites, previously we were not able to assess every ad (and the advertiser behind them) you may see. Just as I wouldn't recommend a company to a guest of my home without first checking it out, I don't think that we should be sending readers of OrlandoInformer.com to third-party companies we aren't familiar with.
Frequent OI visitors may have noticed this change a number of days ago. We're already seeing terrific feedback – we've noticed a double-digit increase in the average amount of time a guest remains on our website and a substantial increase in the number of pages readers view. In an industry where most sites have chosen to place seven to 11 ads on articles with 100 to 300 words, we're excited to offer in-depth content almost always over 600 words with zero advertisements. (And we'll continue our longstanding practice of only publishing blog articles when there's something to write about, saving the shorter blurbs for social-media posts.)
Other steps we're taking
Removing ads isn't the only action we're taking to make sure you have a better experience when visiting Orlando Informer. At the beginning of August, we made the leap to an even better dedicated website server, which will ensure our site can load in a snap even when the biggest breaking news is published. In addition, we're methodically combing through our almost-2,000 blog posts we've run over the past seven-and-a-half years to make certain that each article still provides value now. We'll be updating or deleting posts that are out of date and don't provide a comprehensive look at a moment of history. We expect this process to take a good amount of time, but we're excited for the results.
How you can support us
We wouldn't be able to make these changes without your incredible support. Whether this is your first time on Orlando Informer or you've been visiting the site for seven years, thank you.
The best way to support us is to simply stay connected – it's free to you and helps us considerably. Here's where you can find us, and what you can expect from each channel:
Thank you again, and we look forward to the next seven years.
–
Be sure to follow Orlando Informer on Facebook, Twitter, and Instagram for the latest news and tips at Universal Orlando, Walt Disney World, and other Orlando experiences.