Trick 'r Treat house announced for Halloween Horror Nights 2018
It's something of déjà vu for Halloween Horror Nights fans: the anthology film Trick 'r Treat is arriving as a haunted house this year.
Fans will remember the property as the headlining scare zone from last year's event, which ended up becoming a number of attendees' surprise star of the show (and which, no doubt, convinced Universal to include it in 2018's roster of mazes). While such a transition – from zone to house – is rather rare in Horror Nights's 28-year history, this type of development is actually par the course for the cult movie: originally intended to hit theaters in 2007, when it was shot, Warner Bros. got cold feet on the (at-the-time) unusual beast, sitting on it for two years and ultimately settling on a straight-to-video release. Word of mouth, however, kept Trick 'r Treat alive, spawning special-engagement screenings, 24-hour movie marathons on Fearnet (the short-lived horror cable channel that was folded into Chiller, which ended up becoming another short-lived channel), interesting merchandise, and a comic-book follow-up (called Trick 'r Treat: Days of the Dead, which only released in October 2015). A sequel has often been talked about over the course of the past decade, with writer-director Michael Dougherty just recently stating that he'd like to make it his very next project.
(Speaking of Trick 'r Treat's various wonderful spinoffs, we just had to include this little gem: a short, filmed by Dougherty himself, that was included in one of his movie's various marathons on Fearneat. While it perfectly captures the spirit of the source material, it's absolutely not for everyone – viewer discretion is advised.)
So, how can the fan-favorite scare zone (and movie) make the transition to a full-fledged haunt? On the one hand, that's not a tricky proposition; the anthology Trick 'r Treat intertwines four different stories – plus an introduction – loosely together, showing how four different sets of characters go about their supernatural way on one Halloween night. The fact that the film includes nearly all of the classic Halloween staples, from vampires and zombies to serial killers and home invasions, means that a maze based upon it could, at least in theory, be one of the best-balanced haunt experiences out there.
On the other hand, however, last year's scare zone earned a fair share of criticism for being more of a photographic area instead of one predicated on actual scares; while its visuals were some of the strongest in Halloween Horror Nights's history, featuring hundreds of lit pumpkins and pitch-perfect recreations of the movie's various scenes, the opportunities for scare actors to jump out, prowl after, or otherwise torment you were limited, to say the least. Providing a house that is filled with horror instead of photo ops will require a fundamentally different approach from Universal's Art and Design team – which, actually, would only work in guests' favor, as it would provide for two entirely different interpretations of the same property.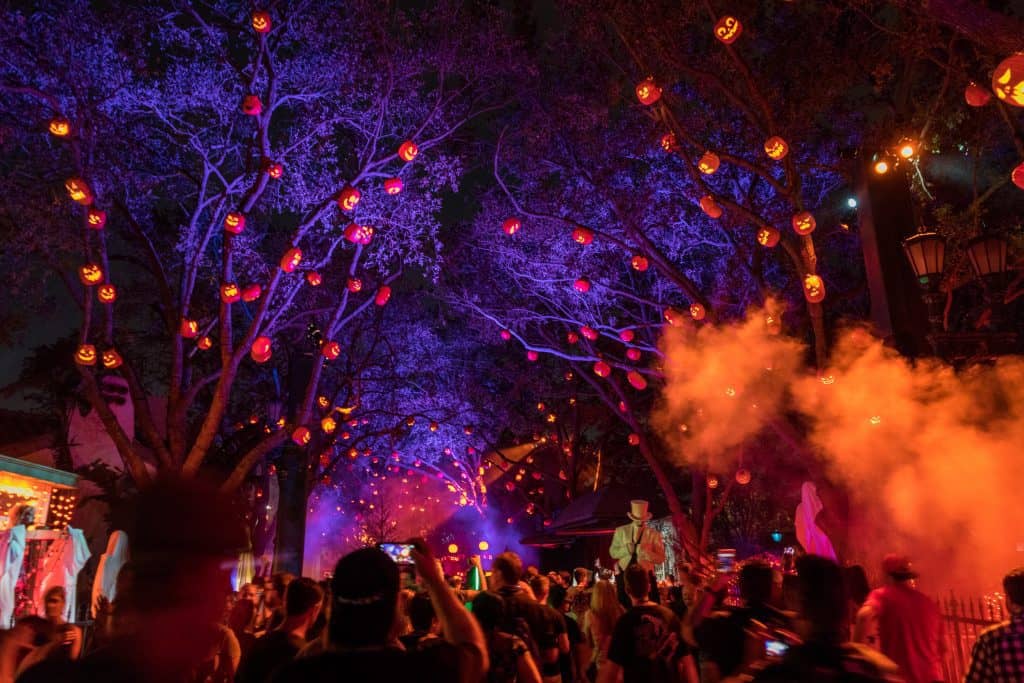 Universal itself has weighed in on the matter, giving fans a bit of a teaser:
Guests will experience some of the film's most grisly scenes and encounter hauntingly familiar characters. They will meander through Mr. Kreeg's infamous house, watch as college students viciously transform into bloodthirsty werewolves and dismember the town, and come face-to-face with Sam – the spirit of Halloween – who readies to punish those who break the holiday's tradition.
(Maybe the best way to get a predictor of how Trick 'r Treat will operate in the maze setting is to look to another one of Michael Dougherty's films, Krampus, which landed as a haunt – on both coasts! – in 2016.)
Trick 'r Treat will join Stranger Things and Dead Exposure: Patient Zero at Universal Orlando's Halloween Horror Nights, which runs for a record-breaking 34 select nights, from Friday, September 14 to Saturday, November 3.
–
Find out everything you ever wanted to know about HHN – plus more! – in our insider's guide.
And be sure to follow Orlando Informer on Facebook, Twitter, and Instagram for the latest news and tips at Universal Orlando, Walt Disney World, and other Orlando experiences.