Yes, we might have known all about Toy Story Land's three attractions, its placement on the Hollywood Studios map, and a general timeframe for its opening (2018), but that still left quite a bit in the dark. What would the area's various dining and character meet-'n-greet experiences be like? What would happen to the next-door Pixar Place, the original home of the insanely-popular Toy Story Midway Mania ride? And what is the exact opening date?
While Disney decided today at its D23 Expo to fill in only one of those blanks, it just so happened to be the most important one of them all: the opening date. Guests can walk into Andy's backyard at Toy Story Land in the summer of 2018.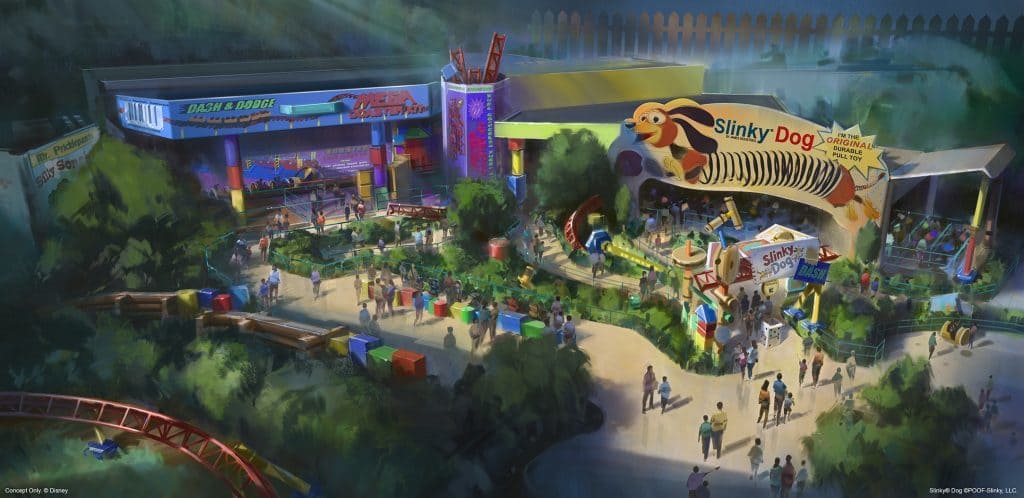 Lest we be tempted to fault the company for not divulging more, we should remember that it actually had a packed-to-the-gills presentation this evening, announcing a massive new E-ticket for Magic Kingdom (Tron Lightcycle Power Run), Epcot (Guardians of the Galaxy), and Hollywood Studios (Mickey and Minnie's Runaway Railway) each; new transportation options for Walt Disney World Resort (gondolas and Uber-like Minnie Vans); and, but of course, a Star Wars-themed hotel. Hopefully, it won't take Disney much longer before all the rest of those answers are provided.
Toy Story Land will debut in summer 2018 at Disney's Hollywood Studios.
–
For everything you could ever want to know about Toy Story Land – plus more! – be sure to check out our complete guide.
And for even more from D23, follow Orlando Informer on Facebook, Twitter, and Instagram.