Over its three decade legacy, Halloween Horror Nights has built a hallowed tradition for seasonal scares sure to give even the bravest of us a shudder. In celebration of their 30th anniversary, as if using the recent Mardi Gras and 2020's Experimental Halloween Event as spring boards, Halloween Horror Nights' creative minds at Universal Orlando have presented us with select devilishly delicious food concepts dedicated to the event's houses and icons. Many are brand new and specific to this year, but traditional favorites such as the Twisted Taters and Pizza Fries are still plentiful.
Most of the offerings are only available during the event's operation and you can find them being served at several themed booths and venues around Universal Studios Florida. Given that there is such an eclectic menu with more offerings than ever, we felt that we should scope it out and give you, our readers, some direction. While your mainstay menu items are popular for a reason, our collective goal was to sniff out the more unique choices that are worthy of your money and consumption. With that said, the following is a list of my suggestions to fuel you for the terrifying night ahead.
Halloween Horror Nights 2021 – Three Best Food Items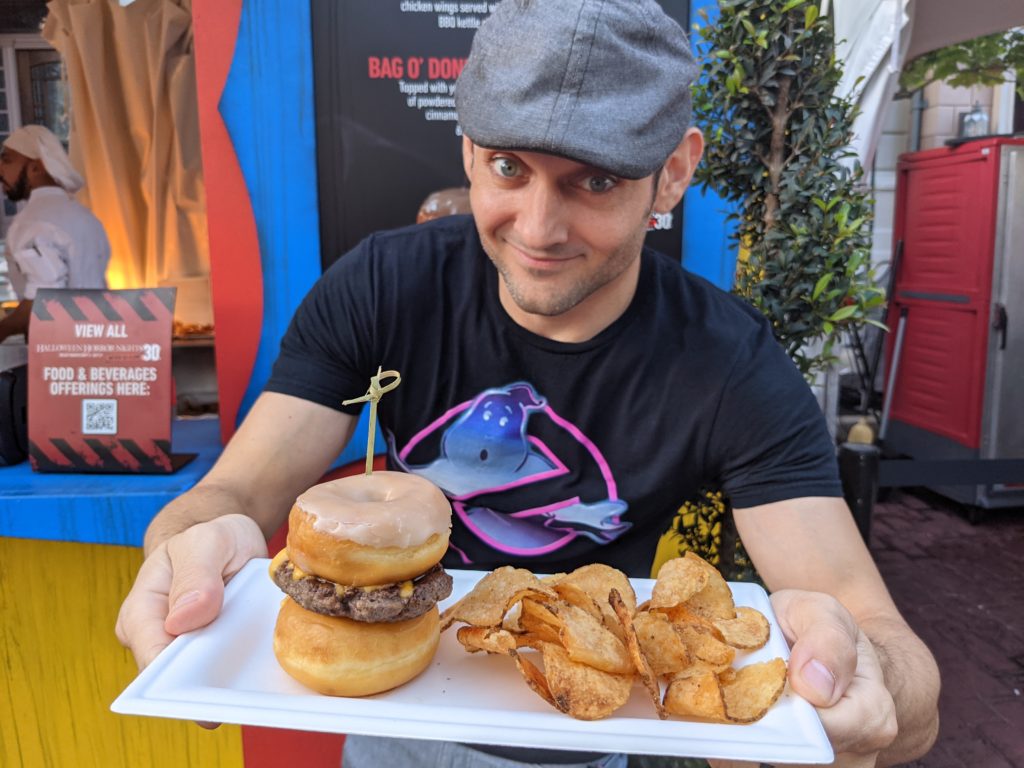 1. Jack'd Donut Slider ($9.99)
Location: Jack's Place, New York
This sweet and savory item inspired by the legendary and depraved ringmaster himself has taken the Carnival of Carnage menu's center stage. Plated before you is an Angus beef patty topped with bacon jam and nacho cheese, nestled between two mini doughnuts. This is served with a side of house-made potato chips. I've got to admit, this was a new flavor combination for me. I found the bacon jam to be naturally sweet, but not overpowering thanks to the nacho cheese, which rounded out the flavor and provided a fun mess to enjoy. The doughnut "bun" is fluffy and fresh, and the bourbon glaze topping is enough to simply add to the overall flavor without making the slider an issue to hold. The house-made potato chips add a nice salty crunch and compliment their greasy, sweet companion, making this treat worth the asking price.
The Jack'd Donut Slider is a concept straight from the Krustyburger wheelhouse, which makes it a perfect fit for Jack. It evokes thoughts of a twisted carnival food stand and hits the exact mark it's aiming for. If you haven't experienced a flavor combination like this before, it could take a second to get used to, but that doesn't mean you shouldn't try it. Although it wasn't my personal all-time favorite, it is still first on my recommendation list for people to try and enjoy.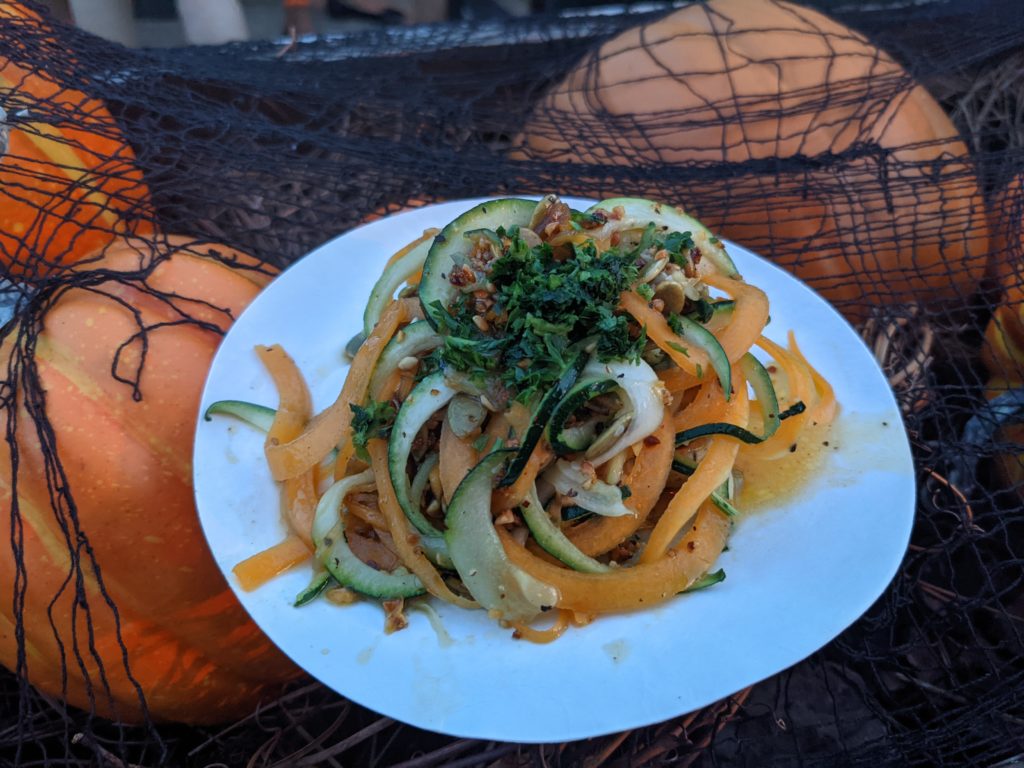 2. Pumpkin Guts ($9.49)
Location: Wicked Growth: Realm of the Pumpkin kiosk, World Expo
This vegan delicacy consists of zucchini and butternut squash noodles sauteed in brown butter, then topped with pumpkin seeds and a hazelnut gremolata. It's plated on a roasted delicata squash — almost as if it's literally exploding from it! — and has texture similar to pasta. Speaking of its textures: the zucchini and butternut squash noodles are al dente enough to maintain aspects of their natural crunch while complimenting the delicata's softer essence. I was concerned that my meal would be swimming in butter before I was done, but the delicata soaked up the brown butter and ultimately provided a full-bodied finish to the otherwise salty dish. The sweetness of both the delicata and butternut squash (mixed with the saltiness of the nuts and seeds) helped liven the flavors with a fantastic balance of the recipe's overall characteristics.
If I had to declare Halloween Horror Night's best dish, this would be it. It's impressive, complex, unique, and it easily represents the event in every way. As a bonus, its name is packed with HHN lore: Its namesake was one of the movies featured in 2018's Slaughter Sinema house, which took place in Carey, OH (a recurring town within HHN legacy and a house of its own this year). Digging into the roots of Horror Nights mythos even deeper, guests actually get to travel through the Carvers' farm and pumpkin patch, the central point of the aforementioned Pumpkin Guts movie plot, within this year's Wicked Growth: Realm of the Pumpkin house .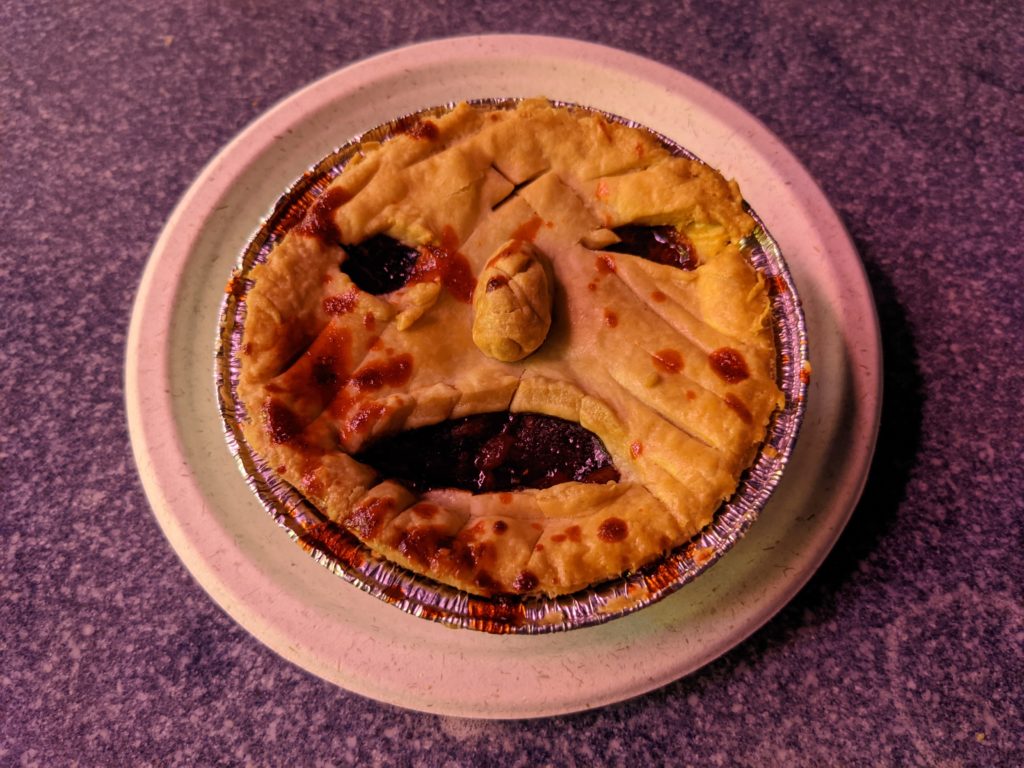 3. Leatherface Cherry Pie
Location: WE Slaughter Barbecue, Production Central
While cherry isn't my go-to flavor for pie, this is a great option for a classic Horror Nights sweet treat. It has an excellent balance of the ingredients' inherent tart and sweet flavors. The crust is tasty and compliments the pie filling well. Texture-wise, it's flakey but holds its structure well enough to contain the cherry filling that would have otherwise fallen apart. Although it is a mini-pie, it's still impressively deep. It's easily enough to satisfy one appetite or a decent amount for two to share as a snack or dessert to cap the night off.
Partaking in the selections at the Coca-Cola WE Slaughter Barbecue kiosk is already a fitting way to pay tribute to the Texas Chainsaw franchise. However, digging into a warm cherry pie whose crust resembles a person's face — down to the nose! — seems like something Leatherface himself would want to serve his guests as a playful nod to his victims. Most assuredly, there are plenty of choices for sweet treats, especially if you're venturing into the Tribute Store. However, if you want my direction- this is your dessert for the night and how I'd pay tribute to the Sawyer family's terrifying legacy.
Halloween Horror Nights 2021 – Three Best Drink Items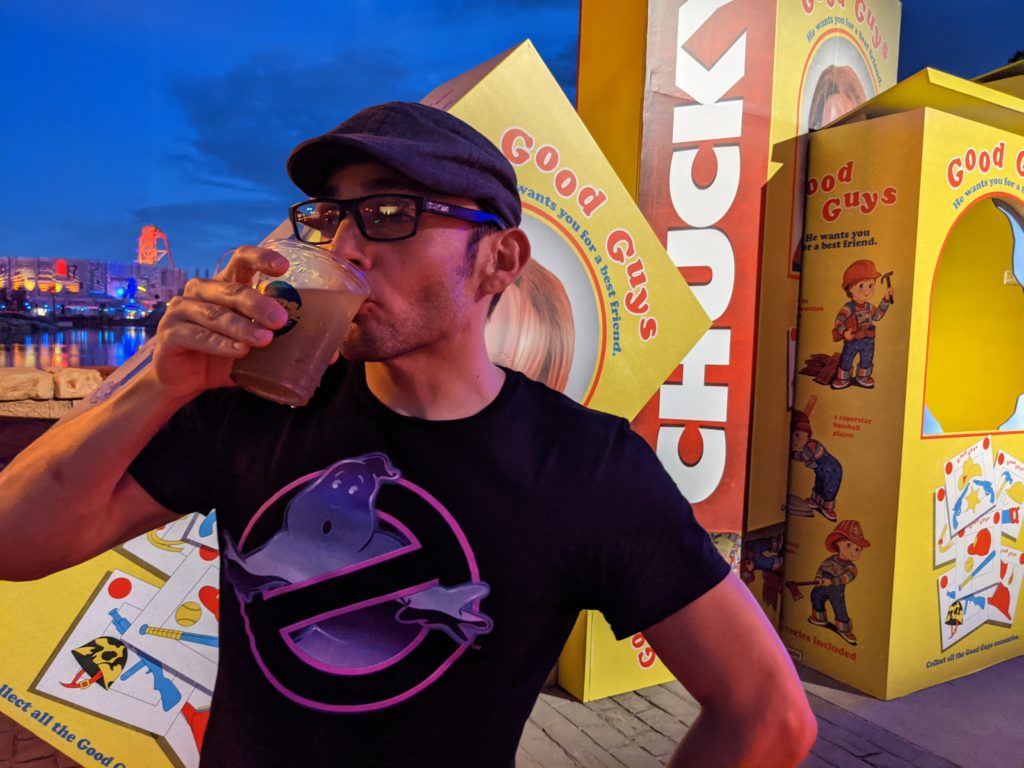 1. Bog Slime ($10.99)
Location: Wicked Growth: Realm of the Pumpkin kiosk, World Expo
Approaching the counter of Wicked Growth: Realm of the Pumpkin's kiosk, you'll see the clear beverage tanks of green liquid swirling and bubbling, looming as if the attendants are actually about to serve you literal muck. Thankfully, when I ordered the Bog Slime, what was instead dispensed was a fine mixture of New Amsterdam gin, a syrup made from matcha, and cardamom with a hint of lime juice. The fusion of the citrus-forward New Amsterdam and herbal, earthy flavors flow in near-perfect sync with that of the lime. To compare it this way doesn't do the cocktail justice, but if I had to relate it to something commonplace — you'd want to think of a variation of a margarita with botanical hints and no rim.
The Bog Slime is excellent and deserving of the hype. It's complexity and fun in a cup. In addition to it looking like its namesake, the cocktail's ingredients create an interesting bouquet of flavors. If you're like myself and hesitate to drink gin, I suggest braving this concoction. Although the ingredient is traditionally a bolder, botanically forward spirit, don't let it deter you. This one adds wonderfully to the drink rather than overtakes it. So be brave, take my lead and have a sip.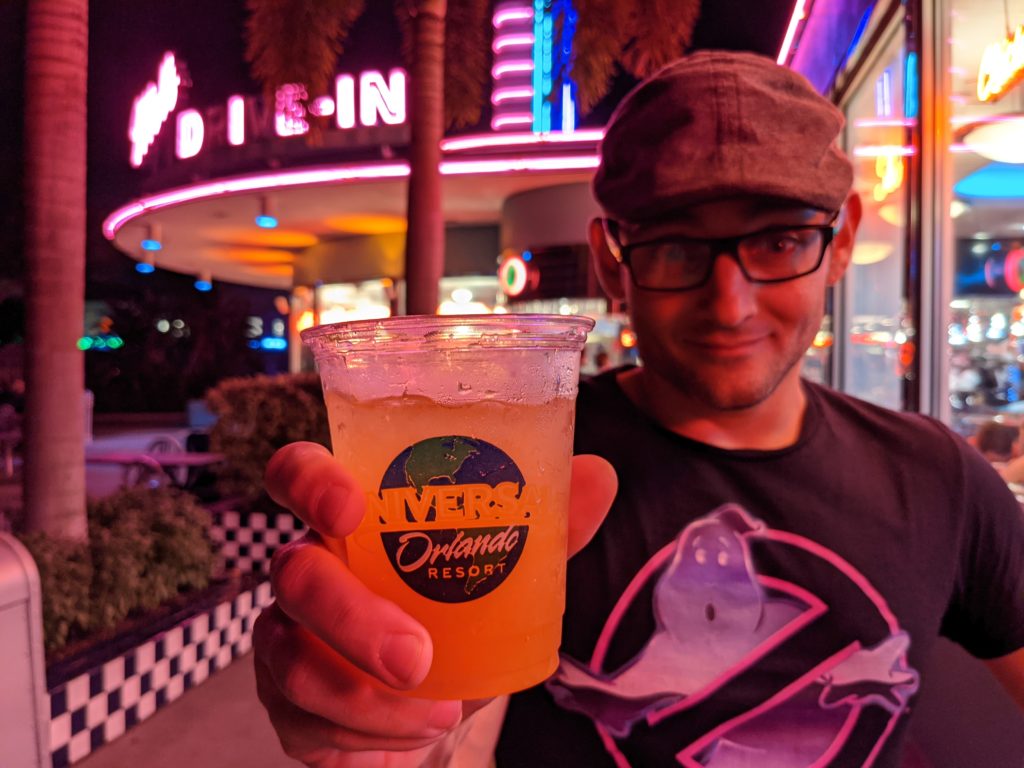 2. Ghoul Juice ($10.99)
Location: Across the park
Halloween Horror Nights' other spotlighted beverage is a mix of mango rum, Myers dark rum, cherry brandy, lime juice, and a touch of allspice bitters. In terms of how they play together, the rums tango and steal the show due to their flavors' potency. While the cherry brandy and allspice bitters were present, they played the role of background characters or scenery that you'd almost miss if you weren't aware of them. While this is something to make note of, I wouldn't knock points off for this since the overall flavor was still highly enjoyable.
With last year's disappointing mango-flavored offering still weighing on my mind, I took a chance on the Ghoul Juice and I'm happy to say the mixer has been redeemed. This cocktail is a strong crowd pleaser and I appreciate that it's not only dangerously easy to drink, but also readily available throughout the park. Since both the Bog Slime and the Ghoul Juice have their merits, I'll just call the Bog Slime a strange, yet rewarding risk and the Ghoul Juice your new, reliable friend. Both are winners in my book.
3. Ace Blood Orange Cider Float
Location: The Sweet Shop, Production Central
This cocktail is a fizzy mix of Ace Blood Orange Cider and vanilla ice cream that's topped with whipped cream and garnished with a dehydrated orange. Naturally, its characteristics harken back to a root beer float due to its fizziness and sweet cream flavors. Initially, you'll note the tartness of the blood orange, but that's quickly softened by the sweetness of the whipped cream and vanilla ice cream. This allows all the best characteristics of the drink to shine through, which I found myself increasingly enjoying as I sipped on.
I'd wanted to try the Ace Blood Orange Cider Float since it was first announced as part of the event's offerings. While it didn't disappoint, there were things I loved about this drink and a couple points where it could be improved upon. I loved this take on a soda fountain float. It fits right into The Sweet Shop's theme, and I could see this as a very tempting treat. While the dehydrated orange was a great garnish, it does nothing to otherwise add to the recipe. One could argue that garnishes aren't always meant to be eaten, but it did leave me wondering and wishing for what could have been if it were fresh. Although technically a float, it should be noted that I wasn't provided a spoon or straws, even upon request. This was easily rectified as I simply grabbed one elsewhere. Lastly, I'd advise not to drink too many of this easy potable — lest you find yourself meeting the Tooth Fairy not long after.
---
Find out everything you ever wanted to know about HHN – plus more! – in our insider's guide. And then discuss it all with 150,000+ other Universal die-hard fans in our Orlando Informer Community on Facebook.
And be sure to follow Orlando Informer on Facebook, Twitter, and Instagram for the latest news, tips, and more at Universal Orlando, Walt Disney World, and other Orlando attractions.