With all the excitement, adventure, and thrills to be had at Universal Orlando, it's hard to find a better place to spend your vacation day.
But an important part of making that day all it possibly can be is ensuring that it starts off the right way – with all your ducks in a row and avoiding all the common pitfalls that trip up so many unsuspecting guests. And then, of course, it's important to send the day off in an equally memorable fashion, allowing you to decompress and preserve all the day's magic.
Thankfully, there are a variety of ways to accomplish this at Universal, and I'm here to share the best five ten with you. Pulling off the perfect vacation trilogy of morning/day/night should be well within your grasp!
Top five ways to START your day at Universal Orlando
#5 – Park early and get through security (and the ticket booth)
If you're driving to Universal Orlando and using the resort's main parking lot, the single worst thing you can do is get there on time.
The peak arrival time – usually around 10:00am when the parks open at 9:00 – will see a line to get into the parking structure that can last upwards of 10 minutes, eating into your precious touring time. Even worse, just as there's a bottleneck for parking, there will also be one for going through the security checkpoint, where guests' bags are searched. Now you're spending 20 minutes standing in line, and it's not even for a ride!
All of this, of course, isn't to mention what could potentially be the biggest "pre-game" line of them all, depending on when you're visiting the parks: buying tickets at the front gate.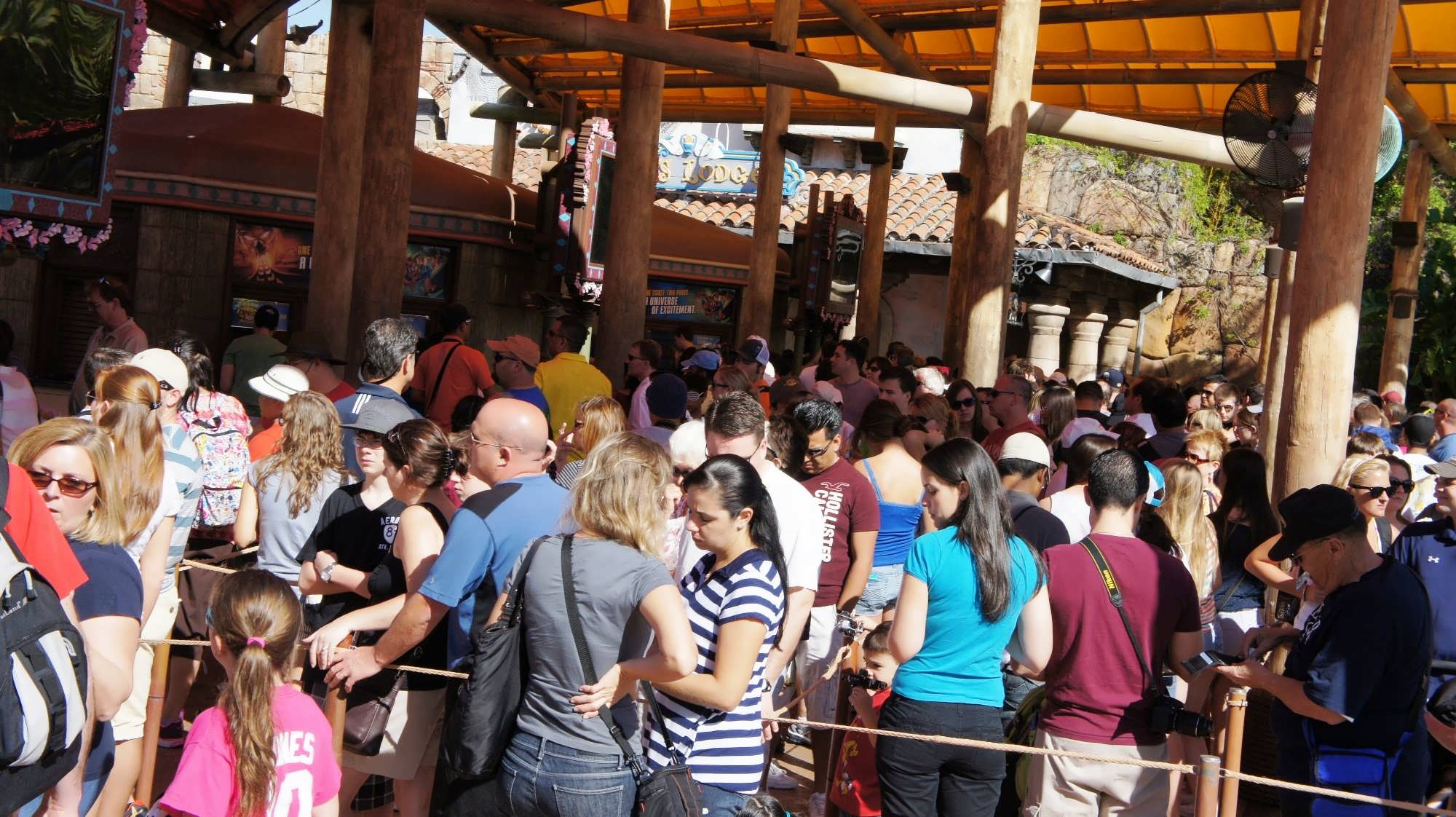 Waiting (and waiting and waiting) for tickets.
Thankfully, there are easy ways to avoid all these points of congestion. Arrive at Universal Orlando early, before the huge on-rush of car and foot traffic gets there. And buy your tickets online before you even set foot on property, thereby allowing you just to stroll up to the park entrance without a glance backward.
For more, visit our Top 12 easiest ways to save time & money at Universal page in the OI Universal Center.
#4 – Take a (garden) walk
If you're staying on-site at one of Universal's three deluxe hotels, you may be able to bypass the parking and bag-check lines, but you'll have a special queue all your own to make up for it: the wait to get on the water taxis that will drop you off at CityWalk, which usually come and go in 10-30 minute intervals. (For the value-priced Cabana Bay Beach Resort, the wait here will be for hopping on the shuttles, since the hotel isn't connected via waterway to the rest of the resort.)
The remedy here is to take advantage of the Garden Walkways that connect all four hotels to CityWalk, which are every bit as beautiful and peaceful as the name suggests.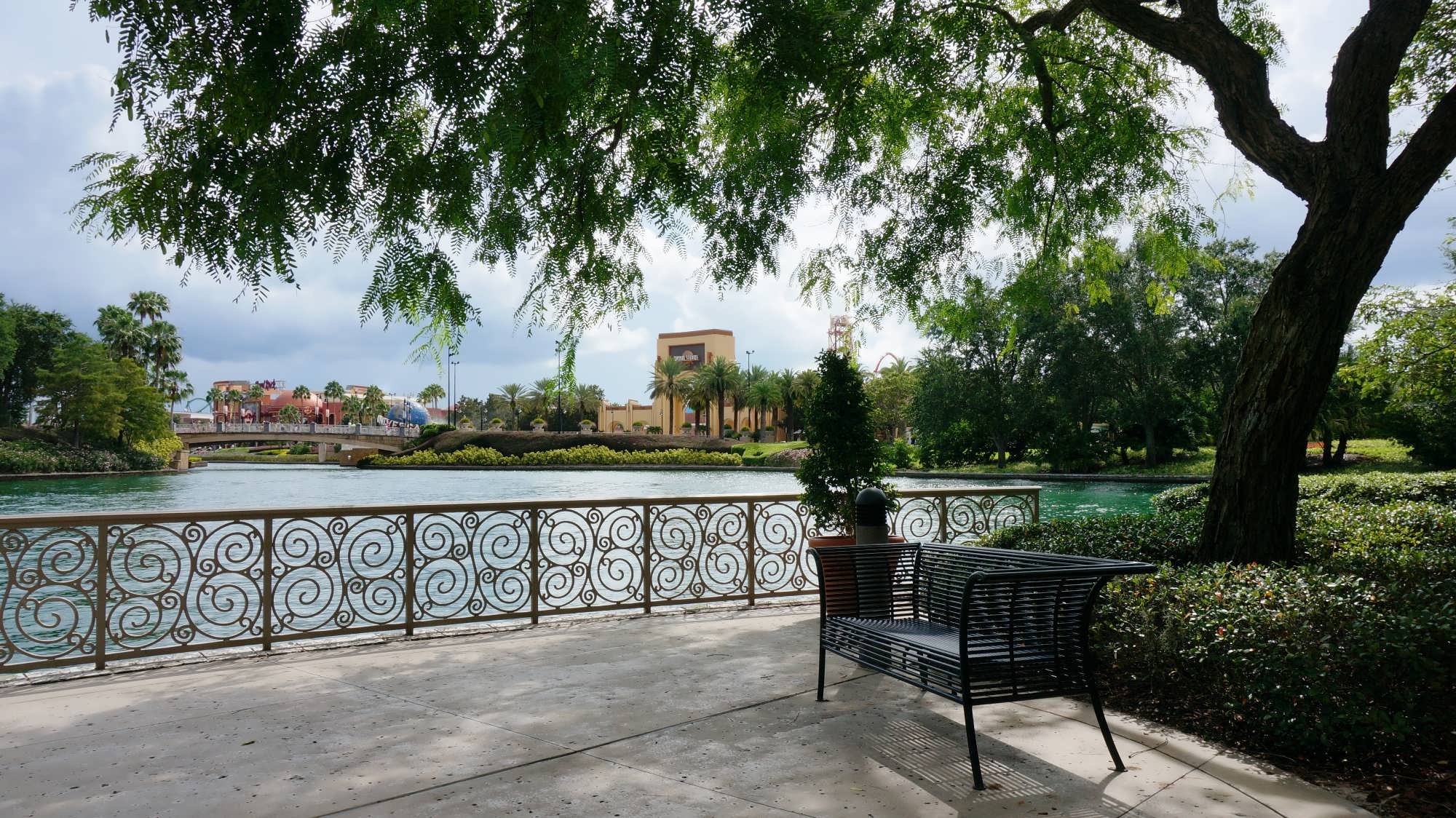 Garden Walkway from Hard Rock Hotel.
This is definitely a no-brainer considering how close Royal Pacific Resort is to Islands of Adventure and Hard Rock Hotel is to both theme parks, but even the longer walks to either Portofino Bay Hotel or Cabana Bay aren't that bad, and the views they afford can more than make up for the time.
Yes, the water taxis are fun, but when you're excited to get your touring started, standing at a dock first thing in the morning, twiddling your thumbs, is a bit of a buzz kill, whereas the Garden Walkways can provide your moment of Zen before the rip-roaring adventures of Universal Studios Florida and Islands of Adventure take over for the rest of the day.
#3 – Cup o' morning joe
A major component of many individuals' mornings is, of course, coffee – and if you're accustomed to that early morning pick-me-up for the day at the office, you'll definitely need one for your excursions through the theme parks.
Luckily for you, Starbucks has just finished expanding its footprint all across Universal Orlando, starting with new locations in both USF and IOA (and the on-site hotels) and culminating with their overhauled headquarters in CityWalk.
The new Starbucks at Universal CityWalk.
Yes, these venues feature all the same goodies as your favorite local Starbucks, but they have the extra touches of being beautifully themed and impeccably located – where else can you sip your Mocha Frappuccino while watching the Incredible Hulk Coaster hurtle overhead?
#2 – Have a plan
One of the easiest and surest ways to eat up time during your precious day of touring is to aimlessly drift around the parks, asking the perennial question, "So, what do you want to do now?" Nothing will make you miss an attraction or show more quickly, and nothing will drain the enthusiasm from your group more thoroughly.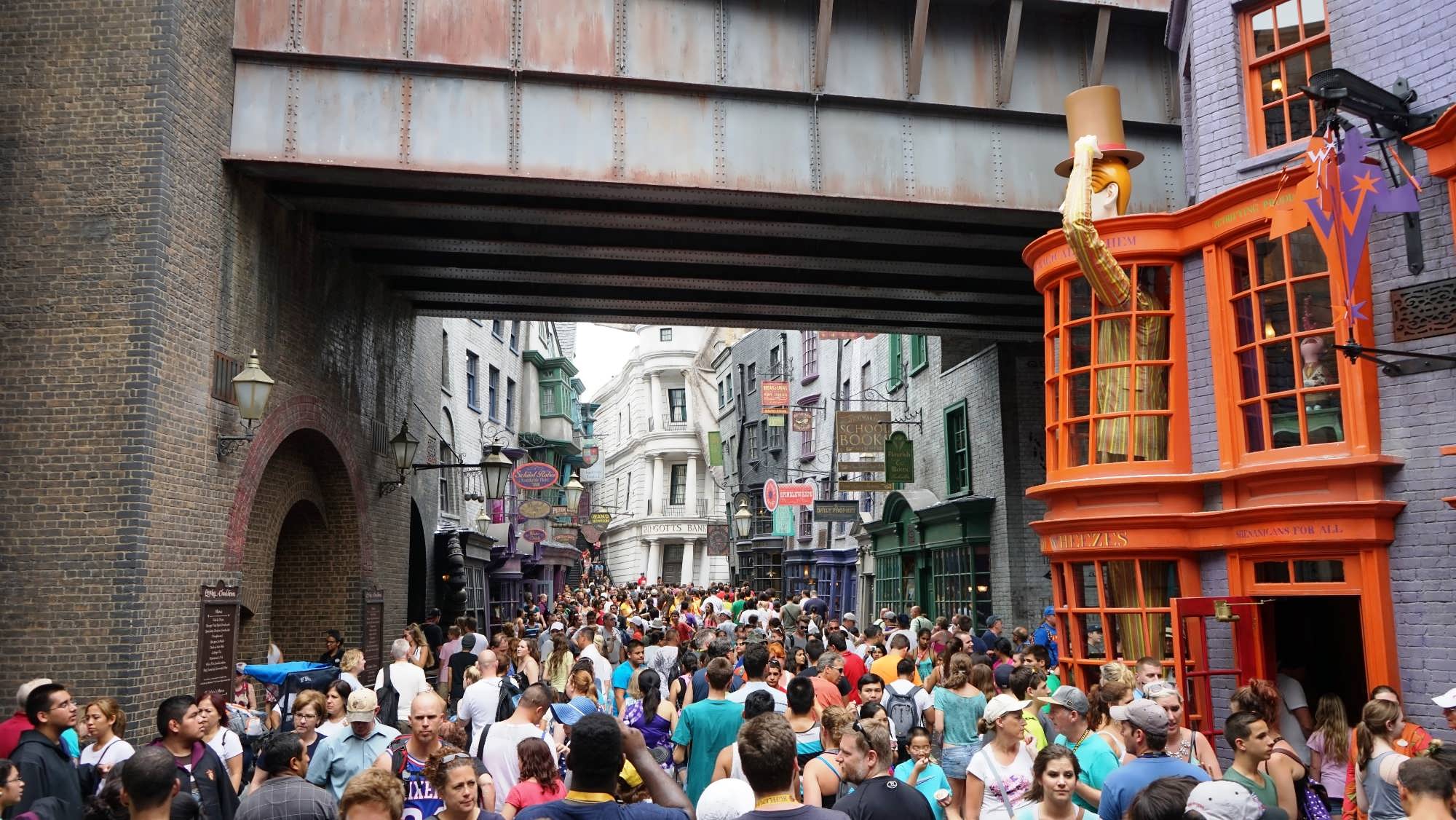 Yeah, you don't want to be drifting without a purpose in that.
Of course, mornings are no different. Where will you grab a bite to eat – on the run through the hotels or at a sit-down venue in the parks? When will you arrive at the front gate, and how will you arrive there (car, water taxi, garden walkway)? Will you take advantage of Early Park Admission?
We have a whole host of suggestions for you on our touring plans page, but the most important thing is just to have any game plan at all in mind that can be fallen back on when any side-excursions are completed or disagreements erupt.
#1 – Early Park Admission
It's no secret that many – or is that most? – guests flock to Universal Orlando in order to visit the twin Wizarding Worlds of Harry Potter, Hogsmeade in Islands of Adventure and Diagon Alley in Universal Studios Florida.
By this point in time, it should also be no secret that the only way to guarantee that you can see everything you want to see and do everything there is to do in Harry's wondrous worlds is to take advantage of a little thing called Early Park Admission.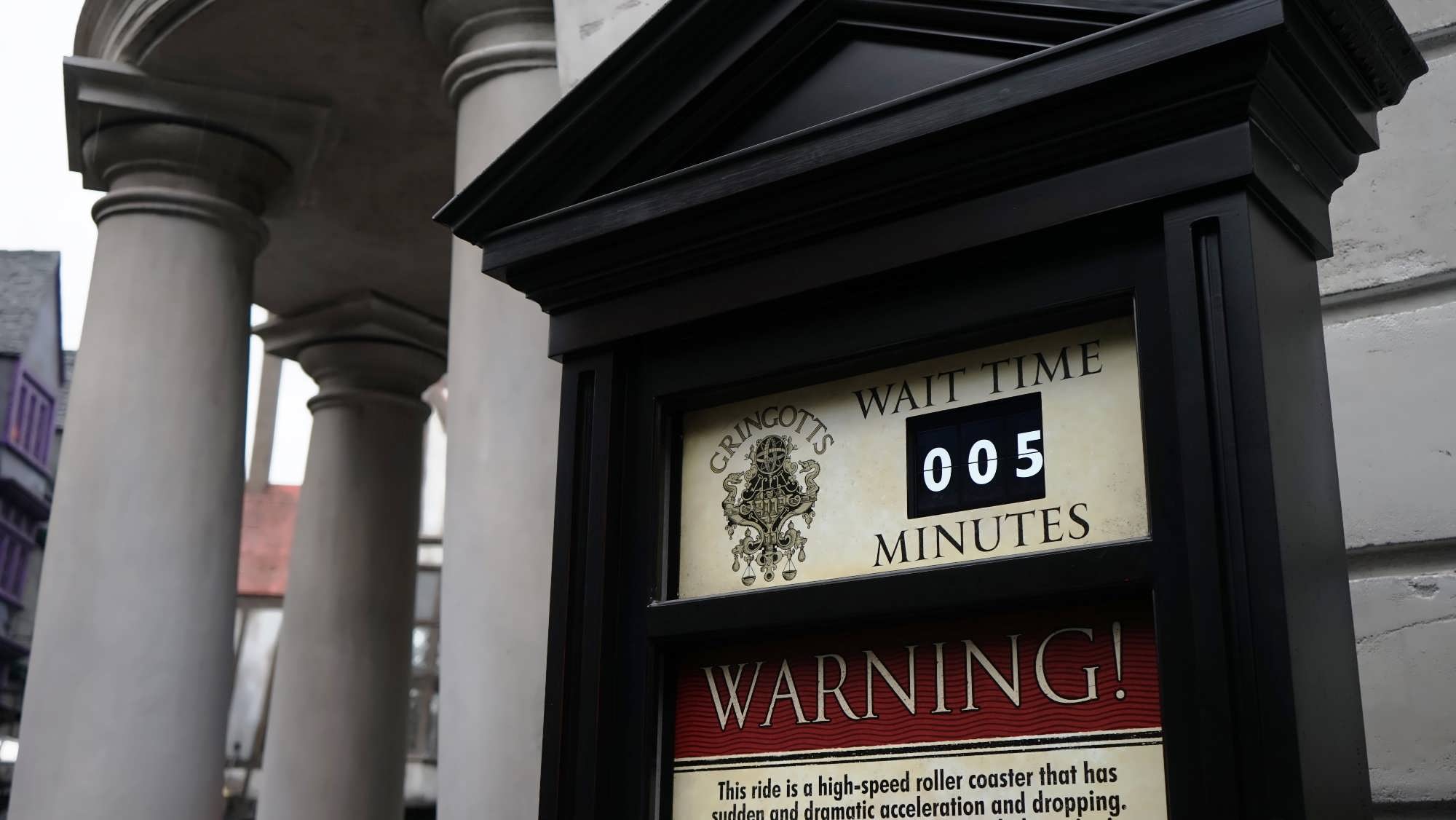 My kind of wait for Escape from Gringotts.
EPA works a little something like this: for one hour before the park opens, only a select number of visitors (namely, those staying either on-site or at a Universal Partner Hotel, along with those who book special vacation packages) are allowed in to one of the two Wizarding Worlds. This provides the perfect opportunity to knock out most of the land, freeing up a significant portion of the rest of the day for other leisurely pursuits within the parks or over at CityWalk.
If you'd like to see exactly how EPA can literally make or break your entire day at Universal Orlando, be sure to hit up our complete guide.
<script async src="//pagead2.googlesyndication.com/pagead/js/adsbygoogle.js"></script>
Top five ways to END your day at Universal Orlando
#5 – Visit the on-site hotels
Universal Orlando offers an entire resort experience with two theme parks, a dining and entertainment district, and four distinct hotels. However, unlike the big competitor down the street (*cough*Walt Disney World*cough*), it is very quick and easy to get back and forth from anywhere on-property.
Which, it turns out, is a huge advantage – Universal's hotels offer unique themed environments and beautiful resort grounds (though Cabana Bay Beach Resort is decidedly more casual), making them one of the perfect spots to unwind and relax at. Let's face it: after a crowded, busy day at the parks, your feet will be tired and you will most likely want a little peace and quiet. Take some time to go to a refreshing environment and decompress for a little bit. Even if you aren't staying at one of the properties, it's okay to visit them and explore a little.
Portofino Bay Hotel Harbor Piazza.
Plus, if you're looking to end your visit with a delicious, satisfying meal, some of the best restaurants and lounges to be had at all of Universal are here at the resorts. And what could possibly be better than having an excellent meal or drink in a highly immersive venue?
(All of which isn't to mention that taking the water taxis to the hotels is a refreshing – not to mention memorable – experience unto itself at the end of a long day.)
#4 – Photo opportunities
There are so many fun photo ops throughout Universal Orlando. While it's a great idea to put aside some time to snap a few fun pics during the day, even better opportunities await when the sun goes down. And here's the best part: if you wait until the park is about to close, you'll essentially have the place all to yourself, without anyone around to photo bomb your pics.
Islands of Adventure at night.
Imagine having a photo of yourself and your family standing in the middle of an otherwise empty Diagon Alley, the cobblestone streets gleaming from the shop lamps. Or how about the darkened jungles of Jurassic Park encroaching on you and your significant other? As you work your way to the park exit at the end of the day, be ready for such magical – and otherwise impossible – opportunities.
#3 – Universal's Cinematic Spectacular
Universal Studios Florida may not be as well-known for its nighttime spectaculars as Magic Kingdom, Epcot, and Hollywood Studios are, but the park's newest finale is definitely one of the best nighttime shows it's ever offered across its 24 years, and it even manages to hold its own against most of the Disney competition.
Cinematic Spectacular combines water projection technology, fountains, a rousing score, and, of course, fireworks as it takes guests on a tour de force through Universal's greatest movie moments from the past one hundred years. From the humorous to the scary to the epic and heroic, there's enough movie magic to lift even the most jaded of filmgoers' hearts – indeed, by the grand finale, you're sure to feel on top of the world.
Cinematic Spectacular at Universal Studios Florida.
But heading for the exit right when the show ends would be a mistake. Let everyone else rush out while you relax by the water and enjoy the view of the fountains as they change colors during the "post-show" sequence. These quieter moments will help you decompress, especially if you take a stroll through Central Park, one of the most relaxing parts of the park.
In this way, Universal's Cinematic Spectacular not only serves as a celebration of the movies, but also of your day riding the movies, as well.
#2 – Dining at CityWalk
After opening a multitude of new restaurants, CityWalk has become a major destination for unique, flavorful dining. From the tropical fun of Jimmy Buffett's Margaritaville to the fresh, authentic flavors of VIVO Italian Kitchen and, now, the unbelievable taste combinations of The Cowfish Sushi Burger Bar, there is so much variety, you're sure to find something to satisfy your craving.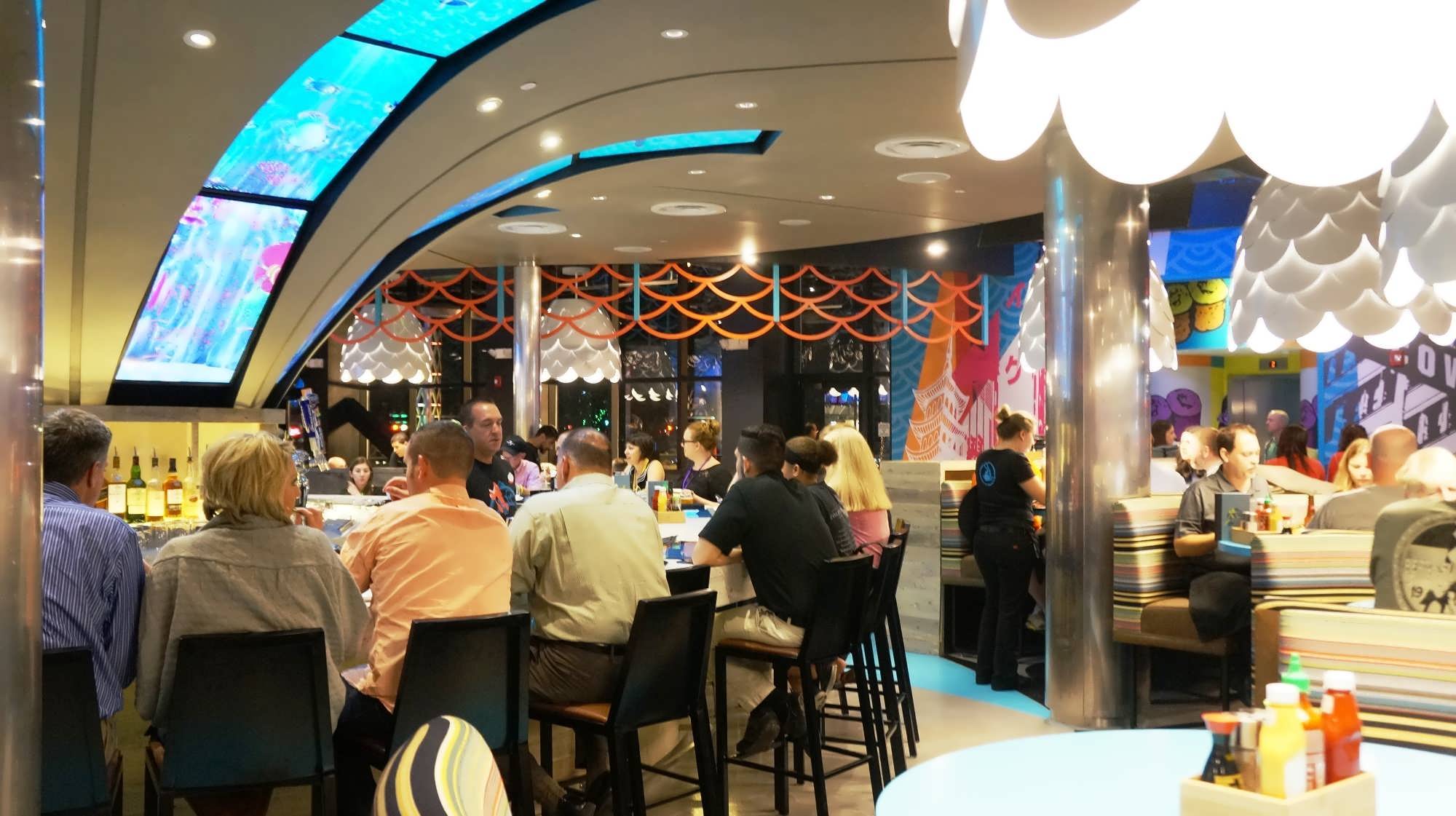 The Cowfish Sushi Burger Bar.
Plus, most of the dining options inside both parks close around an hour before closing – yet another reason it's great to end your day at CityWalk's incredible lineup, which, in some cases, doesn't close until 2:00am.
If you're not in the mood for a full table-service meal, then consider the great quick options available, like the Hotdog Hall of Fame, Panda Express, or Bread Box. Most of the quick-service restaurants offer their food "to go," as well, in case you'd rather head back to your hotel to relax and dine.
And, of course, if you want to close out the day with a round of drinks or cocktails, you must check out the bars inside any of the full-service restaurants, most especially at Antojitos, The Cowfish, and, obviously, Margaritaville.
#1 – The Wizarding Worlds of Harry Potter
One of the many fascinating characteristics about both of Universal Orlando's theme parks is that the very last hour of operation is often a very quiet, uncrowded time (something which holds especially true at Islands of Adventure). Which helps explain why my absolute favorite time in both Wizarding Worlds of Harry Potter – Hogsmeade in Islands of Adventure and Diagon Alley in Universal Studios Florida – is the very last 30 minutes of park operation.
Hogsmeade at night.
I'll gladly sit off to the side, perhaps with a cold beverage – such as a Dragon Scale or Hog's Tea – in hand, and just take it all in. It is the perfect time to soak up the niceties and appreciate the level of detail that surrounds you – it makes the immersion all the more immersive, which is no small feat.
Given that both lands are some of the most wonderfully atmospheric in any theme park, it's hard to imagine a more appropriate way of making your evening as joyfully magical as the day itself was.
Visit the OI Blog Archive to peruse all of our BIG 5 installments or even more articles on the Wizarding Worlds of Harry Potter. You can also share your own morning-to-night tips in the comments below.
Planning a vacation to Orlando?
Want to skip all the work and just price out a vacation to Universal Orlando? We'll find the best deals for you – for free (seriously.) Learn more, or check out some of the current deals: