Now that 2015 is into full swing, it's time to get serious about planning your next visit to Universal Orlando Resort. On our site, we dedicate hundreds of pages and blog posts to explaining what you can do to have the best experience at Universal Orlando. However, what we haven't discussed to any great length is what you should not do if you want have the time of your life at the parks.
So today, we present the top five ways to ruin your Universal Orlando vacation. Avoid these pitfalls and you are well on your way to getting the most for your vacation dollar — and the biggest smiles from your kids!
#5 – Fail to pack for the day
At Universal's theme parks, you will experience thrilling attractions, exciting live shows, and dozens of characters in the streets ready to pose for the perfect photo op. While each of these experiences can create an unforgettable memory, each one can also introduce hardship if you fail to pack for your day at the parks.
Dudley Do-Rights Ripsaw Falls and Jurassic Park River Adventure are fan-favorites. However,but after all your clothes get soaked during these water rides, wouldn't it be great to have something dry to change into? Live shows offer another engaging form of entertainment at the parks. However, because they run on schedules, showing up on time sometimes requires you to crisscross the parks. This only adds that many more steps to what's already a full day of walking — what happens if someone gets a blister? And meeting Optimus Prime may be the highlight of the trip, but what will your kids say if your camera's memory card is full? How will you post to Facebook if your smartphone's battery is dead?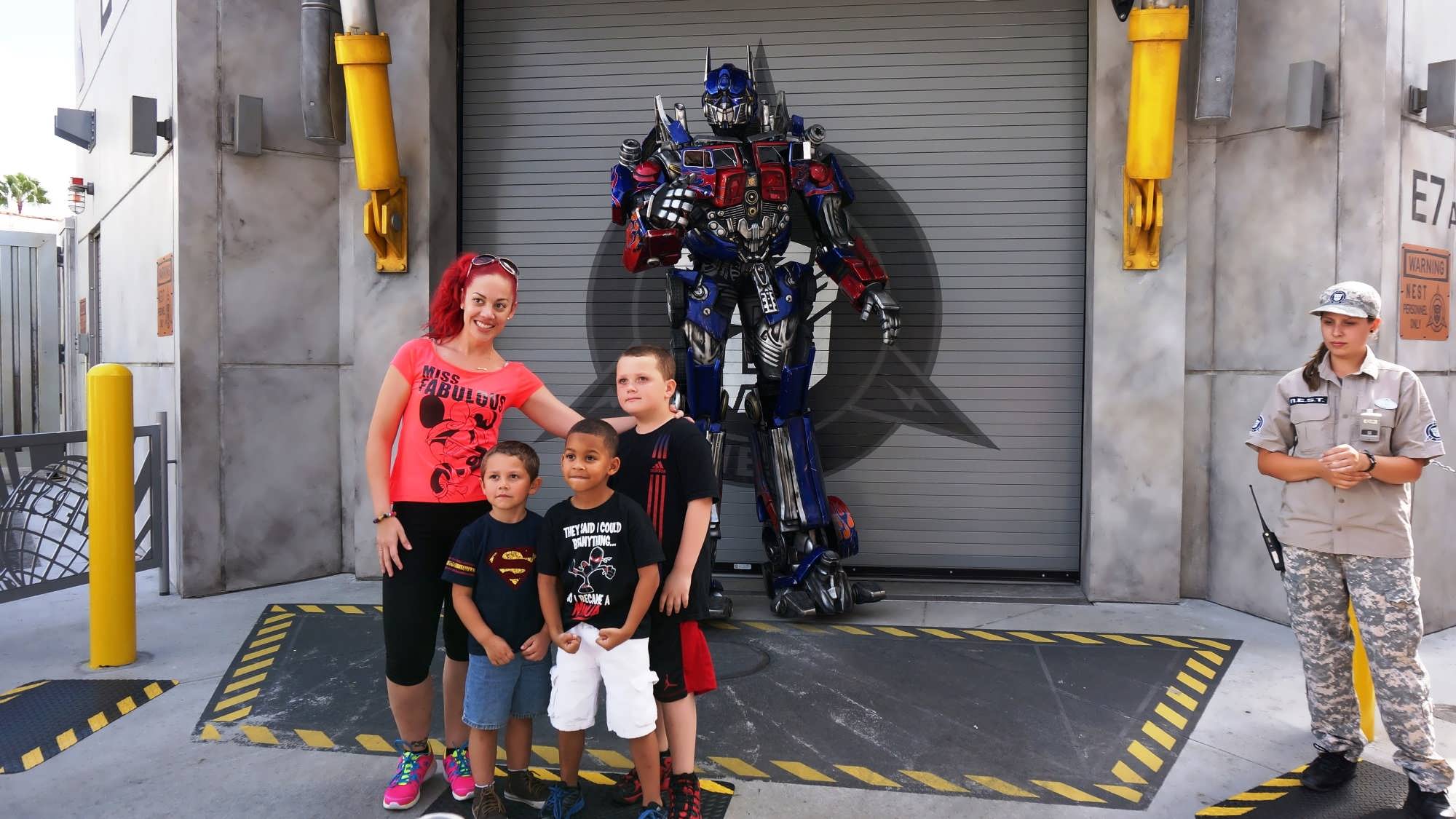 Transformers meet-and-greet at Universal Studios Florida.
All of these circumstances can be non-issues if you make sure to pack properly for your days inside the parks. Bring extra clothes, rain ponchos, sunscreen, medicine, band-aids, hand sanitizer, memory cards, fully charged batteries — and if you're 21 or older and you'd like to have a beer, don't forget your PHOTO ID! For help with getting all your stuff together, these two pages in the OI Universal Center will be very useful: What to pack for your vacation and our Complete guide to Universal's lockers.
One more tip: If you forget to bring a rain poncho with you, pick one up at the Hard Rock Cafe store instead of inside the theme parks. Hard Rock's ponchos are almost half the price ($5.00 versus $8.00 in the parks), and they have a nifty way to tighten their hood so it won't blow off your head.
#4 – Buy your admission tickets at the gate
We've said it over and over, and we'll continue to say it over and over: the worst way you can start your day at Universal Orlando is to stand in line to buy admission tickets. Not only can the line just to purchase tickets exceed an hour in length, chances are you are also paying more than you have to.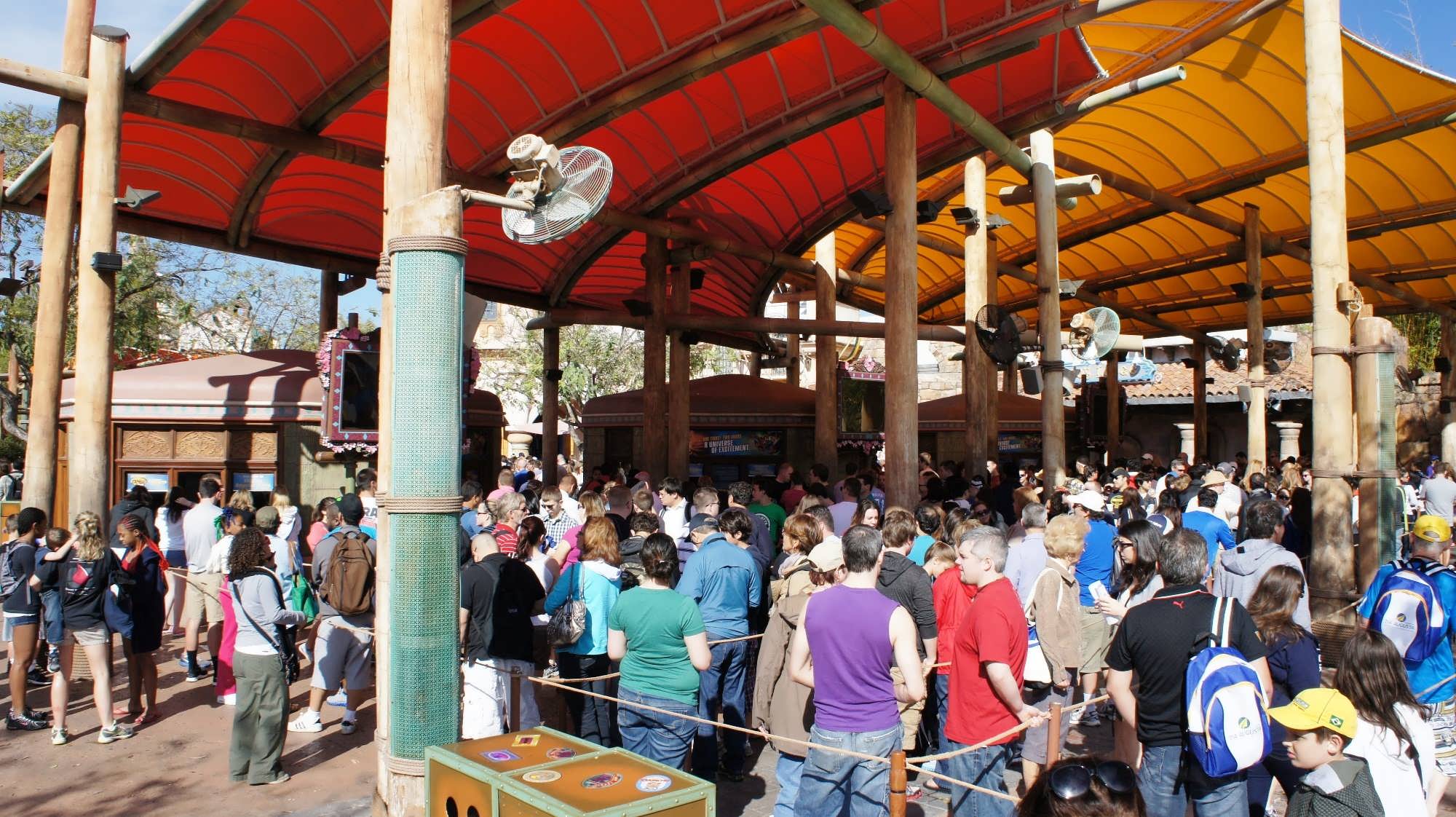 Do you really want to wait in this line to buy a ticket?
If at all possible, purchase your tickets in advance.
But what if you have no choice but to purchase your tickets while you're on-site? Then one easy option is to stop at the CityWalk Guest Services window, which is located near the CityWalk entrance by the escalator to the second floor; there is hardly ever a line of more than one or two people here. Another option is to call in your order over the phone (407-224-7840), then pick up your tickets at the always-empty electronic will call kiosks in front of either park. If you're staying on-site (or you don't mind the quick five-minute walk to Hard Rock Hotel, literally right next to Universal Studios Florida), you can also purchase theme park admission tickets at the Destination Universal desks inside the lobby.
One more tip: If you need Express Passes, don't stand in the huge line for the standalone Express Pass kiosks outside of the park gates! Express Passes are sold at dozens of locations inside the parks.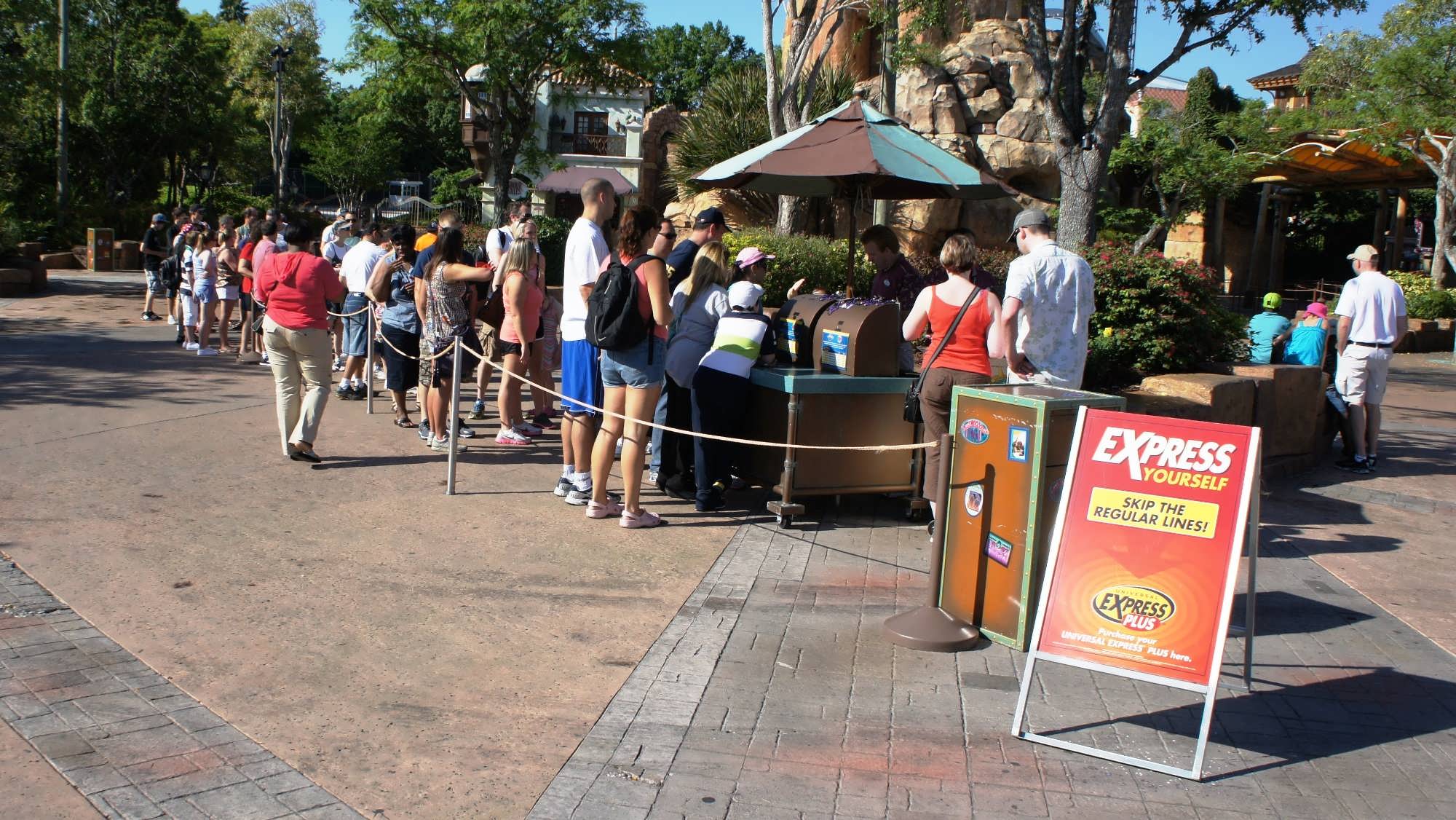 There's no reason to wait in this line.
#3 – Fail to account for special events
From bead-catching at the Mardi Gras parades to the screams of Halloween Horror Nights, Universal has some of the nation's top-rated and most award-winning theme park events. For vacation planners, there are several reasons why failing to account for these can easily ruin your trip, whether or not you're actually interested in the events.
For example, at the end of January Universal hosts A Celebration of Harry Potter special event, which includes a Harry Potter expo, appearances by cast members, and other special activities. By design, this will draw a huge crowd during what would otherwise be a slow weekend. If you're a Harry Potter fan, you'll likely consider this event a must-do. If you're not a Harry Potter fan, this wouldn't be a good weekend to visit Universal. Either way, failing to account for this or other special events could ruin your trip.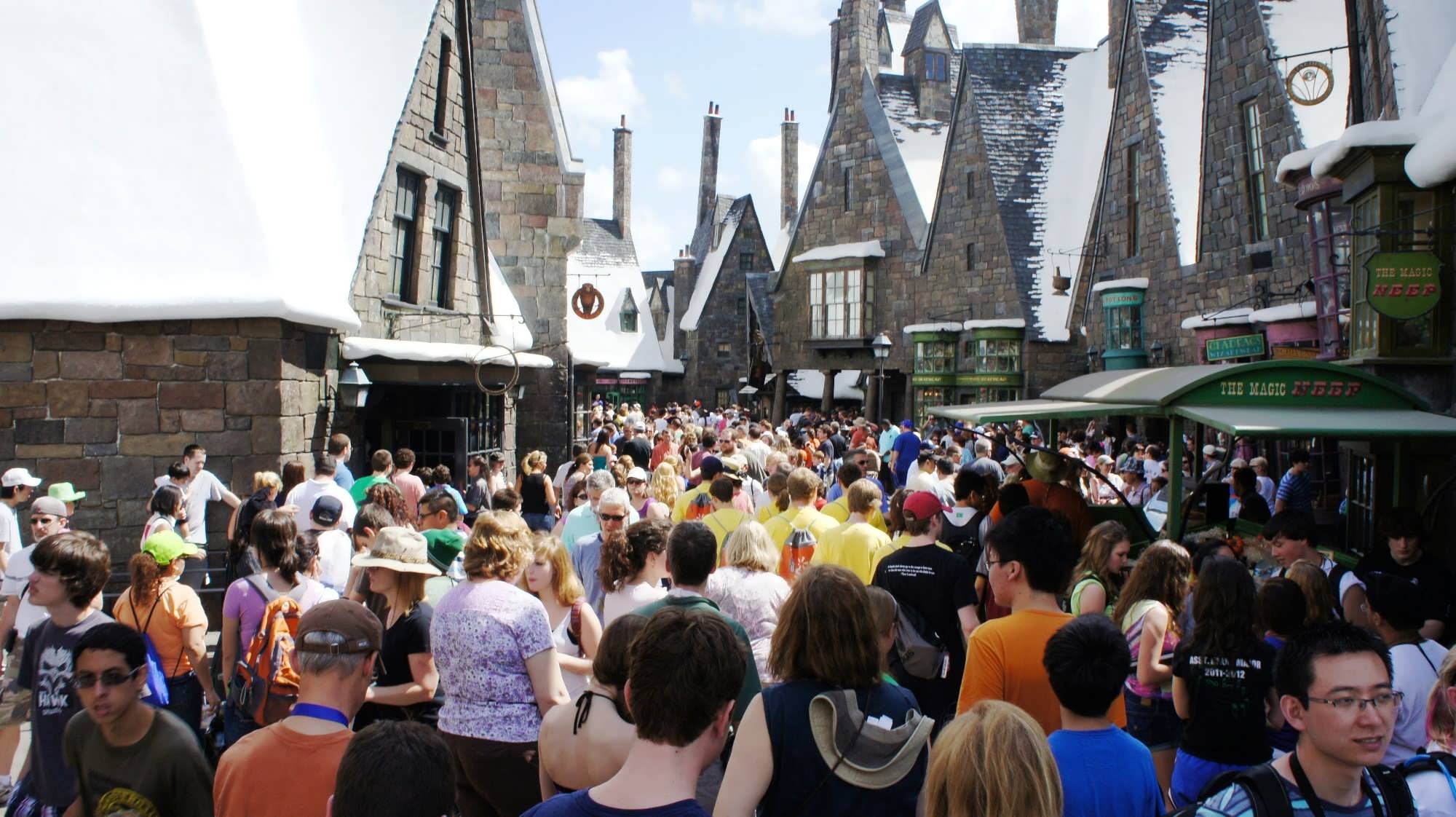 The Wizarding World should be about this busy during 'A Celebration of Harry Potter'.
Likewise, Universal hosts numerous concerts inside Universal Studios Florida featuring some big names, from Demi Lovato to ZZ Top. Wouldn't it be awful if you could have come to the parks any weekend in June, and without knowing about special events, you picked the weekend after your favorite artist performed — and you could have seen them for free? (Well, not free exactly, but included with regular park admission.)
To assist with proper scheduling, we have all annual events included on our free 12-month Universal Orlando crowd calendar.
<script async src="//pagead2.googlesyndication.com/pagead/js/adsbygoogle.js"></script>
#2 – Visit only during the middle of the day
We know, you're on vacation, so who wants to wake up at the crack of dawn to get to the park turnstiles 45 minutes before they open? No one does, and that's precisely why doing so is the very best way to make sure you're not stuck in hour-long lines during your precious time at the parks!
It may be obvious to some guests, but for the record, let it be known that theme parks are busiest in the middle of the day, roughly from 11:00am to 4:00pm. Sure, there are a few factors that can skew this, like weather and special events, but in general this is a very good rule of thumb. So if you want to avoid the busiest times (and therefore the longest lines), you need visit the parks before or after the midday rush.
This isn't to say you shouldn't stay in the parks during the midday rush — that totally doable if you have the touring stamina. But if you do, use that time to visit Universal's live shows, kiddie play areas, or less popular attractions, or dine at one of their full-service restaurants. Better yet, if you've booked your room on-site, pack a bag in the morning with all your swim clothes, stow it in a locker as you enter the parks, then grab it on your way out around 11:00am and visit one of the pools at the other on-site hotels!
To help you with this potential source of ruin, consider using one of our free Universal touring plans. If you're interested in full-service dining, check out our Reservations page. And the suggestion we offered about pool hopping? For a full explanation, read this outstanding blog post.
One more tip: Sure, having Express Pass access will help with some of the lines. But remember, when it is busy, everything is busy, not just the attractions. The best example of this is the parking garage image below, but midday crowds also back up the lines at the turnstiles, character meet-and-greets, quick-service restaurants, and guest services.
Just one reason why it's worth getting up early to get to @UniversalORL this week (h/t @TTJimOrlando for the pics) pic.twitter.com/L6aOazt0NP

— Orlando Informer (@OrlandoInformer) December 31, 2013
#1 – Underestimate the popularity of Harry Potter
Seven books and eight movies, Harry Potter is a global phenomenon in every sense of the word (best-selling book series in history, high-grossing film series of all time, and so on and so forth). In fact, Potter's arrival at Universal Orlando singlehandedly catapulted the resort into its current era of success, helping it set its own attendance and revenue records starting in 2010.
Therefore, no one planning a trip to Universal Orlando can afford to underestimate the power of Harry Potter fandom. Similar to our explanation of special events, it doesn't matter whether you are a fan or you want to avoid these areas of the park altogether — either way, you need to be aware of what you're up against.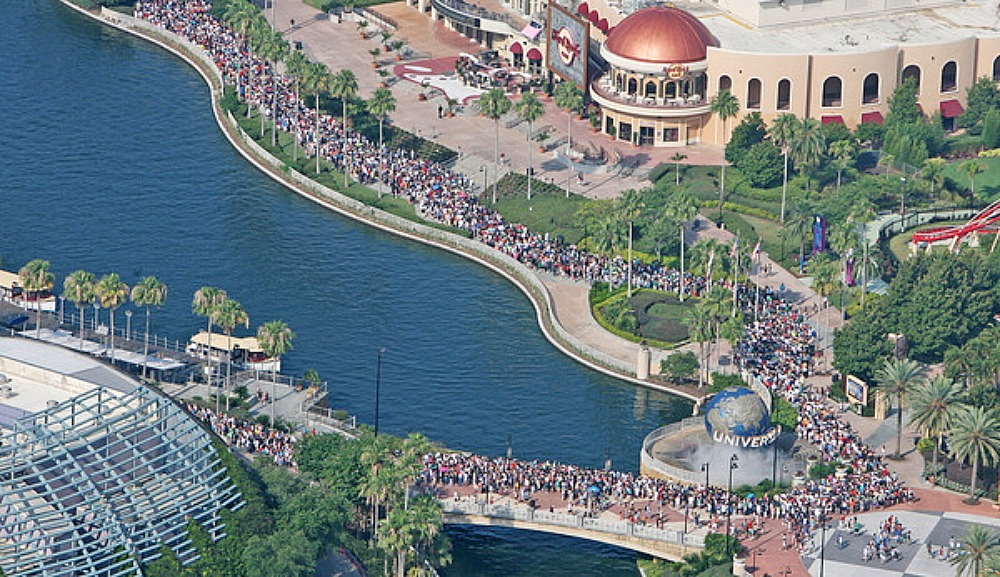 Crowds waiting to enter the Wizarding World on opening day.
One more tip: The rules about crowd size during the midday rush are doubly true for the Wizarding World of Harry Potter since it is the most popular area of the park. For example, during this past holiday season, even when WWoHP was busy enough for their return ticket system during the day, the area was fairly empty as the park closed at 11:00pm.
Honorable mention – fail to account for size restrictions
While thrill rides aren't all that Universal has to offer, they are a very significant portion of the resort's major attractions. That's why, failing to account for height restrictions could quickly lead your vacation to ruin. But it's more than just height that makes up a person's size. Truth is, many guests may also want to take into account the "body proportion" restrictions for such rides at Harry Potter and the Forbidden Journey or Hollywood Rip Ride Rockit, as these attractions may not be able to accommodate larger guests.
To provide assistance for these issues, you can find Universal's height restrictions listed in full on this page. We also have them listed on the individual attraction pages in the OI Universal Center. Finally, for those interested, we have this blog post: A guide to the rides at Universal for larger guests.
We sincerely hope that, by providing you with a few key steps you can do to avoid ruining your Universal Orlando vacation, we have further ensured the trip of a lifetime for you and your family!
If you liked this article, check out the three essentials to understanding Universal Orlando.