The holidays are fast approaching. Vacation budgets are beginning to compete with turkey budgets, Christmas lists, and the cost of flying across the country to visit family. How are you supposed to collect memorable souvenirs from your Universal Orlando Resort trip without breaking the bank?
Well, have no fear! I'm here to do the work for you. Even if you don't have to fight with the holidays, this list of budget-friendly treats and trinkets is just the thing to make sure your vacation doesn't drain your wallet.
1. Picture frames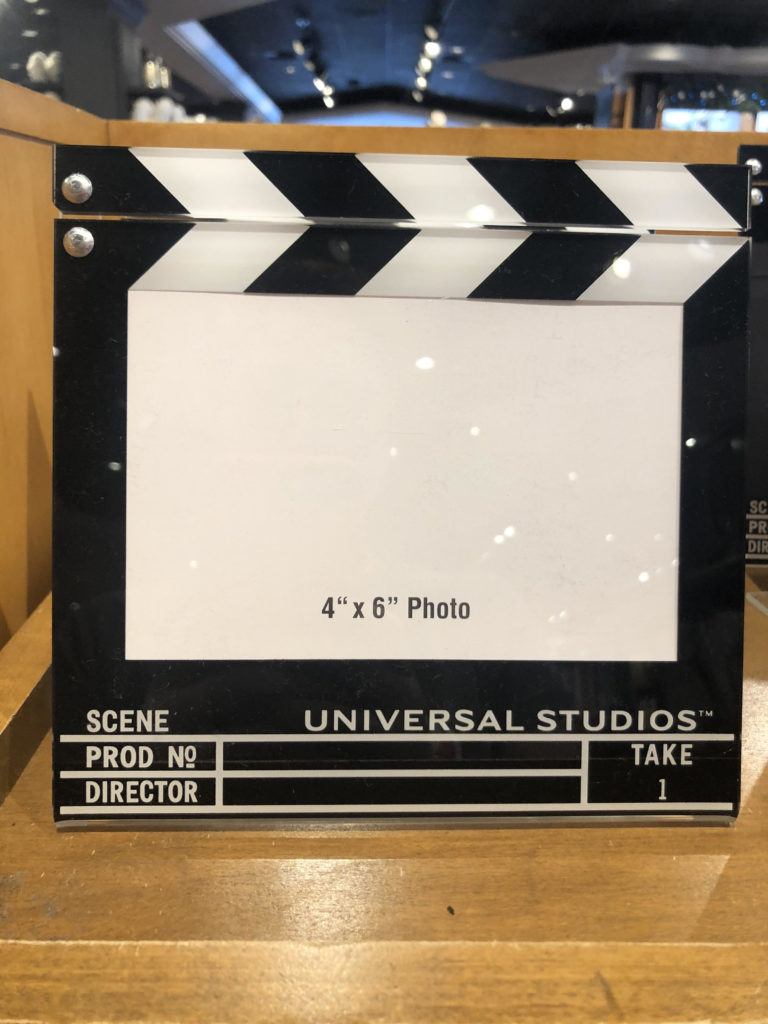 There are countless adorable photo frames in every style imaginable. Universal prides itself on bringing your favorite movies to life, and that includes the still shots. As a result, they've really stepped up their souvenir picture-frame game – you can find anything from stylish photo clips to the "your face goes here" type, where you insert yourself into a famous movie scene. From Minions to magic, there's something here for everyone.
Many of them can be a bit pricey, but there's one that I particularly adore that rings up at just under $10: the 4×6 Scene Clapper frame. It's simple but unique, and the perfect home for your favorite park memories to live forever.
2. Collectible pins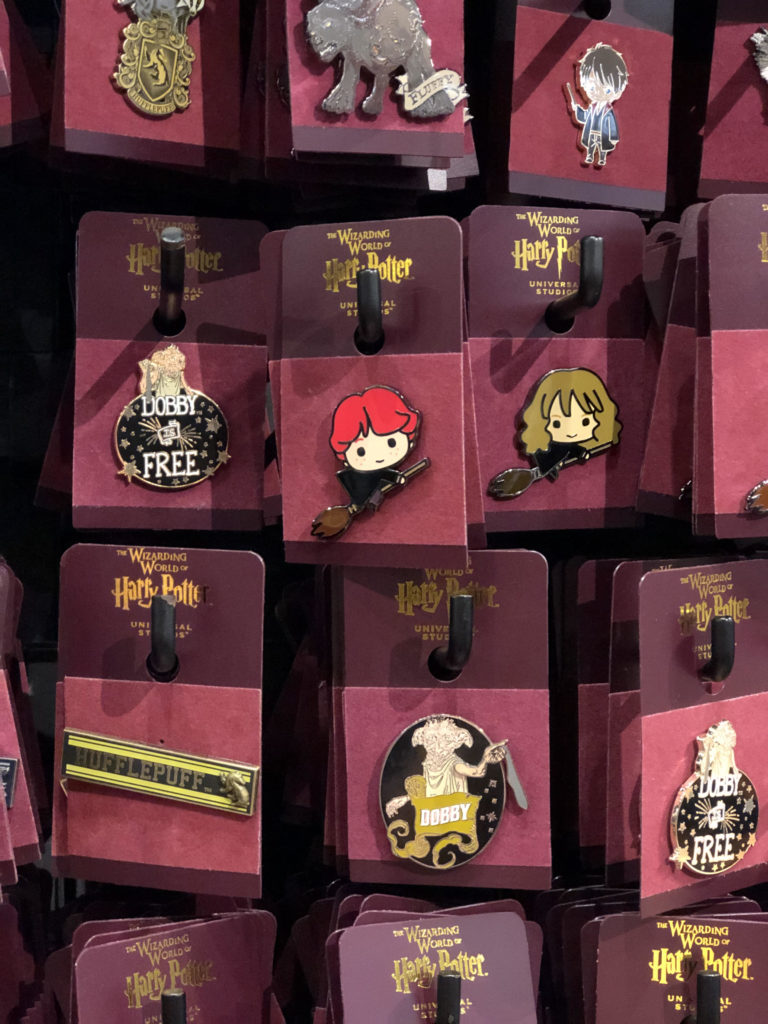 Pins have become a staple of theme-park shopping over the last decade. When I was a kid, I never saw this sort of phenomenon in any park I visited; now, however, the demand for backpack and lapel adornments has created a wave of gorgeous, affordable pins and buttons. Again, you have to double-check your pricing, but most of them range from $7.00 to $9.50, and they are absolutely stunning. These pins are easy to pack away in your luggage (or decorate it with), and they come in every flavor of fandom.
My personal favorites are the Harry Potter Hogwarts house-inspired pins. They've got everything from simple Ravenclaw banners to the Hufflepuff house crest. Pick one up and showcase your house pride, wherever you go!
3. Shot glasses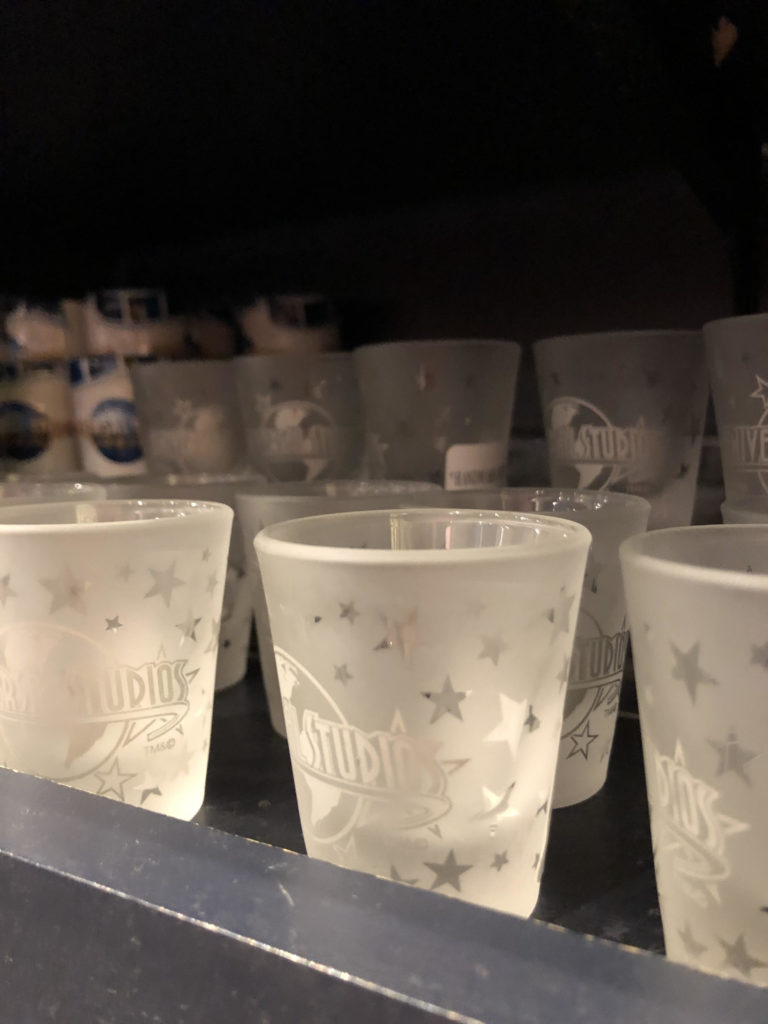 Collectible shot glasses have been a souvenir standard for as long as I can remember. They are in every airport and major landmark, they are easy to store and display, and they're incredibly affordable!
Start your own collection, or add to your existing hoard, with a Universal Studios shot glass. Just wandering around the shops, I found seven I wanted to take home with me, the most expensive of which was only $9.00. And, even better, they have a whole personalized series with names on them for exactly $10 each! Although, as with collectible key chains, maybe avoid them if you've got a less-than-common name…
4. Stamped coins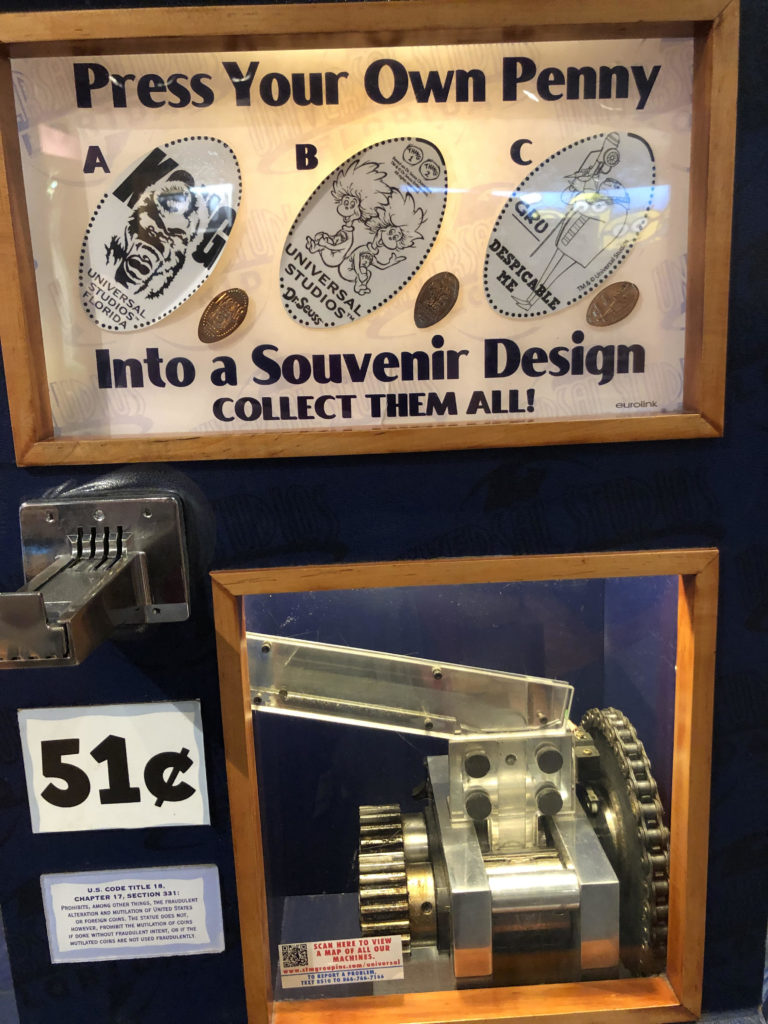 An oldie but a goodie, Universal has kept the tradition of pressed pennies alive with is beautiful stamped coin machines. This may seem like an overdone classic, but I think the beautiful simplicity of coin collecting is becoming a lost art.
For 51 cents, you can get your favorite design, and for only $6.95, you can also pick up the Universal Studios collectible coin album! That's less than $8.00 to start up a tradition that your family can continue for years to come.
5. Jewelry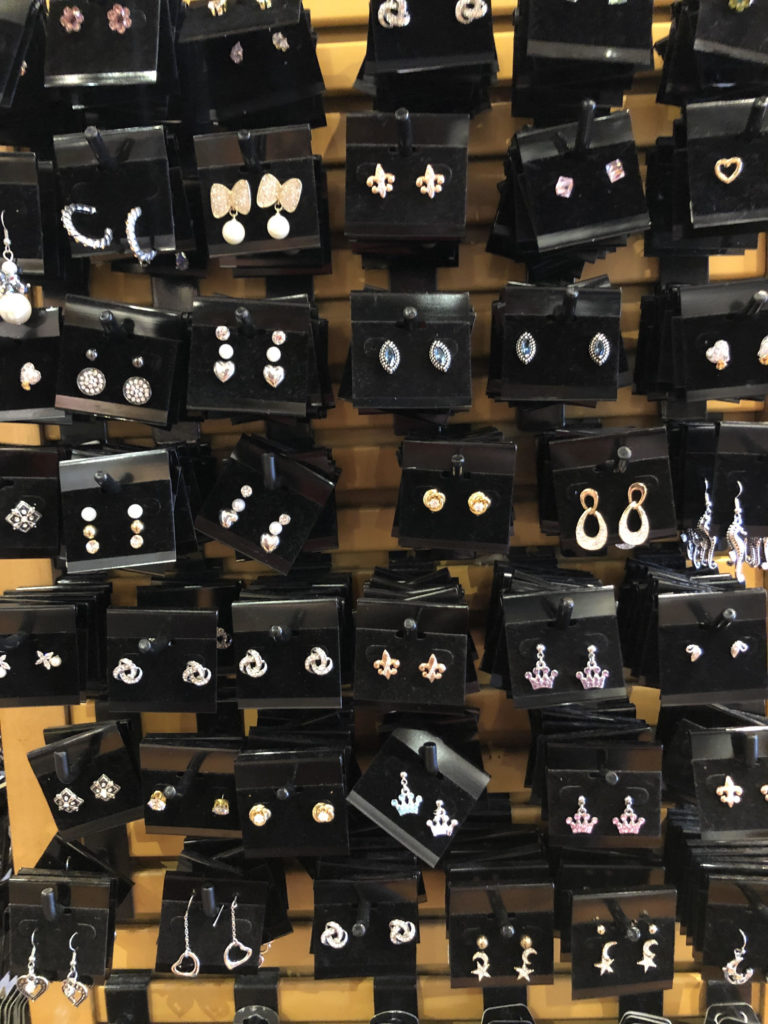 Want a more subtle way to remember your vacation? Luckily for you, Universal has a surprisingly amazing collection of bracelets, necklaces, and earrings in its larger gift shops. These aren't the branded, themed ones that have your favorite characters on them, but maybe that's not your thing! Maybe you just want to take a small piece of Orlando home with you, and these darling accessories are the perfect way to do it.
My personal favorites are a pair of star earrings that would have made our Hollywood icons swoon, priced at only $9.95. What a perfect way to feel like the superstar you are. Marilyn who?!
Bonus: Stationary
Exploring the shops while I picked out my favorite options for this list, I was constantly amazed by how many adorable stationary items there are in every area of the park. I was constantly surrounded by adorable character pens, notebooks, pencils, decorative journals, and more for $10 and under! Even better, they have them for every fandom and every need – children who just want to doodle, students who need school supplies, and adults who want to add a whimsical touch to their office can all find something amazing in paper products.
–
Budget should never get in the way of you and your family remembering your trip forever. I could go on and on with this list of affordable souvenirs – candy, bookmarks, tiny Pop vinyl keychains – but I promise there are even more hidden gems just waiting for you to discover them. So, head on out to the parks, and come home with a piece of the glitz, glamour, and magic for yourself.
Have your own sub-$10 go-to souvenirs? Share them with 50,000 other Universal fans in our Universal Community Facebook group.
And be sure to follow Orlando Informer on Facebook, Twitter, and Instagram for the latest news and tips at Universal Orlando, Walt Disney World, and other Orlando destinations.