Picture the scene: you've been playing and adventuring at Universal Orlando Resprt all day. You've ridden your favorite roller coaster, met your favorite character, and filled your bags with souvenirs. What would be the best icing on the cake that is this perfect day? Actual icing.
I believe no vacation is complete without dessert (and no day, for that matter), so why not satisfy your inner child a bit more and give in to your sweet tooth? Here's my list of the top five sweet treats at Universal, to help you find just the right cherry to top your amazing adventure with. (Warning: may contain actual cherries.)
1. Butterbeer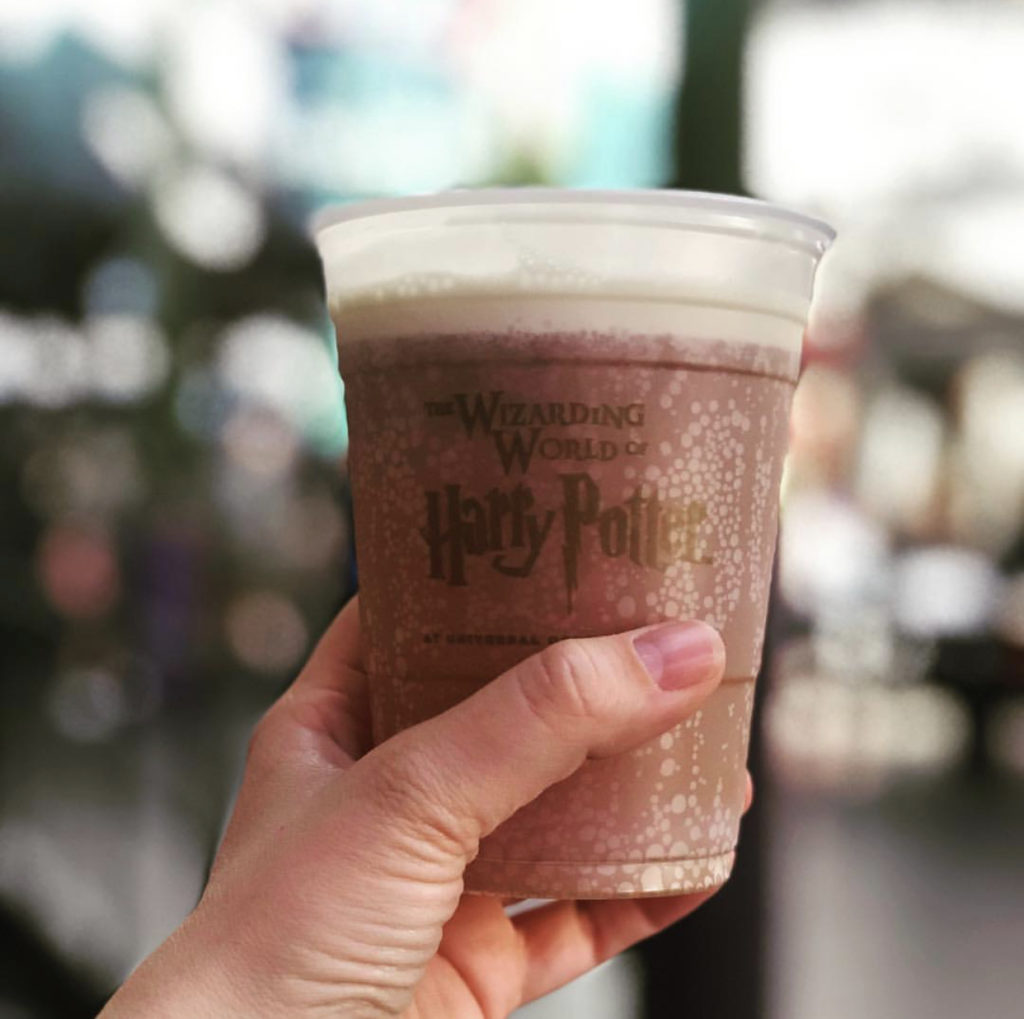 The Harry Potter-verse is, in my opinion, the literary gift that keeps on giving. The books helped shape my entire childhood, the movies were visually stunning, and the theme-park realization of the Wizarding World is better than I could have ever dreamed. And one of the greatest things to come out of the wizarding lands is the dining! I could honestly write an entire article ranking every dessert in just Harry's wondrous world, and it took every bit of self-control I had to only include two on this list. However, I would be failing you as a reader if I didn't talk about Butterbeer, that sweet drink we all read about and longed to try when we were first introduced to The Three Broomsticks in Harry Potter and the Prisoner of Azkaban.
Not only is it non-alcoholic, allowing your kiddos to enjoy it, but it is available in every variety imaginable. Cold, frozen, hot, ice cream, fudge… give it time – they'll be selling Butterbeer-flavored coffee. (But, please, actually give us that, Universal.) My personal favorite will always be hot. It's the way we all imagined it when Harry took his first sip. It is, in fact, the original description:
"Ron came back five minutes later, carrying three foaming tankards of hot Butterbeer."
This is the truest form of the beverage, and I cried from pure fandom joy the first time I tasted it. Hot Butterbeer is, unfortunately, only usually available from November through February. So take advantage of it while you can, and enjoy the colder renditions the rest of the year – they're just as sweet, and perfectly refreshing. Cheers, witches and wizards!
2. French Toast Muffin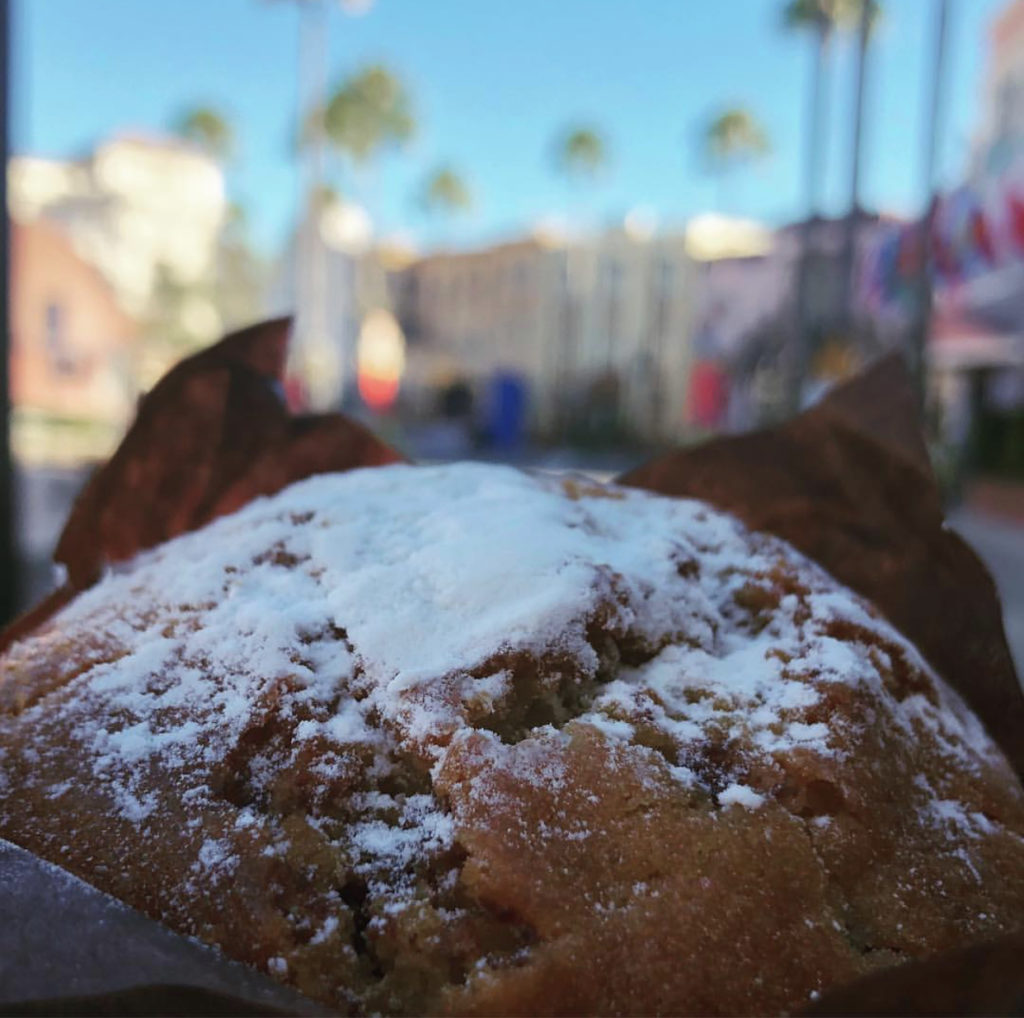 (Note: this item was available at the late Beverly Hills Boulangerie, though we're hopeful that it'll pop back up on the menu of its replacement venue, the Today Cafe. Until we find out for certain, we're keeping this listed here, if only for posterity's sake.)
I often find myself on Hollywood Boulevard around breakfast time – you might, too, if you start your day on the Universal Studios Florida side, rather than Islands of Adventure. Next time you're heading into the park, stop by Beverly Hills Boulangerie first, and try my favorite item on the menu: the French Toast Muffin. It looks simple but is surprisingly flavorful. I stumbled upon it by accident one morning and have exclusively bought this scrumptious gem ever since. Move over, blueberry – there's a new king of muffins in town!
It may be the best-kept secret of the breakfast pastries. Even other team members across the parks don't know it exists, but they are always thrilled when they finally try one. And if you really want to kick your day off with a sweet fix, add a dipping cup of hot syrup! Because why not have dessert first?
3. No-Melt Ice Cream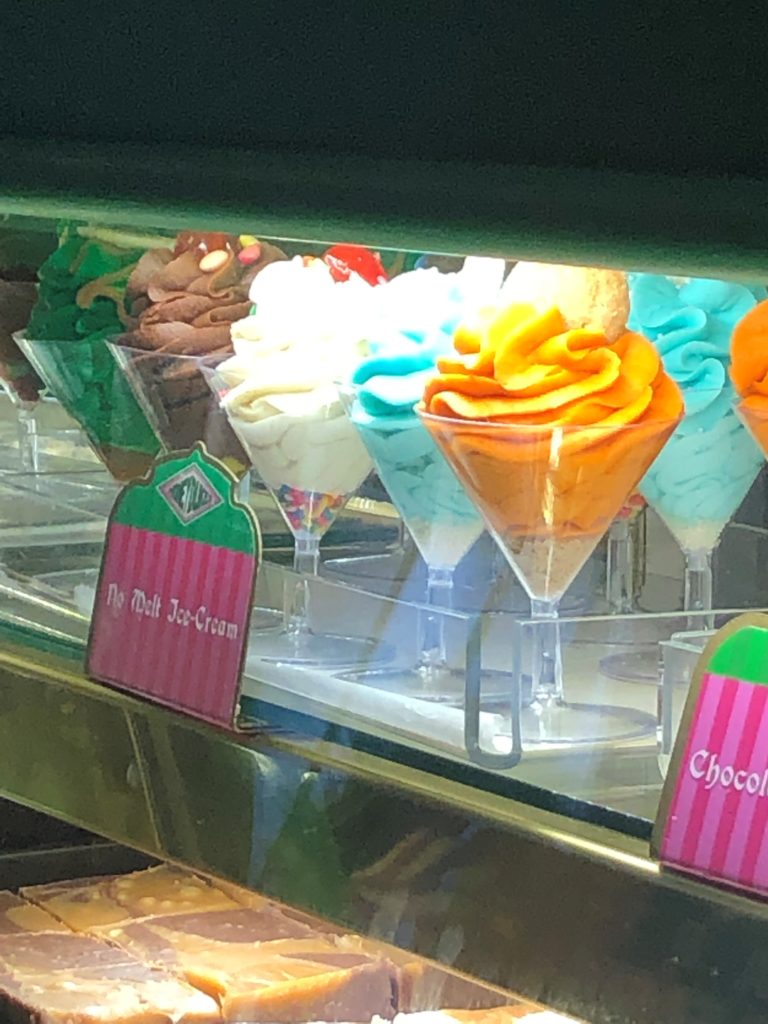 It's easy to get lost in the familiar sweets brought to life within The Wizarding World of Harry Potter. We've already mentioned Butterbeer, of course, but then there's Chocolate Frogs, Cauldron Cakes, Sticky Toffee Pudding… one day I will eat my way through all of them and die happy. However, for right now, my favorite of any treat behind the candy counter at Honeydukes is a little-known gem: the No-Melt Ice Cream. It's not a dessert we'd have read about in the books, so a lot of people are inclined to ignore it in favor of the more recognizable Pumpkin Pasties.
I'm here to tell you don't give in! No box of Every-Flavor Beans will ever compare to this. It may look like just a tiny swirl of ice cream, but it's basically a cup of pure icing and joy. There are currently five different flavors, but my favorite will always be the chocolate. It's dotted with M&Ms and topped with a cherry, and it tastes like thick, decadent brownie batter. This dessert is everything I never knew I wanted as a child, and now that I'm an adult spending my own money on sweets? I buy one every chance that I get. After all, I need to make up for some serious lost time.
4. Honk Honkers cotton candy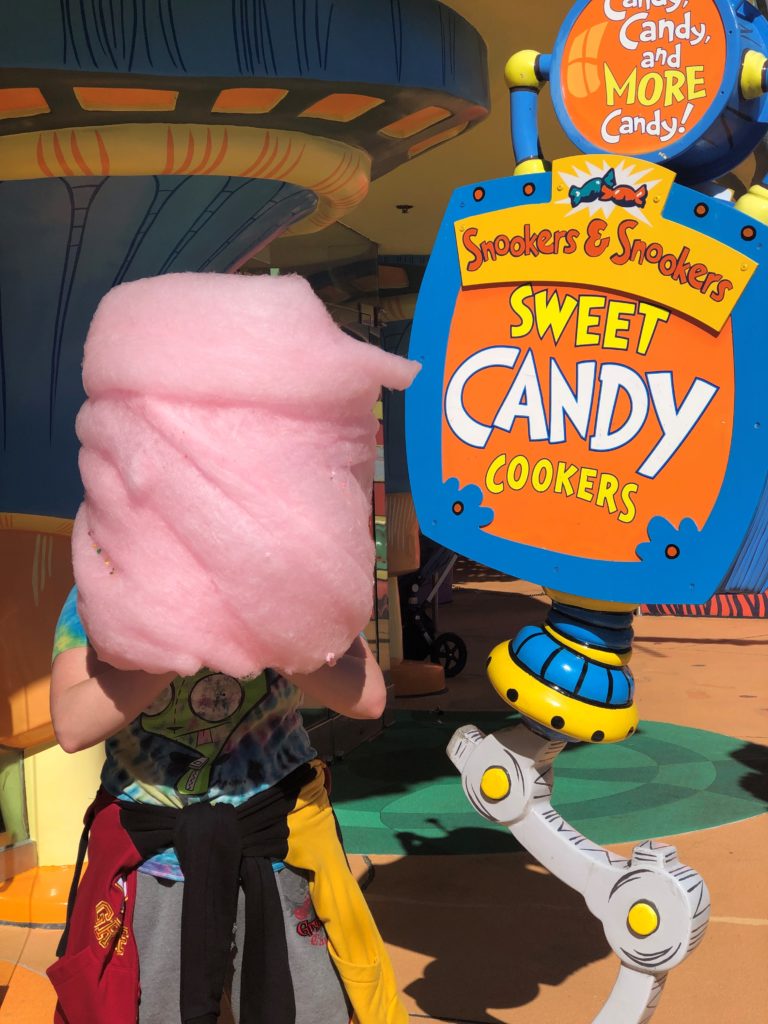 Seuss Landing is full of bright colors, whimsical patterns, and the very spirit of childhood. They have Who-sized doorways for the shops, and even the trees are unique. So, it stands to reason that one of the most creative, delightful desserts in all of Universal would be found right here, at Honk Honkers: cotton candy. Oh, I'm sorry – I should have said, "The small planet of customizable spun sugar that could immediately spike a family of six into a near-comical sugar high." These things are gigantic. I couldn't finish one, and my friend couldn't finish one. In the end, I think I shared with eight people and still threw part of it away. But that isn't because I didn't enjoy it – it's simply because they do not skimp on portion sizes.
It isn't just a giant sweet monstrosity, however. You can also get it mixed with candies of your choice, and you can have the entire thing wrapped on a giant lollipop rather than the traditional paper cone. I added Nerds, rock candy, and mini-marshmallows in mine, and I regret absolutely nothing.
5. Toothsome Chocolate Emporium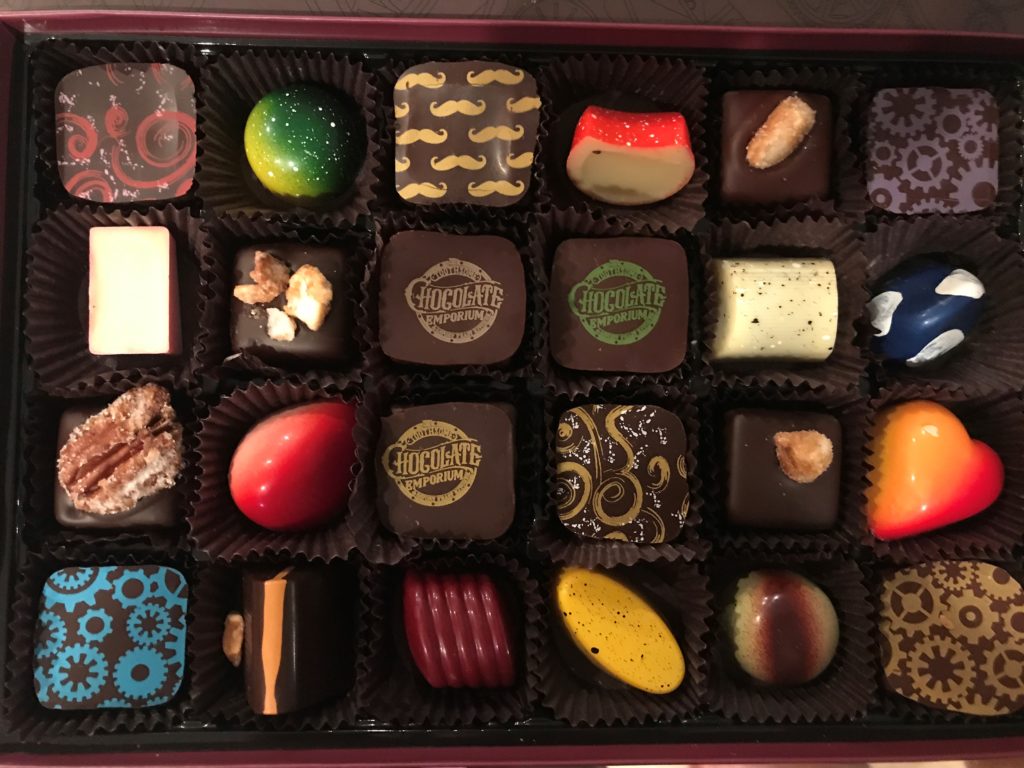 Yes, I do realize this is an entire restaurant, and not a specific dessert. There is, however, good reason for my including the entire location: I have yet to try a single candy, milkshake, or baked treat from Toothsome Chocolate Emporium and Savory Feast Kitchen that is not an absolute delight. Whatever your tastes, there is something for you at this steampunk-themed confectionery and dining experience. Their artisanal milkshakes are extravagant and creative, their imported chocolate bars from Europe are surprisingly good for a theme park, and I could absolutely live on their selection of bite-sized truffles.
There is also, I believe, something to be said for ambiance when it comes to food choices. Yes, the flavors are divine, but the whole building is a joy to wander around in on its own. If you want to elevate your dessert game to the next level, the Chocolate Emporium is definitely the way to go!
–
There are so many other places to satisfy your sugar cravings at Universal; CityWalk itself is lined with classics and old standards like Cinnabon and Dippin' Dots, as well as new favorites like Voodoo Doughnut. This list barely begins to encompass the truly fantastic desserts that Universal Orlando has to offer. So, spoil yourself a little. Grab a gourmet cupcake, raise a tankard full of Butterbeer, and treat yourself!
Tell 50,000 other vacation planners about your favorite sweet treats in the OI Community on Facebook, and then be sure to follow Orlando Informer on Facebook, Twitter, and Instagram for the latest news and tips at Universal Orlando, Walt Disney World, and other Orlando destinations.