A New Year is about to dawn, and many people are contemplating how they want to improve themselves in the coming year. How about resolving to have a better Orlando vacation? It is important to research and plan, but there are decisions you can make – resolutions, if you will – that will ensure you have the vacation of a lifetime.
Here are the top five that I would humbly suggest are the best place to start.
#5 – Try one type of food or drink you've never had
One of the most fun features of visiting a new destination on vacation is the plethora of food and drink that is unique to that location.
Orlando, like so many US cities, is a melting pot of cultures. This characteristic alone makes it possible for visitors and residents to enjoy a wide range of foods from around the world. Couple that with Orlando's superior theme parks, and you've got a bonanza of culinary creations.
If you're looking for creative cuisine in the theme parks, you won't have to look very hard. Universal Orlando's Wizarding World of Harry Potter is home to quite a few unique beverages (perhaps you've heard of butterbeer?), and at CityWalk, there are now a variety of unique tastes available. Very few people can say they've had "burgushi" before, which is featured at The Cowfish Sushi Burger Bar (one of my favorite new restaurants in all of Orlando), and, over at VIVO Italian Kitchen, you can savor Italian flavors with authentic and unique offerings, like squid ink pasta.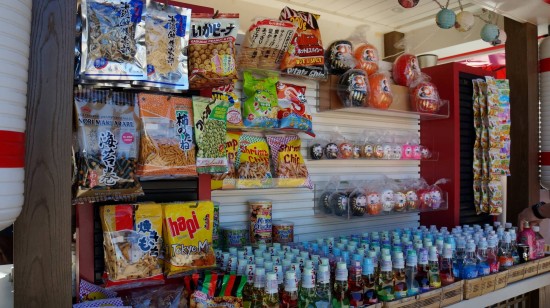 Snacks from the Japan Pavilion at Epcot.
Of course, no other theme park offers the incredible international dining experiences of Epcot. I love visiting two or three countries and picking up a treat from one of their many snack stands or counter-service restaurants. And many of the shops in the pavilions sell snack foods and bottled drinks from their respective countries, which are perfect for trying new foods on the go or, even, for gift-giving.
#4 – Take time to appreciate the details and theming
Naturally, the main attraction of visiting theme parks is, well, the attractions, shows, and rides. These should, of course, be the main focus of your planning – but you'll be missing out on what makes the parks so incredible if you simply rush from one attraction to the other.
The best theme parks transport guests to other worlds, so take some time to slow down and notice how they manage to pull it off. Look at the buildings. Notice any details in the architecture or in their adornments?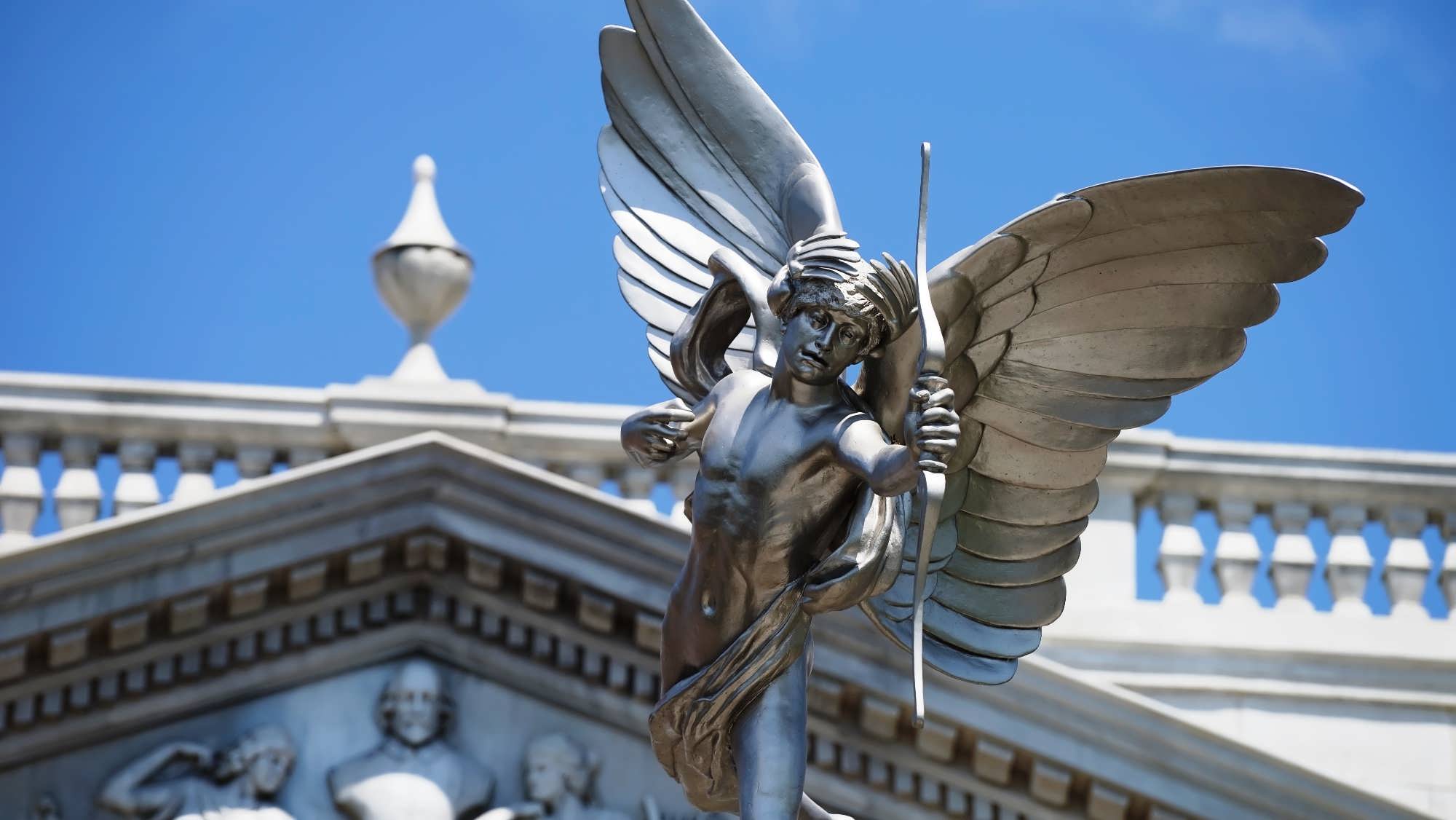 Eros Fountain at the London waterfront of Diagon Alley.
Listen to the music and sounds as they fill the air. Let the immersion wash over you. When you make a conscious effort to smell the theming roses (so to speak), I guarantee your enjoyment of the parks will become richer.
#3 – Dedicate one day to just relaxing
If there is one commonly used phrase that drives me bonkers, it's "I need a vacation from my vacation." Yes, Orlando has so much to offer that, in order to feel like you're getting the most out of your money, you try to pack fun into every single minute of every single day. While this is certainly understandable, it really is not the ideal way to approach your vacation.
As you develop your itinerary, you owe it to yourself to dedicate at least one day to doing nothing. Remember the days when you could sleep in for a little bit on the weekend? Well, they're calling – you can visit them again. Whether sitting by the pool or taking a relaxating stroll around your resort, don't rush; savor this time away from the normal daily grind.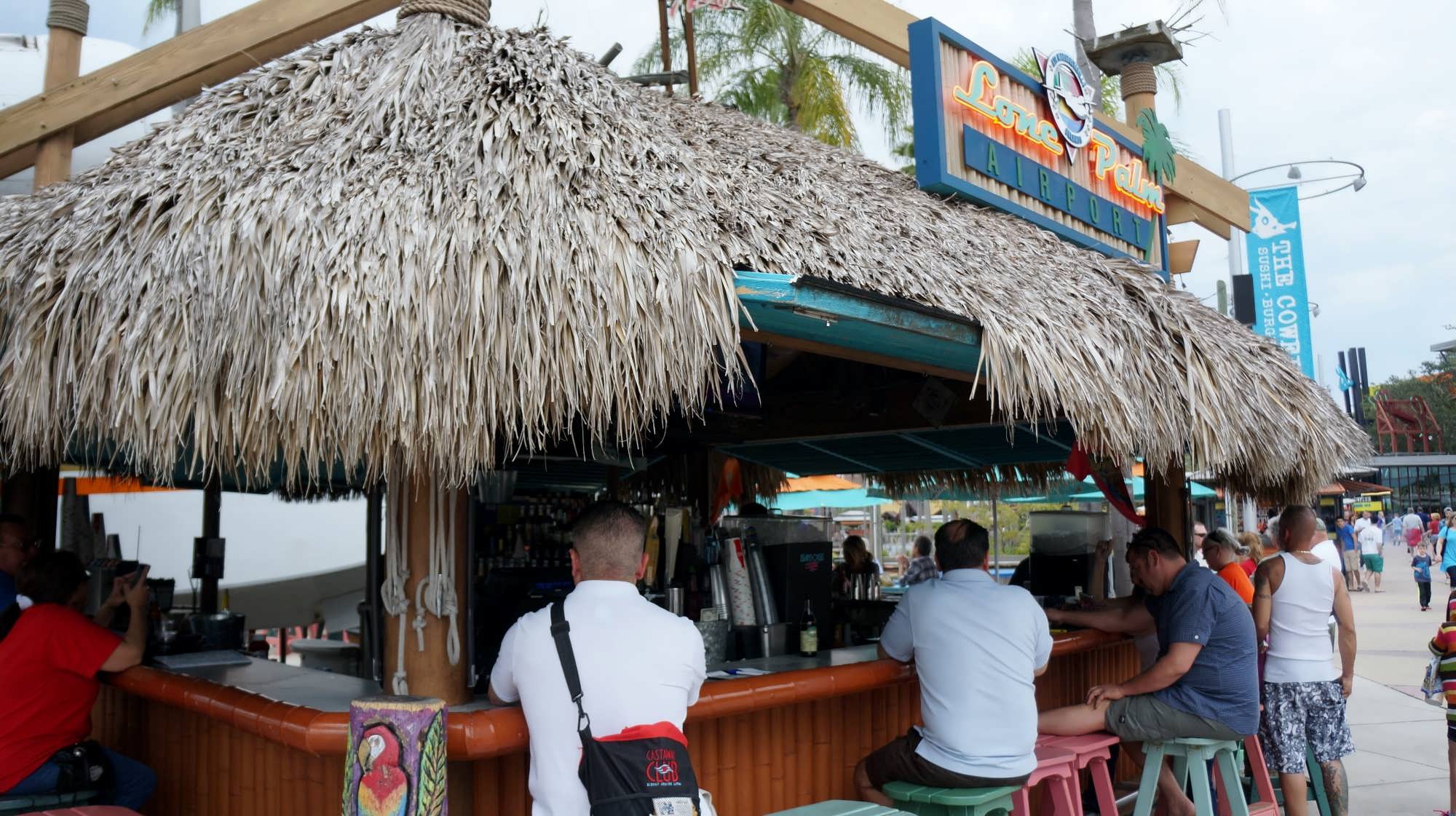 Jimmy Buffett's Lone Palm Airport is one of the best places to chill at Universal Orlando.
One of my favorite ways to relax is to grab a seat at an outdoor bar and take in the views and beautiful weather. Make it a point on your relaxation day to slow down, take deep breaths… and just chill.
#2 – Visit a local spot and explore a Central Florida neighborhood
Orlando's incredible theme parks are merely the tip of the iceberg – there are many fascinating neighborhoods throughout Central Florida that offer culture, character, and unique dining and shopping experiences. If you want to have a truly unforgettable vacation, then go where the locals go.
Just like with Orlando's theme parks, there are plenty of options. Each local usually has their favorite neighborhood (besides their own), but there are quite a few areas that consistently rank among the top places to visit.
The Loch Haven truly is just that: a haven of culture. Here you'll find the Orlando Science Center, the Shakespearean Theater, the Orlando Museum of Art, and the Orlando Reparatory Theater. Nearby is the adorable Audubon Park district. If you want quaint "mom and pop" bakeries, cafes, and markets, you simply must flock here.
One of the most historic and storied destinations in Central Florida, Sanford is a bit of a drive from the attractions area, but the amount of unique bars, shops, and restaurants along 1st Street and Sanford Avenue are totally worth it.
Of course, many consider Winter Park to be the crowning jewel of the Orlando area, and after one visit to Park Avenue, you'll quickly learn why.

Winter Haven's quaint Park Avenue.
Winter Park, and Park Avenue especially, is one of Orlando's ritziest neighborhoods, home to a treasure trove of boutiques, bistros, and cafes.
And for something a little closer to the attractions area, downtown historic Winter Garden offers a substantial amount of character and charm with a beautiful Main Street that transports visitors to days gone by.
#1 – Keep an eye out for Team Members that deserve special thanks
I'm just gonna get real for a second: it's not easy working in the hospitality industry. It certainly is fun, it can be exciting, and it truly is rewarding. But every front-line staff member has their moments when they feel like their job is a thankless one.
What many guests don't realize is that they themselves have the ability to impact a staff member in a meaningful way.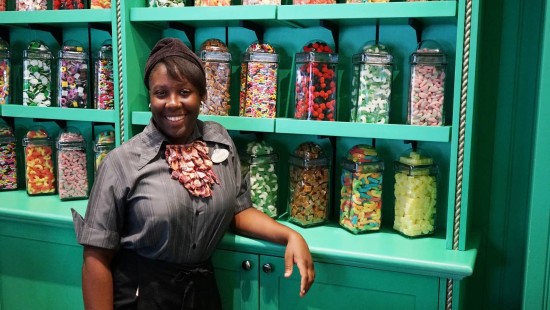 Honeydukes at Hogsmeade.
It's been years since I was a front-line Cast Member at Walt Disney World, but I still remember two particular families. I encountered one years apart from the other, but they did the same thing and, thus, impacted me in the same way: they both presented me with a thank-you card. Both families had a stack of pre-printed cards that they had made that said something along the lines of "Thanks for making magic for us – from the Smith Family." It was such a nice touch, and it really made my day.
When things go array on our vacation, our natural tendency is to look for a member of management in order to get assistance or make things better. This certainly is reasonable. However, imagine all the good you'll be doing if you take the time to tell a manager about someone on the staff that gave great service.
Nothing is more effective than positive reinforcement, so when you take the time to thank those that have helped make your experience wonderful, you're pretty much ensuring you'll continue to have a great time.
Honorable mention – disconnect from your device
This just might be the hardest resolution for anyone to succeed at. It is also a surprisingly personal matter for many people. I recognize it is pretty much impossible to completely disconnect from your device at any time, especially on vacation, but I think the results are more than worth it.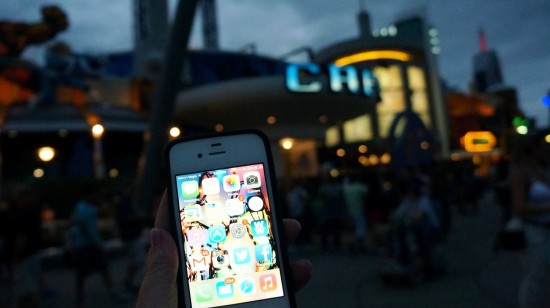 Disconnecting from your device.
Rather than going cold-turkey, I suggest allocating a certain timeframe at least once during your vacation in which you put your cell phone away. Try just one hour without your phone – no texting, and no posting to Facebook, Instagram, Twitter, etc.
The point of this time without your device is to just be present. Be in the moment. Look around you, take it all in, have a real conversation with your friends or family that are with you on this great trip. It goes by fast. By taking the time to really be in the moment, you're bound to find more satisfaction.
Each year is another opportunity to start something new or make some improvements. Since vacation time is so precious, challenge yourself to enjoy your time in Orlando to its absolute fullest rather than falling in line with the usual resolutions.
Planning a vacation to Orlando?
Want to skip all the work and just price out a vacation to Universal Orlando? We'll find the best deals for you – for free (seriously.) Learn more, or check out some of the current deals: