While Universal Orlando Resort is undeniably centered around family fun, it harbors a whole other world beyond its kid-friendly attractions. Amidst the family-oriented atmosphere, you'll find top-notch establishments perfect for a romantic night on the town, a swanky lounge to vibe in, or just some counter space where you can nurse a breather from the parks over a well-crafted cocktail.
With so many great watering hole options at Universal Orlando Resort, what makes a bar "the best"? The drinks are the obvious factor, but it's more than a quality libation poured by a generous hand. A "good" bar consists of attentive service and a welcoming, well-themed, and entertaining atmosphere alongside a considerable menu. The best bars provide the utmost in all of these accordingly.
Given these demands and some investigation, here is a compilation of our suggestions from the vast array of fantastic options across Universal Orlando Resort. Along with each feature, we've also provided a drink recommendation that represents that bar the most.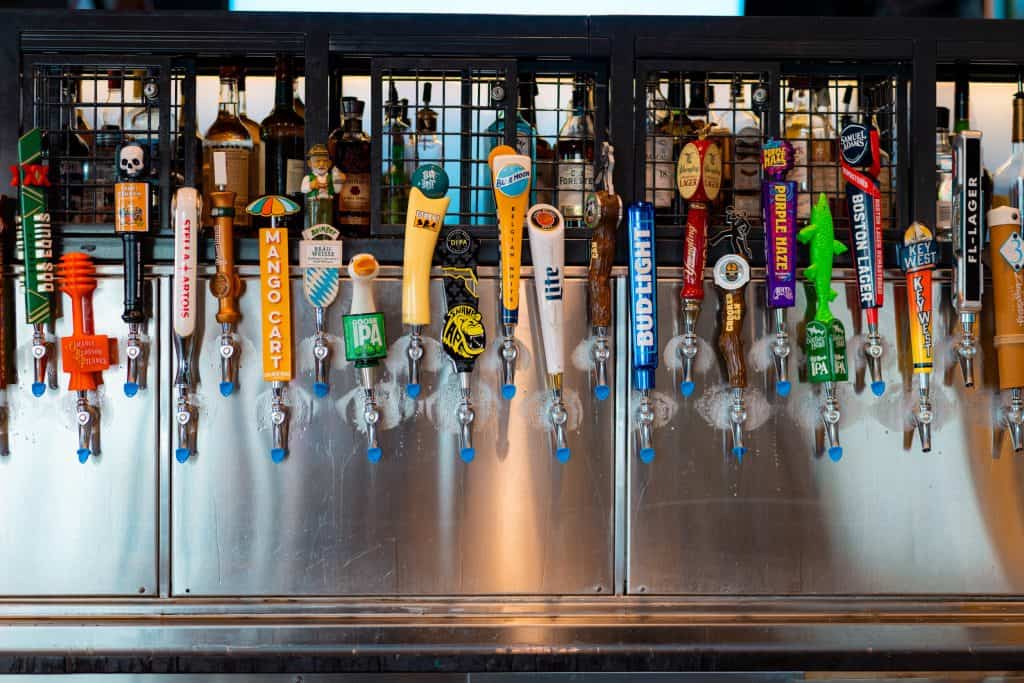 Location: Universal CityWalk Orlando
Drink recommendation: When in Rome Beer Flight
While both parks have fine offerings for beer lovers, this venue is a great choice for someone wanting to enjoy a cold one and have the ultimate game-watching experience. It takes everything you know and love about the standard American sports bar while tremendously amplifying it with classy Edison theming.
The establishment features several high-definition, big-screen televisions playing various sports games, including an outdoor jumbotron, and bars on both the upper and lower floors with a decent amount of seating. Mention what game you're trying to follow, and there's the possibility they can seat you accordingly, depending on the table availability. If you have friends and family who aren't exactly sports fanatics, some tables are even equipped with shuffleboard games to keep non-spectators entertained while everyone else takes in the game day excitement.
The menu has an impressive offering of food and beverage but excels in its beer and cider selections. Its extensive list includes over 100 types of ales, ciders, and lagers, which come in bottled and draft forms. Within their impressive lineup is their exclusive local house brew – the 862. This IPA blends floral, citrus, grapefruit, and pine aromas balanced with a medium-high hop bitterness. Keep an eye out for its ever-changing seasonal version crafted at a local brewery with fresh, Florida farm-grown ingredients of the season.
NBC Sports Grill & Brew also offers several great flight options. Personally, I'd suggest their When in Rome flight, consisting of two of their three exclusive brews, the Firkin beer and the 862 seasonal flavor, as well as Florida's own Swamp Ape IPA and Key West Sunset Ale.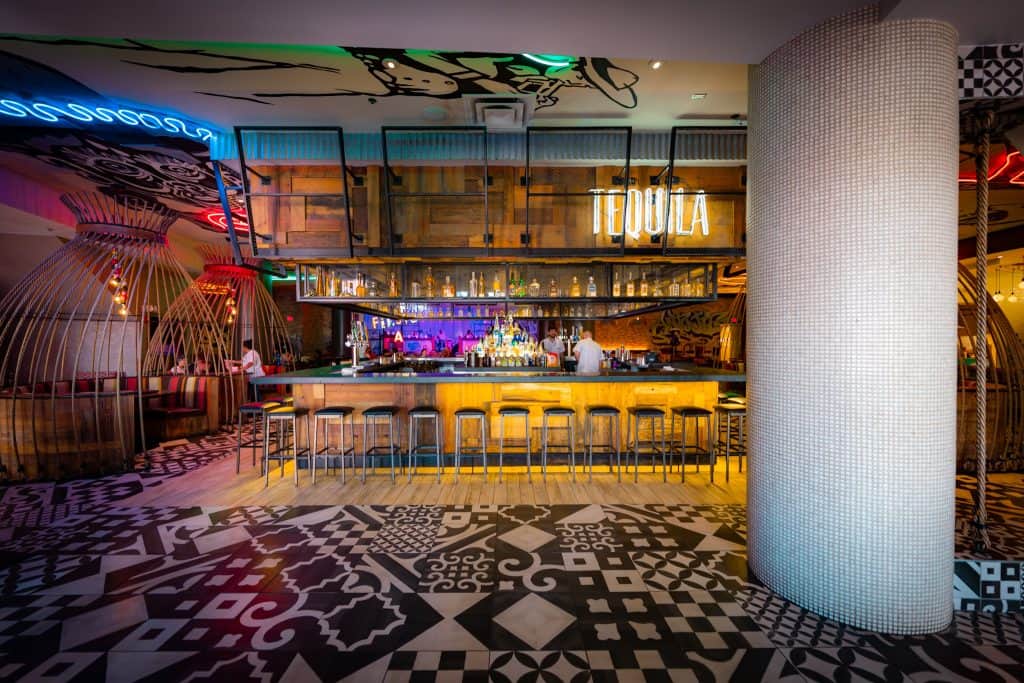 Location: Universal CityWalk Orlando
Drink recommendation: Antorita
Antojito's theme can be stated as "Traditional Mexican with a modern, urban flare" and is one of the most vibrant venues on property inside and out. Within its festive exterior, it offers two indoor bars on both the upper and lower floors and a quick-service stand outside in the form of a food truck near the entrance for when you want to grab a drink on the go. Within their neon-accented interior are decorations of contemporary art celebrating Mexican culture with highlights of luchadors, colorful graffiti, and other urban-style art. As one of the only venues that offer live entertainment on Universal Orlando property, guests can enjoy the music stylings of a solo guitarist and a mariachi band on select evenings.
Focusing back on the bar itself, the service has always been top-notch during my visits. Their menu is consistent with their theme, offering Mexican beers, different mezcals, and an extensive list of tequilas. In our opinion, The Antorita is the drink that conveys this bar the best. Their namesake margarita is their take on a traditional house margarita that consists of José Cuervo Silver Tradicional tequila, Cointreau, Gran Gala, and garnished with a fresh lime.
If you want something a little less traditional that's still representative of the bar, I'd also suggest the Blood Orange or my current favorite, The Pineapple Fire and Ice, which comes with a bonus pineapple ice pop! Best of all, their drinks are made from scratch, meaning you can technically customize how you take your beverage.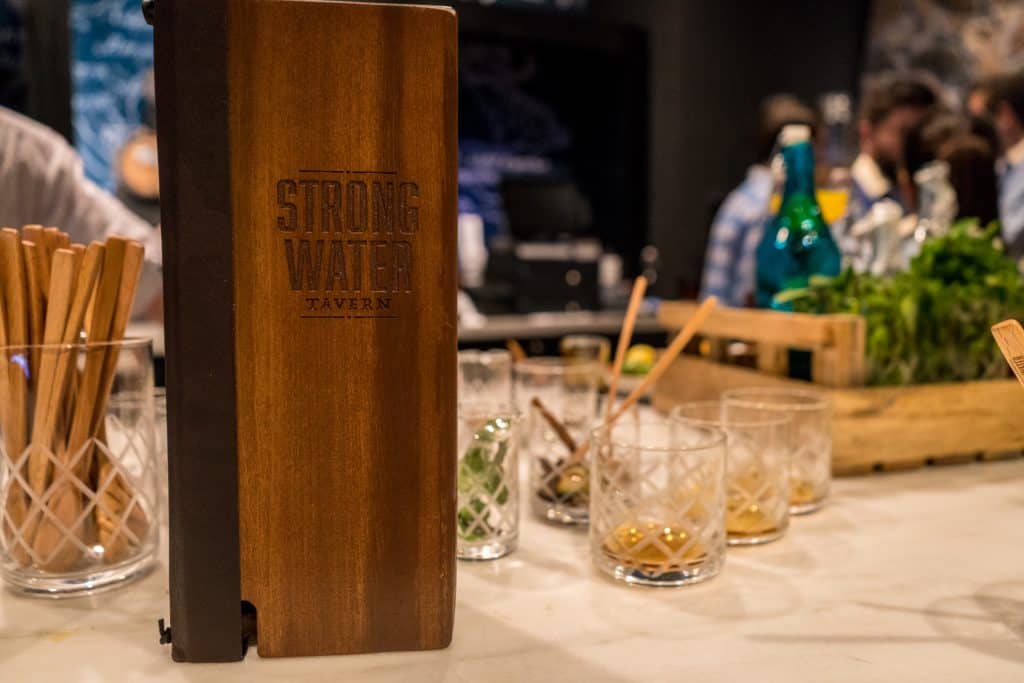 Location: Loews Sapphire Falls Resort
Drink recommendation: Tavern Grog
If I were to take a stance, Strong Water Tavern should be on anyone's list of Orlando's Best Theme Park Bars, and I dare to not-so-humbly call it the best bar on Universal Orlando's property. Sapphire Falls' lobby bar has a classy but laid-back vibe with cobblestone and dark wood tones and nautical wall splashings behind the bar's white marble counter. It's spacious with plenty of comfortable places to relax that almost beckon you to take a seat and have a drink.
Venturing to their outdoor seating, the patio boasts several choice spots to enjoy a beverage while taking in the serenity of the hotel's waterfall and lagoon that joins Sapphire Falls with its neighboring hotels. Strong Water Tavern is a rum bar by nature. As such, they have an extensive selection of over 60 types, some of which are barrel-aged right there at the establishment, and a menu of inspired cocktails to choose from, as well as regional Caribbean tapas to pair with your drink of choice.
Of course, I've pinpointed their Tavern Grog to be their representative libation. This cocktail utilizes Plantation Original Dark Rum, pimento dram (rum-based liqueur for those taking notes.), demerara sugar, and citrus. The flavors mingle with each other in a subtle but enjoyable fashion, helping this drink define the term "craft" within mixology and showcasing their creative prowess. It's also likely the best drink on property. It's so popular that Universal Orlando offers a video tutorial on making the signature beverage at home. Alternatively, they offer expert-guided tastings of their rum selections. The difference with them is you'll have in-depth education from their Rum Captain on each sampling instead of a simple pairing.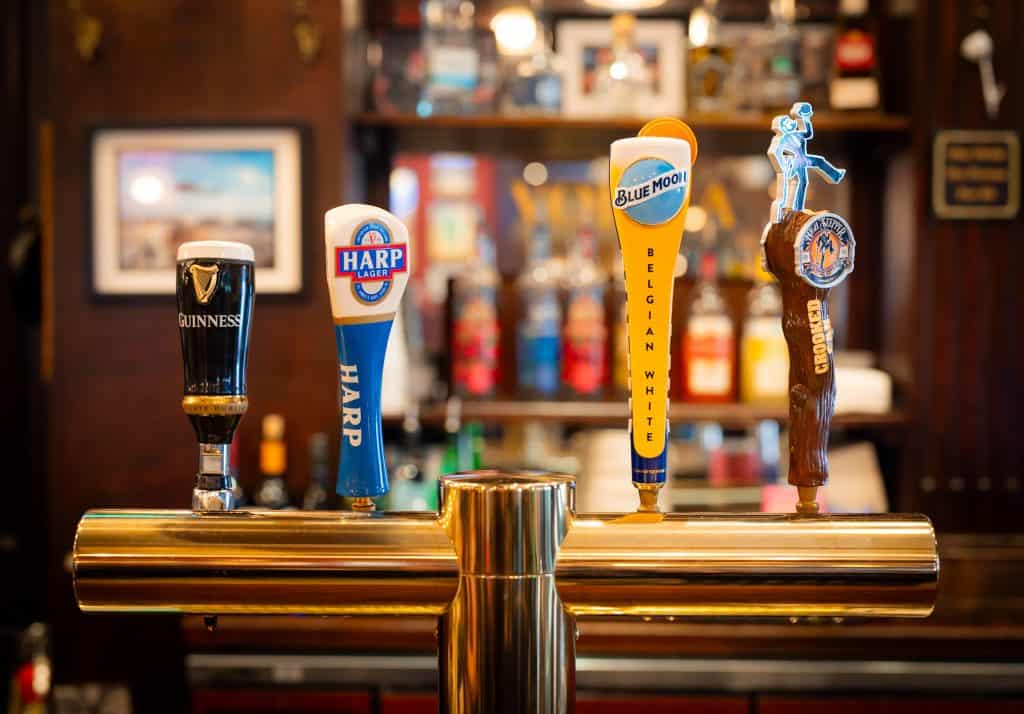 Location: Universal Studios Florida, New York
Drink recommendation: Finnegan's G&T
Intricately themed as a traditional Irish pub, Finnegan's is the go-to in-park bar considered a favorite spot of both Universal Orlando Passholders and guests traveling abroad.
The venue is split in two as Finnegan's offers full food service and a bar, each having its own entrances. Those just wanting to grab a quality "trip enhancer" need only to hop over to their side before returning to their Universal Studios Florida visit. Finnegan's Bar & Grill also sits alongside Antojito's as an establishment where you can often pair live entertainment with a meal or libation.
Naturally, beer and whiskey are featured, but Finnegan's also offers a full bar bursting with potential for crafting signature drinks. As we delve into the depths of this liquid playground, there are two handcrafted creations we would like to highlight that embody this bar. Sip on Finnegan's twist on a gin and tonic with their Finnegan's G&T, crafted with New Amsterdam Gin, Chambord Liqueur, tonic water, and simple syrup, and topped with a fresh sprig of rosemary. But if your taste buds crave the taste of Emerald Isle charm, the Green Tea Clover is calling your name! This elixir offers a melon-infused spin on the traditional Irish Whiskey Sour, comprised of Jameson Irish whiskey, Midori liqueur, peach schnapps, and sour mix.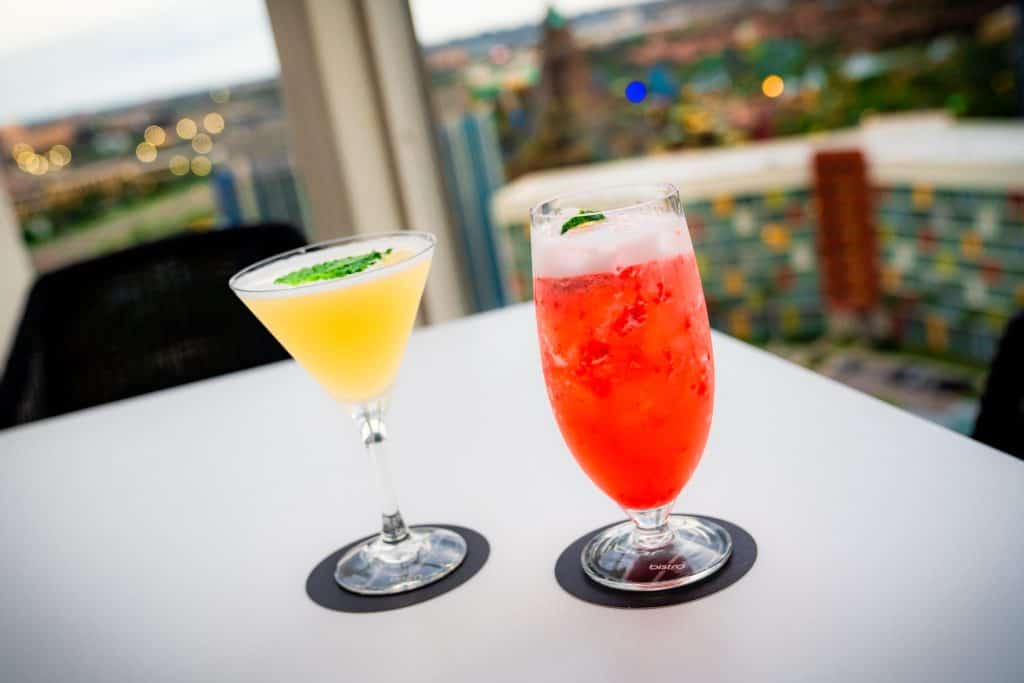 Location: Aventura Hotel
Drink recommendation: Night on Fire
Aventura's rooftop bar secures a well-deserved spot among the top-recommended bars at Universal Orlando Resort and is widely considered to be one of the best watering holes in Orlando. Accessing the elevated Bar 17 Bistro is incredibly easy, thanks to a dedicated express elevator that whisks you away to the 17th floor in no time.
Once you're there, the lounge's plexiglass surroundings offer a breathtaking panoramic view of the cityscape and three Universal Orlando's parks. Rest assured, wherever you choose to settle into among their wide array of seats, an awe-inspiring vista awaits. We suggest aligning your visit with dusk as it acts as a wonderful mood setting and is when Orlando is most vibrant.
I'll admit that researching this article marked my inaugural visit to this bar, and since that first encounter, I've been drawn back into its welcoming, laid-back ambiance with a drink in hand. Speaking of drinks – at first glance, there isn't a concoction that boldly claims the title of this bar's representative signature drink.
I'd say that the Night on Fire would be the drink of choice here. Bar 17 Bistro's expert bartenders fill your glass with Absolut Vanilia Vodka, Absolut Citron Vodka, Cointreau, lime juice, simple syrup, and blackberries topped with Fresno pepper. The combined experience with each sip pleasantly compliments Bar 17's open-air environment with a little added spice. Bonus points are awarded for those who pair it with a view of Krakatau at Volcano Bay.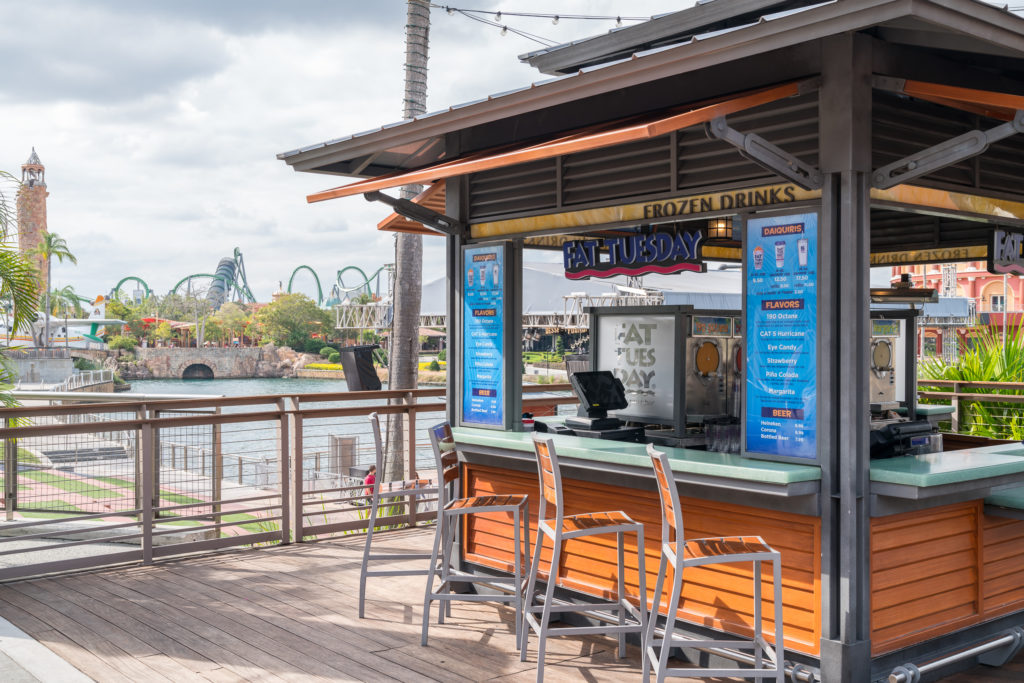 Location: Universal CityWalk Orlando
Drink recommendation: 44 Magnum
This quick-service, walk-up bar may not be unique to Universal Orlando, but its notoriety warrants consideration. They have a consistent line-up of frozen, colorful daiquiris and seasonal flavors, which you can get on their own or swirl together. The guest demand for Fat Tuesday at their upper-level location next to Pat O' Brien's has become such that they've expanded to a secondary stand on CityWalk's lower level across from the Universal Studios Store.
Both offer the same speedy, friendly service and selection of frozen drinks, but I gravitate toward their lower-level location. It offers a good amount of seating and prime people-watching opportunities, as well as a great view of the lagoon stage during the nights when CityWalk arranges live entertainment.
If I had to choose what drink defines Fat Tuesday, it'd have to be the 44 Magnum. It's a mix of their strongest flavors and darn fine to enjoy, especially during that Spring and Summer Florida heat – And don't be afraid to add in the extra shot!
---
Do you have a favorite bar at Universal Orlando Resort? Discuss it with 160,000+ other Universal die-hard fans in our Orlando Informer Community on Facebook. And be sure to follow Orlando Informer on TikTok, Threads, Facebook, Twitter, and Instagram for the latest news, tips, and more at Universal Orlando, Walt Disney World, and other Orlando attractions. Orlando Informer also offers discounted admission to Universal Orlando Resort's incredible theme parks, which you can explore available options here.