We don't call ourselves the Sunshine State without good reason – it's hot here! Universal Orlando offers plenty of ways to cool off and beat the heat, but one of my favorites is to grab a frosty beverage.
There are so many fun choices that are great for both kids and the young at heart. Let's count down the best kid-friendly beverages!
#6 – The Simpsons specialty concoctions (Springfield USA)
Springfield USA is home to a variety of specialty beverages. To start our list, Three brightly-colored, unique beverages can be ordered at the Flaming Moe's counter at Fast Food Blvd, as well as at Moe's Tavern and Duff Gardens: Mr. Teeny, Groovy Grove Juice, and Mt. Swartzwelder Apple Drink. I recommend ordering these drinks at the Flaming Moe's counter, where they are prepared the freshest (and don't confuse these three drinks with a Flaming Moe, we'll get to that one!)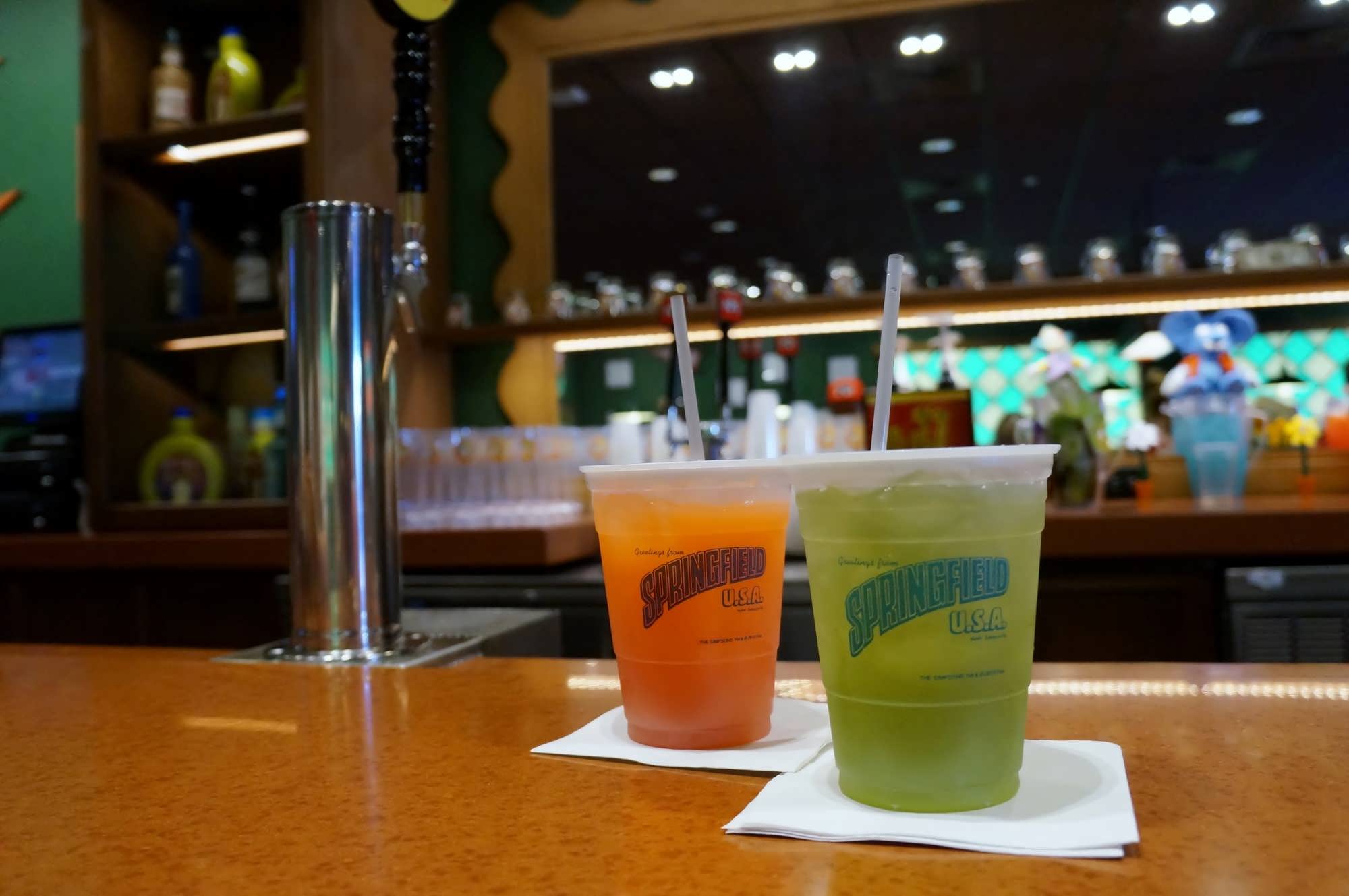 All drinks are $3.99 and are a blend of juices and syrups. Mr. Teeny tends to be the most popular, thanks to its blue color and tropical blend of lemonade and pineapple juice. Then there's the Groovy Grove Juice, which is fun to order with its groovy name, but it is also a nice citrusy taste of Florida, thanks to its blend of orange juice, lemonade, and blood orange syrup.
My favorite of the three is actually the least popular: Mt. Swartzwelder Apple Drink. I find this to be the most refreshing because of its interesting combination of apple juice, granny smith apple syrup, lemonade, and green tea. The green tea makes all the difference!
#5 – Lemon Slush (multiple locations)
When it's sweltering out, there's a level of refreshment that only a frozen lemonade-style drink can bestow. Universal Orlando offers a very refreshing Lemon Slush ($4.19) in both of its parks. In fact, you can find this bright yellow icy, slushy delight in multiple stands. It can be enjoyed by either scooping it up with a spoon-shaped straw or, as I prefer to do, letting it melt just a little bit, transforming it into a very refreshing drink.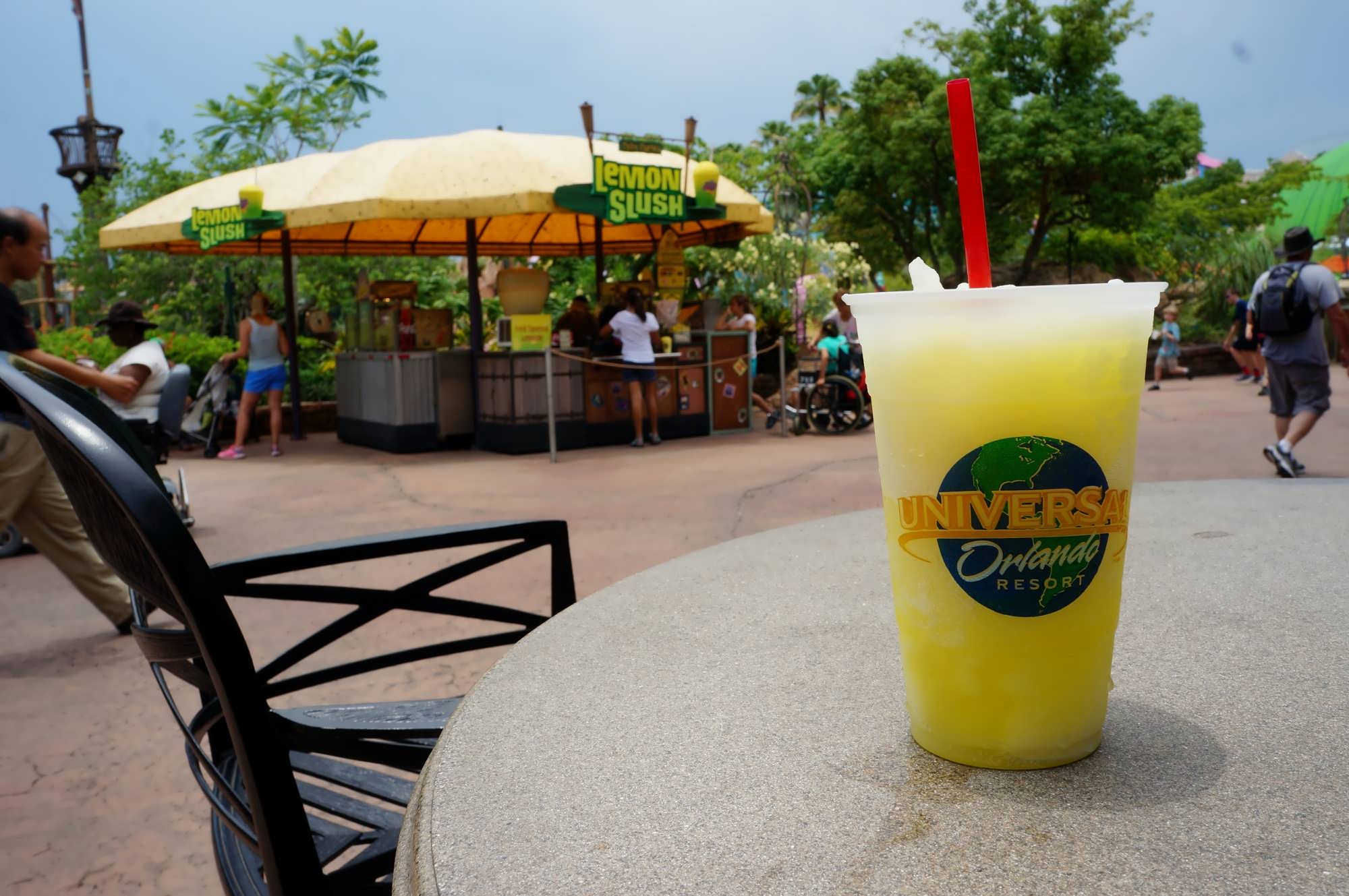 It is surprising to see that the Lemon Slush is actually hand-scooped shaved ice, and also that it has a great balance between tart and sweet. For something on the sweeter side, you can also order a Strawberry-Lemon Slush, also $4.19.
#4 – Frozen Green Apple Goose Juice (Seuss Landing)
Right at the border of Seuss Landing and Lost Continent is a whimsical snack-and-beverage stand that is too cute to pass up. Moose Juice Goose Juice offers a variety of drinks, but there is one that is a choice better than the rest.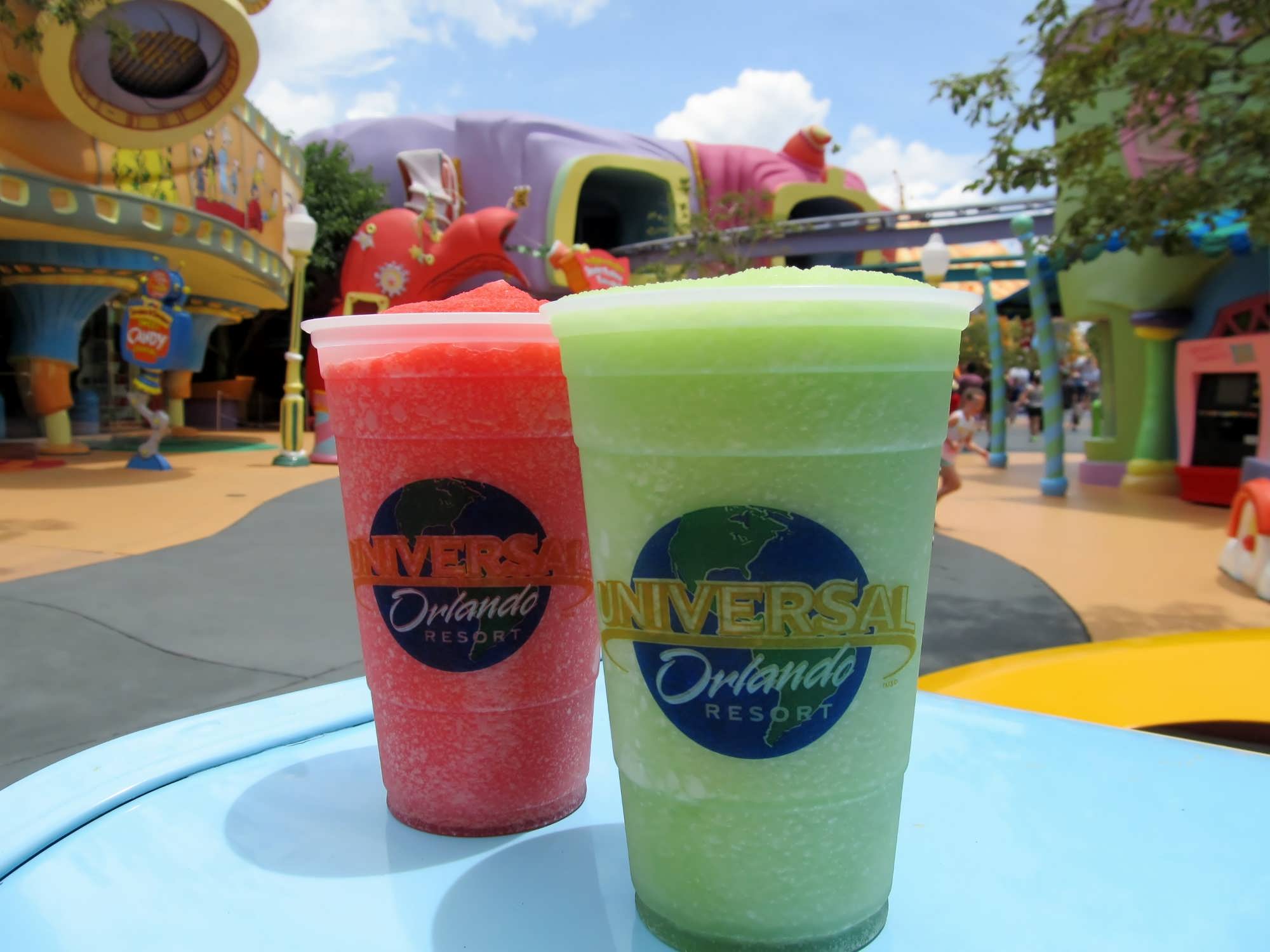 The Frozen Green Apple Goose Juice ($4.29) is pure sour-apple-green goodness. The flavor is strong and tart. In fact, the flavor is so concentrated, it is difficult for me to finish this beverage on my own. It's pure pucker power!
#3 – Flaming Moe (Springfield USA)
Before being a Potterhead was ever a thing, I was a fan of The Simpsons. I don't mean this in a hipster sort of way; I just want to illustrate the longevity of the show. This cartoon family has been entertaining audiences since I was in elementary school. Because of this, when Universal announced that it would offer the Flaming Moe ($8.99, includes the souvenir cup) as a beverage, I got all excited.
In the actual series, the original Flaming Moe was invented by Homer out of necessity for dealing with his hated sisters-in-law. He took the contents of every bottle in the liquor cabinet, including (by accident) the kids' Krusty the Clown-brand cough syrup. This extra ingredient made it purple. On its own, the drink was "not without its charm," according to Moe, but, as Homer discovered when a cigarette ash fell into his original creation, thus setting it on fire, the whole crazy concoction is made all the better when it is aflame.
Obviously, this presents a fire hazard and safety concern, so the drink at Universal Orlando can't actually be set on fire. What did surprise me, however, is that Universal's version isn't purple at all, but, rather, a bright orange. Still, it is a visually intriguing creation.
The use of dry ice inside the specially-designed souvenir plastic cups makes this drink a site to behold. The fizzy flavor is both light and a sweet citrus that is refreshing on a warm day. Popping into Moe's when you need a break from the heat is a great idea, and enjoying a smoking Flaming Moe makes for a memorable occasion.
#2 – Toothsome Chocolate Emporium Milkshakes (Toothsome Chocolate Emporium & Savory Feast Kitchen)
A brand new addition to Universal CityWalk, Toothsome Chocolate Emporium has introduced a selection of thirteen delectable milkshakes. Ranging from $12-13 each, adults and kids alike are sure to find a milkshake they'll enjoy! These shakes can be ordered in the front at the "foundry" or you can order them seated in the restaurant itself.
You can see the milkshake menu here or watch us try each of the milkshakes in the video below.
#1 – Butterbeer (Diagon Alley and Hogsmeade)
How could we not put Butterbeer at the top of our list? It's the beverage that changed theme park dining forever!
When the Wizarding World of Harry Potter – Hogsmeade came into being, it brought with it the concept of specialty beverages only available at a specific theme park land. In the Harry Potter books and movies, butterbeer is actually a drink that appears to possess alcoholic characteristics. Though it may be okay for underage witches and wizards to consume a concoction that induces a buzz, such is not the case in our world. So the team at Universal Creative worked to create a unique, flavorful beverage suitable for kids that author J.K. Rowling herself approved.
Whether you choose "cold" butterbeer, the more popular "frozen" butterbeer, or the seasonal "hot" butterbeer, you are bound to enjoy the sweet, creamy flavor. The beverage itself is an intermingling of buttery caramel and butterscotch, with a mild taste reminiscent of cream soda. The sip-able cold confection is topped with a foam that is simply dreamy. I can never get enough of it.
Universal Orlando created a theme park classic when it introduced our world to butterbeer. Joining the ranks of the Mickey Mouse-shaped premium ice cream bar and the turkey leg, butterbeer is practically an icon.
Honorable mention – free water
Alright, so this one isn't very exciting, but now is the perfect opportunity to let first-time Universal visitors know that tap water is always free anywhere at Universal Orlando, from the restaurants to the kiosks to the several water fountains. What's more, you can also get free water using any container you have.
Want to kick it up a notch? Pick up a few Crystal Light Liquids or MiOs before your trip and keep them in your backpack. They help provide you and your family with a refreshing drink at no cost in the parks.
As you explore Universal Orlando, enjoying all the excitement that is contained within, be sure to stay hydrated and take time to refresh. Plain water is, of course, the absolute best way to stay cool, but when your taste buds are looking for a tasty way to cool down, be sure to grab one of these refreshing beverages.
Comment below with your favorite kid-friendly beverage at Universal or find out what our fans are saying about Universal's beverages right here in our Facebook Community!