Spending the day at Universal Orlando Resort can be both exhilarating and tiring. During a busy day of excitement, it is important to take breaks and recharge yourself. There are some beautiful places dotted throughout both Universal Studios Florida and Islands of Adventure that offer lovely vistas and ample room to spread out and relax.
In this edition of THE BIG 5, we take a deep breath, get a cold drink, and count down our favorite of these wide-open spaces.
#5 – Sneetch Beach at Seuss Landing
I love Seuss Landing; there's so much imagination at work here. The colorful decor is so cheerful, and there's not a straight line to be found anywhere – it is literally like stepping into the pages of Dr. Seuss.
Most visitors stroll along the main thoroughfare that winds right down the middle of Seuss Landing. However, if you veer off to your left (if entering from Port of Entry) or your right (if entering from Lost Continent), you'll be able to enjoy a side street of sorts that takes you along Sneetch Beach.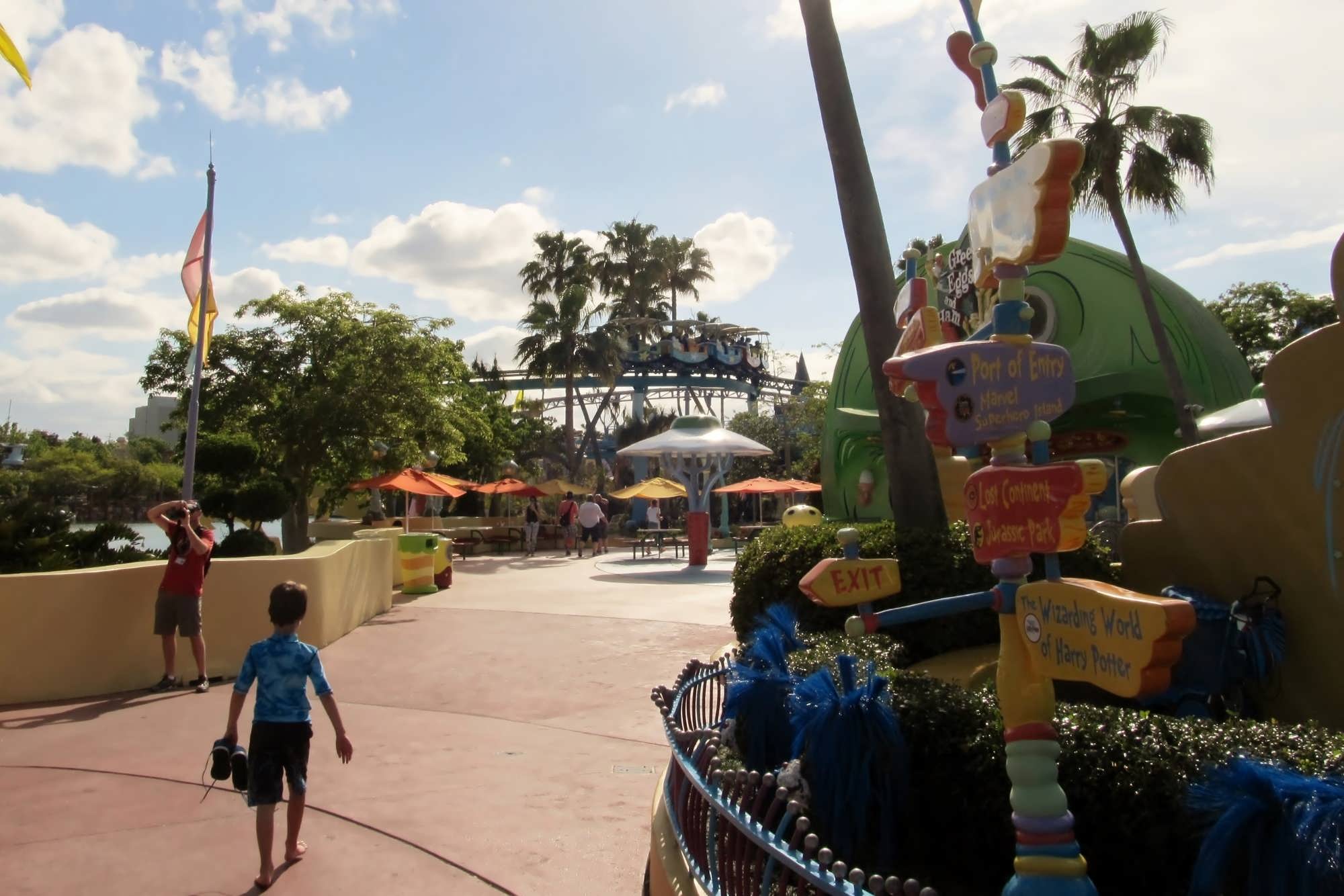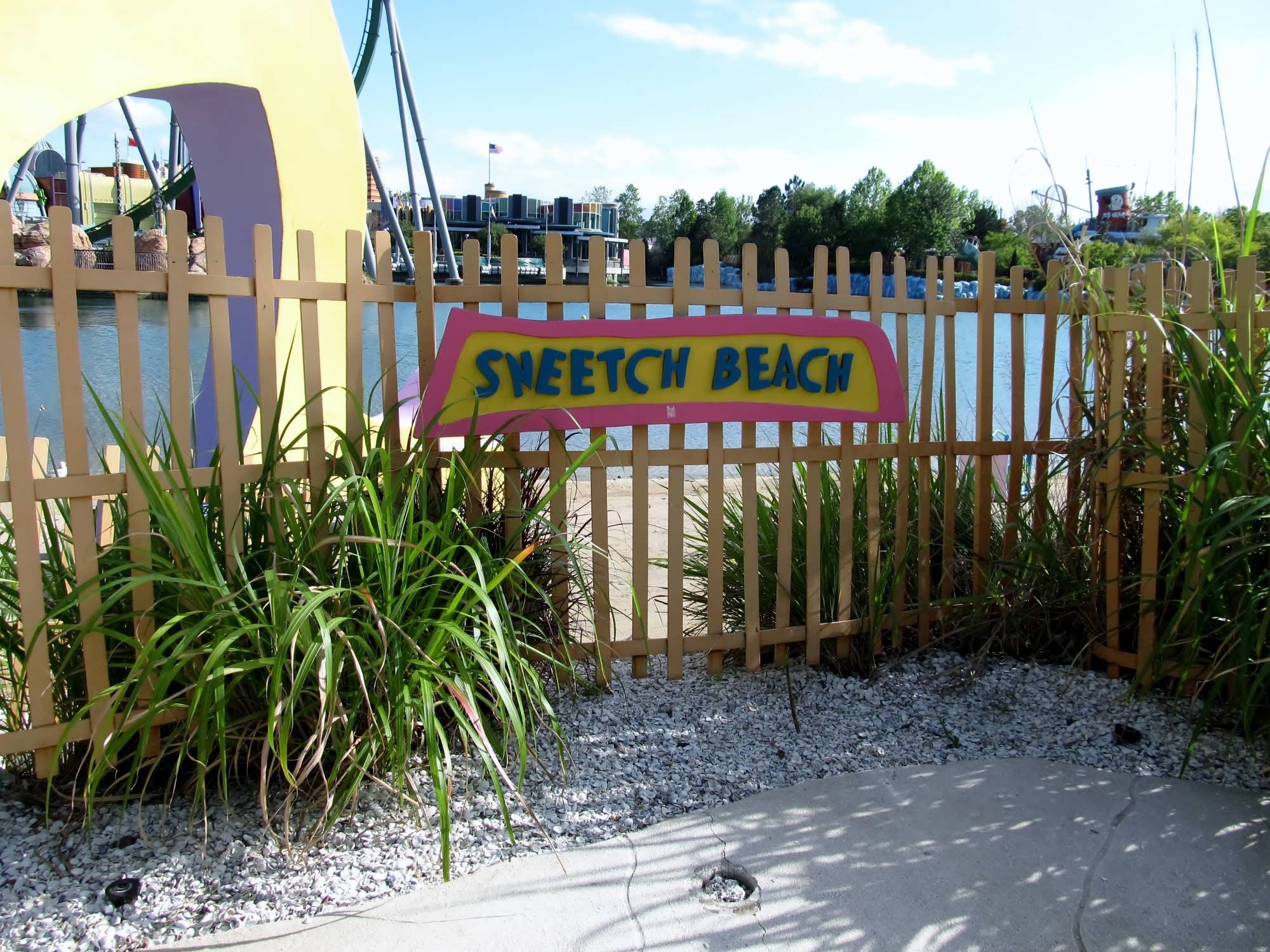 Here you can enjoy beautiful views of the Islands of Adventure lagoon and enjoy the sights and sounds of The High in the Sky Seuss Trolley Train Ride right above you. There's ample seating along the flower bed walls, and, in fact, you can enjoy some of the most unique flowers and plants in all of Islands of Adventure.
But my favorite detail along this walkway is Sneetch Beach itself. Take a moment to pause and check out this little gem of theming where the Sneetches have left their towels, built an awesome sand castle, and kept the Seuss radio on as they take a dip in the water.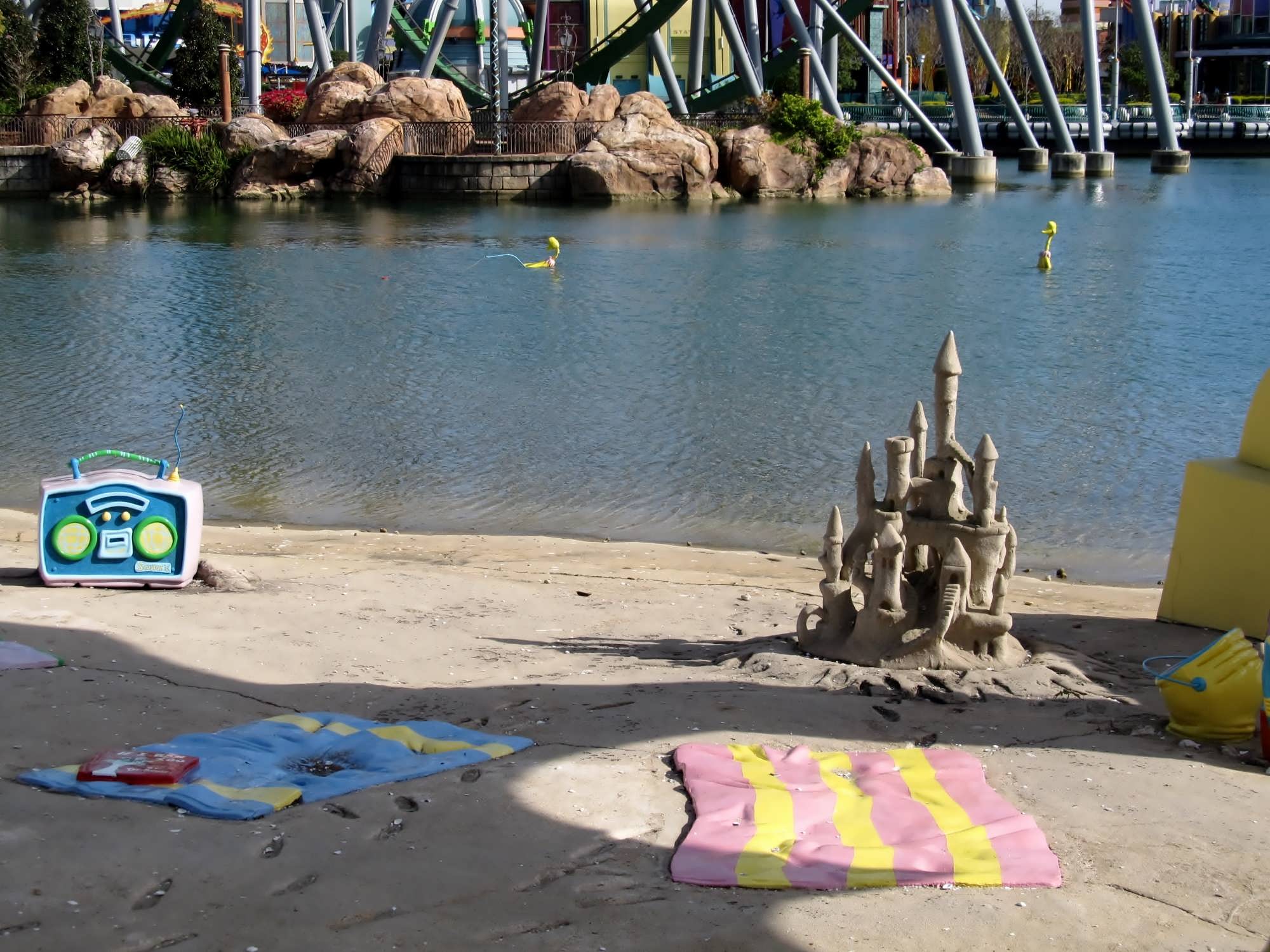 #4 – Gramercy Park at New York backlot
Located in the middle of the thrills of Revenge of the Mummy, Twister… Ride It Out, and Hollywood Rip Ride Rockit is a very popular sitting place that is meant to resemble New York City's Gramercy Park.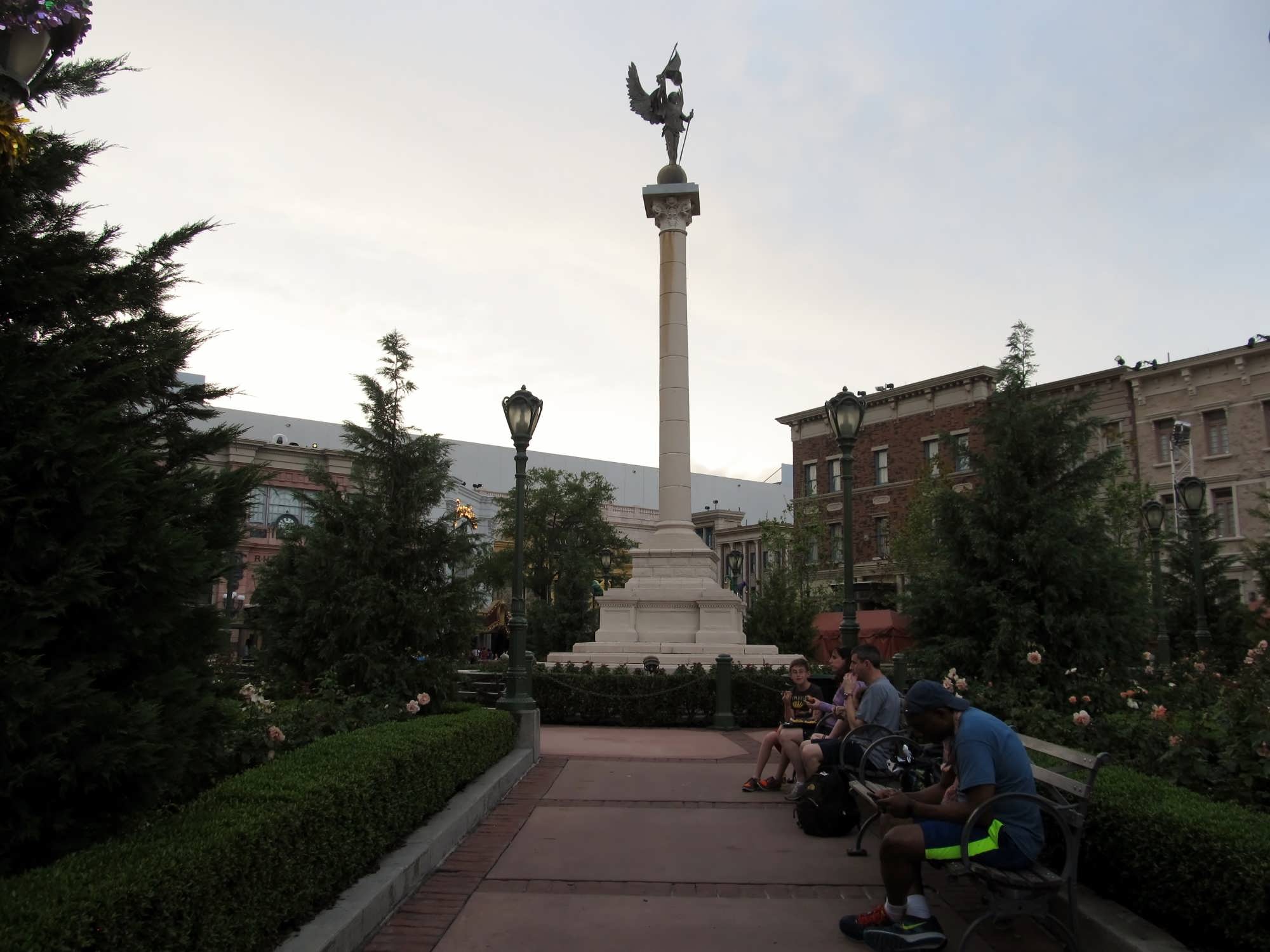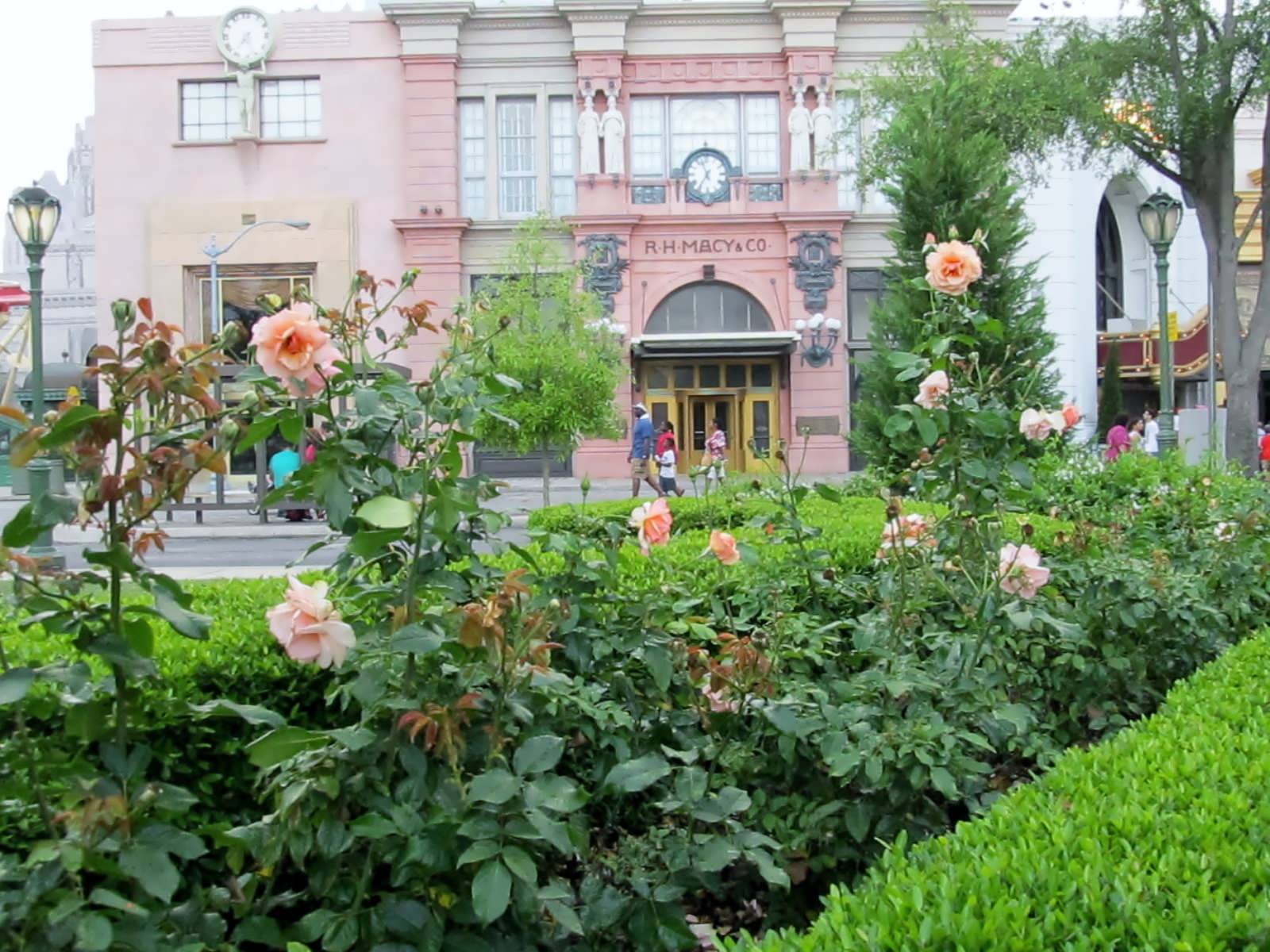 This park offers plenty of benches and great views of the nearby attractions. It is also a nice place to catch the Universal Superstar Parade without having to sit among the crowds along the street.
The center circular area of this park is a designated smoking area, so please take note if this is of interest or concern to you.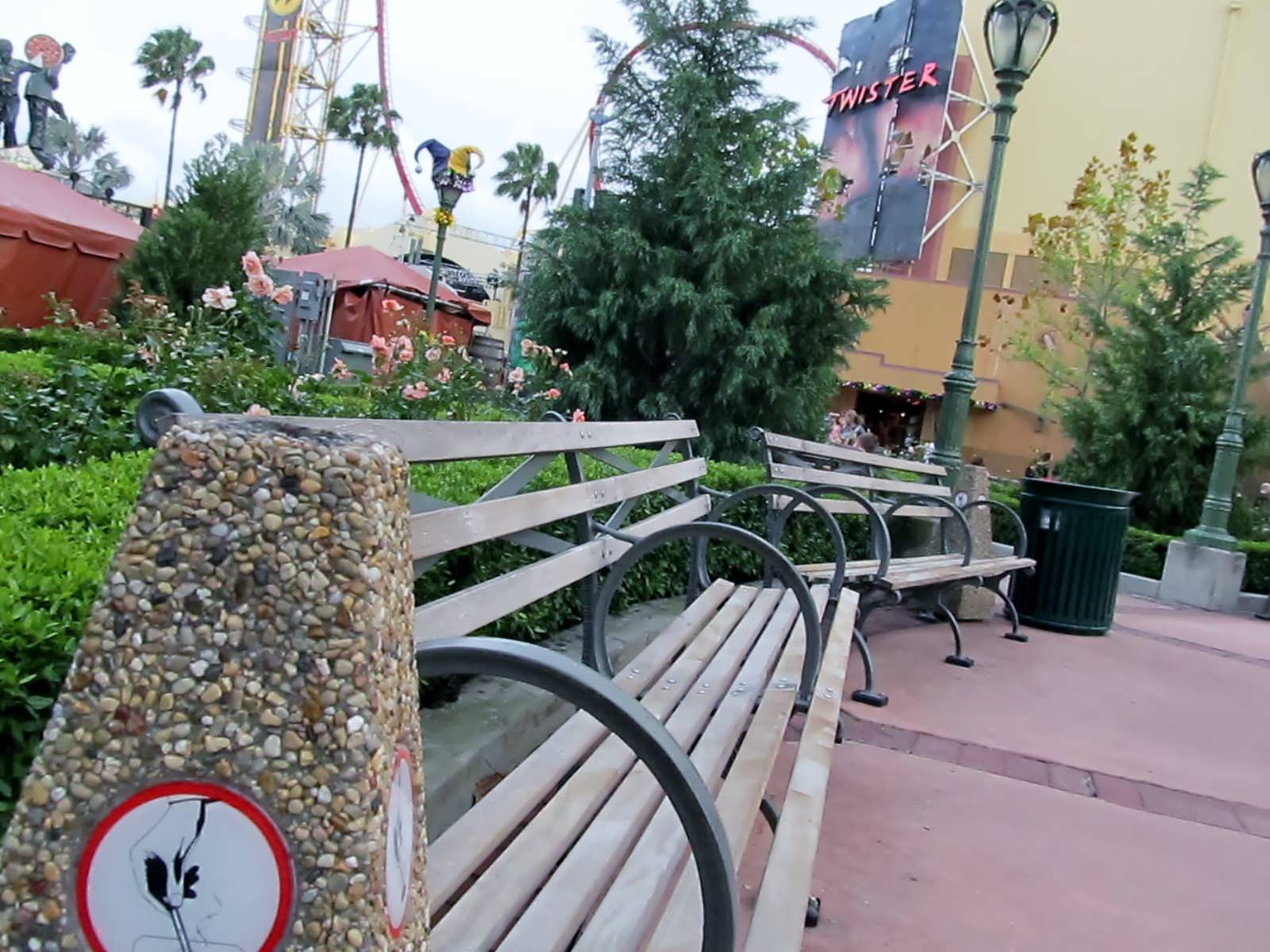 #3 – Port of Entry plaza
This sprawling space is one of the biggest open expanses in all of Universal Orlando.
First there's the bi-level central plaza that leads right up the water's edge. Here you can see it all – the beauty and excitement of all the different islands lie out before you, beckoning. To your left is a curving pathway that gets you so close to the Incredible Hulk Coaster it's… well, incredible!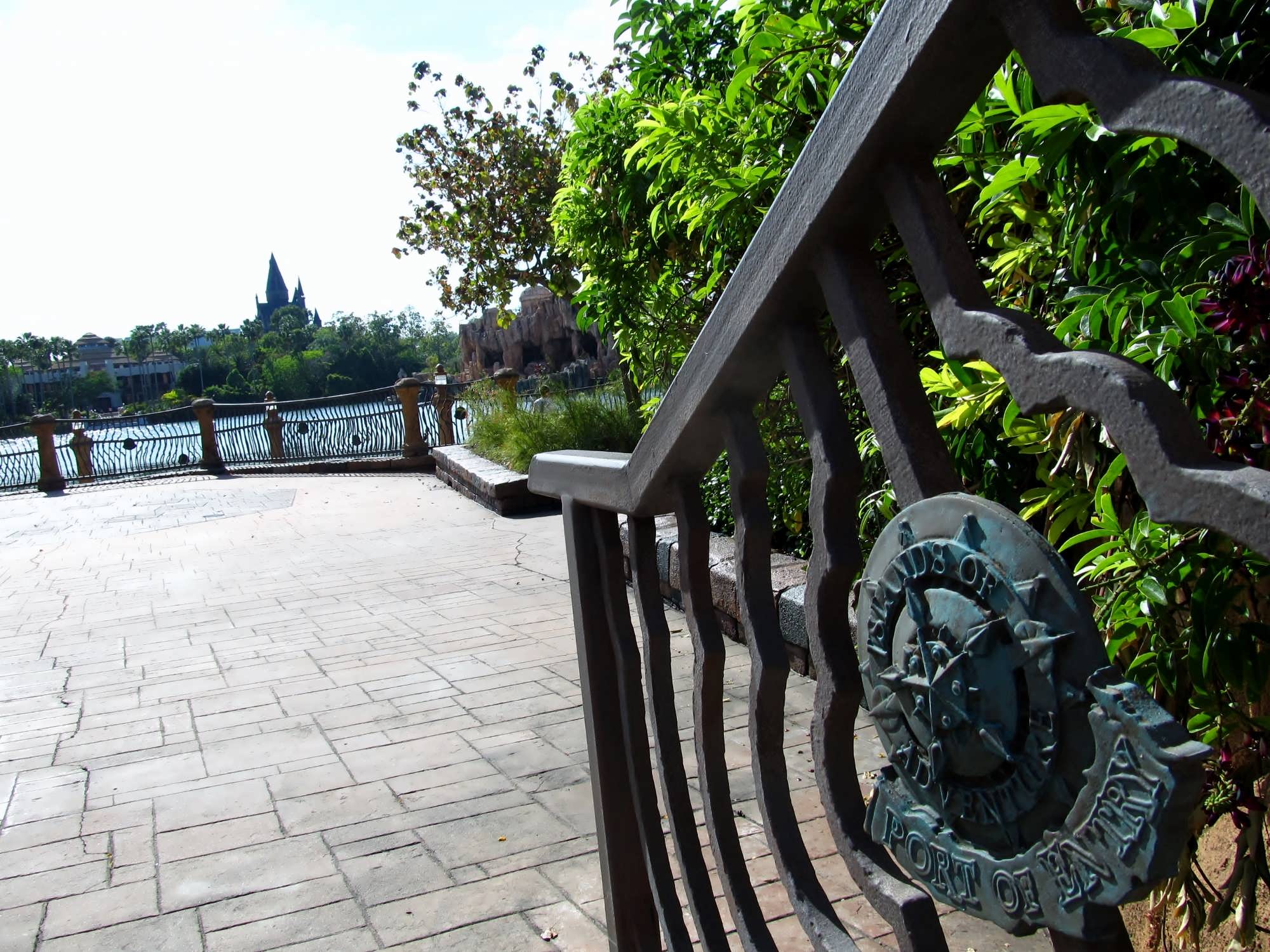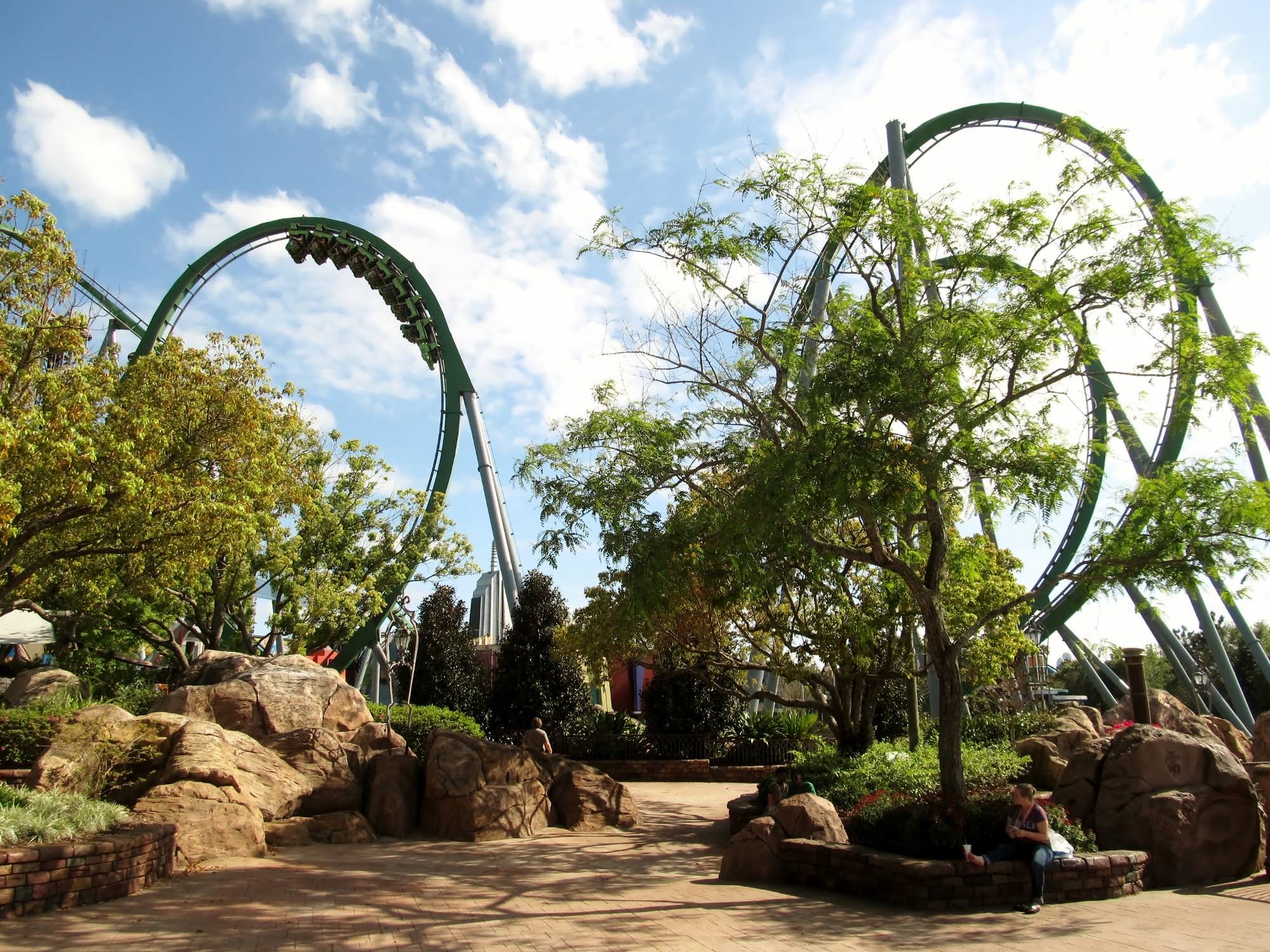 To the right, you can scope out the loading dock of the former boat attraction, Island Skipper Tours, and hear the bickering crew inside the whimsical yellow submarine.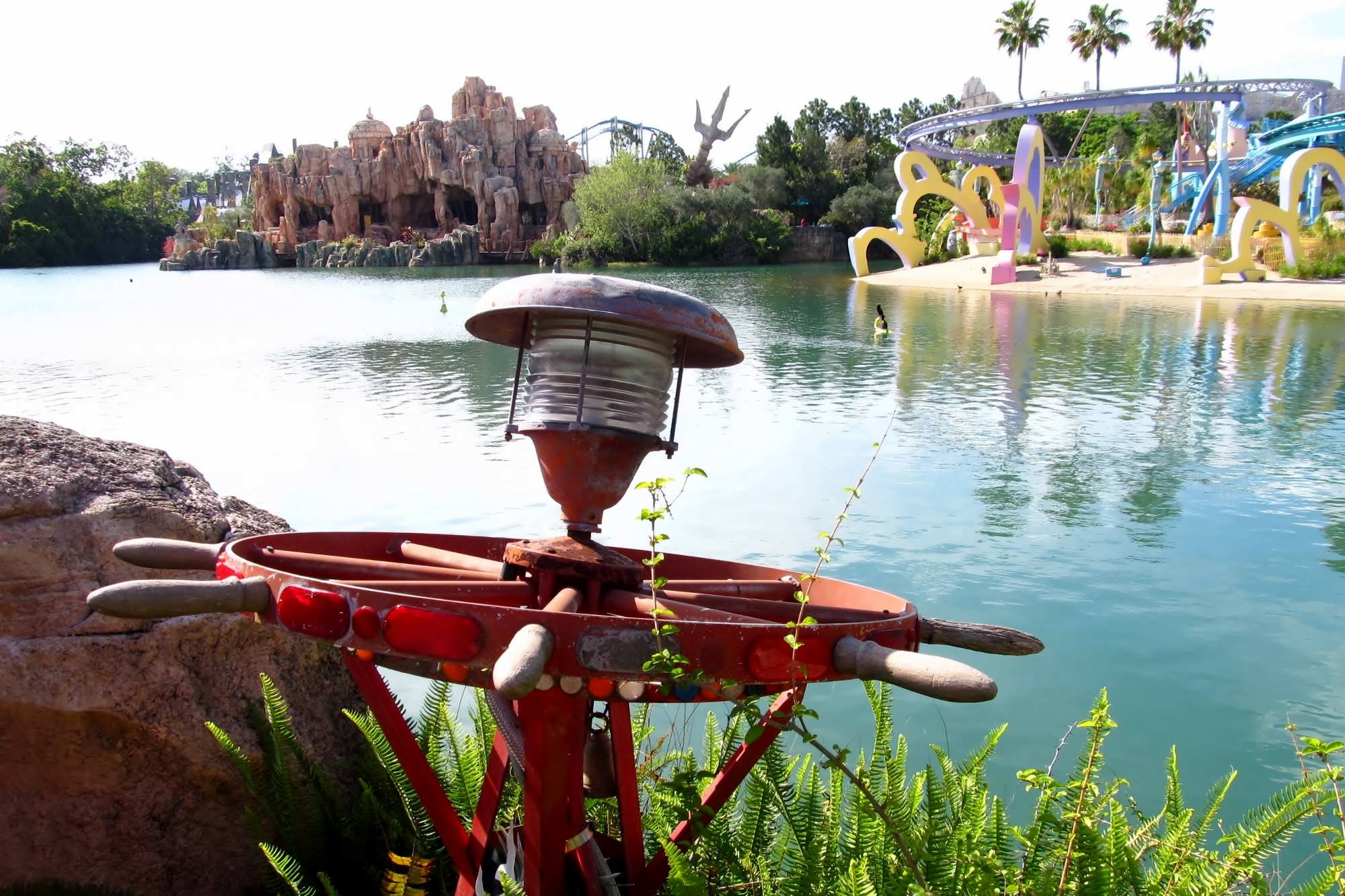 #2 – Lagoon viewing area near Me Ship, the Olive
Each island has its own wonderful walkway or plaza along the water's edge, though some are easier to find than others. One of the more hidden lagoon viewing areas is inside Toon Lagoon.
Located right behind the playful Me Ship, the Olive area is a twisting and winding walkway that you just have to explore. The pathway turns and curves, leading you around one of my favorite attractions, Popeye & Bluto's Bilge-Rat Barges. You can enjoy watching fellow park guests having a blast on this classic water ride, as well as observe sneaky families who have discovered the water guns located on the Olive.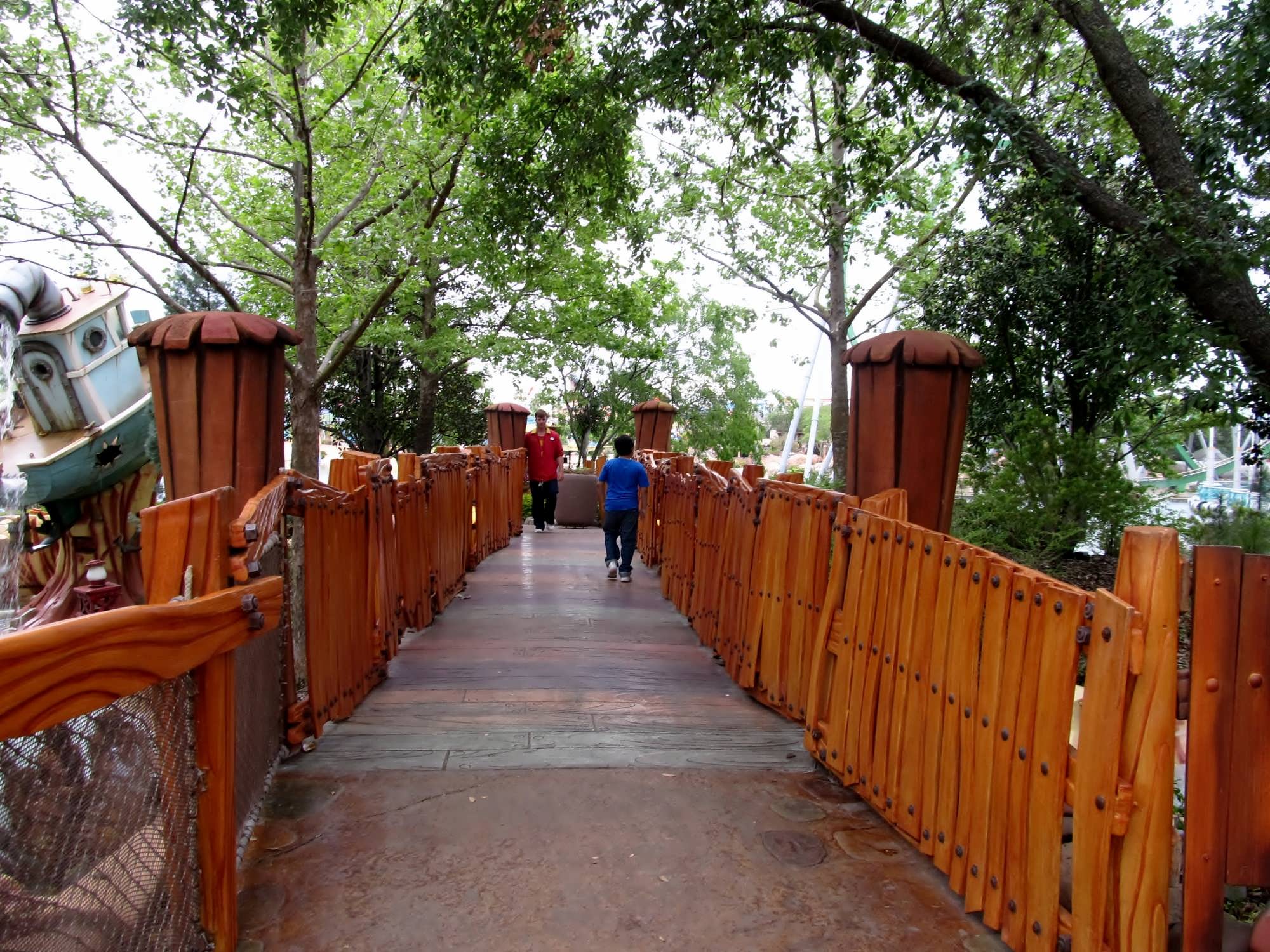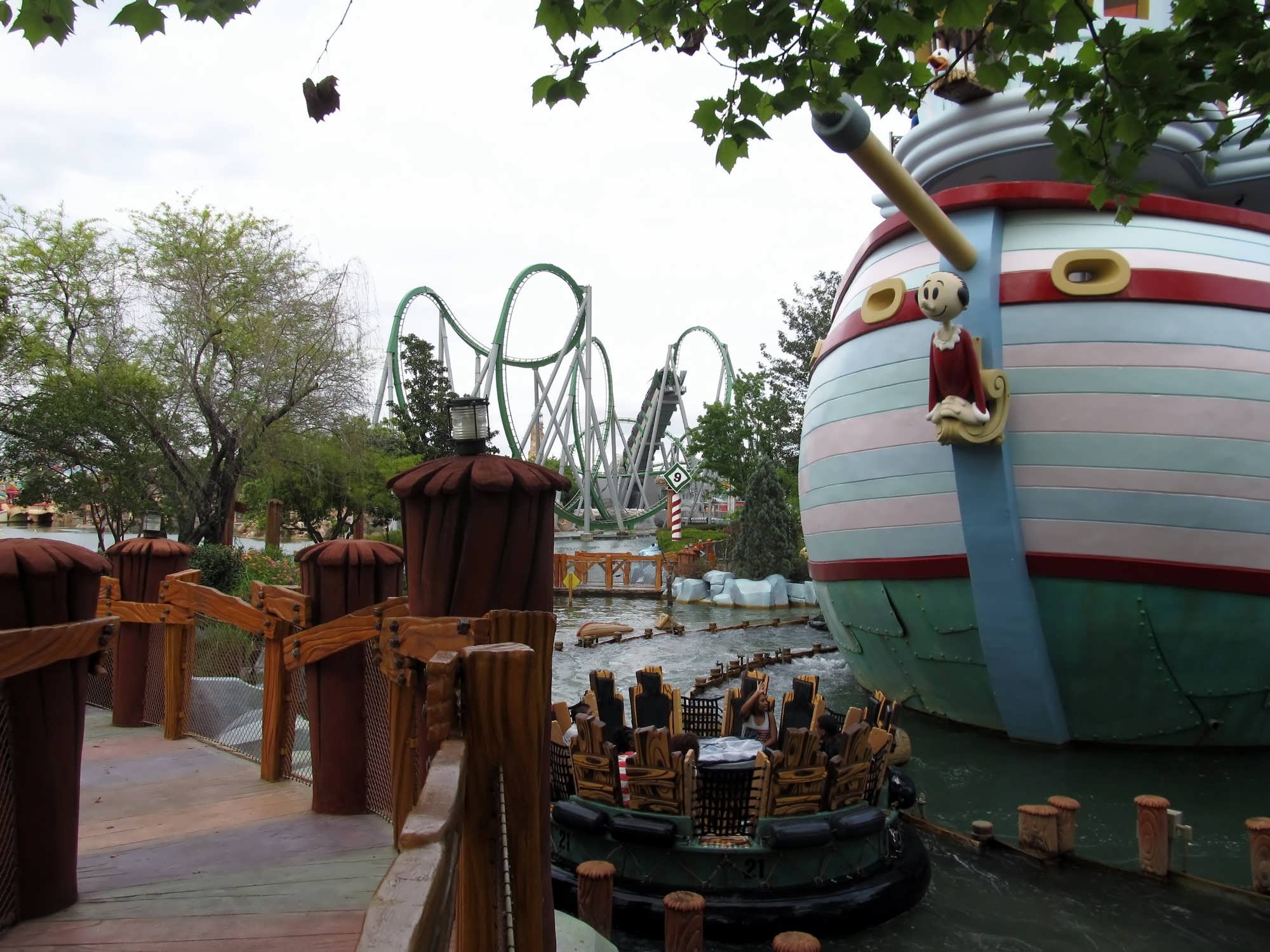 Walking the pathway here is almost meditative – it is a fun space to explore. Along the water's edge, you can spot some cute themed details, like the School of Fish and the mailbox for some of the characters in Popeye's world. Plus, at night, the overhead lights add a romantic charm to this quiet area.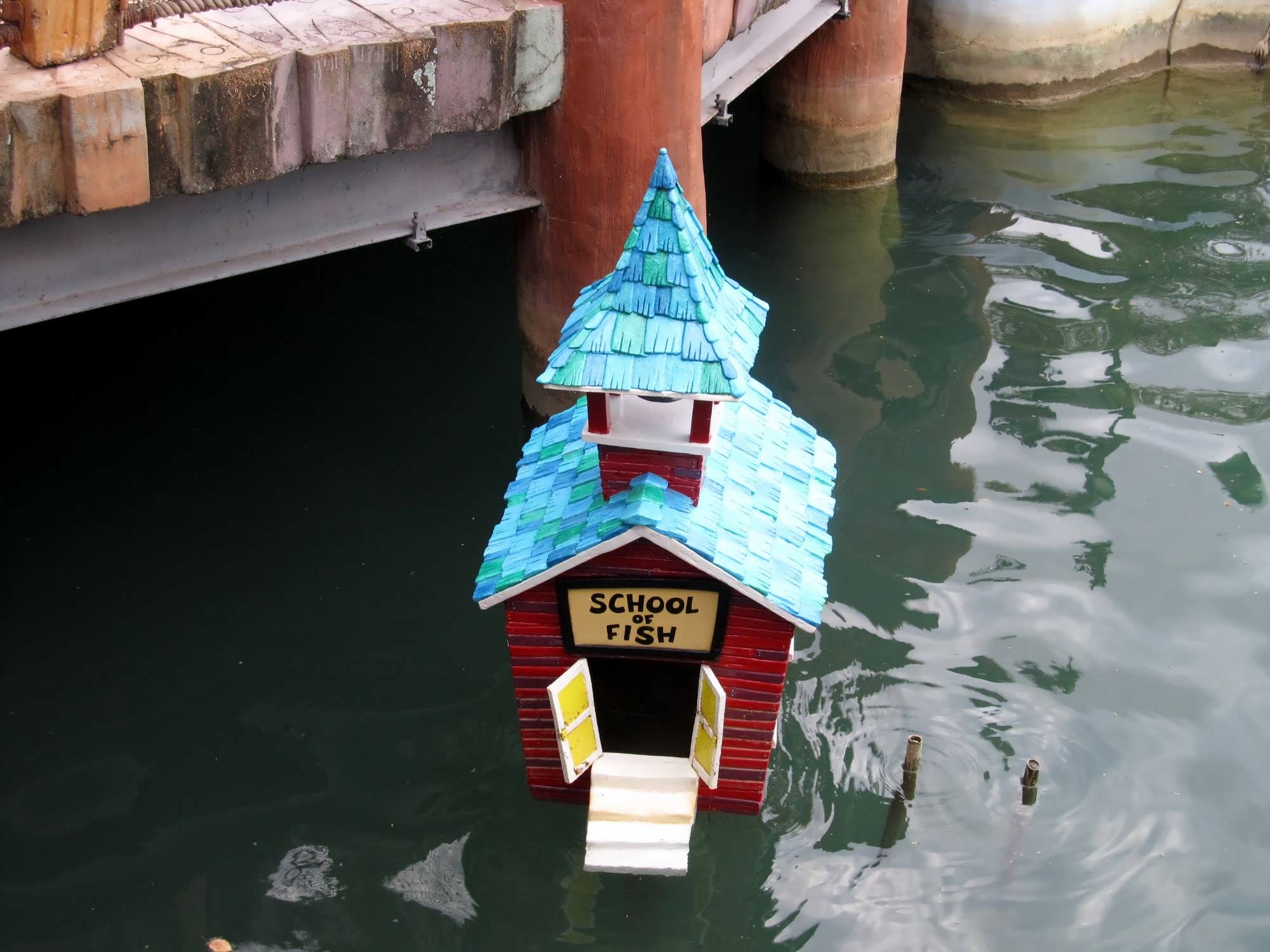 #1 – Central Park at Universal Studios Florida
This is truly the pièce de résistance of open spaces inside all of Universal Orlando. It's lush, it's quiet, and it's romantic. It is among my top favorite places in any theme park anywhere because it is such a beautiful space; just like the famous Central Park on which it is based, Universal Studios Florida's Central Park is a true oasis in the middle of the excitement.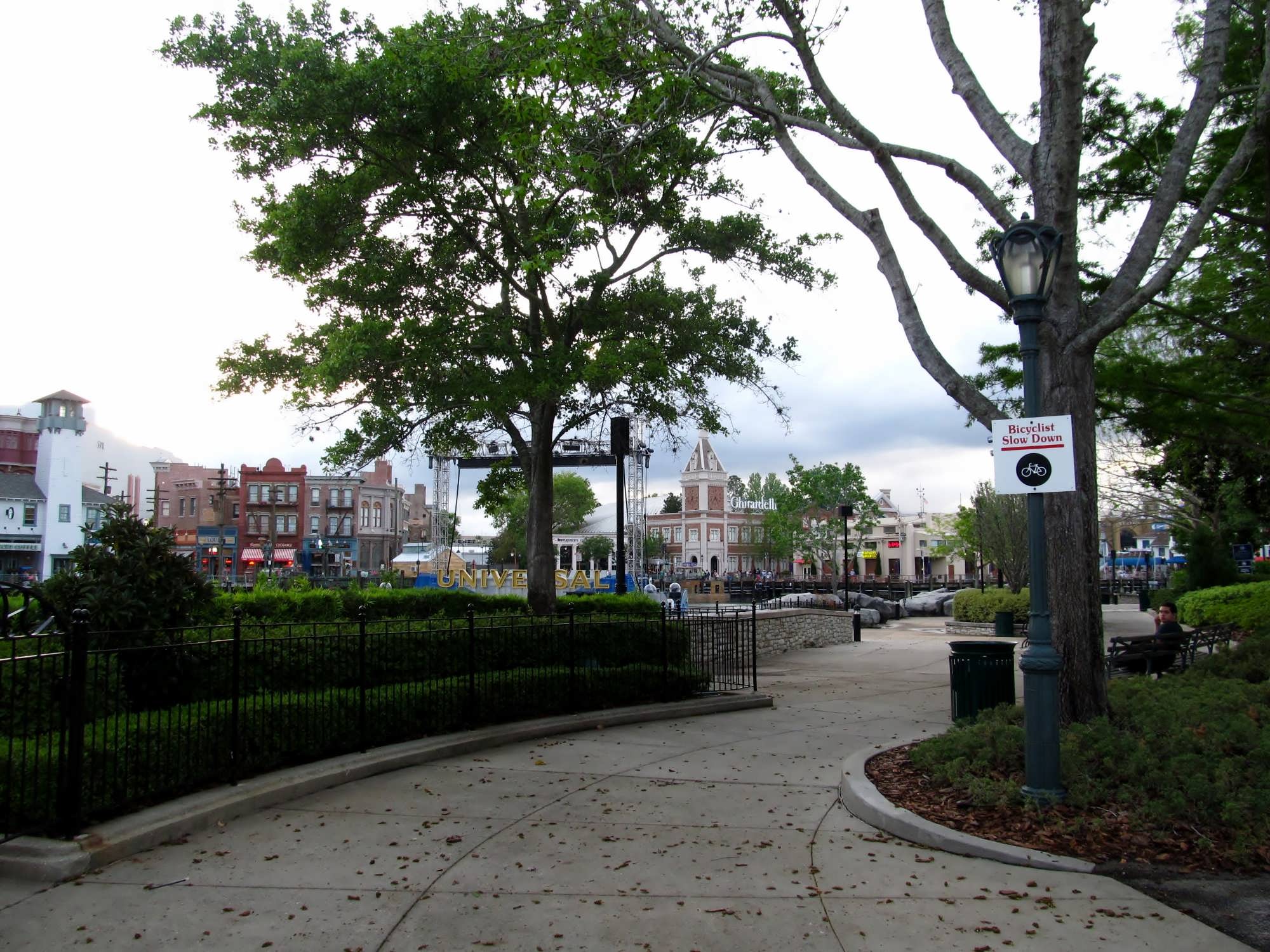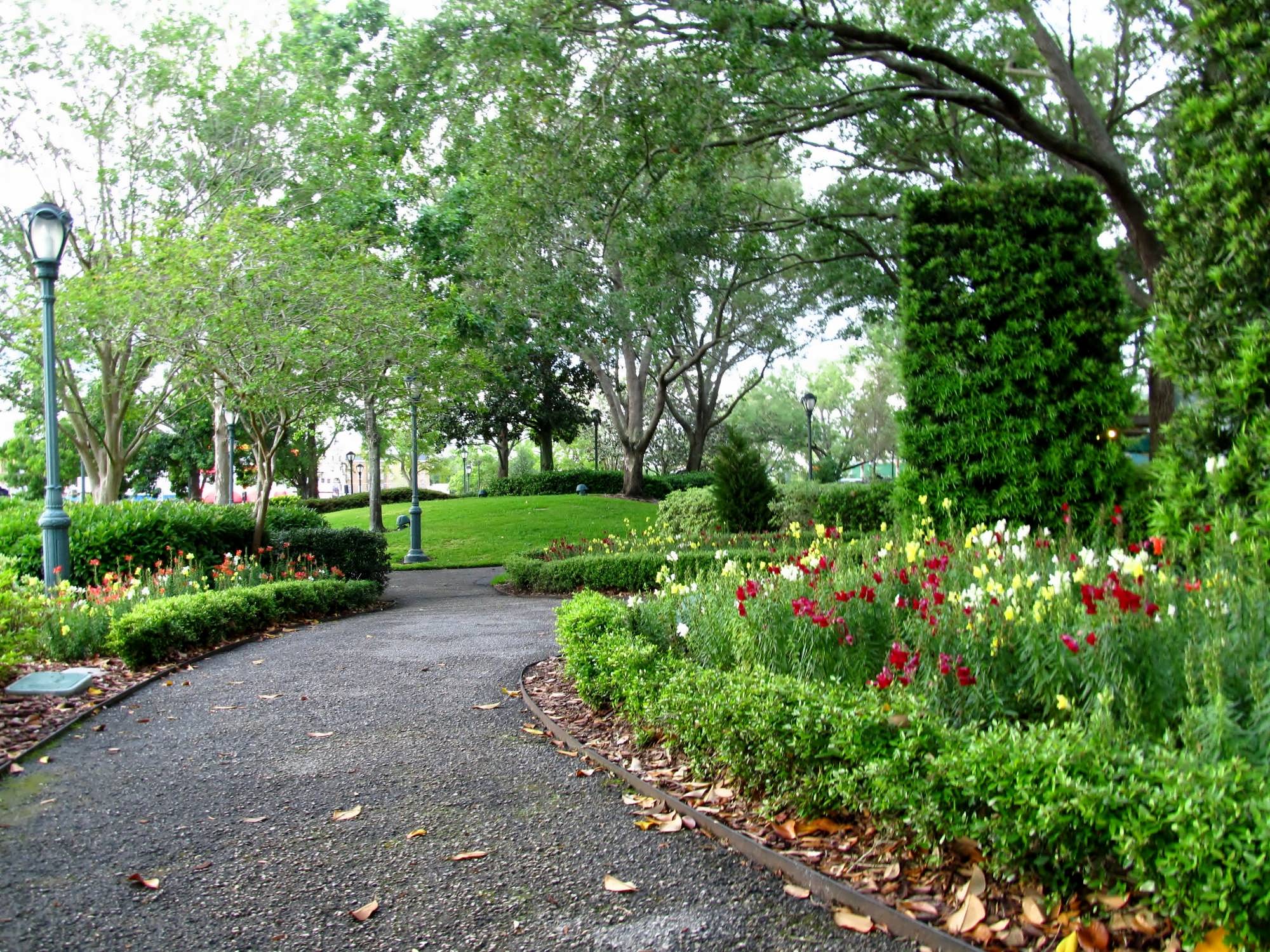 Central Park has humble rolling hills, winding pathways, plenty of benches for sitting, and cushy green grass if you crave lounging around, picnic-style. From this centrally-located retreat, you can see practically all of Universal Studios Florida's attractions. Music from timeless Universal movie classics fills the air as the sparkling lagoon reflects the spectacular sights of this exciting theme park.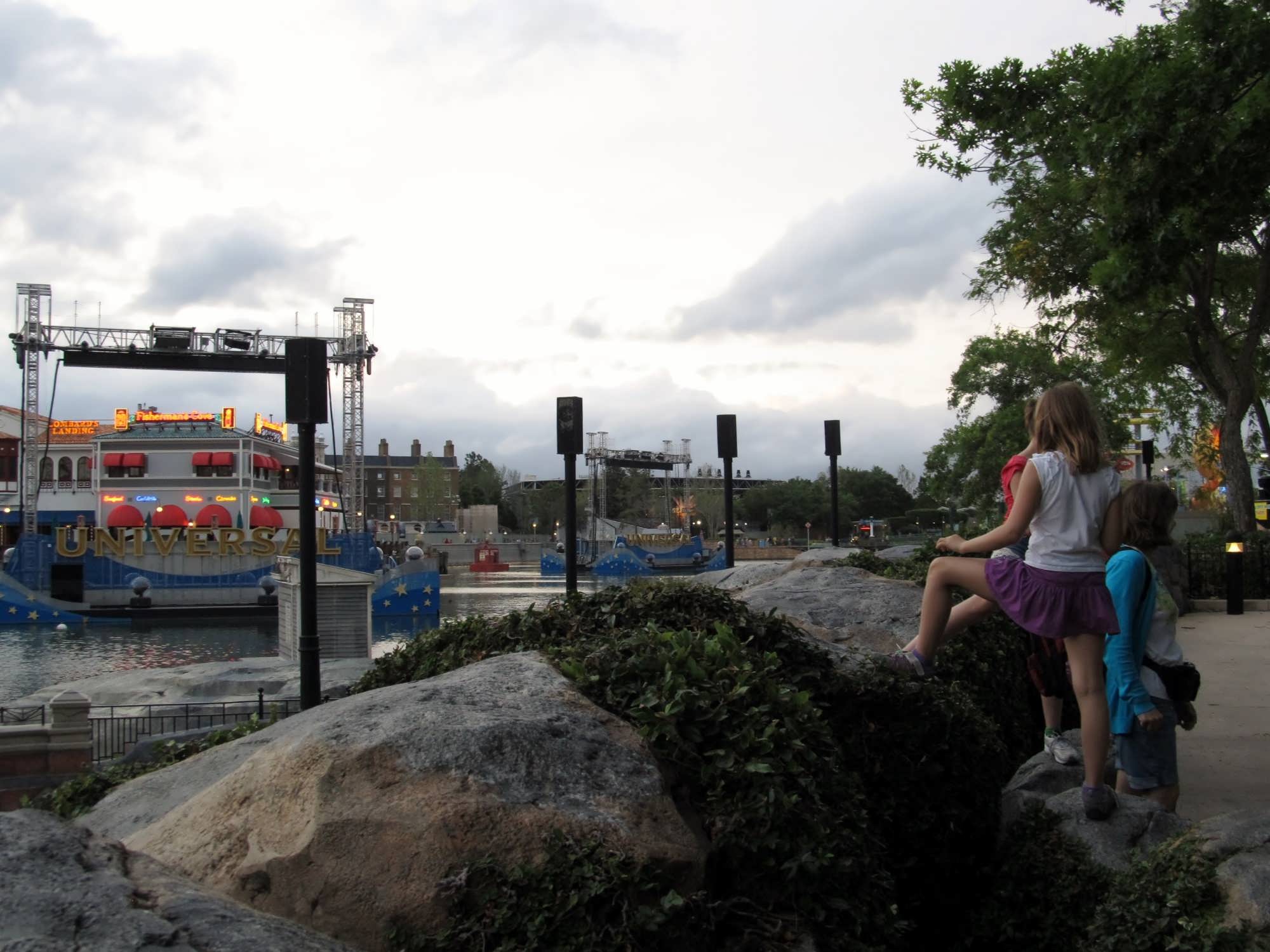 Honorable mentions: Mythos & Jurassic Park Discovery Center
A popular place to explore at Islands of Adventure is the walkway and short bridges behind Mythos restaurant in Lost Continent. This is a pretty neat place to stroll through, with impressive rock formations, a waterfall, and an imposing statue carved into the back of Mythos.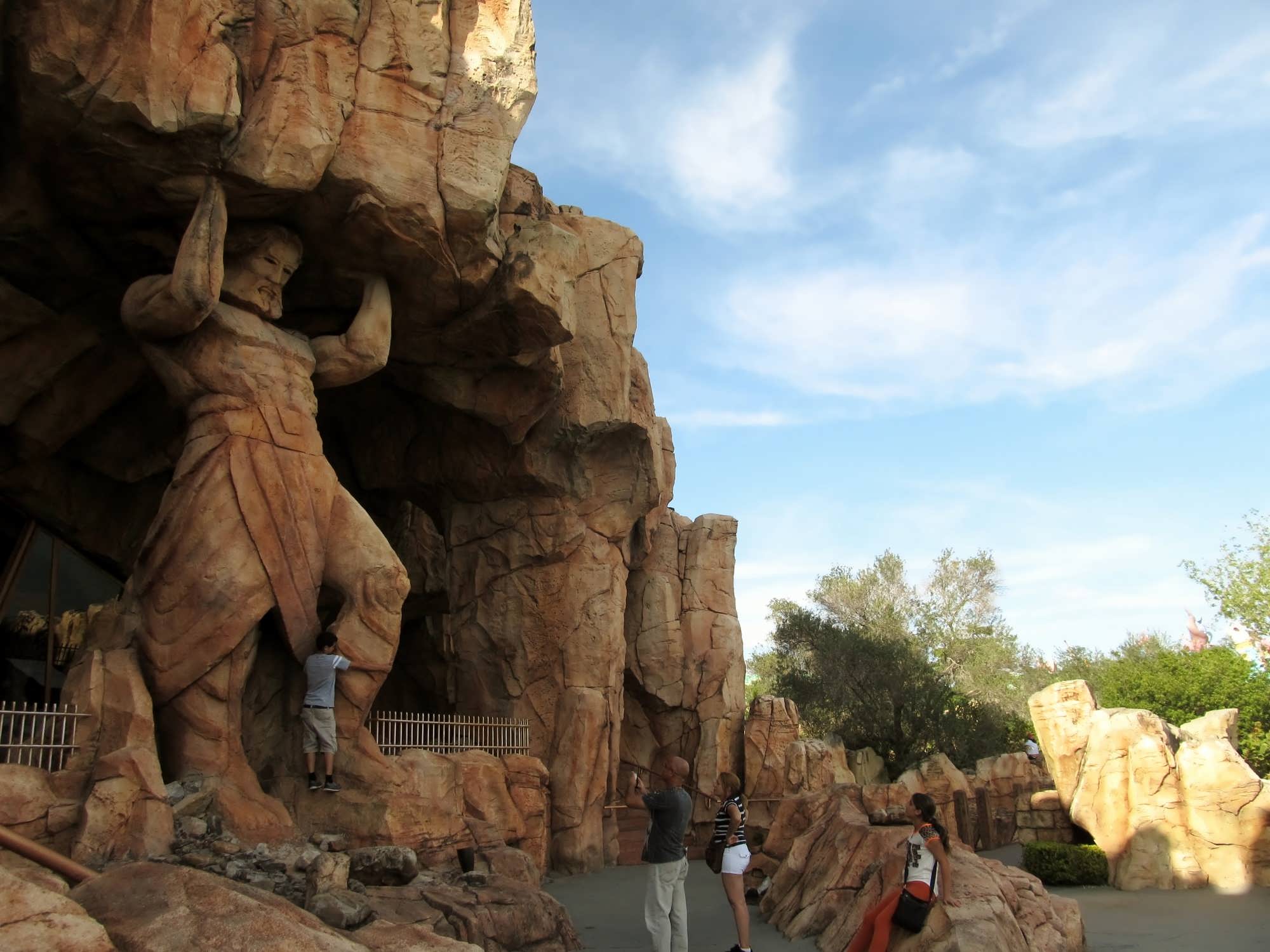 Also, in Jurassic Park, you can find a rather large plaza behind the Discovery Center. It is located directly behind the building and is sometimes used for private events. This plaza offers a centrally-located view of the entire lagoon and is surrounded by lush tropical foliage. It is a rare instance in which I visit this plaza and find many other guests in the area.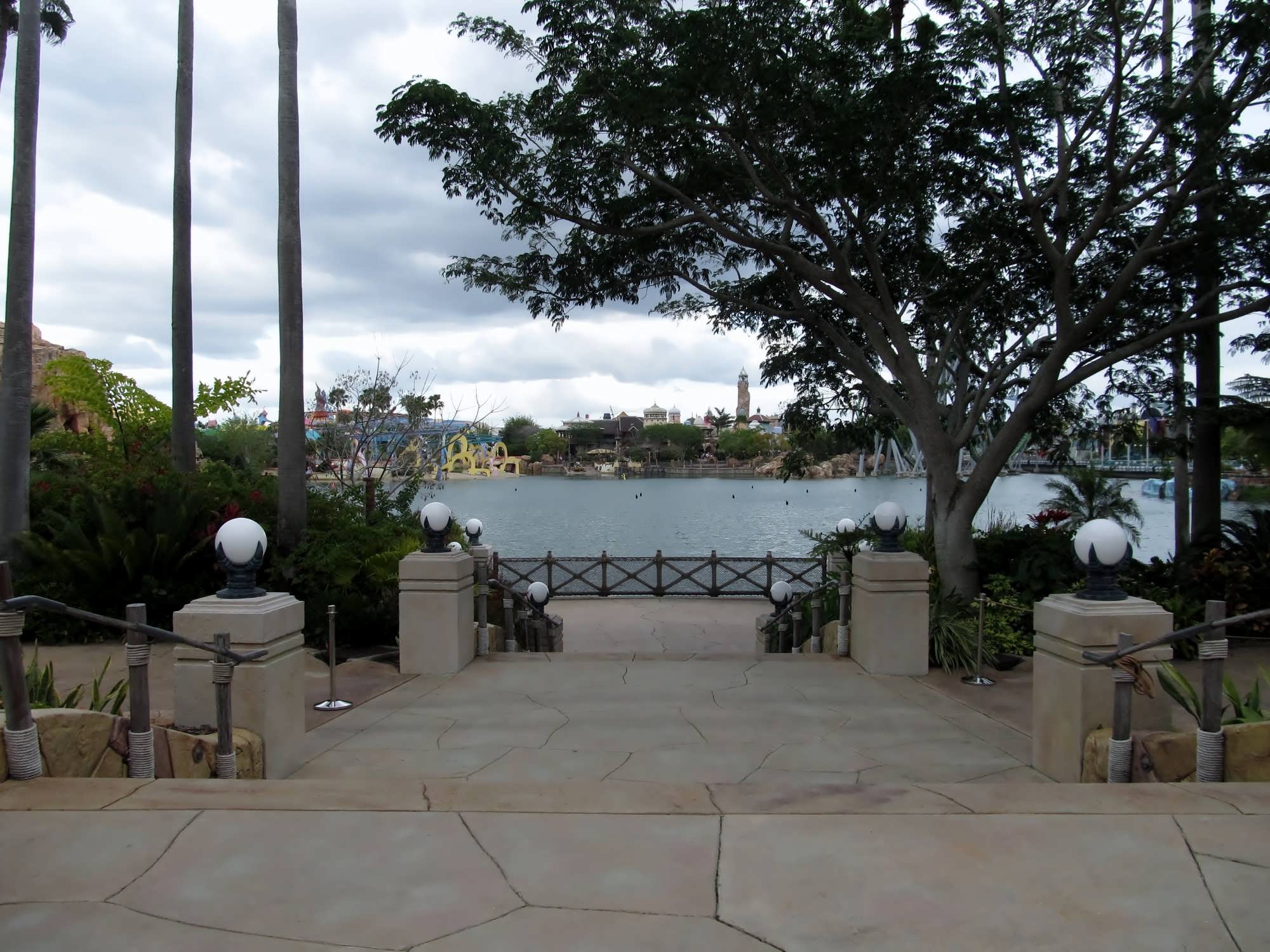 These are my top five picks, but there are many wonderful places to sit and relax throughout Universal Orlando Resort. During your unforgettable vacation, be sure to take the time to stop for a few minutes, rest, and reflect on all the fun you are having.
Sometimes, it's in these quiet moments that our best memories are made.
What are your favorite spaces at Universal Orlando, wide-open or not? Let us know in the comments below.
Planning a vacation to Orlando?
Want to skip all the work and just price out a vacation to Universal Orlando? We'll find the best deals for you – for free (seriously.) Learn more.