I know what you're thinking: Halloween Horror Nights was canceled. Why rub salt in the wound by looking at all the spooky snacks we could have enjoyed this year?
Well, you're not wrong. This is the first year in three decades that HHN won't be striking fear into the hearts of theme-park goers, and it's been a hard pill to swallow for those of us who are superfans of the event. But the eternal optimist in me would prefer to get excited for next year than wallow in disappointment – and what better way to get hyped (way) in advance than with the help of some frightfully good food?
To that end, let's jump right into this countdown of the undisputed top five snacks that you can enjoy at Halloween Horror Nights.
5. Exclusive Voodoo doughnuts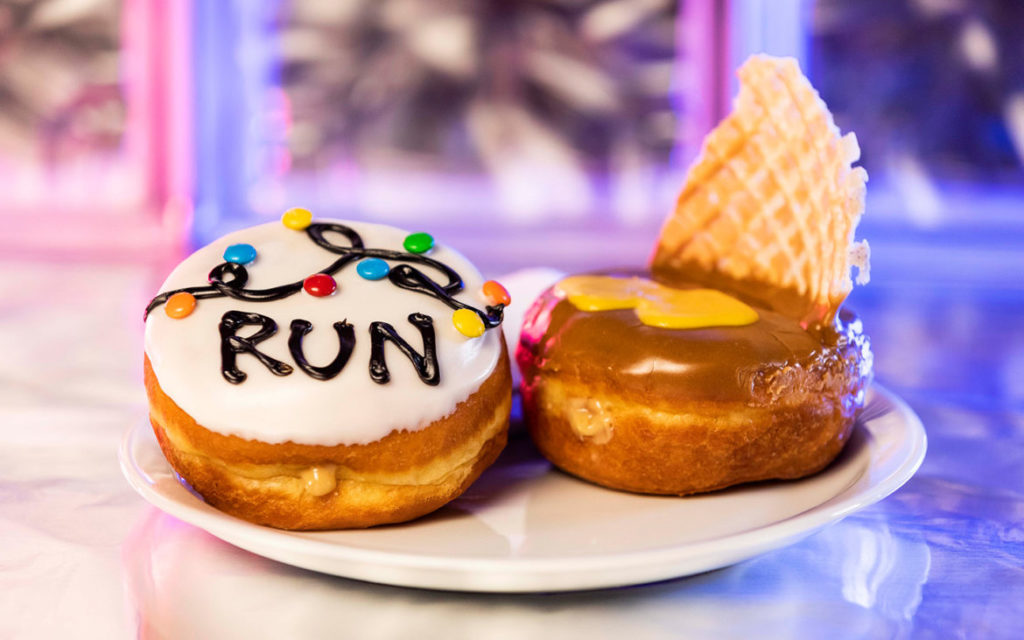 Since opening in Universal CityWalk back in 2018, Voodoo Doughnut has released an exclusive doughnut to commemorate the theme of each year's Halloween Horror Nights. And for 2019, two limited-edition creations were available for purchase.
The first, the Stranger Things Run Doughnut, was filled with Bavarian cream and topped with vanilla frosting in a design reminiscent of the show's famous Christmas lights scene. For those of us who share Eleven's love for waffles, the other doughnut – also filled with Bavarian cream – was topped with maple frosting and a waffle. (In the show, Eleven is known for her passion for all things Eggo.) Both were equally delicious, although I'm partial to the Run doughnut for its creative use of frosting.
Because Voodoo has taken part in the exclusive tie-in game for the last two years in a row, it seems like a given that they'll do the same for 2021. That's just one more item to add to your list of spooky things to look forward to!
4. Signature drinks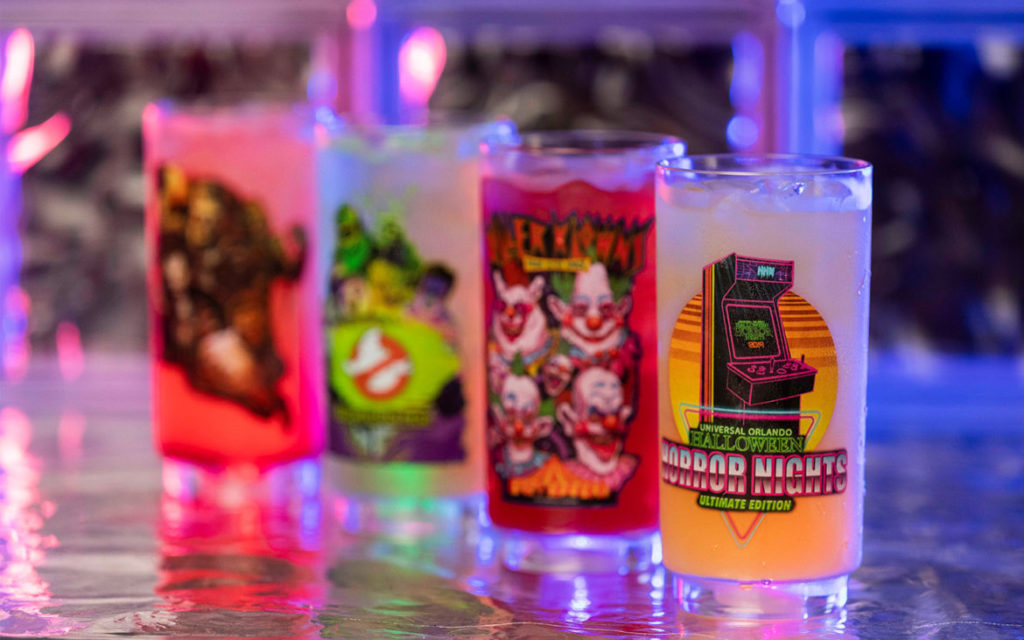 Each year, you can choose from a variety of signature event drinks to accompany your screams at Horror Nights. In 2019, all of the beverages adhered to the event's '80s theme, and you had the option of purchasing them in limited-edition souvenir cups. Of last year's four signature choices, my favorite, by far, was the Twilight Galaxy, a mixture of Corazon Blanco Tequila, Mr. Boston Watermelon Schnapps, pineapple juice, orange juice, and grenadine. (Full disclosure: last year was my first time attending HHN as a 21-year-old, so I don't have much to compare that drink to… but I loved it!)
A unique aspect of 2019's outing was the sequential release of the limited-edition souvenir cups. A different one was revealed each week, with designs encompassing Universal Monsters, the Anarch-ade scare zone, Ghostbusters, and Killer Klowns from Outer Space. Here's hoping this concept sticks around, both for the novelty and for the sake of my ever-growing collection of Halloween Horror Nights memorabilia!
3. Waffle on a Stick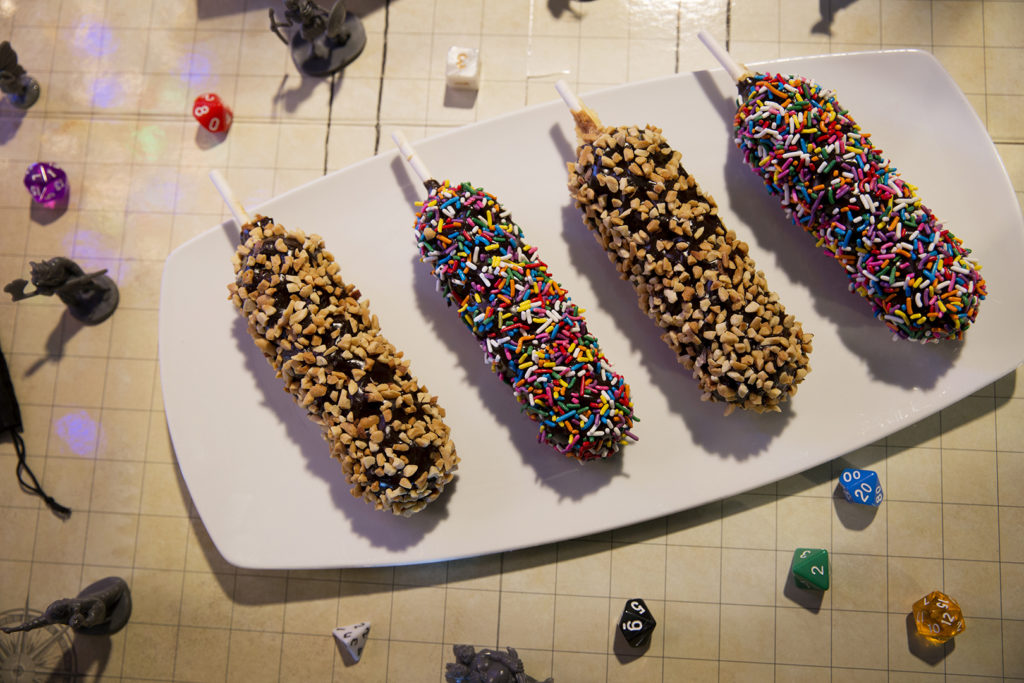 Keeping with the trend of on-theme snacks, the Waffle on a Stick was first offered at Halloween Horror Nights 2018 to celebrate the arrival of Stranger Things. The delectable treat consisted of – as you might have guessed – a waffle, dipped in fudge chocolate and covered in peanuts or sprinkles, served on a stick for maximum convenience. The taste was just as good as the concept, and it proved to be so popular that it stuck around after Horror Nights as an offering from a quick-service kiosk in the New York backlot. (But, unfortunately for waffle fans everywhere, it has since left the menu for good.)
Unless Stranger Things makes a return in 2021, it seems unlikely that we'll be enjoying this treat again at HHN 30. But it's still worth reminiscing on – and, hey, a girl can dream, right?
2. Twisted Taters
A Halloween Horror Nights snacking staple, the Twisted Tater is exactly what it sounds like: a spiraled potato fried, seasoned to your liking, and served on a stick. And for last year, these impaled potatoes came in four flavors: sour cream and chive, salt and vinegar, seasoned salt, and – my personal favorite – garlic parmesan.
Twisted Taters have been offered at HHN for nearly a decade, so it seems likely that we can count on tasting them again in '21. (Personally, the fact that I'll have to wait another year to be reunited with this snack is more terrifying than anything a scare zone could throw at me.)
1. Pizza Fries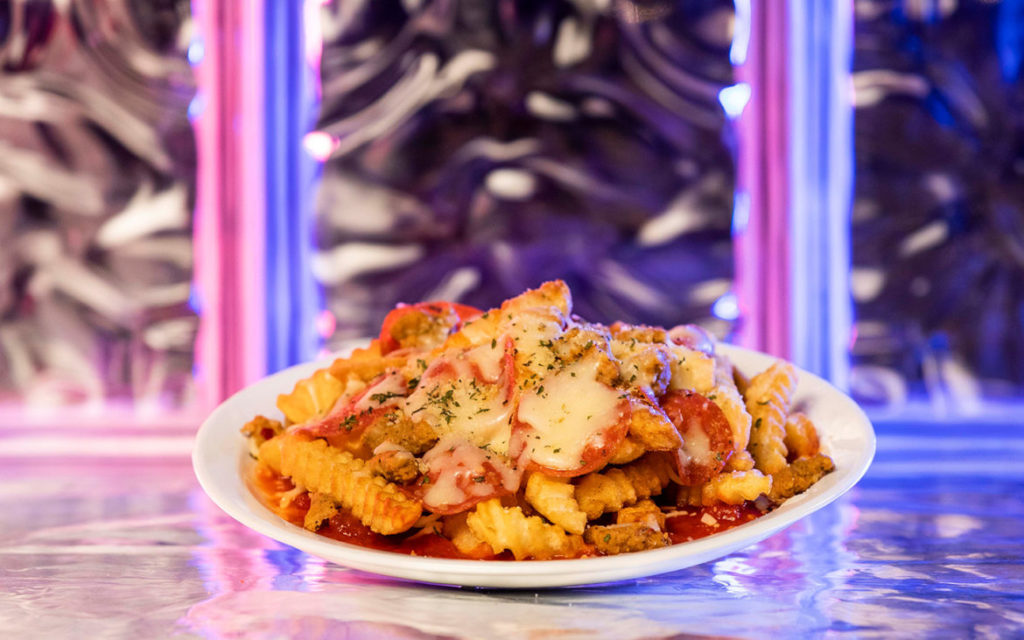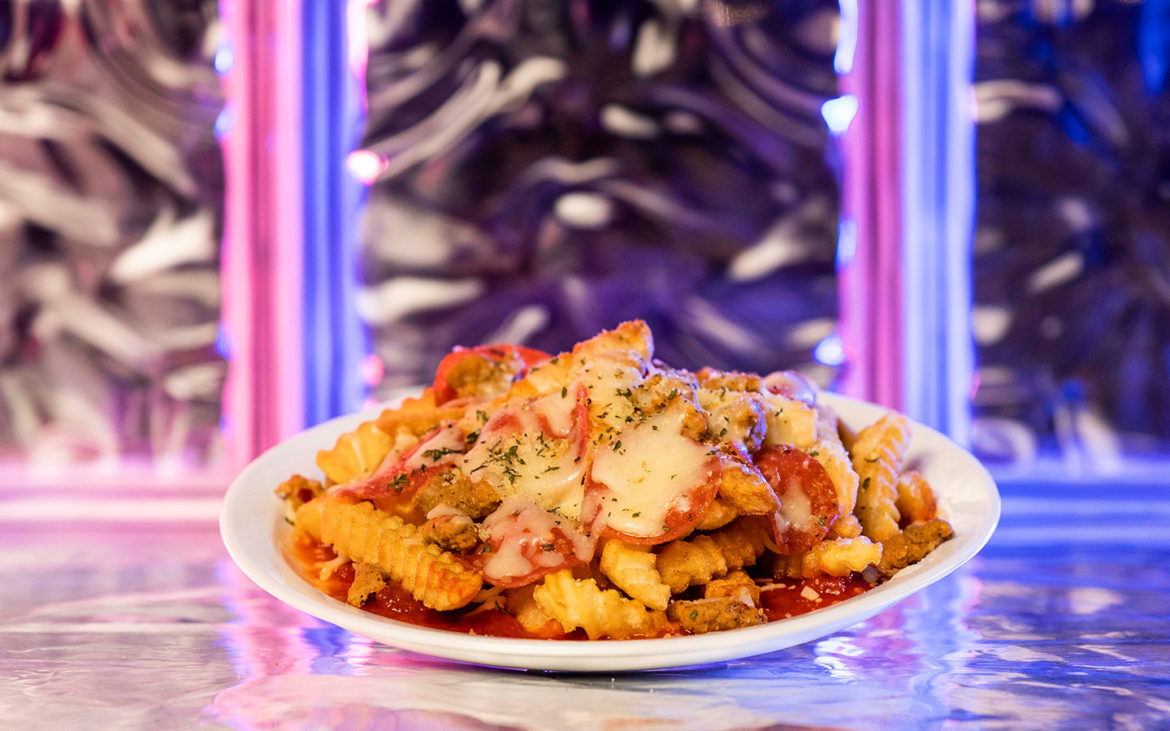 Now we arrive at the snack that we've all been waiting for.
Pizza Fries are pretty much the stuff of legend when it comes to theme-park snacking. Since 2017, Horror Nights fans have delighted in the ultimate combination of tomato sauce, french fries, and mozzarella cheese, topped with both pepperoni and sausage for maximum deliciousness. Pizza Fries are so popular that they've spawned something of their own fandom, and they've even inspired spinoff treats, like last year's S'mores Fries (sweet potato fries topped with marshmallows, chocolate chips, and Graham cracker crumbs).
Thankfully, this recipe isn't too complicated to replicate at home – and that's exactly what I'll be doing to hold my cravings over until next year.
---
Which of these spooky staples are you most looking forward to enjoying next year when the fear returns? Let us know – along with 100,000 other Universal fans – in our Orlando Informer Community on Facebook.
And be sure to follow Orlando Informer on Facebook, Twitter, and Instagram for the latest news and tips at Universal Orlando, Walt Disney World, and other Orlando destinations.