Mini golf is a great go-to for a wide variety of reasons – family bonding, a simple date night, or just an easy, non-theme park activity. But how do you decide which putt putt course to pick with all that's offered in Orlando? That's where we come in!
Here's our list of the best mini golf to be found in the City Beautiful.
5. Lost Caverns Adventure Golf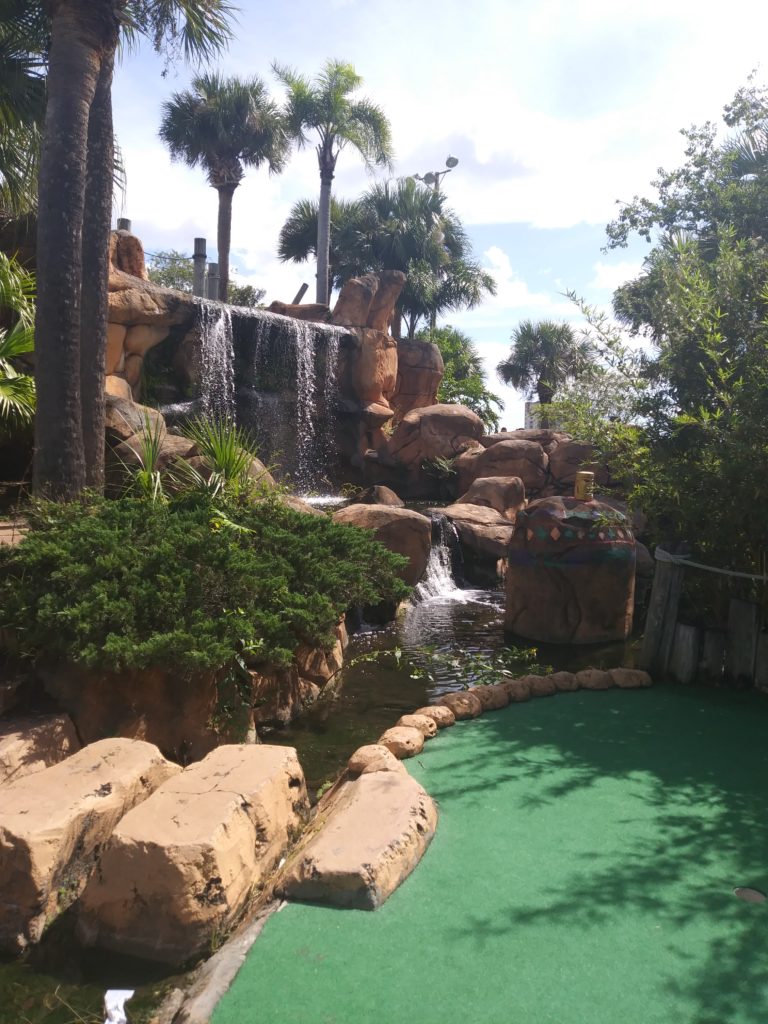 Lost Caverns is a great, underrated brand that is not only locally-run, with awards for its service and popularity, but also a certified natural habitat. At first glance, it may come off as run-of-the-mill for mini golf; however, it executes its themed backstory well – following a treasure-hunting adventurer and his niece, you'll trek across mountainsides, pass through caverns, and hop from rock to rock over streams. Each course offers two different scavenger hunts that you can complete while you play, which can earn you different prizes at the journey's end.
While it's still worthy, the putt putt itself isn't very challenging; its difficulty lies more in the scavenger hunts, as the items aren't in the order they're listed on your scorecard, and they tend to blend into the scenery. Another added bonus to this property lies in its great views of the lake and hotels that surround it, which is just as beautiful as it sounds.
Lost Caverns Adventure Golf is truly an underdog that deserves to be on anyone's list.
Visit the website
4. Fantasia Gardens and Fairways Miniature Golf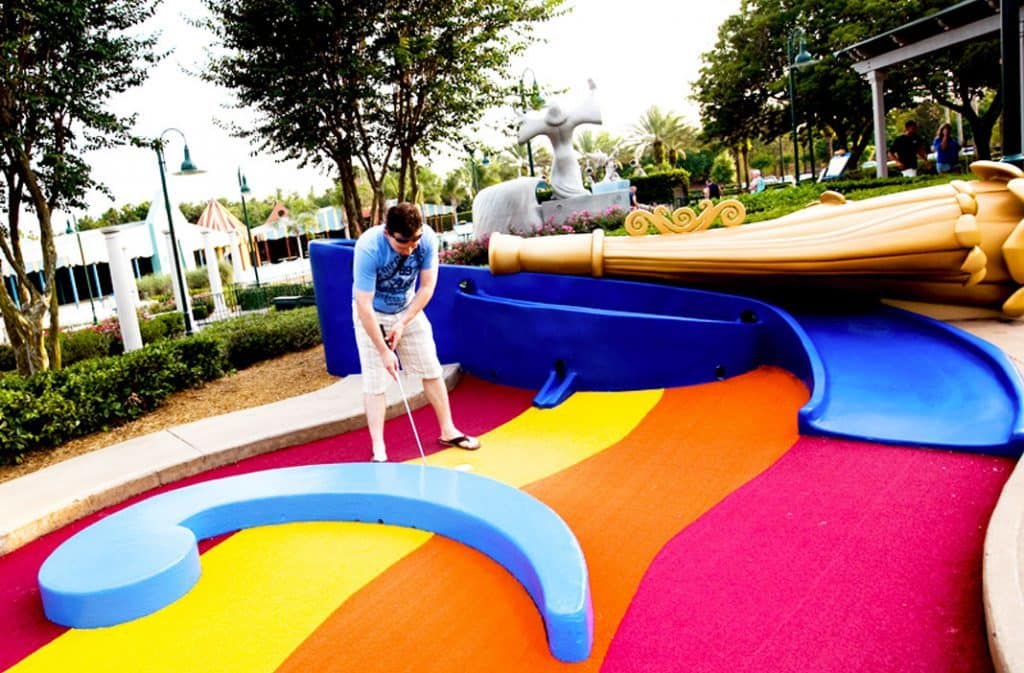 Walt Disney World Resort is more than just theme parks – one thing that tends to get overlooked is its highly-themed mini golf offerings, which are well-themed and tons of fun.
Fantasia Gardens and Fairways Miniature Golf especially deserves a nod here. Both of Fantasia's courses have a great theme that's based on a beloved, classic movie (1940's Fantasia, of course). This allows not just for nostalgia and aesthetics, but some fun photo ops, as well, such as the mushroom family whose "child" raises and lowers while you play. There's even some interactivity involved: the living brooms surrounding Sorcerer Mickey pouring out their water buckets as you pass under them, music notes that are activated as the golf ball rolls over certain triggers, and, even, the water that sprays as your ball spirals down the final hole under the wizard Yensid.
(Fun fact: Fantasia Fairways was voted by Golf Digest as one of the longest and most challenging mini golf courses. The only other property sharing this title is in Dubai!)
Visit the website
3. Pirate's Cove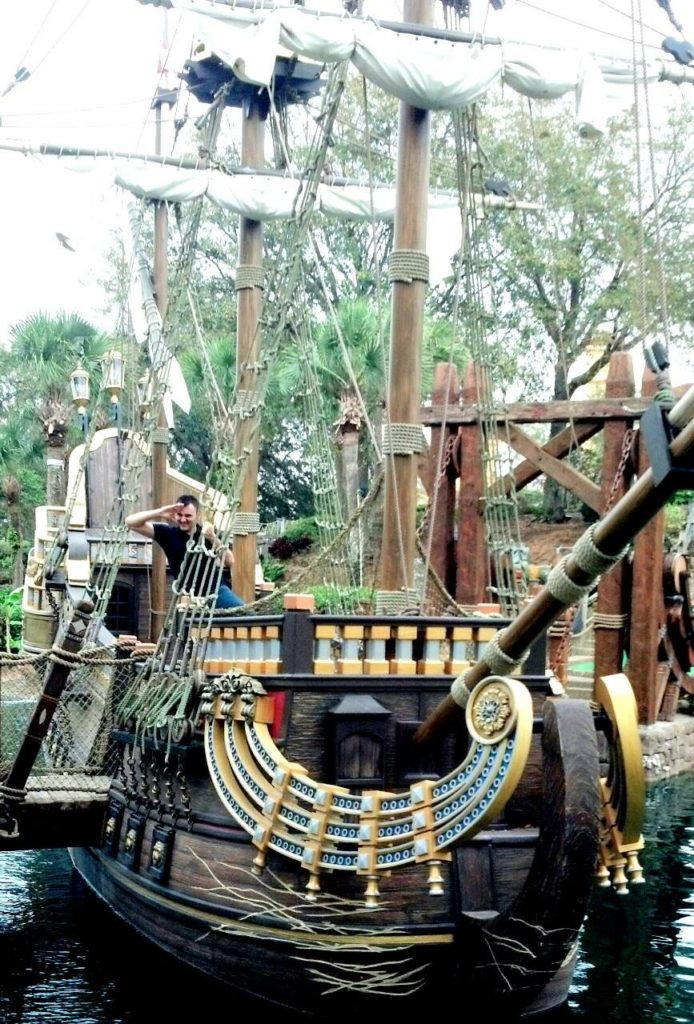 With several locations across the nation, Pirate's Cove: The Original Adventure Golf is a large and reputable chain. While other putt putt courses may feature fictitious backstories, Pirate's Cove pulls from real pirate history. You actually learn while you play, kids!
There are two courses within Orlando: one in Lake Buena Vista, not far from Walt Disney World Resort, and the other on International Drive, near Universal Orlando Resort. While they both share similarities, there are also some unique elements, too – such as I-Drive being the only property wherein you can play on an actual pirate ship! Golfing here is worth the photo opportunity alone, and, even better, the overall theme is a fun one – especially great for a family outing.
The icing on the pirate cake: Pirate's Cove is centrally positioned on I-Drive, which allows for a leisurely stroll to other local attractions and restaurants once you've satisifed your putting appetite.
Visit the website
2. Congo River Golf
The rainforest-themed Congo River Golf is well-known within Florida, and for very good reason – while they aren't the only ones any longer, they were one of the first in the area to offer live gator feeding as part of their experience.
But there's so much more on hand here. Aside from their own scavenger hunt, Congo has other offerings, such as a hoops game, an arcade, and, even, their Congo River spinners at certain holes, which add to the gameplay – they can introduce another obstacle to the course (in the form of another player) or make you use your hand to hit the ball instead of the putter. (We should note that the basketball game and arcade are additional fees.)
And its score card app is one last way that Congo River Golf stands out – keep track of your and your party members' scores, and then share them on social media once you're done.
Visit the website
1. Hollywood Drive-In Golf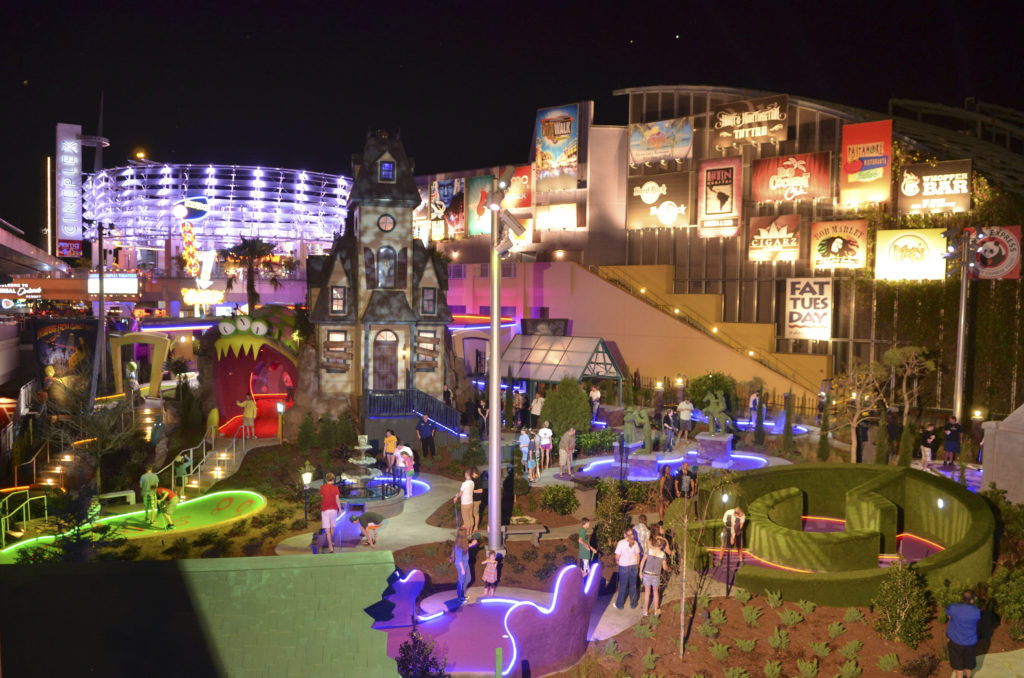 With all these other places to play mini golf in the area, it's hard to compete. What makes Hollywood Drive-In Golf stand out is not only its location – which is right in Universal CityWalk – but also that its theming is unlike any other's.
Styled as a retro drive-in movie theater, Hollywood's two courses are themed as a sci-fi thriller (where you are caught in an alien invasion, encountering little green men and giant robots) and as a spooky horror flick (which has you crossing through haunted grave sites, walking through the mouth of a monstrous worm, and entering the lab of a mad scientist). Both are boldly-colored, contain fun, cheeky humor, and utilize great lighting effects for night-time photo-taking – which you can do until 2:00 am!
Add to all this Hollywood Drive-In Golf's convenient proximity to Universal Orlando's theme parks, along with everything else that CityWalk has to offer, and it's easy to see why it's at the top of our list. If you have to make a choice, let this be the one!
(Fun fact: this course is part of the Congo River family, which allows it to also feature the scorecard app.)
Visit the website
–
Share your other I-Drive (or Orlando) vacation add-ons with tens of thousands of other theme-park fans in our Universal Community Facebook group.
And be sure to follow Orlando Informer on Facebook, Twitter, and Instagram for the latest news and tips at Universal Orlando, Walt Disney World, and other Orlando destinations.