Our list this time is the top five "hidden Mickeys" at Universal Orlando. These are some of the most unexpected moments you'll have when visiting Universal Studios Florida and Islands of Adventure.
Please note that we don't literally mean these are Hidden Mickeys. Rather, we're using a bit of theme park slang to refer to "hidden objects of interest" that even devoted fans may have overlooked or misunderstood for years.
Enjoy…
#5 – Dennis Nedry's Barbasol can in Jurassic Park
For those who weren't there, it's hard to understand just how big of a movie Jurassic Park was when it came out in 1993. This was the movie EVERYONE was talking about and possibly the first movie ever that seamlessly combined CGI graphics and traditional Hollywood special effects. A key part of the Jurassic Park film was the movie's villain, Dennis Nedry, stealing a bunch of dinosaur embryos and hiding them in a high tech storage container that looked like a common can of Barbasol shaving cream. This can was then lost by Nedry, and the way it was perfectly shot in the movie convinced us that it would come into play in later sequels.
While the two sequels ignored the implications of Nedry's theft, the designers of Jurassic Park at Islands of Adventure threw in an Easter egg for fans of the movie. For a long time the can could be seen outside, near the defunct Triceratops Encounter, but has now been moved inside the Jurassic Park Discovery Center.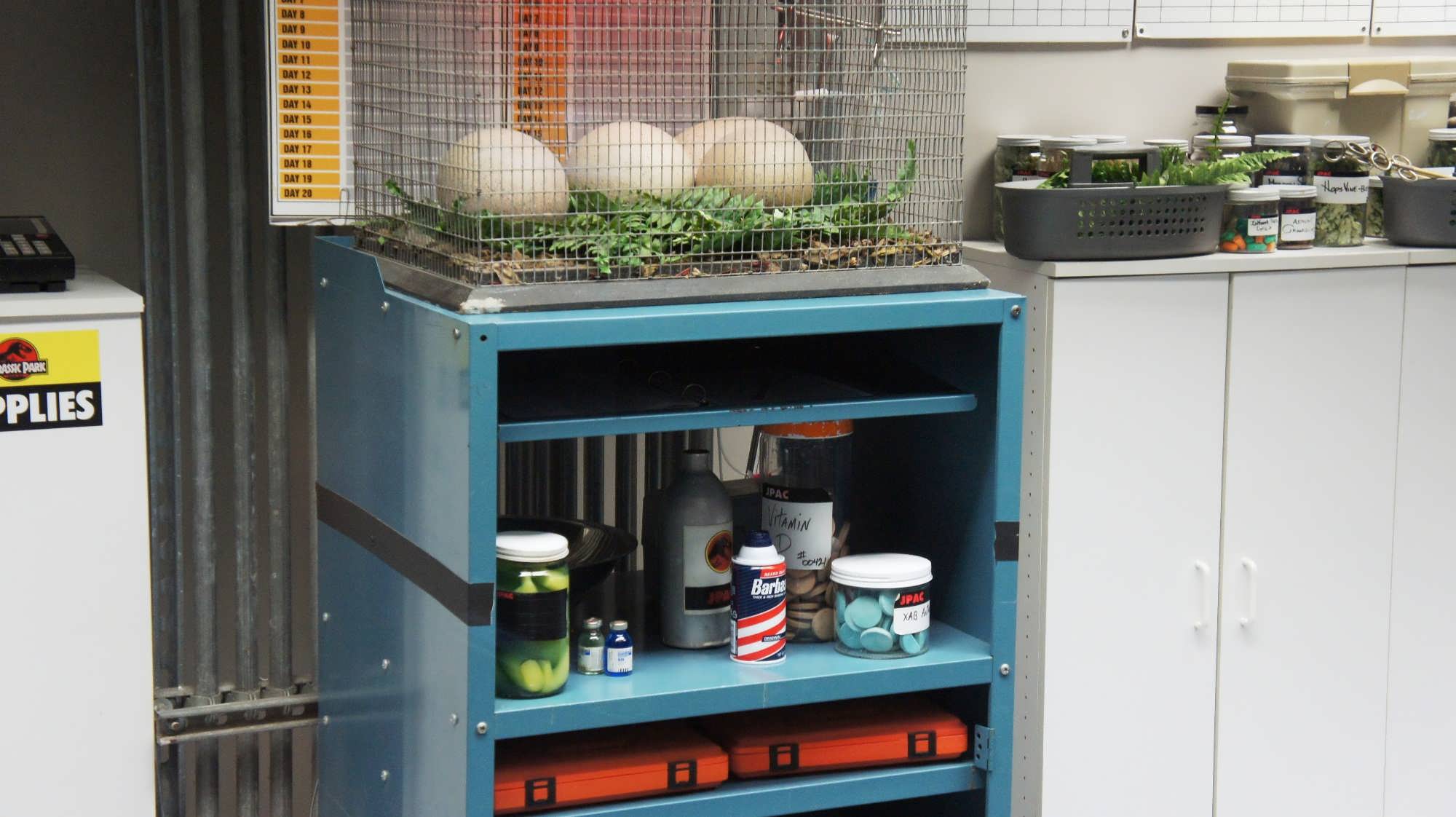 #4 – Dr. Seuss in Seuss Landing
Seuss Landing has many wonderful touches that separate it from any area in any theme park, let alone Islands of Adventure. The crazy color scheme, the "mounted heads" from animals straight out of Dr. Seuss books, an entire land that is almost devoid of any straight lines (try to find one), and even an appearance by Dr. Seuss himself. That's right, the man behind The Cat in the Hat and The Lorax is not only rather unhidden in Seuss Landing, he's actually in a photo op! Right off Mulberry Street, in the photo op with the police motorcycle, Dr. Seuss is one of the three dignitaries watching above. He is on the far left, holding a banner.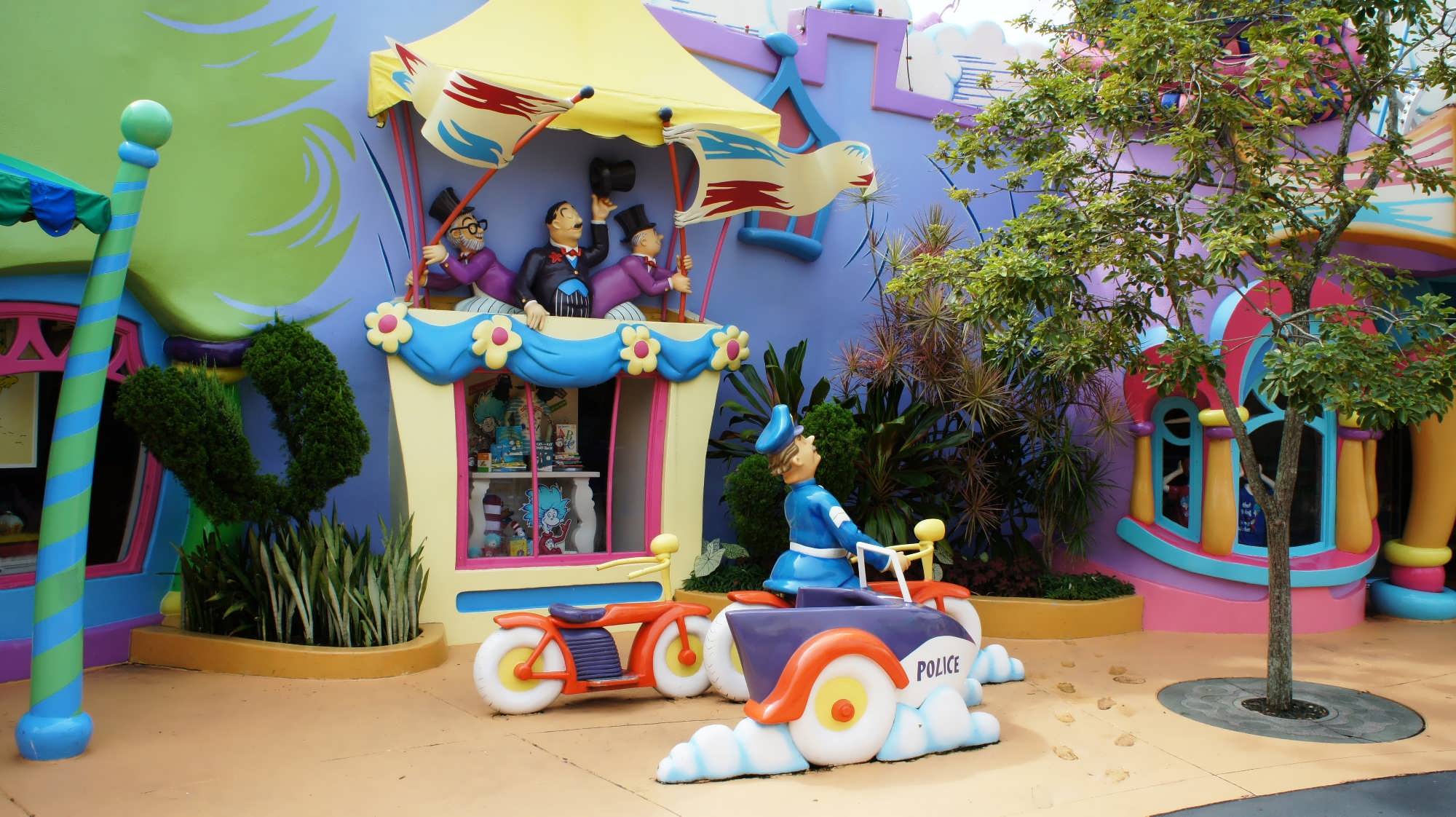 #3 – Sign at IOA's Wheelchair, Strollers, and ECV rental area
To me this sign exemplifies the near indefinable, but magical and fantastical spirit within Islands of Adventure's Port of Entry. I find PoE to be one of the best "Main Streets" of any theme park, with just amazing theming and terrific background music. The sign for "Reliable Rentals" having items such as a time machine, currently "stuck in the 6th century," adds the perfect type of whimsy to a place that makes visitors feel like they are in a completely different exotic locale (and era). The best part of a "hidden mickey" is that 99.44% of people will walk by it a thousand times and never notice it, but when you do, it can bring a smile to your face.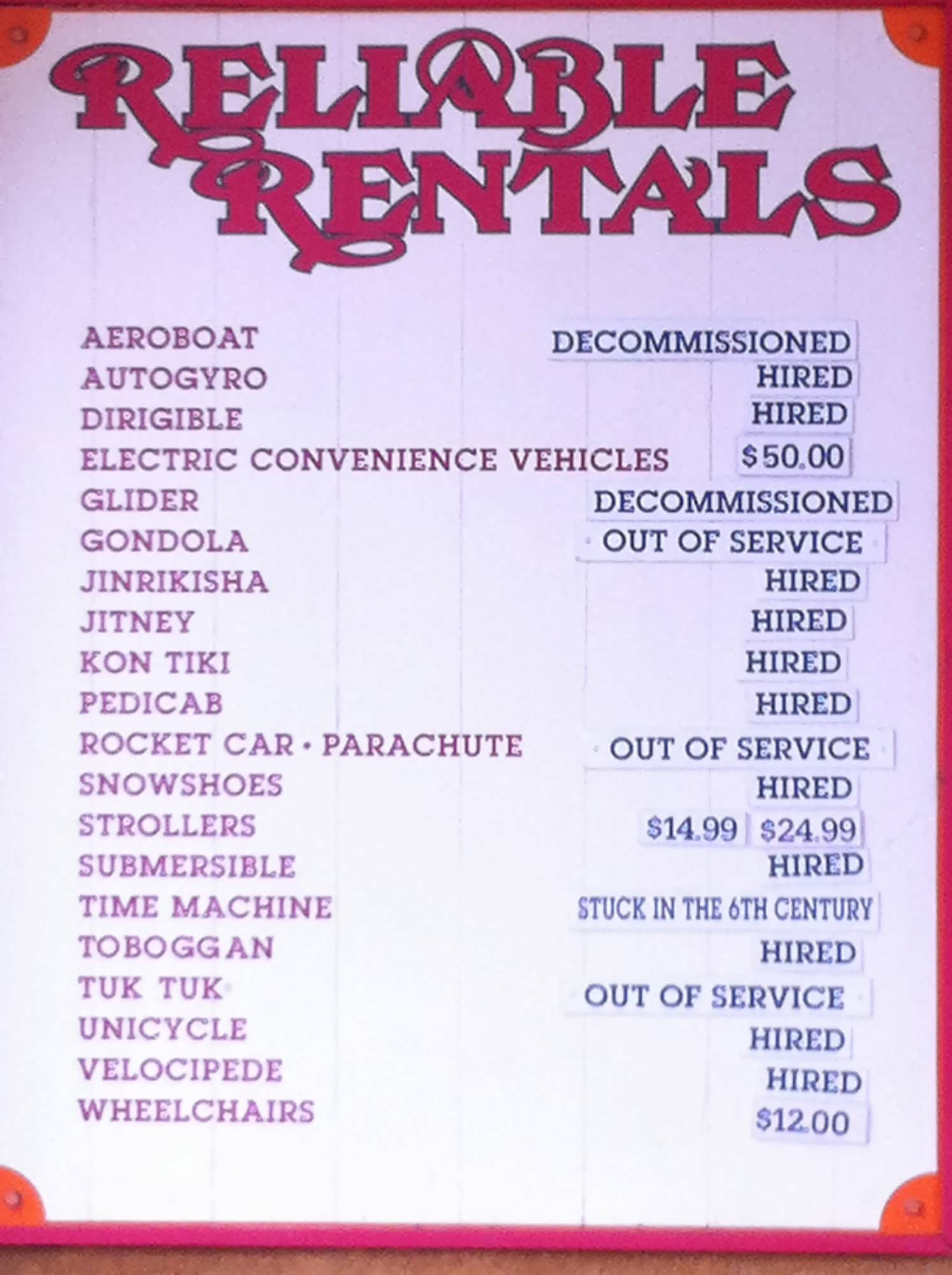 #2 – The "bodies" of the Fantastic Four near Dr. Doom's Fear Fall
Some of Marvel Comics' all-time best stories have revolved around an alternative universe where the heroes we love today have died. Whether it's the popular X-Men: Days of Future Past or the more recent Old Man Logan mini-series, there's just something powerful about finding out classic characters have passed away. Dr. Doom's Fearfall has a sly nod to this archetype, with several decorative "chalk outlines" of the Fantastic Four, positioned as if they had fallen off the ride and met their deaths on the pavement.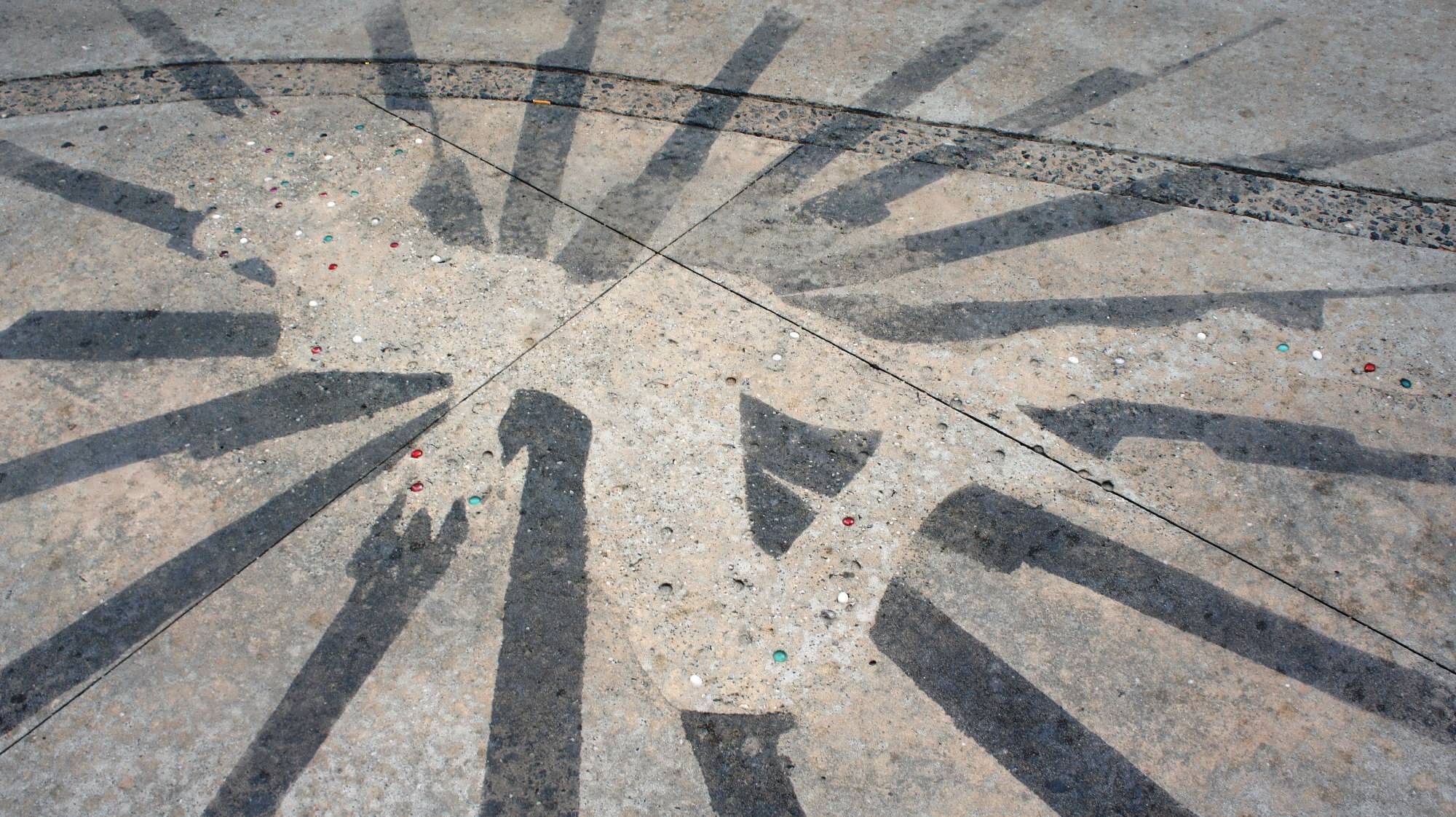 #1 – "Doc Brown" and DeLorean vehicle in The Simpsons Ride queue video
There are still many people upset at The Simpsons Ride replacing Back to the Future, but if you pay attention to the preshow videos in the queue you will see a quick one that pays homage to BTTF. The segment has Professor Frink looking for the Institute of Future Technology (IFT) and finding Krustyland instead. He takes the DeLorean "Back to the Future" to find out what happened. Going back two years, Professor Frink comes back just in time to run over the lawyer who was about to have Doc Brown sign a deal allowing IFT to stay open for years. Now Doc Brown has to sell the property to Krusty the Clown, who rides off in a limo telling Doc Brown to get a haircut.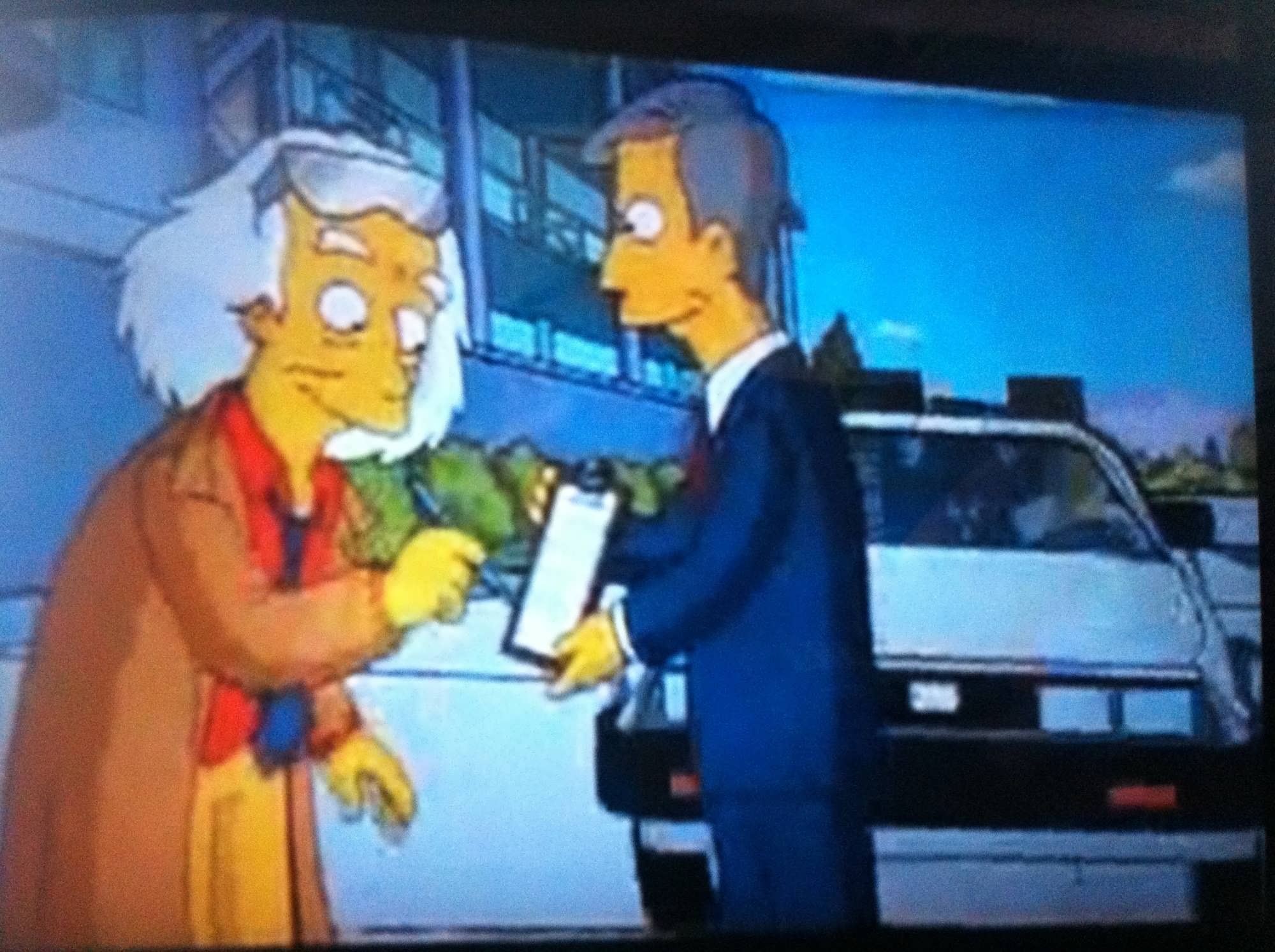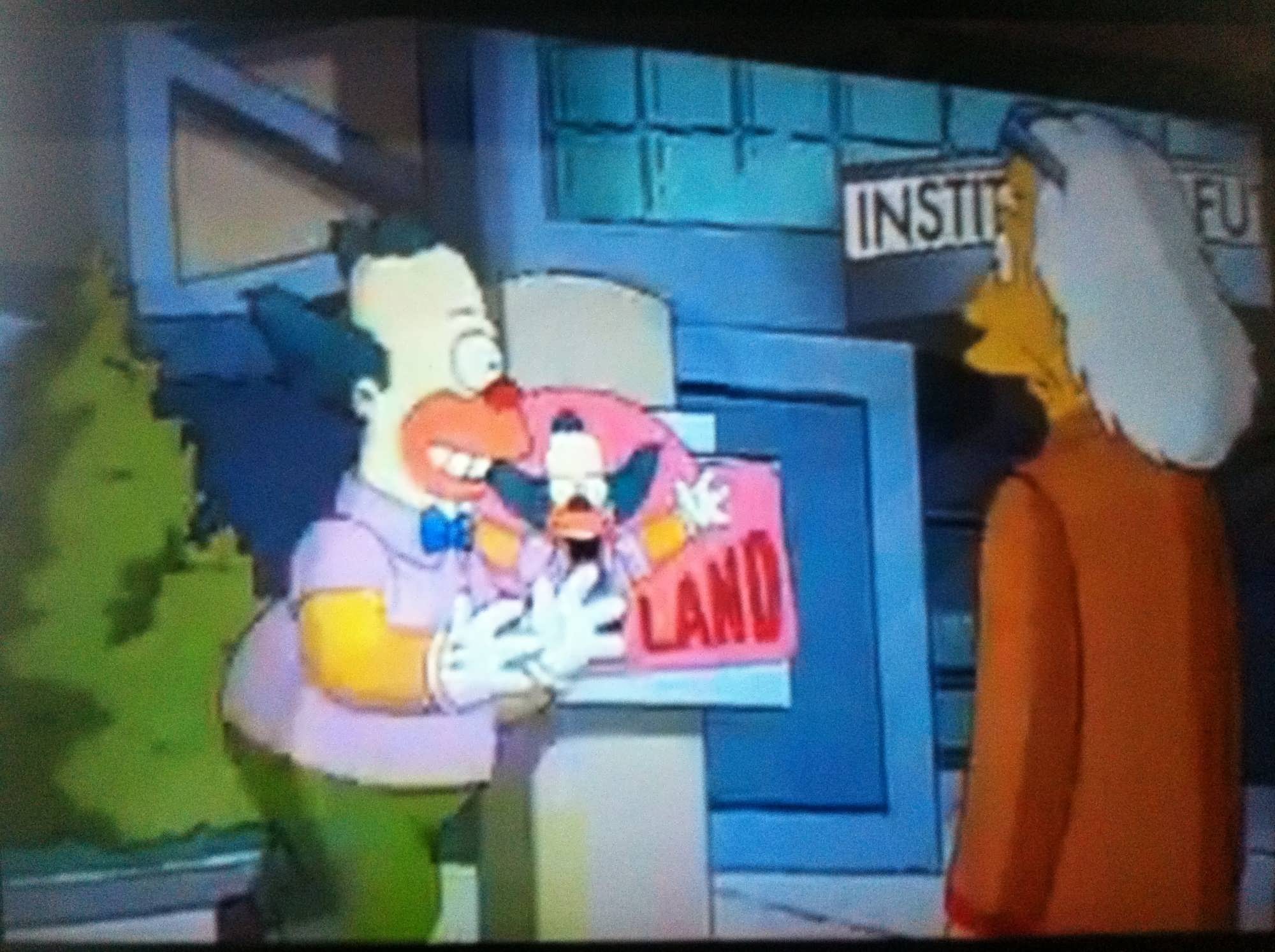 Honorable mention – Professor Agassiz statue in Richter's Burgers Co.
This honorable mention may go down the most visible "Hidden Mickey" in the world.
Next time you visit Richter's Burger Co. in the San Francisco backlot of Universal Studios Florida, look to your right as you walk in and you'll quickly spot a 10-foot upside-down statue. While it is easy to see, here's the real challenge: figuring out what in the world the statue is and why it's in the restaurant — because Universal doesn't display any information about the spectacular headless man.
If you'd like us to help you out with that challenge, here are the basics courtesy of Wikipedia: during the 1906 San Francisco earthquake, a statue of Professor Agassiz fell from its niche on the front of the Stanford University zoology building. Stanford President David Starr Jordan later wrote, "Somebody – Dr. Angell, perhaps – remarked that 'Agassiz was great in the abstract but not in the concrete.'"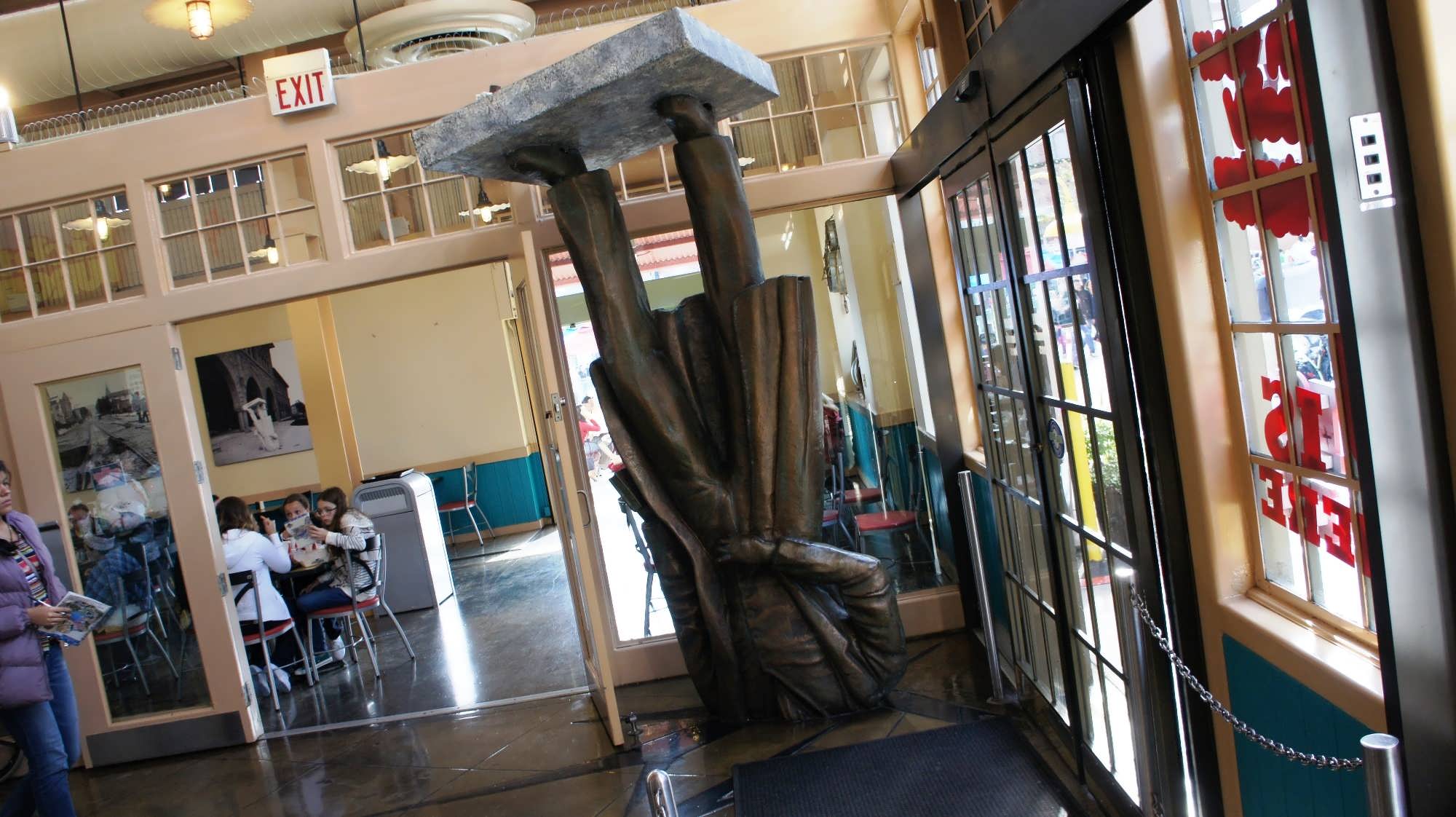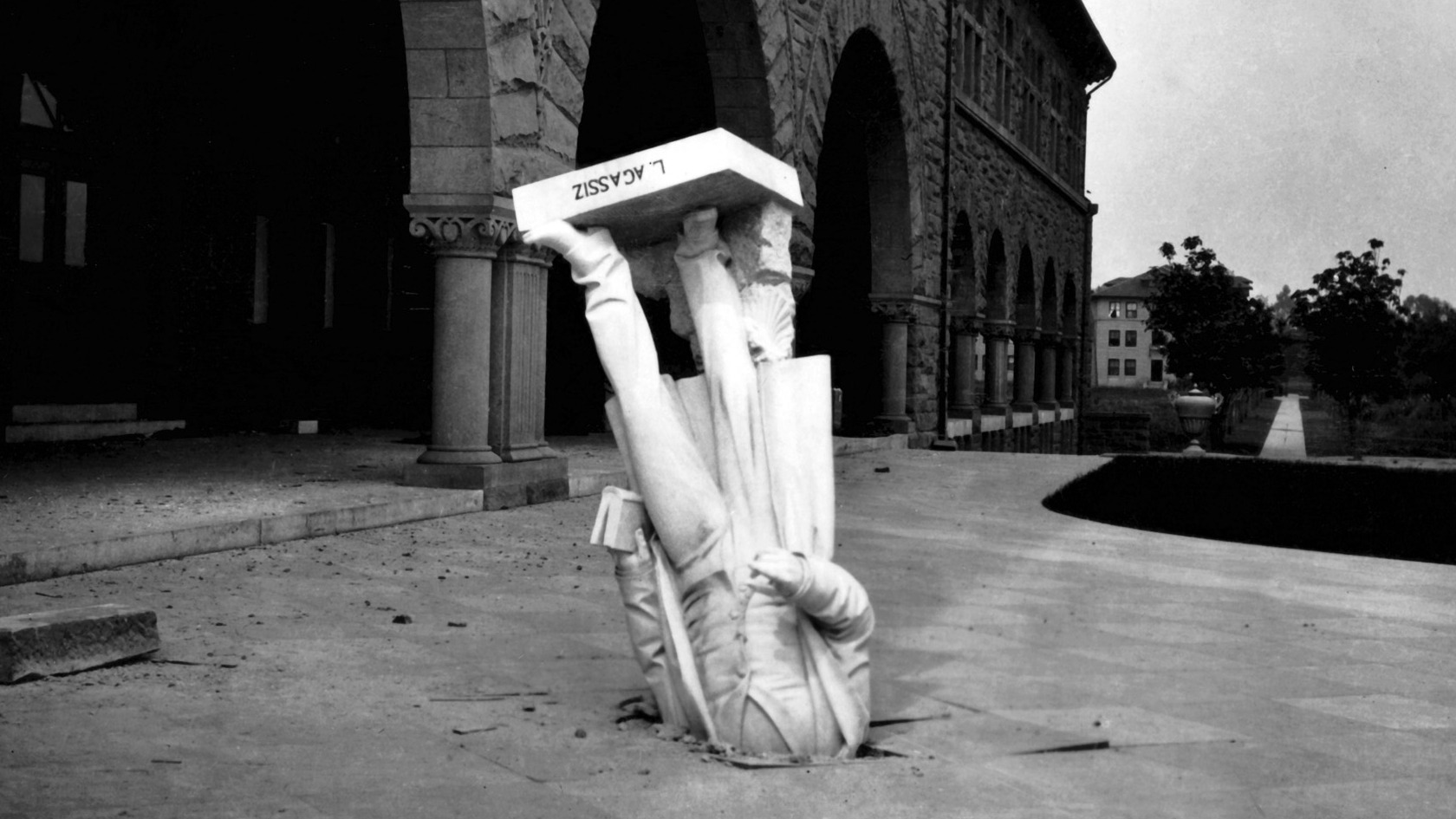 The 1906 San Francisco earthquake continues to rank as one of the worst natural disasters in U.S. history, so I won't get into the details here. Needless to say, now that you understand what the statue represents, it makes perfect sense to find it greeting guests as they enter Richter's Burger Co.
Learn more about these subjects on Wikipedia: 1906 San Francisco earthquake or Louis Agassiz. Or you can just learn more about Richter's Burger Co. on our site.
Have your own favorite "hidden Mickeys"? Be sure to let us know in the comments below.
Planning a vacation to Orlando?
Want to skip all the work and just price out a vacation to Universal Orlando? We'll find the best deals for you – for free (seriously.) Learn more, or check out some of the current deals: