Traveling as a vegan used to be difficult. Not only was it unguaranteed that the destination would be able to provide vegan dining options, but even if they did have something to offer, most of the time there would only be one dish – and it would be uncreative, at best. Because of this, most vegans opted to bring their own food to places, which could be quite difficult in a busy theme-park environment like Universal Orlando Resort.
Now, however, those with a vegan diet don't have to worry about limited food options around the resort. With newly-added menu items throughout the theme parks and CityWalk, eating vegan at Universal just got a whole lot easier.
Quick-service park options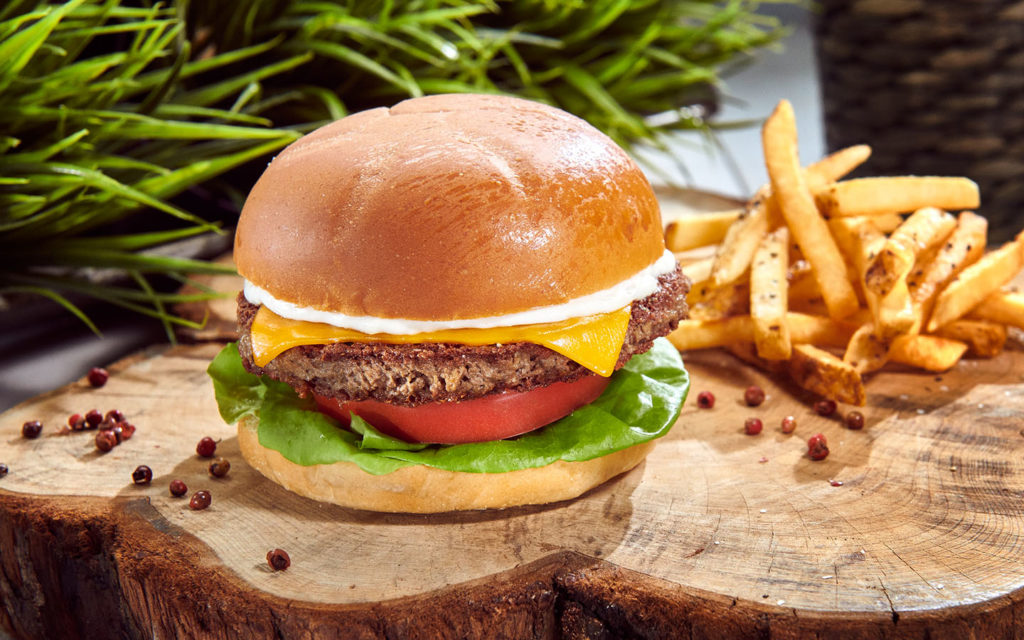 Previously, there weren't any vegan options available at the quick-service locations in the theme parks – now, however, there are a variety of dishes that can be found throughout both Universal Studios Florida and Islands of Adventure. (Quick-service restaurants tend to share menus throughout the two parks, and this is still the case for vegan options; if it can be found at Studios, it can be found at Islands.)
One of the biggest changes to come to the park is that the new Beyond Burger is now being served at Richter's Burger Co. and Mel's Drive-In at Universal Studios and Captain America's Diner at Islands. The Beyond Burger is a plant-based patty, served with Follow Your Heart vegan cheese and topped with Vegenaise sauce. Those who have had the burger say it's a great alternative to a meat-based product, and the Vegenaise sauce adds a wonderful flavor to the sandwich.
Over at Louie's Italian Restaurant (in Studios) and Cafe 4 (in Islands), you can find spaghetti bolognese (a pasta dish served with plant-based Gardein sausage crumbles), spaghetti with marinara sauce (ask for no meatballs), and minestrone soup, although this latter option is only available at Louie's, and not Cafe 4. Eating at these two restaurants is a great option for those looking to avoid the typical theme-park fare, and the portion sizes are generous. (Just a note, however – some nights, Cafe 4 hosts the Marvel Character Dinner, and the food there isn't as vegan-friendly.)
If burgers and Italian food aren't up your alley, you can also head over to either Mel's Drive-In at Universal Studios or The Burger Digs at Islands of Adventure for their Chick'n and avocado sandwiches. Served with plant-based Gardein chicken, Follow Your Heart cheese, and smashed avocado, this sandwich is a great alternative to the Beyond Burger. You could also grab an "I 'Heart' Vegan Sandwich" from Today Cafe during lunch (after 11:00 am) or a veggie press sandwich from either San Francisco Pastry Co. or Croissant Moon Bakery.
Finally, Universal Studios' Classic Monster Cafe offers The Mummy Combo, a slow-cooked jackfruit barbeque sandwich platter. Or you could head over to Thunder Falls Terrace to grab a jackfruit rice bowl – you would just have to ask them to remove the cheese and sour cream from the dish.
Table-service in the parks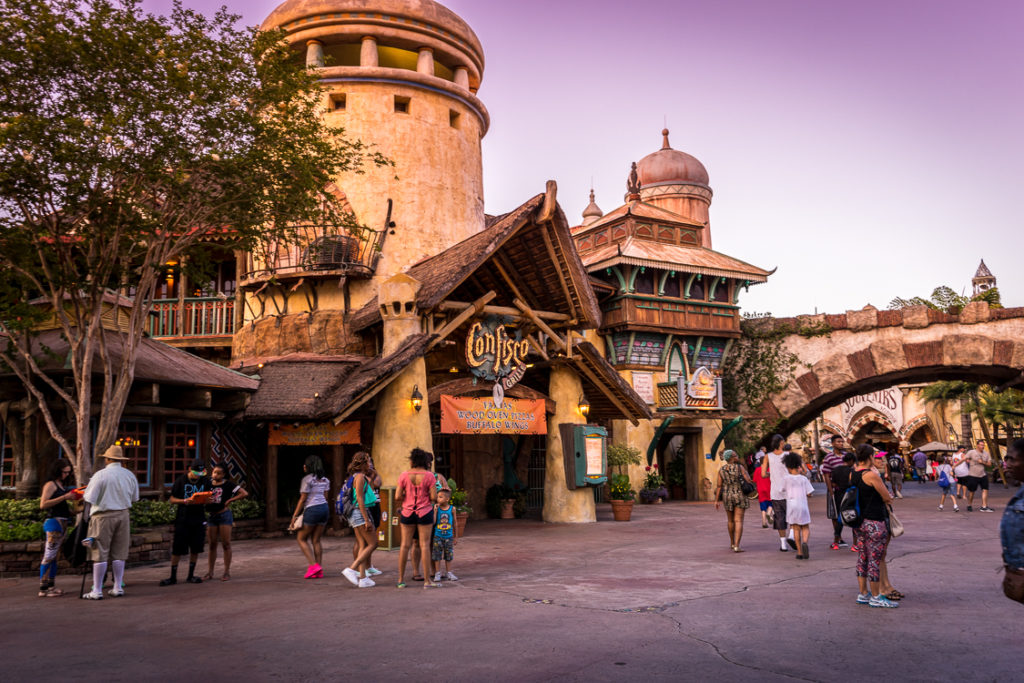 If quick-service isn't your thing, or if you'd rather enjoy a longer respite from the heat, each of the four table -service restaurants in the parks now offer vegan options.
At Islands of Adventure, Mythos features vegan pad thai (a favorite) and a souvlaki couscous bowl (these options also have a non-vegan variety, so they need to be requested as vegan upon ordering). Additionally, the complimentary bread service can be vegan but should be double-checked before consuming, in case suppliers have changed, and the mezze platter is also a wonderful vegan appetizer available at the restaurant. Confisco Grille offers a variety of dishes, as well, including pad thai, hummus, fajitas (served without meat or cheese), and chipotle sausage with orzo, which features Gardein sausage crumbles, chipotle pesto, and roasted red peppers.
Over at Universal Studios Florida, Lombard's Seafood Grille has penne genovese, a dish served with Beyond Sausage, roasted garlic, and basil. They can also prepare their mushroom quinoa dish as vegan, if asked. Finnegan's Bar & Grill has also added a vegan dish to their menu – a Beyond Burger vegan shepherd's pie. Served with vegan red bliss mashed potatoes and steamed vegetables, this dish is a filling meal for anybody looking to re-energize their theme-park day.
Snacks and other goodies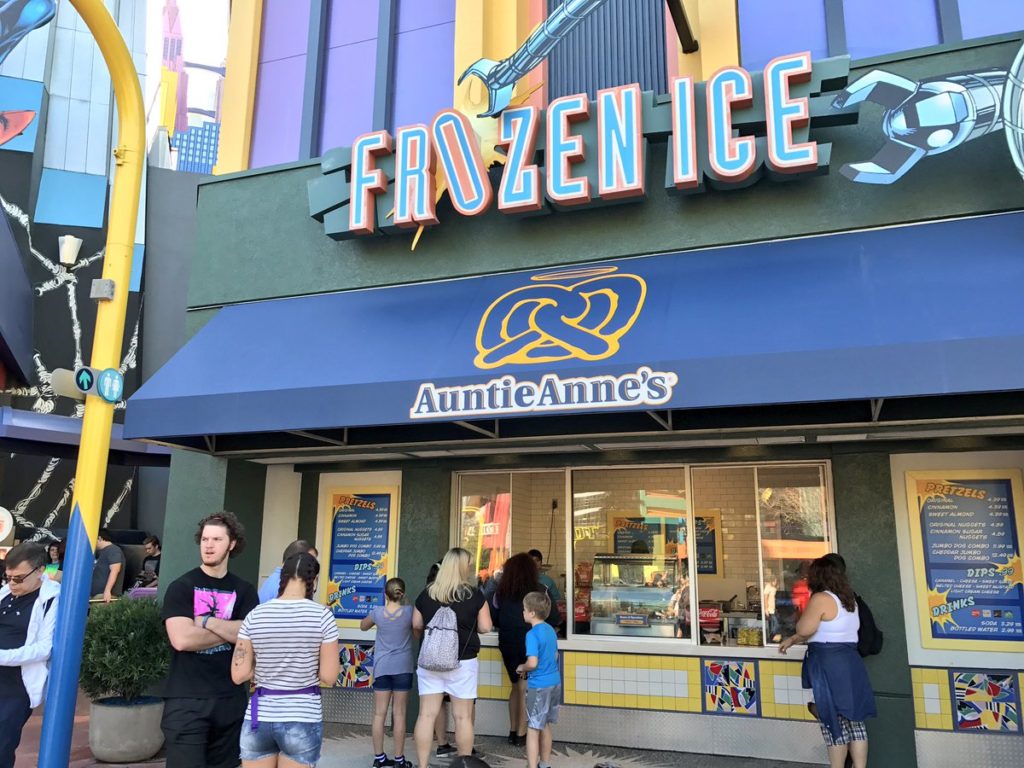 Universal has partnered with Ben and Jerry's and Auntie Anne's to provide snacks at various locations throughout the theme parks, and these two companies offer vegan options; Ben and Jerry's has coconut- and almond-based non-dairy frozen desserts, as well as various sorbet flavors, while Auntie Anne's soft pretzels are vegan but must be ordered without butter.
For additional snacks throughout the parks, popcorn is vegan, as is the whole fruit and fruit cups offered at many of the snack stands. Dippin' Dots rainbow sorbet is vegan, along with traditional (non-Bavarian) soft pretzels. For those Harry Potter fans, Butterbeer is not vegan, and guests should ask team members about the different wizarding snacks as they see them because suppliers consistently change.
CityWalk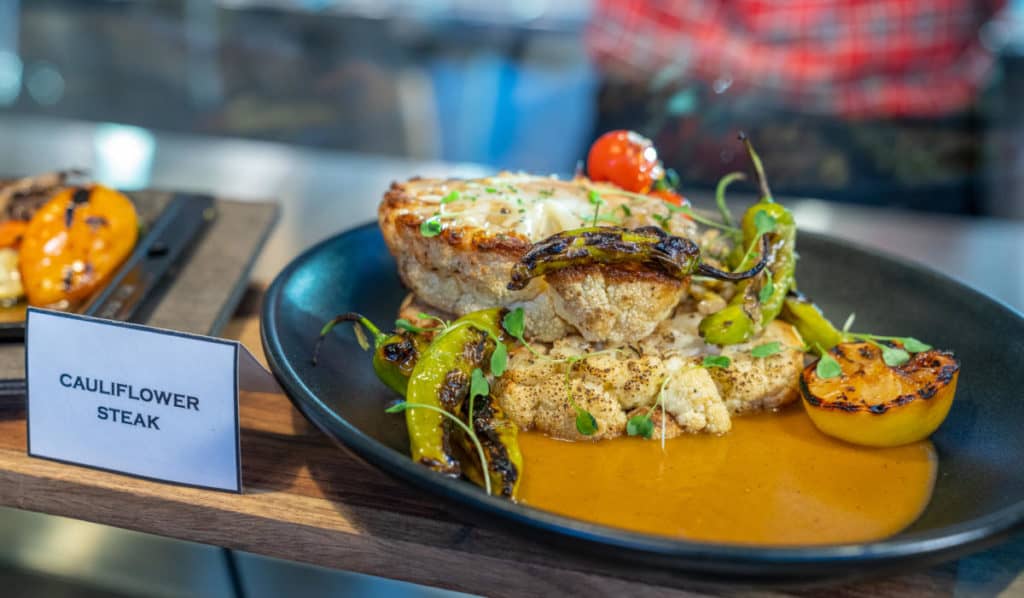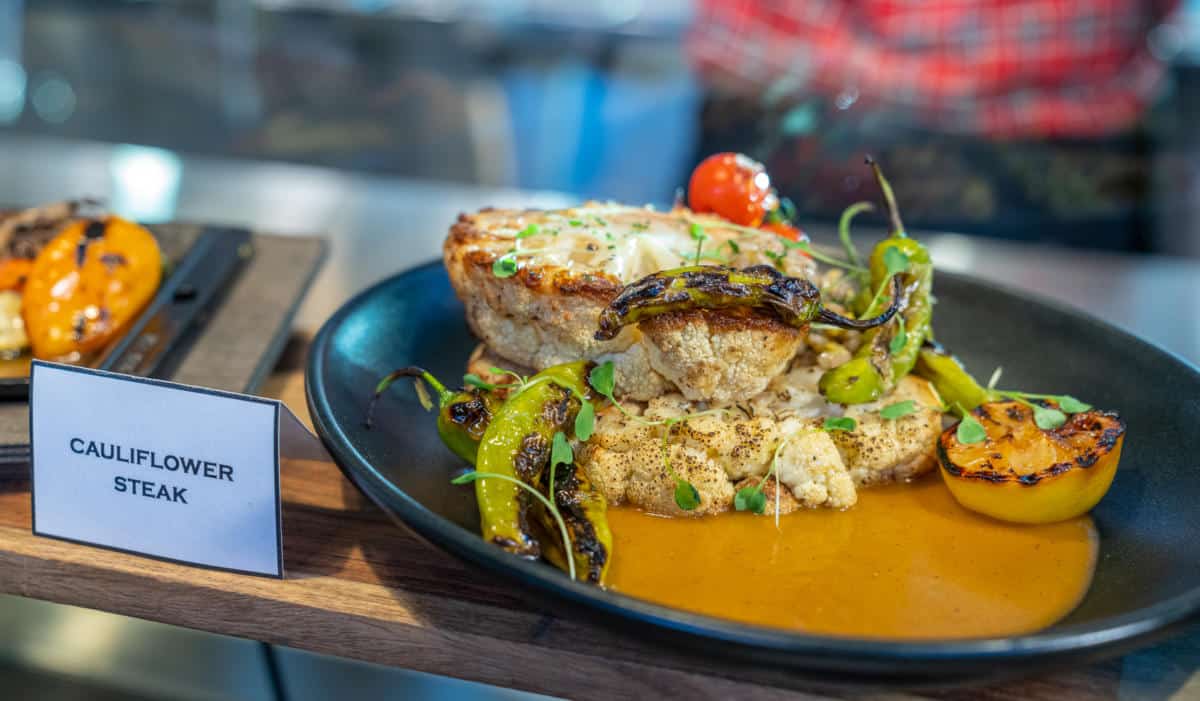 There are so many vegan options available in CityWalk – too many to name them all here. Almost every restaurant location at Universal's dining/shopping/entertainment district will be able to provide a good-tasting vegan meal, but there are a few standouts that should be highlighted.
Bigfire – the newest restaurant in CityWalk – offers a cauliflower steak, grilled and served with warm farro salad and a charred tomato sauce. Antojitos Authentic Mexican Food can modify many of its entress, like fajitas, quesadillas, and enchiladas, into vegan dishes, if asked. Bob Marley – A Tribute to Freedom serves Ital Eats stuffed peppers that are naturally vegan, and they also have other options that can be made vegan, as well. VIVO Italian Kitchen offers up a vegan sausage pasta, made with Gardein sausage crumbles, and Jimmy Buffet's Margaritaville also serves the Beyond Burger.
For dessert, Toothsome Chocolate Emporium and Savory Feast Kitchen can make vegan milkshakes that use soy milk and vegan chocolate ice cream, although the item isn't listed on the menu and must be specifically asked for. Voodoo Doughnut also offers a wide variety of their doughnuts as vegan, offering a great post-park (or pre-park!) sweet.
Also for your consideration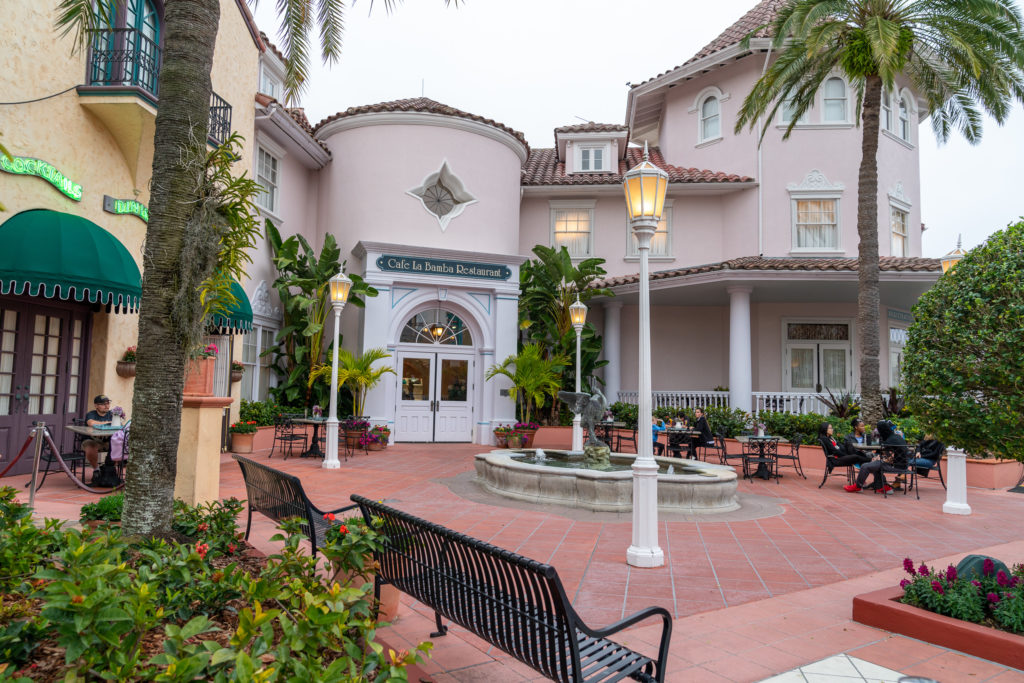 Although there are many options available to guests visiting the resort, sometimes you just want to have your food taken care of and not have to worry about what you are going to eat. If you purchase a VIP Tour at Universal – a private or a two-park non-private experience – you will be in the hands of chefs who will ensure your dietary needs are taken care of. With their own private dining for breakfast and lunch, maintaining a vegan diet will be a breeze with the VIP Experience. Just make sure your preferences are mentioned upon booking so the team can have breakfast ready for you when you arrive.
–
Want some more options for healthy (albeit non-vegan) eating? Be sure to check out our other article on the subject, and then hit up our OI Community Facebook group to get the opinions of 80,000+ other vacation planners.
And don't forget to follow Orlando Informer on Facebook, Twitter, and Instagram for the latest news and tips at Universal Orlando, Walt Disney World, and other Orlando experiences.