TooJay's Original Gourmet Deli: Orlando's home for comfort food
TooJay's is a bakery, deli, restaurant, and catering company that blends good ol' fashion food with rustic charm.
You can click on any image to view it full-screen. Check out the bottom of the post for the complete photo gallery. You can also view and share many of these photos on the OI Facebook page.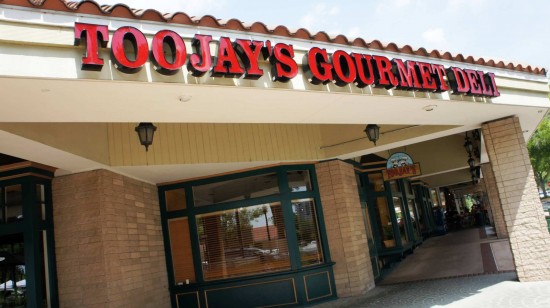 According to their website:
TooJay's Gourmet Deli began as a modest New York style delicatessen on the Island of Palm Beach in the spring of 1981. Over the years, we have garnered over fifty Reader's Choice "Best Of" awards and pride ourselves on quality, presentation, and friendly service in a casual and lively atmosphere. TooJay's 25 restaurants are open seven days a week for breakfast, lunch, dinner, to-go, delivery and catering.
We stopped by the Dr. Phillips/Restaurant Row location, a few blocks from International Drive, after checking out the Sand Lake Farmers Market (now located right in front of TooJay's). It was my first time in a TooJay's, and I felt immediately at home. The interior is very inviting, and one look over at the to-go counter tells you that you're in for a treat.
TooJay's has a big menu, and as you might suspect they serve plenty of breakfast food along with lunch and dinner specials. We decided to try one order of the French Toast with cinnamon and nuts and one order of the Reuben.  See what you think:
It's tough to go wrong here. Good food, solid service, and a comfortable atmosphere are definitely the ingredients for a happy meal. In fact, TooJay's does it so well that you'll almost be convinced you're not eating at a chain restaurant.
If you're looking to keep it simple but want to try a place you don't have back home, I'd recommend giving TooJay's a try. They have several Orlando locations. Here's the info for the one on Orlando's Restaurant Row that we visited:
Oh, by the way, if you really fall in love with their food you can order it by mail too.
Map
Complete photo gallery