Walt Disney World's MyMagic+ can sometimes be a little confusing for first time guests to embrace on their first vacation to Walt Disney World. Between MagicBand's, FastPass+ and everything in-between, it is a lot to absorb as you get ready for your Walt Disney World vacation.
With these simple tips, hopefully it will be that much easier setting up your MyMagic+ and FastPass+ options, so you can enjoy your vacation, which is after all, why Disney created this new technology.
Schedule your FastPass+ options in advance
One of the worst things to do when utilizing FastPass+ is not scheduling your 3 FastPass+ options in advance. Walt Disney World is the biggest theme park resort in the world, so it would not be a wise choice to hold off until the last second to book your FastPass+ options, especially for the popular rides, such as Space Mountain and Seven Dwarfs Mine Train at Magic Kingdom, and Frozen Ever After at Epcot. You get a total of 3 FastPass+ options per day, so make sure you utilize all 3 time slots and do it early. If you have a ticket or pass, you can schedule your FastPass+ choices 30 days in advance. If you're staying on-site at a Walt Disney World Resort hotel, you can reserve your FastPass+ choices 60 days prior to your check-in. You can also modify your FastPass+ options at any given time if you decide to change your plans throughout the day.
PhotoPass is FREE, use it!
One of the most overlooked aspects of MyMagic+ is the PhotoPass aspect of the program. Disney has over a hundred PhotoPass photographers on property at any given point throughout the parks and are there for you! PhotoPass is a FREE program that you can utilize so you don't have to worry about lugging around that big expensive camera. PhotoPass photographers will also snap a photo with your smartphone or tablet if you ask. When you're done with your vacation, you can sit back, relax, and view your photos and make any photo purchases either in the park or on the Walt Disney World app.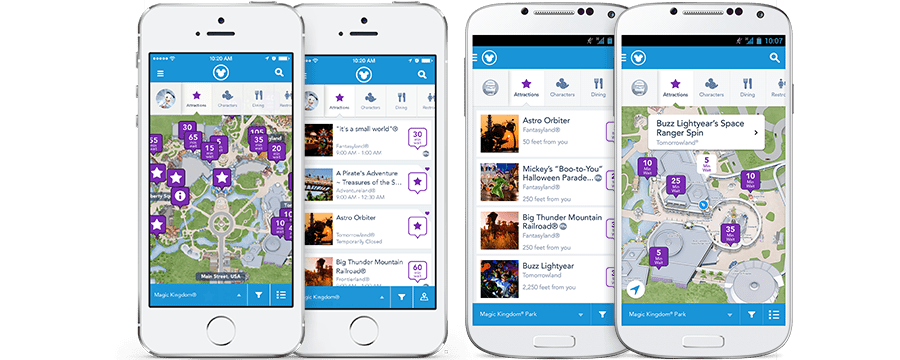 Download the My Disney Experience app
With technology nowadays, there is an app for everything. Walt Disney World is no exception. Be sure to download the Disney World app before your vacation to get familiar with all of the tools it has. The app integrates MyMagic+, FastPass+ and PhotoPass into one simple to use app. If you utilize PhotoPass as we mentioned above, you can view your photos and/or purchase them via the Disney World app. Other perks of the Disney World app include viewing wait times for attractions, locate character greeting locations and times, and you can even view restaurant menus and make reservations. Reservations at popular Walt Disney World restaurants have a tendency to fill up quickly, so utilizing the Disney World app will allow you to make reservations at your favorite Walt Disney World restaurants, up to 180 days in advance, a lot easier.
The Disney World My Disney Experience app can be downloaded for both iOS and Android devices.
With these few simple beginner tips, hopefully your first MyMagic+ experience will be a little bit better so you can enjoy what really matters, spending time with your friends and family during your Walt Disney World vacation.
For the latest news, tips, and more at Disney World, Universal, and other Orlando attractions be sure to follow Orlando Informer on Facebook, Twitter, and Instagram.