A vacation to Walt Disney World is certainly magical, but it can be quite costly, too – dining at Disney's resort can quickly add up. Some folks opt to bring their own food and snacks, which is certainly an option. But if you do wish to enjoy at least a few Disney meals, there are ways to do so and still save some money.
1. Set a budget and review costs ahead of time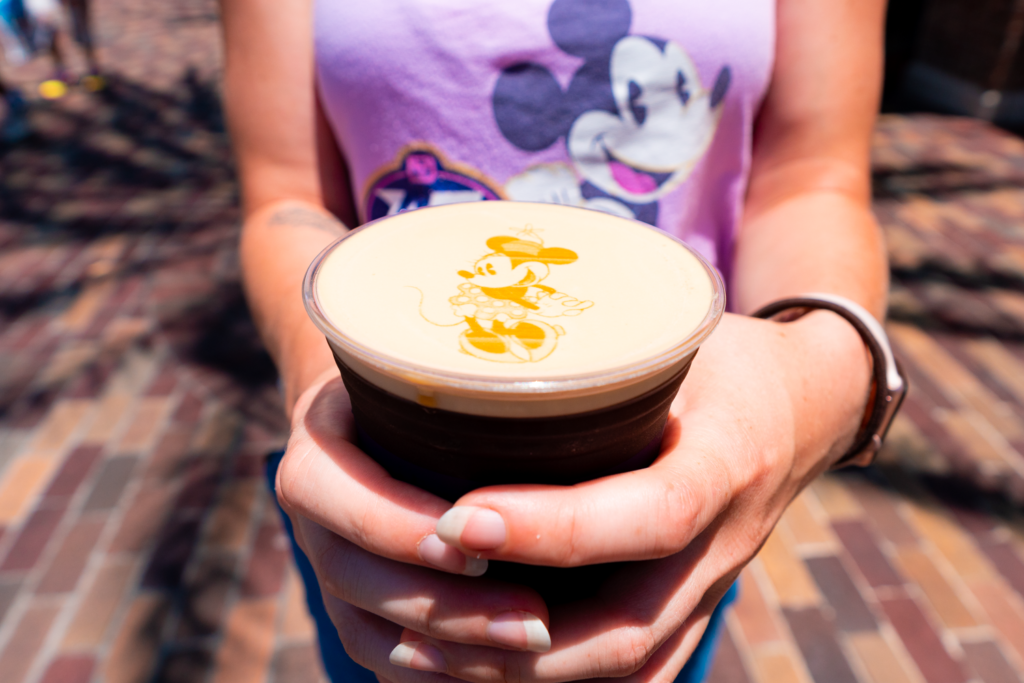 It can be easy to get carried away in the moment when you're on your Disney World vacation – Disney does a great job of creating culinary offerings that are visually appealing. And when special occasions like Halloween and other big holidays are involved, they pull out all the stops. Everywhere you turn, there is a special treat to tempt you.
Make a budget and do your best to stick to it. Not sure how much everything costs at the resort? Check out our post covering it all, including dining. Review these expenses ahead of time, especially snacks and different types of meals, and you'll be able to plot out how much you can expect to spend. Use this as your compass to guide you on where you might need to scale back, or where you can indulge, in your food budget.
2. Quick-service meals cost much less than table-service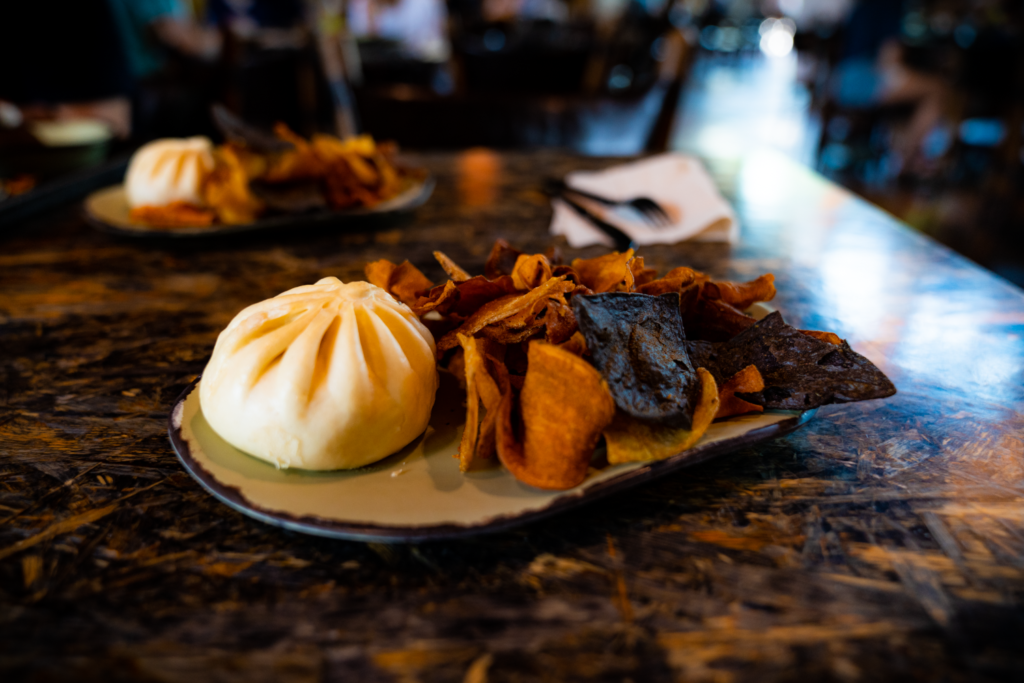 Throughout Walt Disney World, there are plenty of signature table-service restaurants – in fact, many of Disney's venues are destinations unto themselves. Cinderella's Royal Table inside Cinderella Castle is a good example. With such an iconic setting, you can imagine the price tag reflects it, and you'd be absolutely right: currently, the price for dinner is $62 for adults and $37 for children ages three to nine (before taxes and gratuity).
There's really no quick-service restaurant that matches the unique location of Cinderella's Royal Table. Still, there are plenty of ones that have dining areas with great views – and great theming – at half the cost of many of their table-service counterparts. If you want to be able to splurge on a meal at a full-service destination, then you may want to have most of your other bites at quick-service stops so you can save up.
Each of the four theme parks has a variety of quick-service options. Here are some favorites, with each being either highly rated or offering a unique dining venue:
Cosmic Ray's Starlight Café in Magic Kingdom is rather unique in that it features Cosmic Ray, a lounge singer from another planet who serenades guests non-stop. The food is not the best in the park, but its casual fare of burgers, sandwiches, and salads is approachable.
Pinocchio Village Haus, also located in Magic Kingdom, is a classic. Not much has changed inside the dining room since its opening in 1971. You can dine on casual Italian-inspired food, including pizzas and salads, while adorable paintings of Pinocchio characters smile all around you. There's even a few tables that overlook the It's a Small World boat ride.
Nearly every World Showcase pavilion at EPCOT has both a table- and quick-service restaurant (the exceptions being American Adventure, which has just one quick-service joint – a smokehouse that many guests love – and the Canada Pavilion, which only has Le Cellier, a signature venue). If you're considering dining at one of the international table-service locations, like Teppan Edo in Japan or San Angel Inn, go for the quick-service equivalent instead.
Docking Bay 7 Food and Cargo inside Star Wars: Galaxy's Edge is one of the best-themed dining experiences in all of Walt Disney World Resort, and it's a quick-service venue. Even if you're not a full-on Star Wars fan, you're sure to appreciate the themed environment all around you and the presentation of each meal.
Fans of the Muppets should eat at PizzeRizzo at Hollywood Studios for a dining venue that has satisfying American-Italian fare in a zany environment.
Animal Kingdom has some of the most-loved quick-service stops among Disney fans. Santu'li Canteen inside Pandora – The World of Avatar is a must-do for anyone who wants a unique atmosphere and creative food that tastes great. Flame Tree BBQ is another fan-favorite for tasty barbecue; all of the seating is outside, in one of the most tranquil, beautiful spots in the park.
3. Choose your snacks wisely
It is perfectly acceptable to bring in your own food to Disney World (though there are some restrictions on cooler sizes, and loose ice is not allowed). Still, it's easy to pack your own snacks, so bring along the basics and skip the similar options available in the parks. Pretzels and popcorn may be cuter in Disney's world, with Mickey Mouse shapes and such, but the taste isn't that much better than the store-bought versions. And fresh fruit is easy to bring in with you – especially when you consider that the average price for fresh fruit at the resort is over $3.00!
There are plenty of snacks to tempt you throughout the parks and hotels, and it's okay to give in – just be wise with your choices. Is it something truly special you can't find anywhere else? Then go for it. If it is something you can buy at a grocery store, or find at home, then consider saving your money for something nicer or more exclusive.
4. Kids' meals and sharing larger meals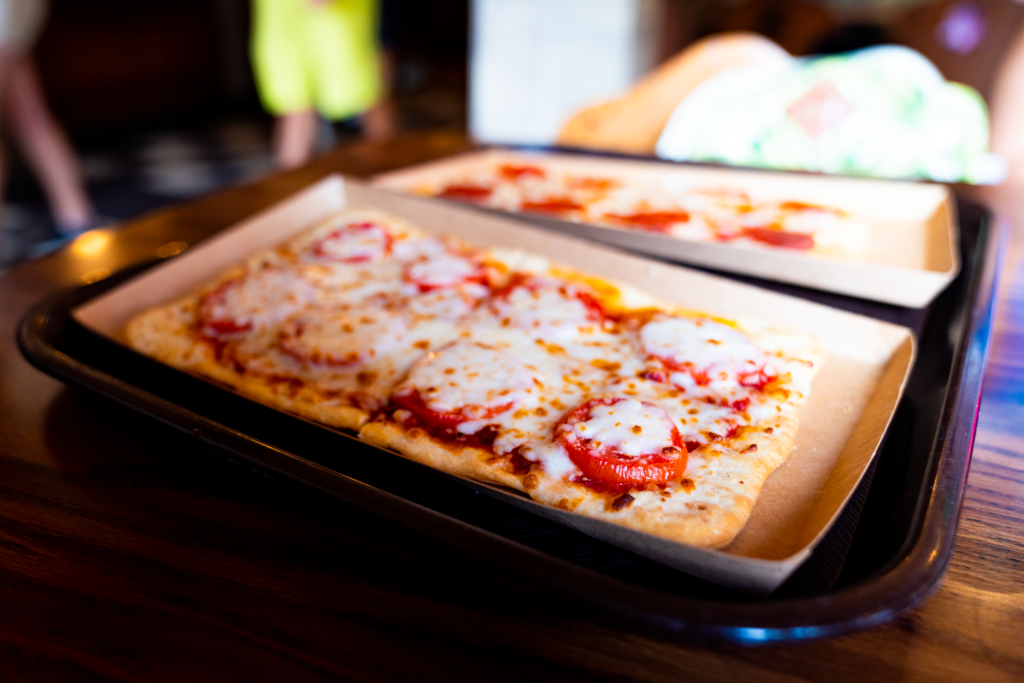 Many adults feel satisfied with a Disney kids' meal because it comes with a drink and at least one, if not two, sides. There is no shame in ordering a kids' meal even when you're a full-grown adult – and, in fact, mobile ordering makes it easier than ever to go this route without feeling any guilt.
Conversely, if you have more than one child in your group, consider ordering one adult meal to split between the two kids. Many families prefer to skip soft drinks and just drink water; if this is you, getting one adult meal, which usually comes with a side, and then some free ice water can easily satisfy two children. It can also satisfy your wallet – usually, adult entrees with a side run about $10-$12, while a kids' meal averages about $7 or so. Thus, going this route will save you about $4 at each meal.
Here's another tip: even if you don't have kids in your party, large combo meals can satisfy two adults. For example, many of the barbecue restaurants, like Flame Tree BBQ at Animal Kingdom and Regal Eagle Smokehouse at EPCOT, have combo meals with ribs and chicken. These can definitely serve two.
If you're dining at a table-service restaurant, consider ordering one appetizer and one entrée to share rather than one entrée each. In fact, many Disney fans enjoy the appetizers at some locations (like Magic Kingdom's Skipper Canteen or Animal Kingdom's Tiffins) as much as, if not more than, the entrees themselves. So if the appetizers look good to you, consider giving them a go.
5. Maximize mobile ordering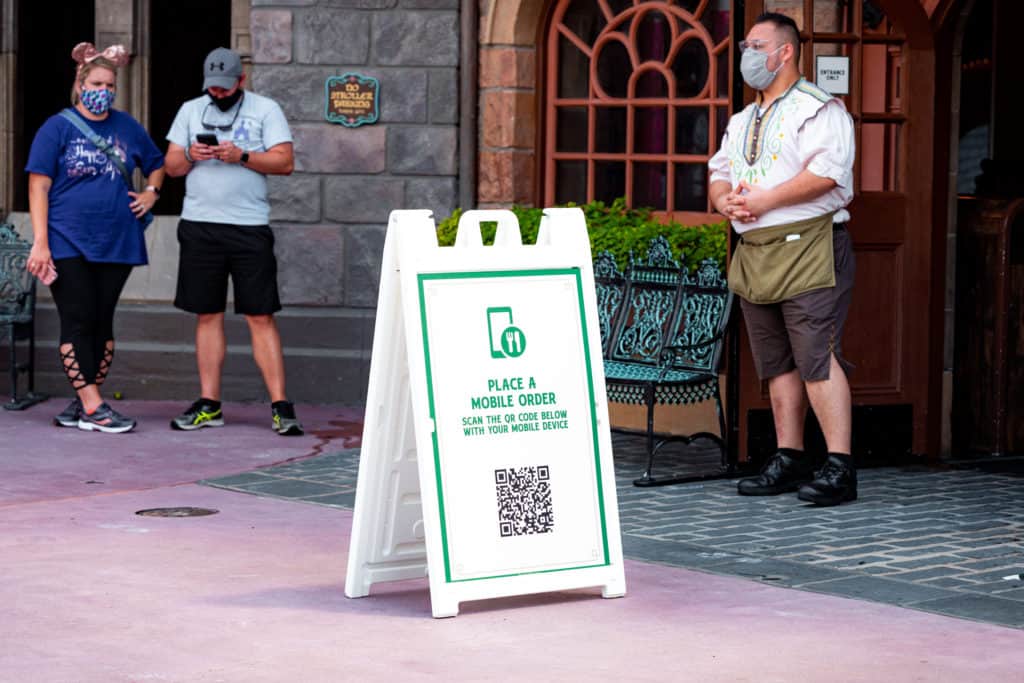 Most quick-service restaurants at Walt Disney World currently require guests to use mobile ordering in the My Disney Experience app. This mobile focus can be used to your advantage. First, place your order well in advance; you'll find more available timeslots and can select which one best fits your schedule (and you can always change your timeslot, if needed). By doing this, you won't be ordering when everyone is tired, cranky, and starving!
Second, you can see your total – and make any adjustments – before you finalize your order. You can always order the minimum amount of food you need, and if you need a snack after your meal, you can stop by a cart or shop. We often have eyes that are bigger than our stomachs, and mobile ordering can help keep you in check.
Finally, select table-service restaurants at certain Disney hotels have mobile ordering for takeout. Consider hopping over to one of these resorts that neighbor each of the theme parks for a nice, quick bite. You'll still get to enjoy the quality of a table-service meal, but you can be strategic about what you order.
When you mobile order from a table-service location, you may be less tempted to add on extras, like specialty drinks and desserts. If you do want to raise a glass to your Disney World vacation, check out the wines by the bottle available through mobile ordering. Sanaa at Animal Kingdom Lodge, for example, has some great South African wines by the bottle at relatively affordable prices. You can always take the bottle back to your hotel and spread out your consumption over a night or two – and save some money.
If you are not a guest of the resort at which you place your mobile order, you will need to show your confirmation on your phone (and your photo identification, if driving over). The Magic Kingdom hotels, like the Contemporary Resort, are very strict, so it's best to plan on other available properties. (Note: when taking Disney transportation from one of the theme parks to one of these venues, order confirmations and photo IDs are generally not required.)
BONUS: Other money-saving tips for Disney dining
View menus and plan your dining locations ahead of time
Breakfast does not usually pay off in regards to the cost and how much the average guest actually eats
Have breakfast in your hotel room or share adult meals with kids
Bring your own refillable water bottle and get free water from Disney quick-service locations
Take leftovers and use them for snacks or other meals
You can always order more food, so start off small and see how you feel
---
Choose from some – or all – of these tips, and you're sure to enjoy eating your way through the parks without breaking the bank. And remember: while budgets and savings are important, you are on vacation, so let yourself indulge a little bit, too! (In other words, yes, I condone splurging on that Mickey ice cream bar.)
Do you have a favorite low-cost snack or meal option in one of the parks? Let us – and thousands of other Disney fans – know in our Orlando Informer Community on Facebook. And then be sure to follow Orlando Informer on Facebook, Twitter, and Instagram for the latest news, tips, and rumors at Universal Orlando, Walt Disney World, and other Orlando attractions.