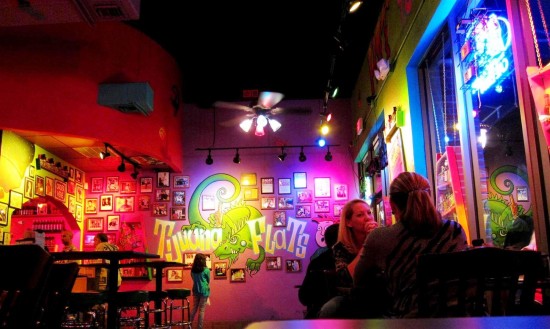 Tijuana Flats opened its first location in Winter Park, Florida in 1995 by a young gentleman named Brian. The concept now has over 79 restaurants in 5 states and more on the way! Not only was Brian successful with his restaurants, but he also created his own line of hot sauces including the "Smack My Ass and Call Me Sally" line of sauces, which include some of the hottest sauces around. For a more in depth look at the history of Tijuana Flats you can check out this page.
Now that you have a little background information, let's get to the food! They have salads, nachos, tacos, chimichangas, quesadillas, burritos, burrito bowls, flautas, tostadas, enchiladas and more. They also have a Lo Menu option where items are 500 calories or less, a "Little Lizards" menu for the kids as well as some dessert items. And the churros are awesome!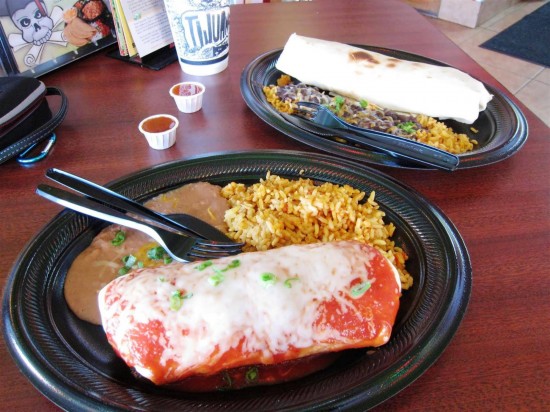 The dining experience is simple; you can dine in or get your meal to go. If you plan to get your meal to go, you can place your order online ahead of time so your meal will be ready when you arrive. You can order online here: http://tijuanaflats.munchaway.com/
If you plan to dine in, Tijuana Flats is considered a "Fast Casual" type of restaurant. This means you will place your order at the counter, much like at a fast food place, give them your name, pick out your table and when your meal is ready they will bring it out to you. Upon entering there are menus for you to look over before heading up to the counter (see the menu here).
Often times someone will ask you if you've ever been there before and will explain the process if you're a first timer. The employees will also come around during your meal to see if you need a refill, to take your trash away and make sure everything is well while you dine. You are also welcome to take your cup up to the counter for a refill if you don't want to wait. Be sure to take note of the crushed ice, this is a staple of theirs. The table-side service probably depends how busy they are, so during peak times they may not be around the dining area as much.
Something that you will notice upon entering Tijuana Flats is the super cool murals they have all over the place. Each restaurant is covered in colorful artwork. It's fun to take a seat and really look at all of the décor while waiting for your food. That is also what makes visiting different locations fun, is that they all have the same type of atmosphere and theme, but the artwork is different at each location so it's fun to check them all out!
Another thing you will notice pretty quickly is the famous sauce bar. The sauce bar features a large variety of sauces, ranging from mild to extremely spicy. All with entertaining names that give an insight to how hot/mild the sauces are. The line up starts with "Sissy" (mild sauce, marked with a happy face) and ends with the sauce titled "Death" (the hottest sauce, marked with a dark looking death face.) They also have a wide selection of sauces available to purchase.
We can't forget about the sweet endings! You have your choice of cookie dough flautas, churros (or both!). The flautas are good, but we LOVE the churros!! Served hot, fresh and just oooooo so good! Sometimes we stop in for the churros alone.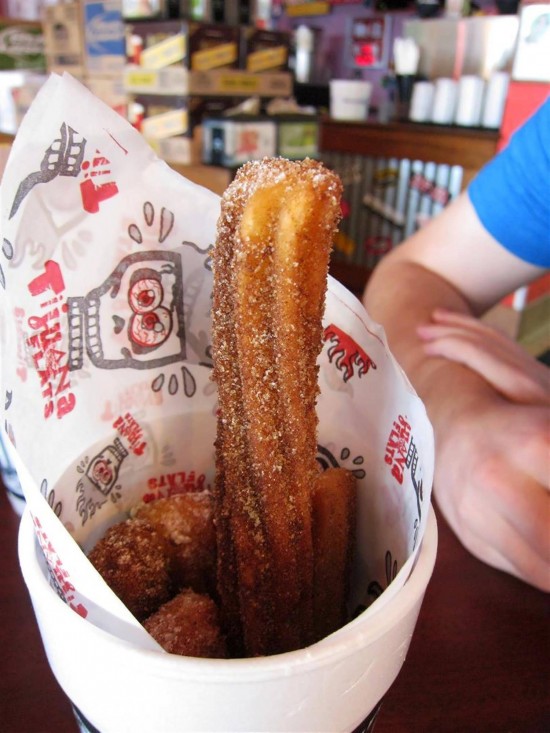 We've eaten at Tijuana Flats several times during our visits to Orlando and is always one of those "vacation places" we think about when we're back home – and often crave those churros! We usually stop here on a day that we want to go out, but don't want to deal with a full-service restaurant or on days when we want to get our meal quickly. It's not gourmet food, but is tasty and will get the job done. If you're looking for a quicker, fun meal, it's a great place to check out.
Keep in mind that every Tuesday is Taco Tuesday. You can get two tacos, chips and drinks for $4.99. Looking for someone to cater an event? Tijuana Flat does that too!
Oh, by the way, dads eat free this Sunday for Father's Day! Dad's can get a free entree with the purchase of another entree.
Tijuana Flats closed to Universal – map & links
Click any marker to display the attraction or venue name. To scroll or zoom, use the controls on the top-left of the map. You may also switch to different map views by using the buttons on the top-right of the map.
Official website: http://www.tijuanaflats.com/locations/fl/orlando/sand-lake
Tijuana Flats – photo gallery
Click any image to view it full-screen. When the full-screen image is open, click to the right or use the right arrow on your keyboard to advance through the gallery. If several thumbnails are missing, try reloading this page in your browser.
[sws_author_bio user="jewels" size="105″ authorposts="More OI posts by Julie" name_format="About the author"] [/sws_author_bio]