While visiting Universal's theme parks, there's definitely never a need to worry about finding incredible dining options; in fact, many times you might just be overwhelmed with all the delicious choices that are presented to you! Lately, my boyfriend Sean and I have been taking quick post-work trips to Universal Studios Florida in the evenings to walk around for a bit or to try a new restaurant that we might ordinarily overlook.
As we're both huge fans of a good Irish pub, we had our eyes on Finnegan's Irish Bar & Grill in the New York section of Universal Studios for a while. I decided to go ahead and finally make reservations for us.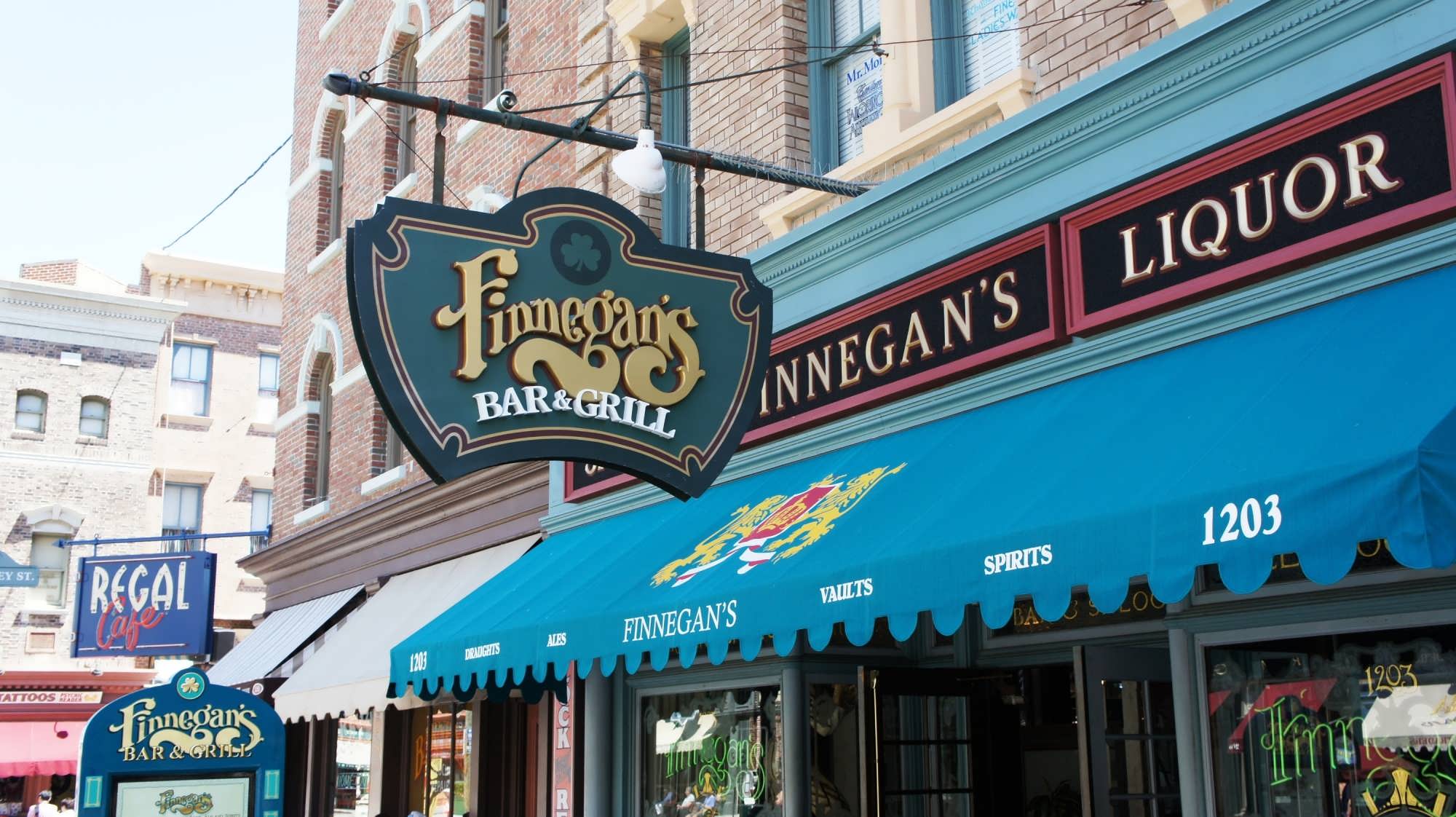 I quickly and easily made a reservation through the OI Universal Center's Dining reservations page and immediately received the confirmation notice. I don't know that we necessarily needed a reservation on this particular evening, but I can tell you that during peak season, I've walked by Finnegan's to see it overflowing with people.
We arrived at Finnegan's right at 6:45pm and were seated promptly at a centrally-located table. Nicole, our server, stopped by to great us very quickly and took our appetizer and drink orders. There was live music, which was excellent, as the musician flowed from Jason Mraz to Bob Marley tunes. A bit odd for an Irish pub, I'll admit, as I do love Celtic-inspired music, and that would've helped inspire the Irish surroundings – but it was upbeat and entertaining, which is all we really require to be happy.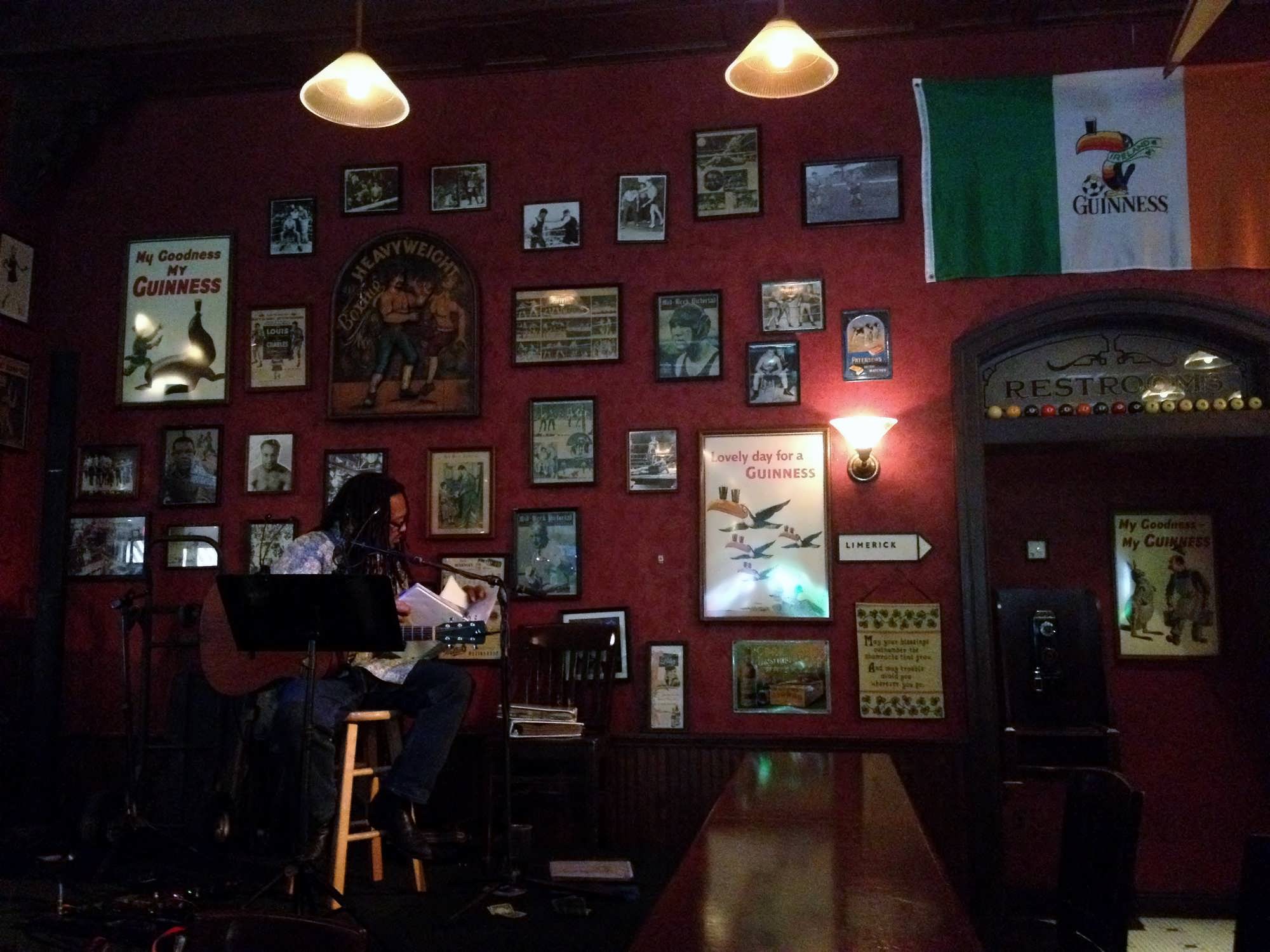 Our drinks and appetizer were delivered with lightning speed, along with some delicious Irish soda bread and apple butter that just so happens to be a Finnegan's staple. I opted to try the Flight of Beers sampler, which was about $11, where I got to sample five four-ounce beer cocktails. Sean decided to go for a Margarita, which ran us $8.50.
Both were really tasty, but I think we had the most fun trying each of the specially mixed beers, and I was surprised to discover that I even enjoyed the darkest options.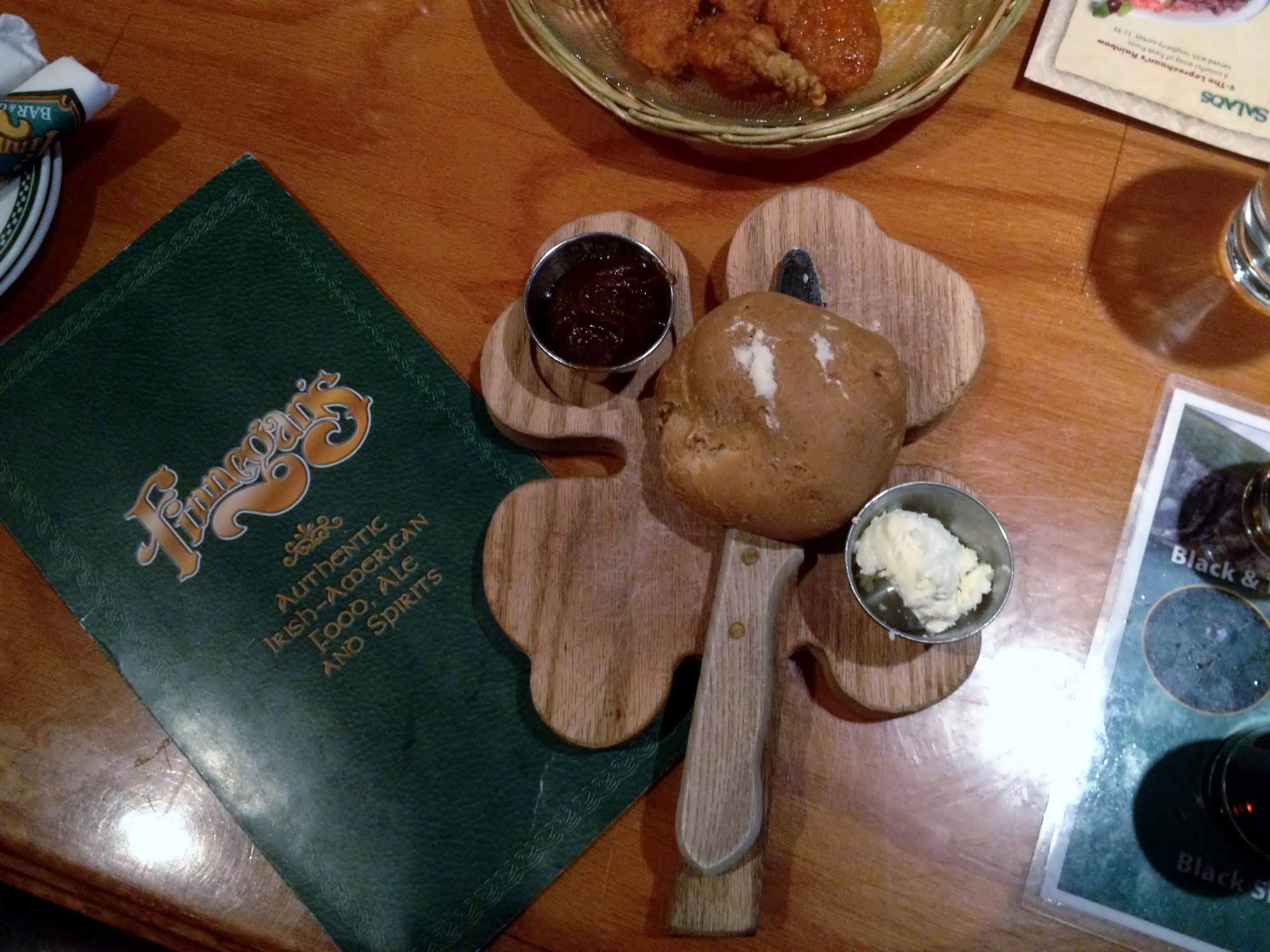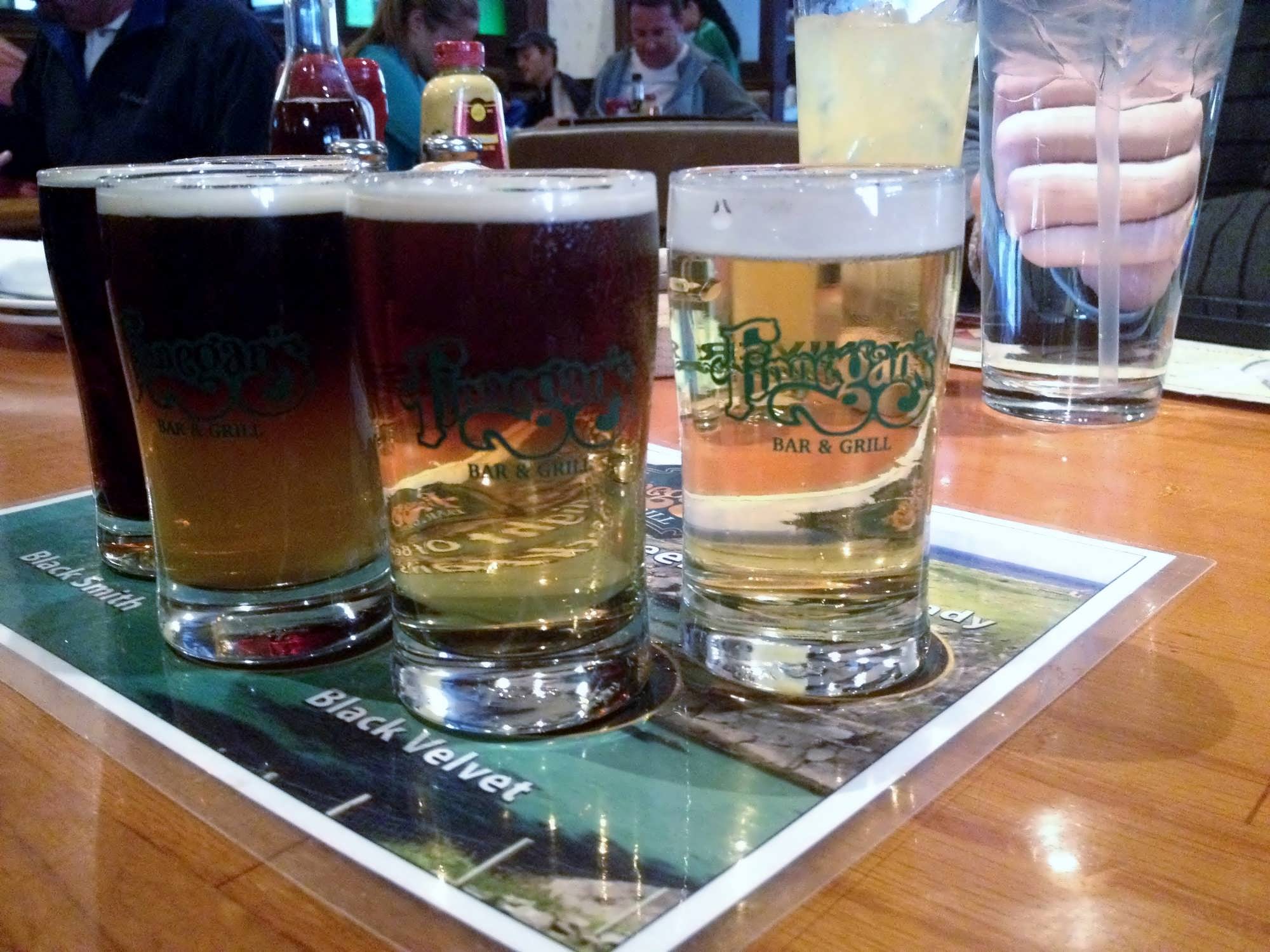 <script async src="//pagead2.googlesyndication.com/pagead/js/adsbygoogle.js"></script>
Four of the five samples were Guinness-based, then mixed with Yuengling, Smithwick's, Blue Moon, and cider, respectively. The last was called Irish Shandy and consisted of Harp and Sprite. This one was my least favorite, as it really only tasted like flat Sprite to me, but the others were really enjoyable, and I discovered a couple that I enjoyed completely and wouldn't mind a full glass of.
Speaking of glass – the Flight of Beers sampler comes with a souvenir Finnegan's glass, too!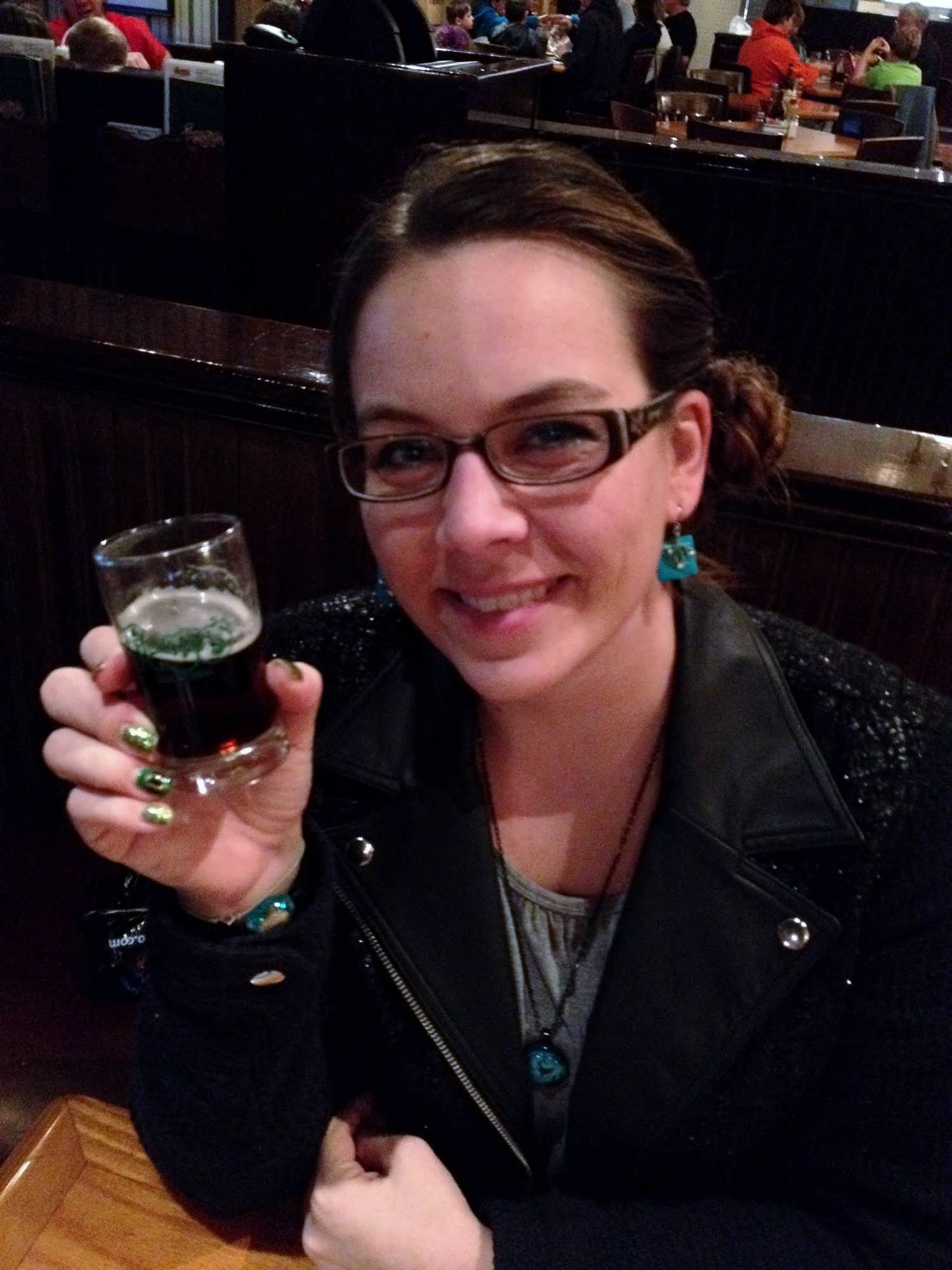 Upon the delivery of our appetizer, we noticed that the Irish Chicken Stingers ($7.99) seemed like a really small portion, but when we mentioned this to Nicole, she was happy to bring out a few more for us to munch on.
While we waited for our meal, we enjoyed the eclectically Irish atmosphere of Finnegan's. It probably sounds ridiculous to even say, but when you step into one of the Universal Orlando restaurants, you almost forget that you're even in a theme park, as you're transported to another time and place. Finnegan's also includes a separate full bar area that definitely has a more "pub"-like feel to it. This is where it seemed to be louder and had a much more outgoing vibe.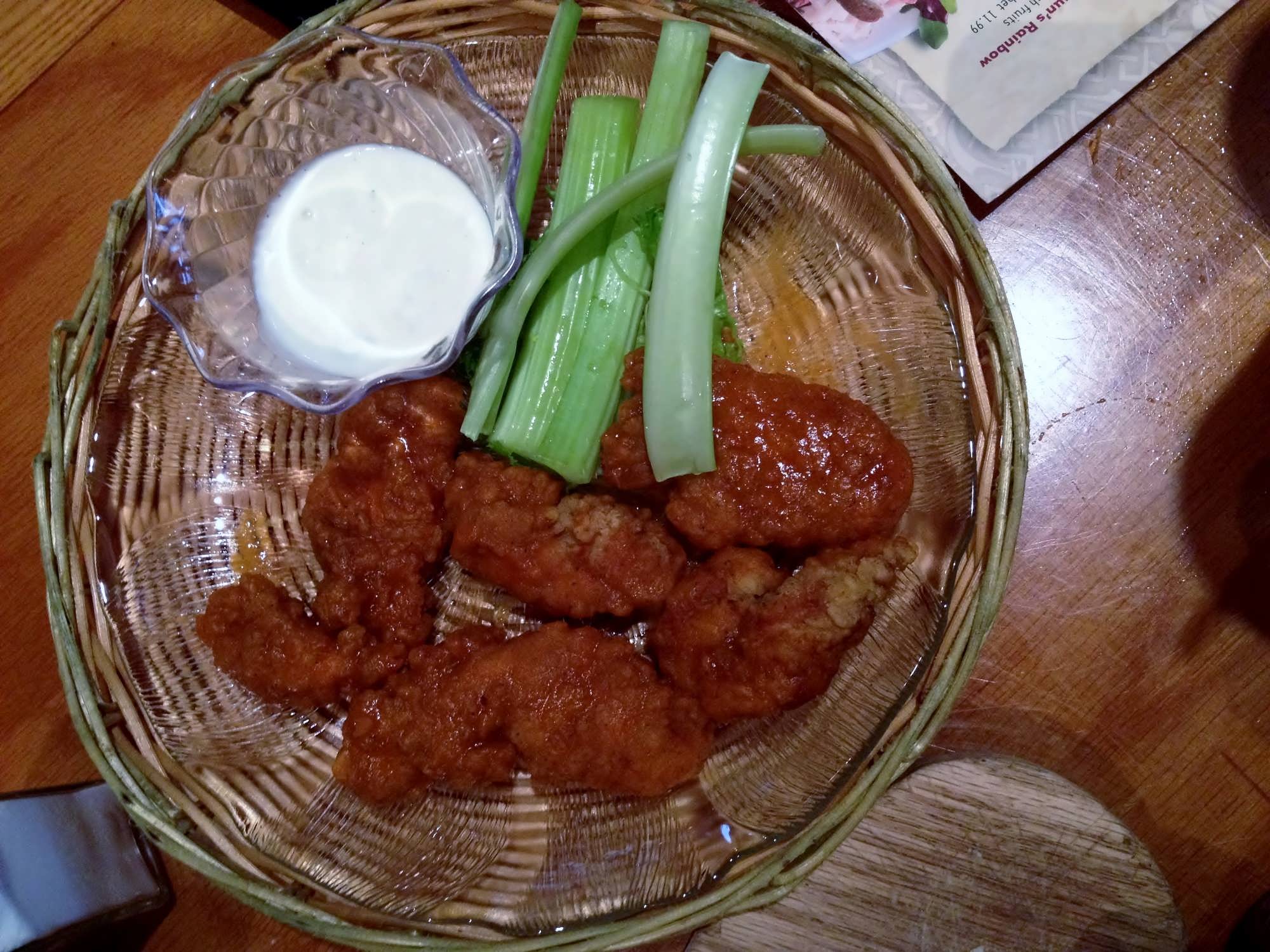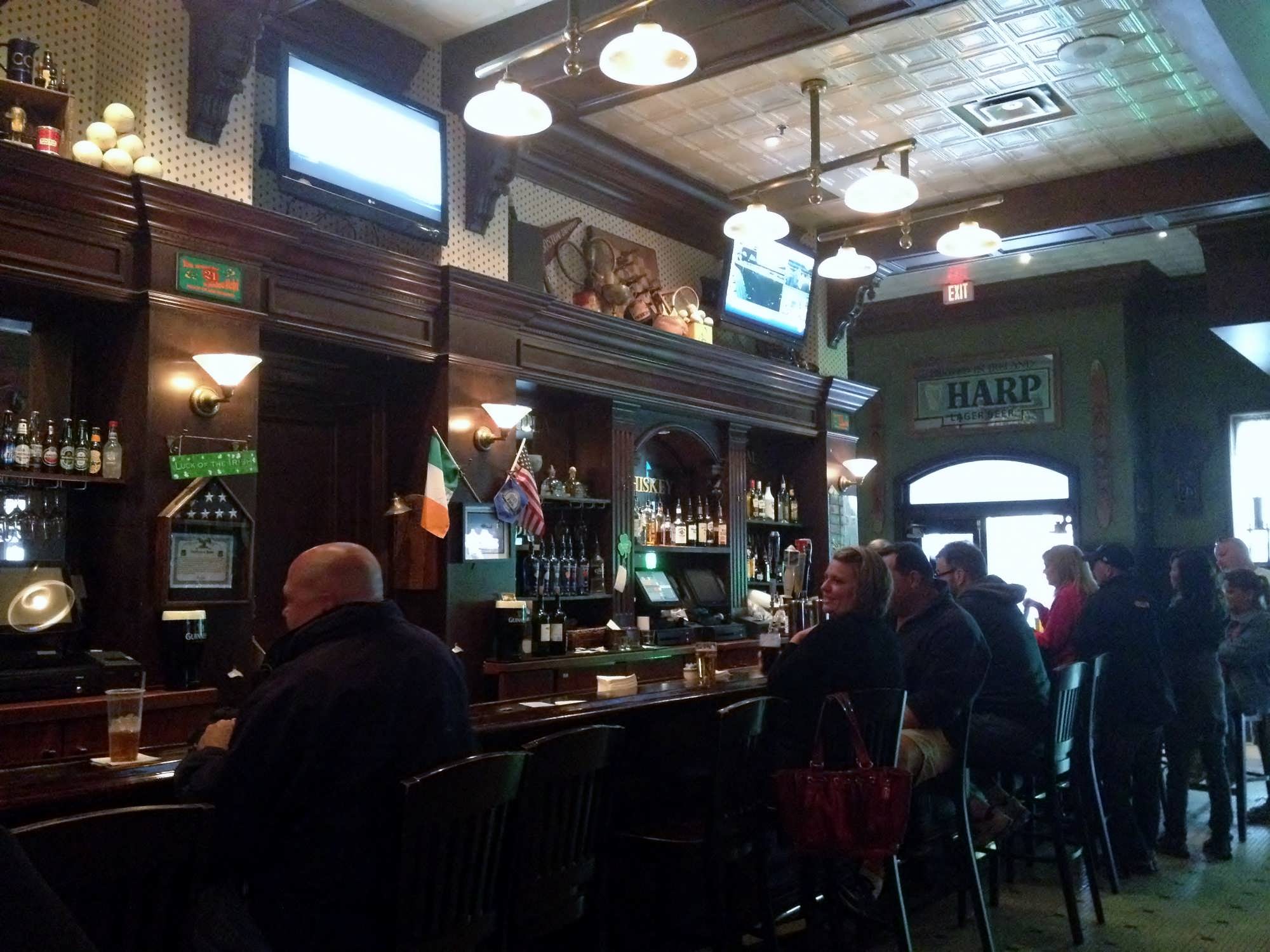 Our meals also came out quickly and were delivered by a Finnegan's manager, who was very kind and wanted to ensure we were having a nice meal. Nicole was also great about stopping by to see how we were doing and was always happy to help when and where she could.
I ordered the Tipperary Corned Beef Sandwich ($10.99), while Sean tried the Irish Fish 'n Chips ($13.99). We were both really happy with both meals and thought everything was fairly priced for what we received. We even had some leftover, which became a nice little treat for the following day's lunch.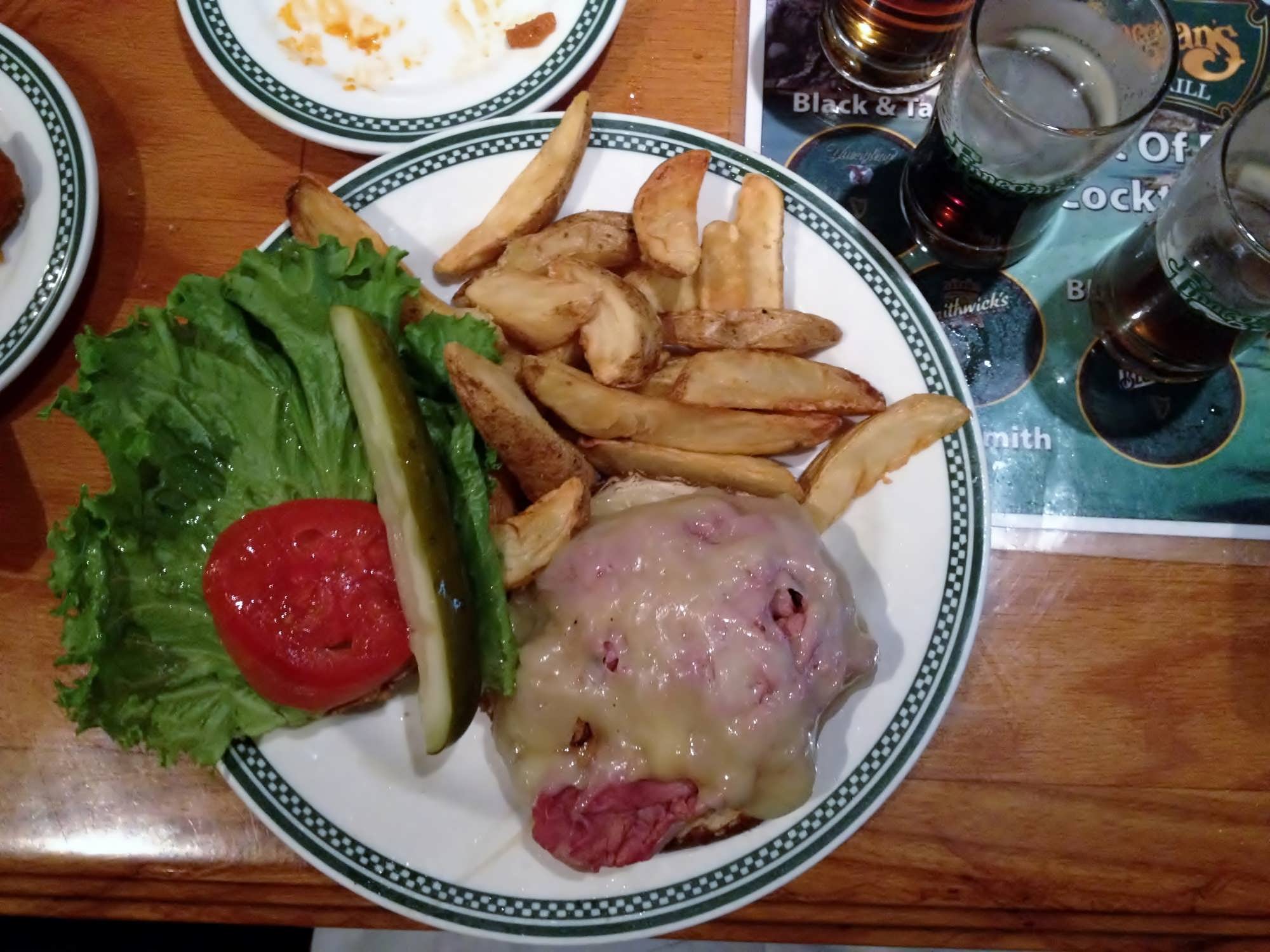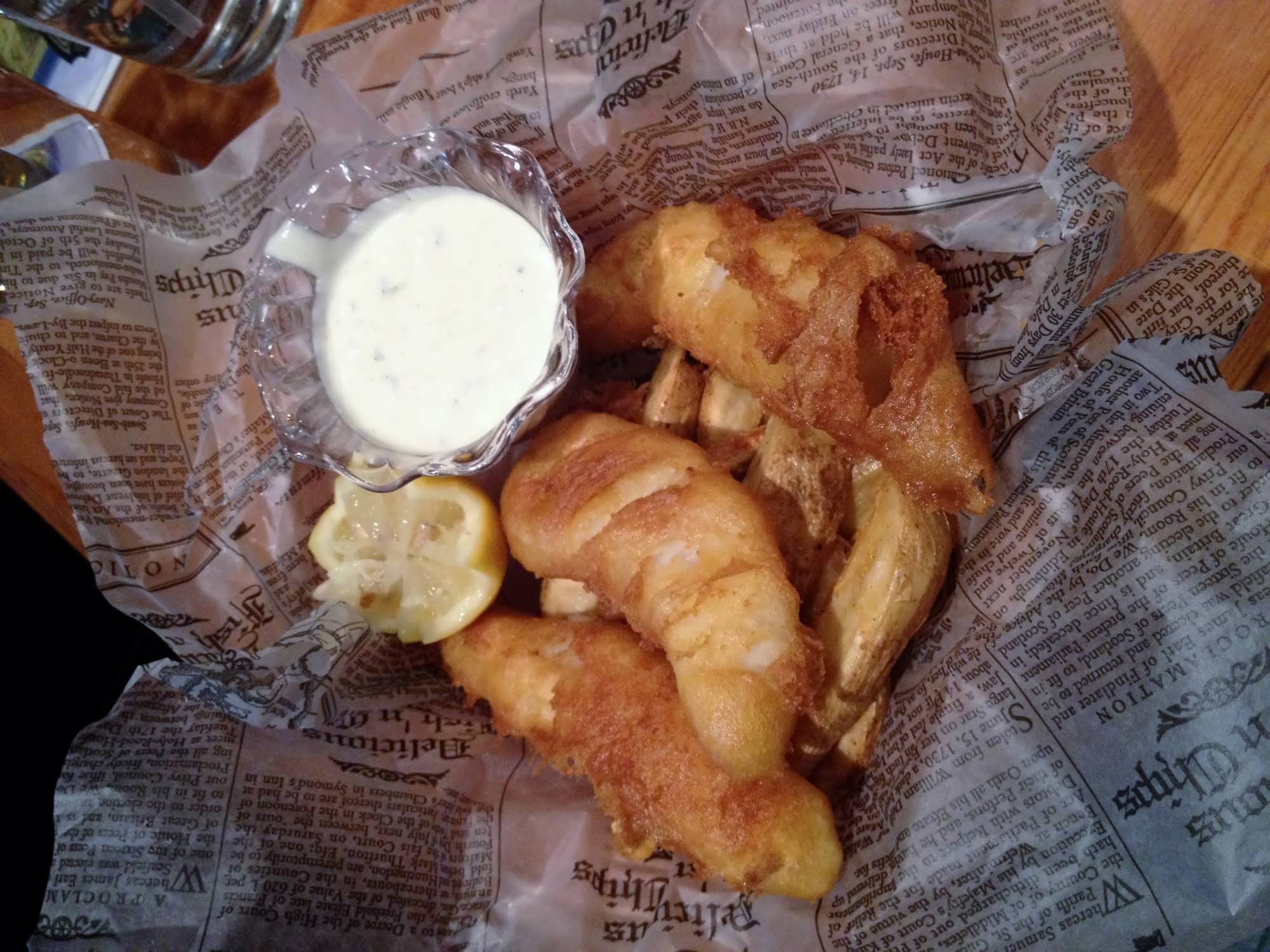 All in all, I think Finnegan's is a great dining option while you're visiting Universal Orlando. It's fun, animated, and everyone we encountered was very friendly. The food was really satisfying for a full-service meal, too. I do think if you're okay to spend a little bit more and are looking for a more authentic Irish bar in the Orlando theme park area, you might prefer to check out Raglan Road at Downtown Disney, but what I love about Finnegan's is that it has a more laid-back feel to it, and on the night we visited, it was much quieter and kinder to our wallets.
In that regard, Finnegan's is absolutely not to be missed, and I'm sure that we'll definitely be visiting again!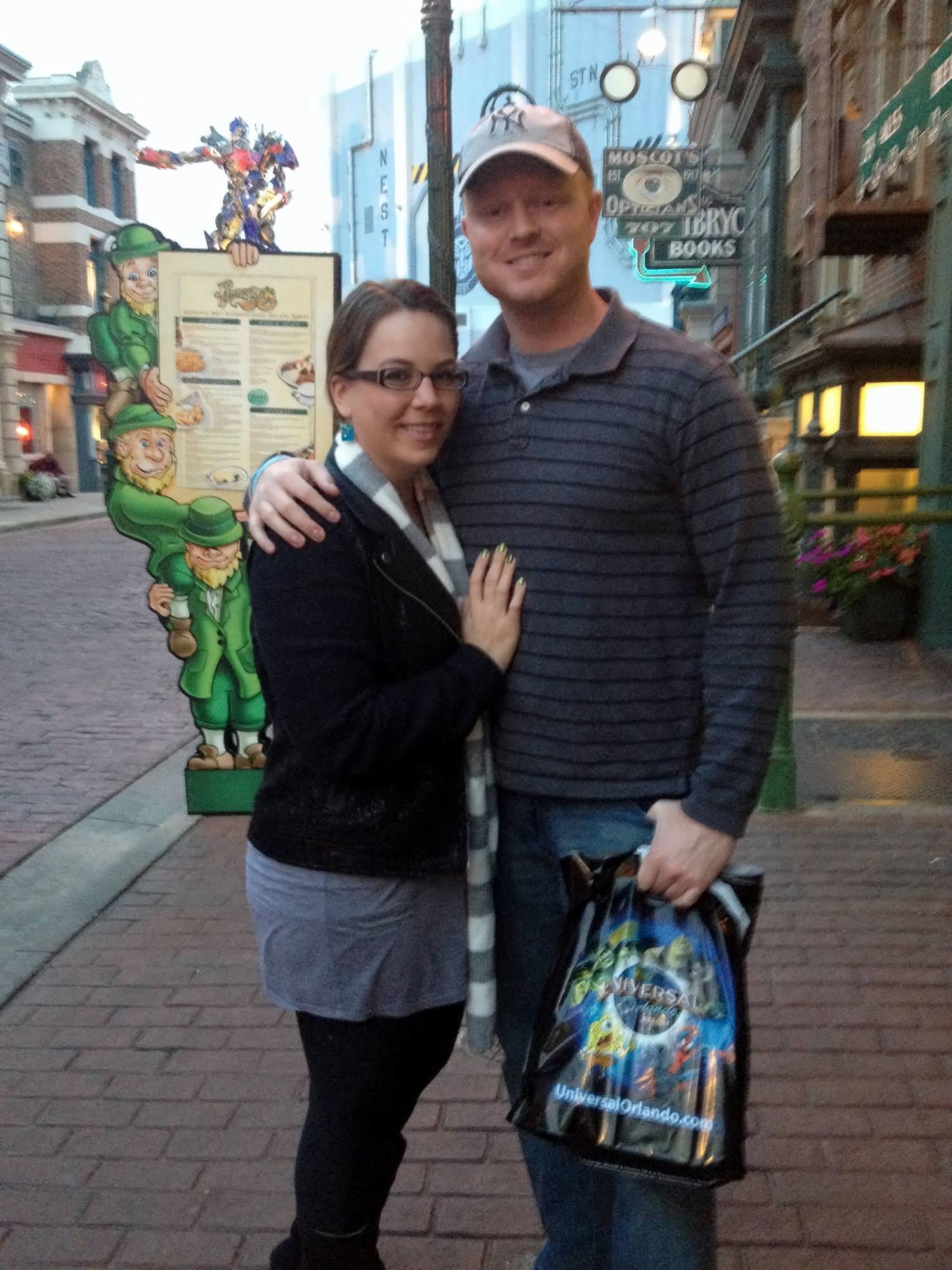 Thank you for checking out my restaurant review. If you'd like, you can view the Finnegan's menu and look at booking a table via the Dining reservations page in the OI Universal Center.
Been to Finnegan's before, especially during Halloween Horror Nights? Tell us all about your experiences in the comments below.
Planning a vacation to Orlando?
Want to skip all the work and just price out a vacation to Universal Orlando? We'll find the best deals for you – for free (seriously.) Learn more, or check out some of the current deals: