Want to get this newsletter directly in your inbox? Sign up for the email version here.
Here's what you need to know in the world of Orlando theme-park news for the week of Apr. 26-May 2, 2021.
1. We don't ever get tired of saying this: this past week belonged to Jurassic World VelociCoaster. On Thursday, Universal opened up its eagerly anticipated attraction to its team members, which produced some great images of some pretty happy employees getting to experience the roller coaster for the very first time. This, in turn, lead to some other, equally compelling imagery coming out, officially detailing some elements of VelociCoaster's queue that we hadn't gotten the chance to see before.
Here's where you can find everything:
2. Of course, team members weren't the only ones lucky enough to experience Universal's newest attraction this week. Jurassic World VelociCoaster Passholder Previews began on Sunday, May 2, and the OI team arrived bright and early to join the hunt. This riveting ride launched itself straight to the top of our coaster rankings, exceeding our lofty expectations and proving itself to be an incredible addition to Universal Orlando's collection of thrills.
Want to know every exhilarating detail we encountered? Check out our full review of Jurassic World VelociCoaster here.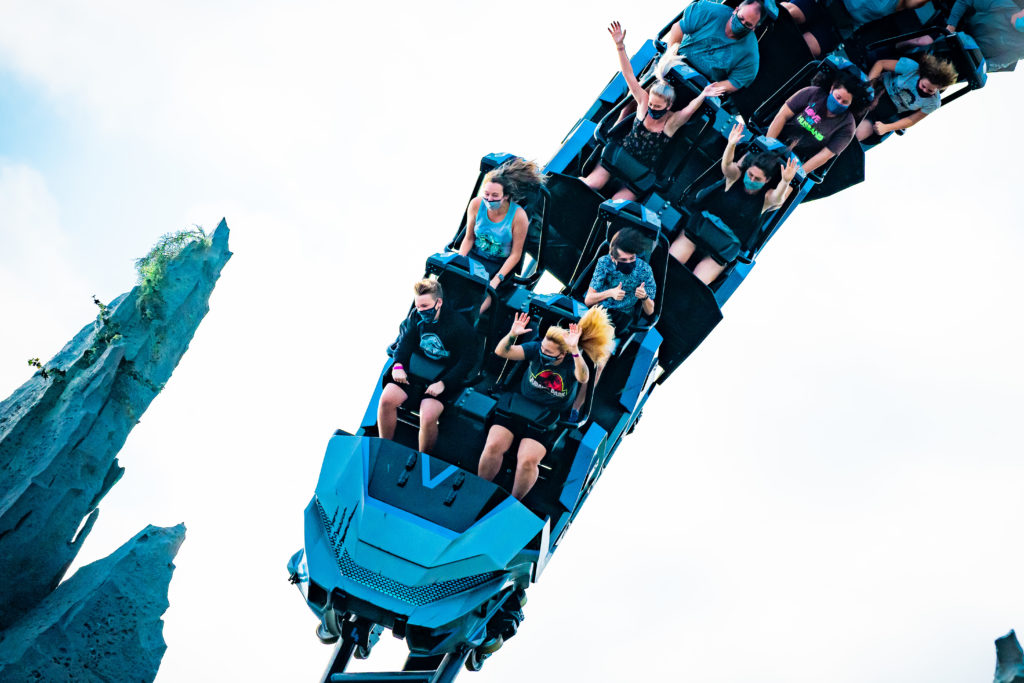 3. CityWalk saw its second (abrupt) closure of the year in the form of Fusion Bistro Sushi & Sake Bar (the first item in the dining/shopping/entertainment district to go in 2021, in case you need a reminder, was Blue Man Group). Though small and often overlooked, Fusion Bistro was a great little place to catch a good meal at a fair (theme-park) price and to eat away from the crowds. We're sorry to see it go, but, at the same time, we're also eager to see what will replace it.
Find out everything there was to know about Universal's little sushi place-that-could here, in our aptly named Prop Graveyard.
4. Universal Beijing Resort also managed to get in on the news last week, and in a rather big way. After starting to more fully detail the various attractions that will populate its theme park, Universal Studios Beijing, and the two hotels that will surround it, Universal had one last major piece of the pie to fill: CityWalk, along with all of its 24 tenants.
And what a list that turns out to be. Some of the most notable items include exclusive savory ice cream and dairy delicacies; a dining, entertainment, and merchandise venue developed by BMW(!); a restaurant with dining on a terrace, against the neon nightscape that is Universal CityWalk Beijing; a store devoted to mystery boxes and customized licensed merch; and a financial-services branch (but of course).
See the full roster here.
5. On a recent trip to Universal Orlando, we noticed a few small differences to the resort. For starters, the usual "unprecedented times" message that would play while traversing the (iconic) moving walkways from the parking structures to CityWalk has been removed – a small observation but something of a big deal, as that broadcast had been a constant refrain since the parks reopened after their initial COVID-19 closure. In its place has been a return to the pre-pandemic standard: music. And accompanying this development was a slight revision to the social-distancing markers that were also set up all across the resort after it had reopened last year; while they are still spaced six feet apart, the floor markings themselves are now much smaller.
View video and pictures of the twin changes here and here, respectively.
Follow us on Facebook, Twitter, and Instagram for all the latest info. And then be sure to discuss everything with 120,000+ other Universal die-hard fans in our Orlando Informer Community on Facebook.