Want to get this newsletter directly in your inbox? Sign up for the email version here.
Here's what you need to know in the world of Orlando theme-park news for the week of Apr. 5-11, 2021.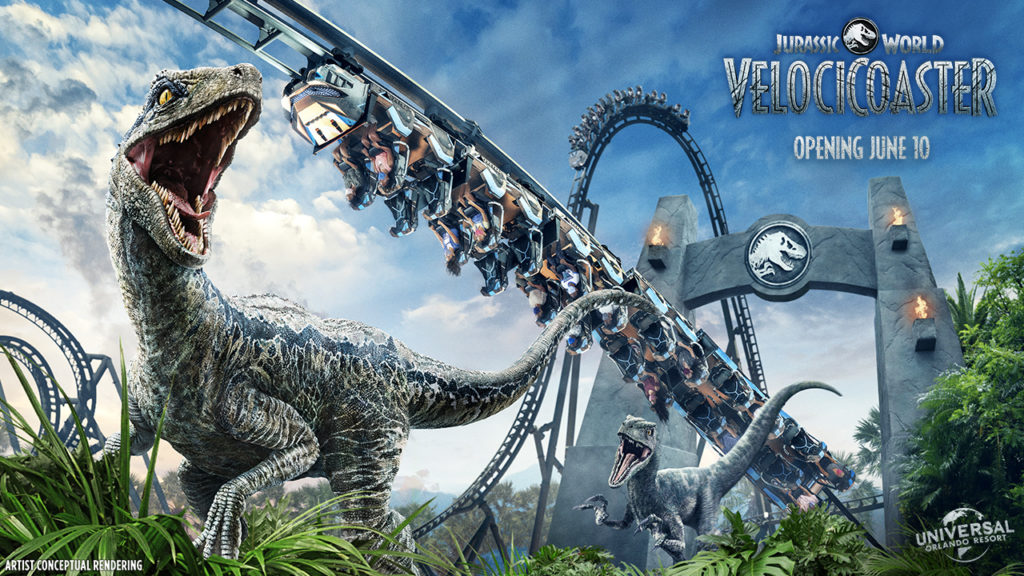 1. This was a huge week for Jurassic World VelociCoaster, and it started with one piece of long-awaited news: the new attraction's opening date. Riders will be able to set foot in Jurassic World's raptor paddock and race against the apex predators starting on Thursday, June 10, placing it towards the middle of Universal's typically preferred opening "season" (yes, we went back over the past 11 years and double-checked).
But, it turns out, we don't have to wait quite that long in order to start experiencing the roller coaster. The company dropped enough breadcrumbs alongside the big announcement to let us start piecing together VelociCoaster's story, both in its fascinating-sounding queue and out on its twisty, turny track. Consider it the ultimate form of preview, and one that can help while away the next two months.
Read about the date reveal here and dive into the story here.
2. But wait, Jurassic friends – that's not all! Arriving alongside this torrent of VelociCoaster information was a couple more little goodies, whetting our appetites even further (it's an appropriate analogy, actually, as the velociraptors on the ride are said to be hungry). New pictures of the mammoth coaster's queue were released, as was an update that inserted the attraction into the Universal Orlando app – not major or earth-shattering developments, to be sure, but nonetheless exciting ones, as they mean Jurassic World is almost here!
See the new pics here and Jurassic World VelociCoaster living in your smart phones here.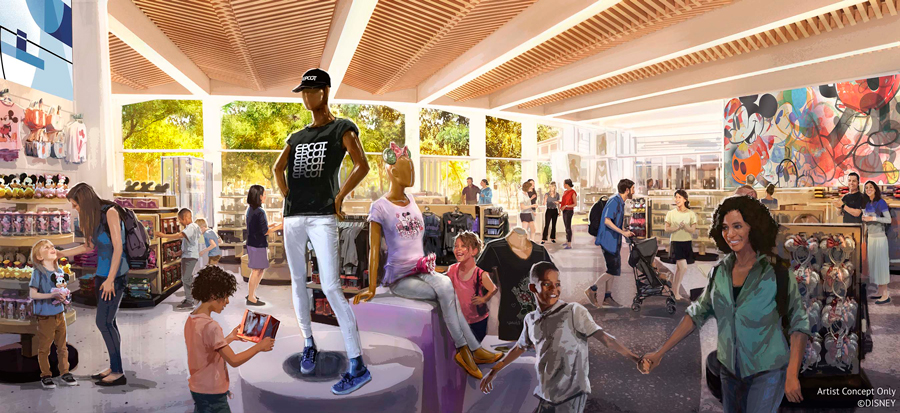 3. Disney has unveiled a brand-new "flagship" store for its currently-under-renovation EPCOT. Called Creations Shop, it's an attempt by the company to harken back to the hallowed theme park's glory days while instituting a new look and feel that's right at home for its soon-to-arrive future: its "bold, sleek design" will feature huge glass walls that'll allow light to come pouring in, along with renditions of/homages to Mickey Mouse that underscore his creative spark and his global reach both. In short, Disney has a rather bold mission statement for the new retail space: "We are using color, materials, and light in new ways with some unique EPCOT touches."
Right next door to the shop will be a refurbished Club Cool, which will still allow guests to experience Coca-Cola drinks from around the world but which will do so in an updated (dare we say refreshed?) way. Both venues will debut sometime this summer, when this whole introductory section of the theme park will get rebranded as World Celebration.
Reread Disney's original EPCOT makeover announcement, where World Celebration was first revealed, here.
4. Why stop a good thing? Universal Orlando's Mardi Gras got extended – again! This actually marks the second time that Universal decided to prolong the festivities; the popular annual event was originally meant to end on Sunday, March 28 but originally got extended to Sunday, April 11 and, now, will run all the way to Sunday, May 2. It would seem that the new food focus for this year, resulting in the "International Flavors of Carnaval" subtitle being added to the proceedings, has been a big hit with guests, and it would also seem that the lack of a parade, concerts, or other potentially crowded activities has only been beneficial in this regard, as well.
Find the most in-depth guide to Mardi Gras at Universal Orlando here.
5. Speaking of changes undertaken in the era of COVID-19, Disney is continuing to tweak its new safety protocols and guidelines. More specifically, this week the company announced that it has started to allow its guests to temporarily remove their face masks in order to snap a quick – and stationary – selfie outdoors anywhere at Walt Disney World Resort.
Say cheese with us right here.
Follow us on Facebook, Twitter, and Instagram for all the latest info. And then be sure to discuss everything with 125,000+ other Universal die-hard fans in our Orlando Informer Community on Facebook.