As the more loyal, hardworking, fair, and patient witches and wizards of the Wizarding World, we Hufflepuffs tend to see life through our own yellow-colored glasses. We believe that the glass as half full, that there is always a silver lining, and know that there is nothing we would not do for the ones we love and care for. Hufflepuffs are a very special breed and there are many activities in The Wizarding World of Harry Potter that celebrates the attributes and characteristics that make us who we truly are.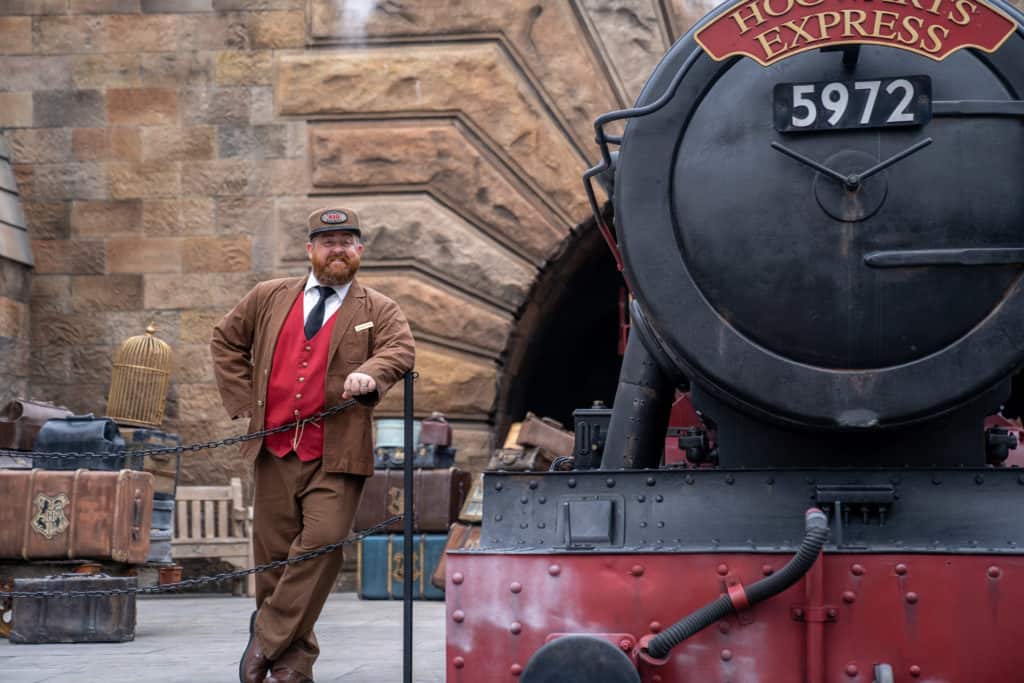 Experiences for Hufflepuffs
What better way to start your Wizarding World adventure than with the famous train ride from London to Hogwarts School of Witchcraft and Wizardry? Although the train travels in both directions between parks, we recommend starting at Universal Studios Florida and making your way to Hogsmeade first to get the closest thing to truly arriving at Hogwarts. At Kings Cross in Universal Studios, you will get to wind through the station and even walk through the brick wall that leads to Platform 9 3/4. Once on the Hogwarts Express, you will be placed in a cabin with some other Hogwarts classmates (hopefully fellow Hufflepuffs) and make the short journey to Hogsmeade Village. You will get to see and hear many different encounters while riding; from the snack trolley passing by, to a drop in from our favorite characters, and maybe even a pass with a dementor.
While going through the Harry Potter and the Forbidden Journey queue, keep your eyes peeled for some special Hufflepuff memorabilia. You will walk through our Head of House's greenhouse and see Professor Sprout's growing mandrakes. Once you have entered the castle, be sure to look to the right and see the house points represented on the wall! Check out how many points our house has so far for the year. Then, enter into the grand staircase room and show honor to our house founder, Helga Hufflepuff. Her portrait will be on the walls along with the three other Hogwarts founders. You will also be able to come face to face with the Sorting Hat. While here, you might as well tell him "Thanks!" for placing you in the best house there is!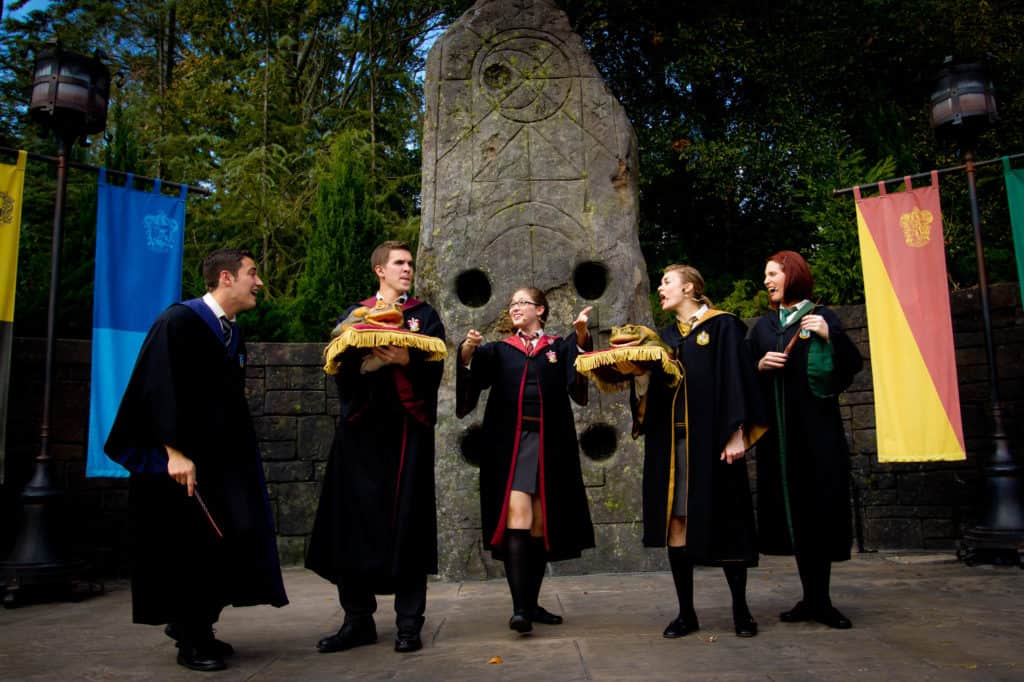 The Frog Choir
After your adventure through Hogwarts, stop by the nearby stage to hear the Frog Choir sing some Wizarding World classics. Sing along and cheer for our performing Hufflepuffs or grab a Butterbeer and enjoy the sweet melodies. Either way, you will definitely enjoy this show.
Shopping for Hufflepuffs
One of the best places to grab some Hufflepuff gear is located right next to Hogwarts Castle. Filch's Emporium of Confiscated Goods has everything from crew neck sweatshirts to quality tumblers and useful tote bags to show off your Hufflepuff pride. Make sure to stop by and stock up on all things yellow and black.
Wanting something a little sportier? Quality Quidditch Supplies in Diagon Alley will be sure to satisfy this desire. Pick up a t-shirt or even a personalized jersey to show our Hufflepuff Quidditch team some love and support.
While this shop in Diagon Alley may not have anything specific to any of the Hogwarts houses, it does fully encapsulate the fun loving and goofy side to every Hufflepuff. From Puking Pastilles to Pygmy Puffs, Fred and George have you covered. Stop in to check out all the latest shenanigans The Weasley twins have been cooking up lately.
Every witch and wizard gets their wands at Ollivanders, right? This includes Cedric Diggory, Newt Scamander, Nymphadora Tonks, and many other fellow Hufflepuffs. Check out either store in Diagon Alley or the Hogsmeade village to see if you can find some of our famous housemate's wands.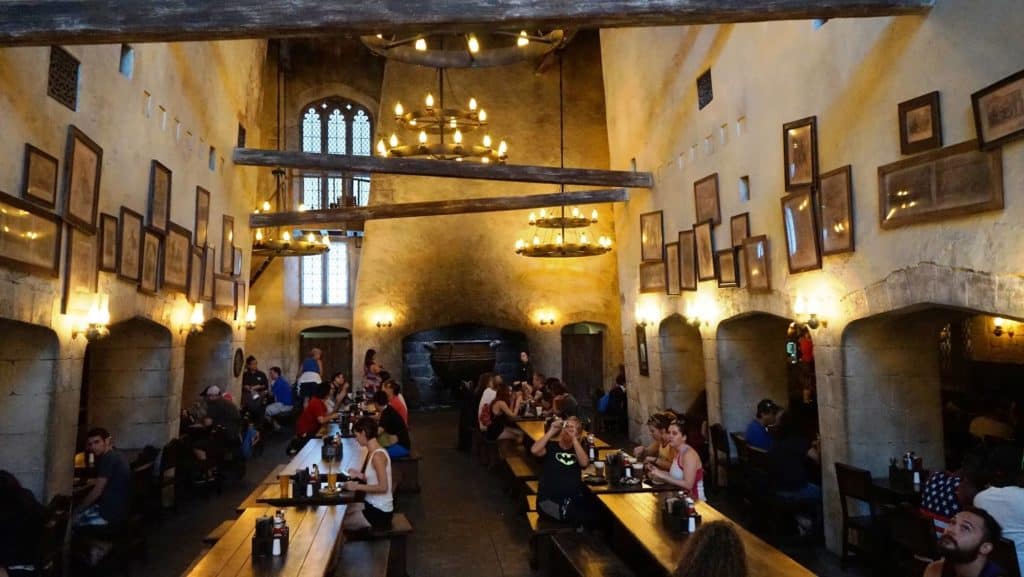 Food and Drinks for Hufflepuffs
It is safe to say that every Hufflepuff has a strong appetite. I mean, our common room in Hogwarts is located right by the kitchens. Coincidence? I think not. If you find yourself a bit peckish, The Leaky Cauldron in Diagon Alley is the perfect place to indulge. The menu includes sustaining dishes such as the Fish and Chips or their famous Cottage Pie. There is an option for everyone here, as the witches and wizards have even recently updated the menu to include vegan options. No matter what you choose to enjoy, you will not be disappointed. Of course, you can purchase Pumpkin Juice and all versions of Butterbeer at this fine establishment.
Fancy a Butterbeer, or even something a little stronger? The Hog's Head bar, which is part of Three Broomsticks in Hogsmeade at Universal's Islands of Adventure, serves up some of The Wizarding World's best alcoholic (and nonalcoholic) beverages. It is the perfect place for us Hufflepuffs to fellowship and catch up with friends over a pint of Wizard's Brew or a Fire Whisky cocktail. If you are interested in the bar, you usually do not have to enter through the primary Three Broomsticks doors. The doors to the Hog's Head are usually open, and are located to the right of the Three Broomsticks entrance. There's a covered area where you can also have a seat and enjoy your beverage. If you can't seem to find the entrance, just ask a team member where you're looking to go and they can point you in the right direction.
After you've enjoyed your drink, you might find that it is time for dessert. Honeydukes in Hogsmeade is the perfect place to satisfy any sweet tooth. Grab a carton of Bertie Botts Every Flavor Beans or some Exploding Bon Bons. Don't forget about the renowned Chocolate Frogs! If you're lucky, your Chocolate Frog may even contain a collectible Helga Hufflepuff trading card.
---
Ready to experience the Wizarding World of Harry Potter through the eyes of a Hufflepuff? Be sure to follow Orlando Informer on Facebook, Twitter, and Instagram for the latest news and tips for trips to Universal Orlando.