While The Wizarding World of Harry Potter has so much to offer for any wizards or Muggles looking for some fun, we all know that Gryffindors are the most fun house (no shade to our fellow Hogwarts classmates), so it stands to reason that we would also have the most fun while spending the day in The Wizarding World, right? This guide will tell you all about some of the best ways to show off your Gryffindor pride through your explorations in Diagon Alley and Hogsmeade.
Experiences for Gryffindors
Gryffindors are known for their sense of adventure, and what's more adventurous than a thrill ride? Thankfully, The Wizarding World has plenty of them to offer — perfect for any thrill-seeking Gryffindors looking for a rush of adrenaline!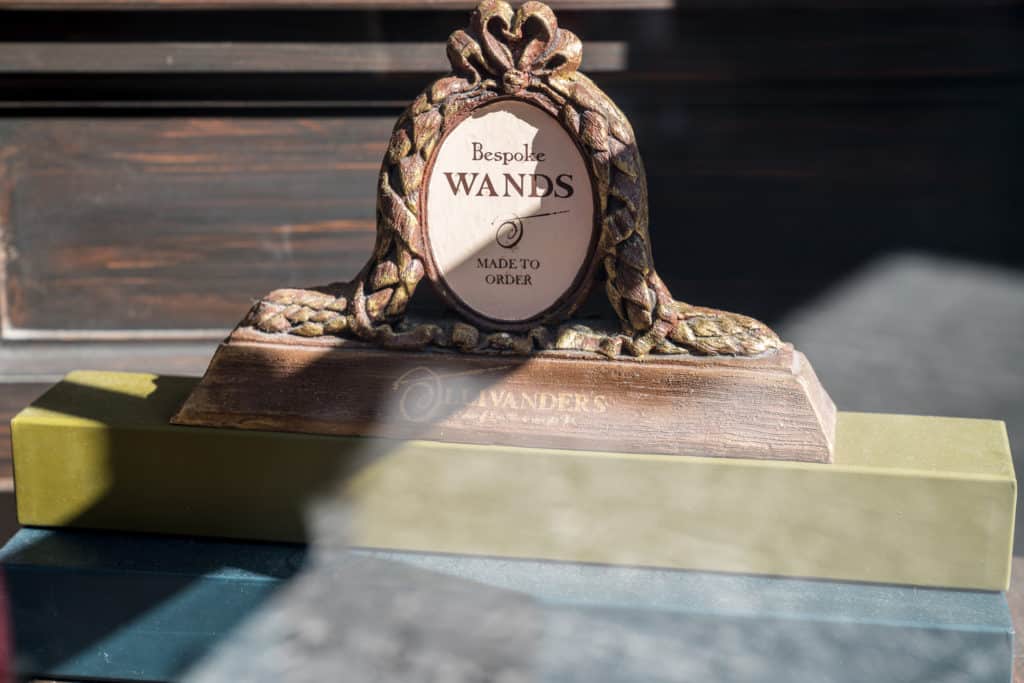 The adventure starts in Diagon Alley, where we stop inside Ollivanders Wand Shop to experience how a wand chooses a wizard—maybe we'll even get lucky and be chosen for our wand! The experience is reminiscent of the movie scene, even down to the music and sound effects, and overall, it's a pretty magical time. Here, you can see such wands from famous Gryffindors such as Albus Dumbledore, Hermione Granger, and Harry Potter himself.
While the idyllic train ride isn't the most thrilling of attractions, there are a lot of details for an avid Gryffindor to notice on both journeys. It's worth mentioning the difference in tone between both journeys — while the journey to Hogsmeade is more somber in nature, the journey back is considerably more cheerful (there's even fireworks, courtesy of Gryffindor's own Weasley twins).
Harry Potter and the Forbidden Journey
This guide would be incomplete without the mention of an original attraction in The Wizarding World — not to mention that the queue to this ride offers us the experience of walking through our own Common Room, sneaking through the Dark Arts classroom, and even having a glimpse into Dumbledore's office. Once on the attraction itself, you'll encounter all sorts of dangers and adventures. We hope you've been practicing your spells!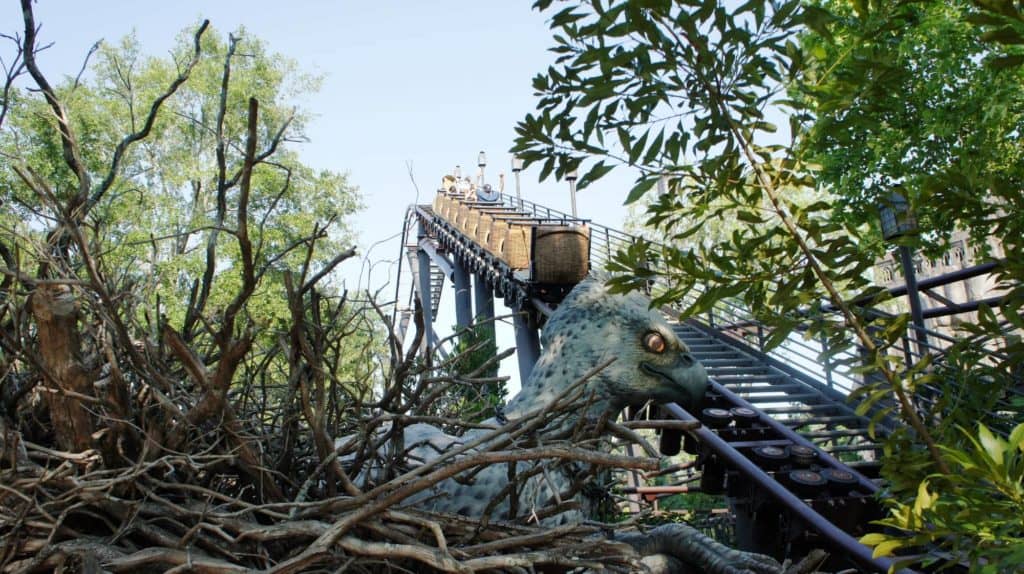 This family-friendly rollercoaster offers young Gryffindors the opportunity to enjoy some fun, too. While walking through the queue, you also get a glimpse of Hagrid's Hut and can hear him discussing these magical creatures. And don't forget to bow at the hippogriff when you get on the ride — you don't want to suffer Malfoy's fate!
Hagrid's Magical Creature Motorbike Adventure
For the ultimate thrill in The Wizarding World, make sure to join Hagrid on this fast-moving rollercoaster that takes you forward and backward through the Forbidden Forest. Show off your Gryffindor bravery and face a number of magical creatures on this one-of-a-kind experience. For good measure, be sure to go on the ride twice — once on the motorcycle, and once on the sidecar — to get the full experience.
After the adrenaline rush has settled, stop by the stage in front of the Hogwarts castle to enjoy the lovely tunes of the Hogwarts Frog Choir. With a representative from each house, it's always fun to see how the students interact during their performances — and you'll be humming the songs for the rest of the day!
Shopping for Gryffindors
No Gryffindor would be complete without some gear, so make sure to stock up with enough merch that no one would dare confuse you as belonging to any other house. Most stores in The Wizarding World carry Gryffindor merchandise, but they all offer something slightly different, so don't miss out on any shirts, hats, sweaters, or scarves!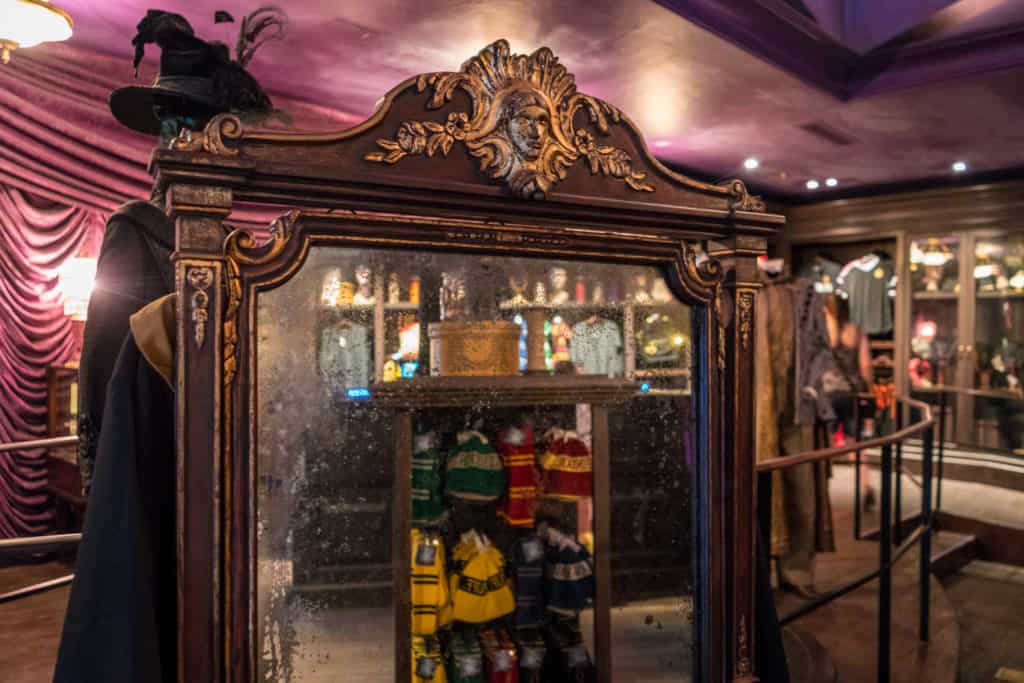 Madam Malkin's Robes for all Occasions
Madam Malkin's is a great place to start, seeing as this is where Hogwarts students purchase their robes from at the start of the year. The shop is stocked full of house merchandise, clothing, and accessories, so you're sure to find something to your taste.
Every house has some Quidditch pride, but you know that it's different for us Gryffindors! For the athletic Gryffindor, Quality Quidditch Supplies offers wardrobe supplies and sports gear, among a number of other Wizarding World needs. From jewelry to sleepwear to everything in-between, Gryffindors are covered. Pick up a Gryffindor Quidditch t-shirt or sweater, or any of the many accessories and decorations they have in the store!
Food and Drink for Gryffindors
After getting on all the rides and doing your shopping, you'll have definitely worked up an appetite. That means it's time to try some of the delicious food The Wizarding World has to offer. There is something for everyone to be found among the many restaurants, no matter your Gryffindor preferences or dietary restrictions.
You can't go wrong with a classic here — and the Three Broomsticks is exactly that. With high ceilings, candle sconces, and wooden beams, the atmosphere here is nothing to take lightly. You'll feel as if you stepped directly into The Wizarding World. Is there anything more classic than some fish and chips? To quench your thirst, make sure to pick up a pumpkin juice or cold Butterbeer to enjoy with your meal.
Florean Fortescue's Ice-Cream Parlour
For the Gryffindors with a sweet tooth, Florean Fortescue's is practically heaven on earth. Soft-serve flavors include basics like Vanilla and Strawberries & Cream, but the parlour also offers more interesting flavors like Orange Marmalade and Toffee Apple. Florean also provides a number of delicious hard-packed ice creams like Chocolate Chili, Apple Crumble, or my personal favorite — Salted Caramel Blondie.
Hidden Gems for Gryffindors
The Wizarding World is full of delights and surprises, and any eagle-eyed, lion-hearted Gryffindor is sure to take note of many of them. We've listed them out here so you don't miss a thing!
Harry Potter and the Forbidden Journey queue
There's so much to look at in the queue of this ride, but one of the most exciting details is the house points hourglasses —especially because Gryffindor is in the lead! Make sure to cheer on your house while you walk by. Once you're in Dumbledore's office, make sure to look at the wall opposite his desk, where you can find the Sword of Gryffindor on display. And of course, right before you get on the ride, the room you walk through is the Gryffindor Common Room. How's that for house pride? If you want to take in all the details of the queue without actually riding the attraction, that's okay! Talk to a team member at the entrance of the attraction and ask about a castle tour.
Interactive Wand Magic
Hidden all throughout Hogsmeade and Diagon Alley are dozens of spells to cast with an interactive wand. Since Gryffindors love to be challenged, try finding and perfecting every single spell—or challenge a Slytherin to it!
Madam Malkin's Mirror
Inside Madam Malkin's, there's a mirror that has been known to comment on people's outfits and appearances. It takes a lot of courage to be critiqued by a magical mirror, so step up and see whether you get a compliment or a critique.
While these recommendations are a good place to start, there's nothing that says Gryffindor more than creating your own adventure. So get out there, explore, and enjoy everything the Wizarding World has to offer—you might discover something you've never noticed before!
---
Be sure to also check out our other guides for each Hogwarts House as well as our Universal Orlando Vacation Planning Guide. Follow us on Facebook, Twitter and Instagram for the latest news, tips and more at Universal Orlando, Walt Disney World and other Orlando attractions.