You've undoubtedly heard of the Disney runs and seen pictures of fanatics at start lines early in the morning. But what's all the fuss about? Is it even worth it? We figured we'd give a run down of the events and give our two cents on the matter. To begin with, definitely look over our article on the runDisney events. There are several each year, with races covering distances from 5k (3.1 miles) to the full marathon (26.2 miles). This year even saw the emergence of a 0-mile event in the form of yoga in front of Cinderella Castle. In short, there seems to be something for everyone. But the investment in one of these events isn't one to take lightly, and navigating the weekends can prove to be stressful and a bit chaotic. We'll take care of all that here.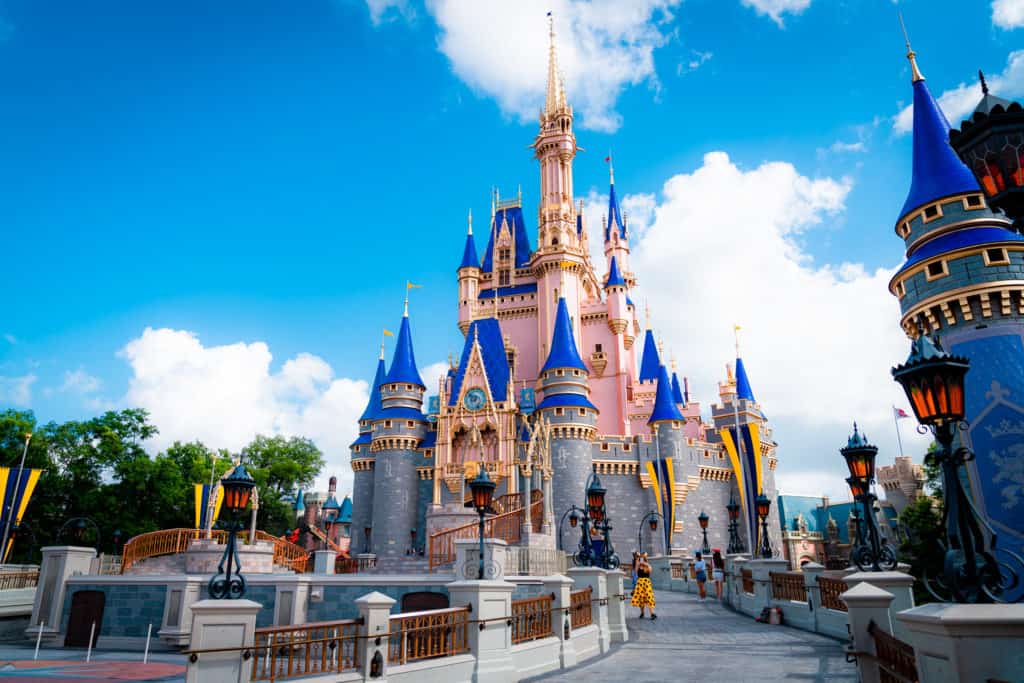 First up, some general things to consider before registering for one of these events:
1. The price – all of it
There's no way around this first obstacle. These races are expensive, even for those of us used to paying a premium for destination runs. The Disney 5k races start at around $100 before taxes and registration fees. The half marathons generally start at over $200, and the Challenges (where you sign up for multiple races in a single weekend) will range from $390 – $600. Besides that, you have to consider lodging, travel, park tickets, and training gear. We'll speak more on lodging later, but travel can easily run you another couple hundred bucks, and a good pair of running shoes can be anywhere from $90 – $200. The money can all add up for sure, but the other thing that will be for sure is that you're paying for an absolutely unique experience.
2. Distance
The other investment decision you have to make ahead of your race is in the form of training. In general, consider what your baseline fitness is, what kind of experience you want, and how many hours a week you are willing to invest in your training. As a runner myself, I know that personal expectations on the event are not always the same as expectations you may have of your ability. Make sure you have a good idea of both of those so that you are positioned for success on race day. I've asked a range of runners (5:00 – 16:00 minute/mile pace) what their opinions were on this, and they all agreed that if you're on the slower end of that spectrum, running a Disney 5k or 10k is perfect, but a half or full marathon might be too long of a route to enjoy walking through a sea of people. Everyone I have spoken to says that basically moving that slow takes a great deal of fun out of participating in the "race" and turns the experience into much more of a "parade" feeling. However, as I saw on race day, there are plenty of other people out there that completely disagree with this stance, so if you are committed to running a longer race and don't mind dedicating 3-7 hours on the course, then enjoy!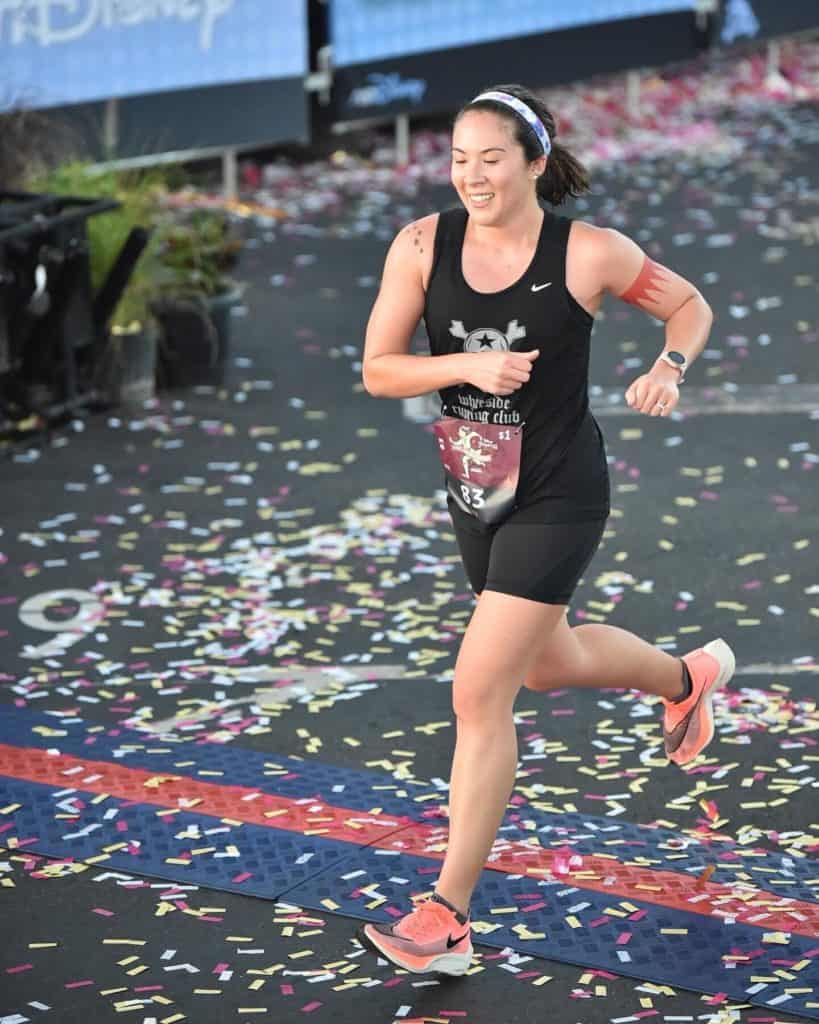 3. Get organized
Registrations for these races sell out – sometimes in minutes. It's important to get organized and committed well ahead of time to make sure you get the race you want with the people you want to enjoy the event with! Races generally start at 5:00 AM ET. Here are the upcoming events and when you can register for them:
Disney Wine & Dine Half Marathon Weekend
November 3 – 6, 2022
Disney Wine & Dine 5k
Disney Wine & Dine 10k
Disney Wine & Dine Half Marathon
Two Course Challenge (10k & half)
General Registration opens March 22, 2022 at 10:00 AM ET
Walt Disney World Marathon Weekend
January 5 – 8, 2023
Walt Disney World 5k
Walt Disney World 10k
Walt Disney World Half Marathon
Walt Disney World Marathon
Goofy's Race and a Half Challenge (half and full marathon)
Dopey Challenge ( every race during the weekend)
General Registration: April 19, 2022, no time posted
Disney Princess Half Marathon Weekend
Disney Princess Sunrise Yoga
Disney Princess 5k
Disney Princess Enchanted 10k
Disney Princess Half Marathon
Disney Fairy Tale Challenge (10k and half marathon)
General Registration: June 21, 2022 , no time posted
Now, down to the business at hand. Is it all worth it?
runDisney promises that "Every Mile is Magic," and let me tell you that in that regard, the hype is real. I've run a lot of races – countless local races from 5-15k distances, four half marathons, and watched many others. I've been to some of the biggest races in the world and was even lucky enough to spectate at the Olympic Marathon Trials in Atlanta in February of 2020. So when it came to my Disney Princess Half Marathon experience, I expected to be impressed and have some fun – but I didn't expect to be completely enchanted by the experience I had. I don't want to give too much away here, but every single mile had something to offer the runners, and all of the predictably well-organized things had an extra layer of magic to them. The mile markers weren't just mile markers. They were testaments to the princesses we grew up idolizing and pretending to be. The water stops weren't just places you could grab a cup and keep going. They were cheering stations that fueled you through to the next stop. Every element was like that.
If it's specialty characters you want to see, these events are non-negotiable. I think the Princess Half totaled 17 characters on the course, many of them framed by floats or high-quality sets. Some predictable characters I saw on the course were Snow White, Cinderella, and Jasmine. Some more notable characters I saw during the Princess Half that you wouldn't normally see in park were: Mushu, Maleficent, Dot, Rajah, and not one, but two Tinkerbells. To be honest, the characters on the course weren't even the coolest part of the entertainment. As I rounded the corner from the Transportation and Ticket Center and headed into the mile-long stretch around the lake into Magic Kingdom, I ran by three rows of taiko drummers performing this form of traditional Japanese music. It was moments like these – just a handful of moments – that really touched my heart during the event and leads me to write this recommendation at all. Some other moments I'll never forget? Waving up at Mickey and Minnie as I ran through the welcoming entrance of Magic Kingdom. Running through Cinderella Castle and seeing Main Street, USA all lit up in the darkness. Listening to a gospel choir as I rounded into mile 13 at EPCOT. It was just magic. Now I personally get emotional at the start of every race, so keep that in mind for my review. But the way I see it, the success of runDisney events is just an undeniable testament to the cultural hold this company still has on us, and perhaps on my generation in particular.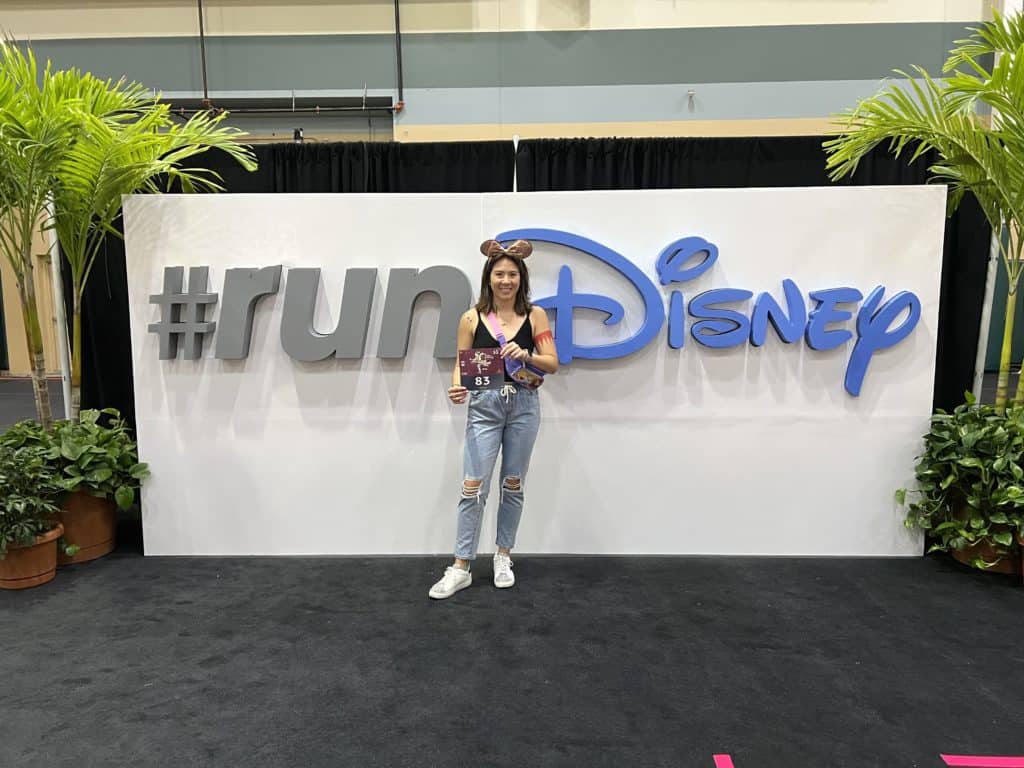 So – if you decide that all this is something you want to participate in, we don't blame you. As a running enthusiast and a Disney fan, this race exceeded all my expectations. That being said, I do have some tips to leave with you today:
1. Train and try to actually run
It seems obvious and perhaps a bit condescending, but I promise that being fit and running these races will improve your overall experience. Many participants enjoy walking the entire race, and if that is your style I don't knock it! My suggestion is just for those who are on the fence. Folks who may be asking themselves: does it actually make a difference? To that question, my answer is yes, particularly for the longer distances. Participants can sometimes get swallowed up in the crowds and miss out on details that others get to see. If you are able to jog a little, or even alternate between walking and jogging, those couple minutes per mile add up a lot over 13 or 26 miles! On the other hand, the experience of walking in a sea of people who are just as thrilled to be there as you are is definitely one that creates friendships, and I know plenty of people who love doing this event after event!
2. Stay near Walt Disney World, even if you're a local
Staying close to Disney during race weekend takes a huge amount of stress off the logistics of the event, particularly if you are going to go to the parks and have folks in town. If you're coming in town for the race anyway, then having to pay for your own lodging likely already applies to you. But to all you locals reading this – I am telling you that staying close is worth it. You will take multiple trips out to the parks even if you don't go after your race (you'll go out there for the expo and race day at least). Staying nearby saves you some time in the morning when every minute before that very early alarm counts, and provides easy transport to and from the race to your shower. Remember too that staying nearby doesn't mean you have to stay at a Disney resort. In situations like these, hotel alternatives and other vacation rentals are often your friend.
3. Get there early
The 2022 Disney Princess Half Marathon had nearly 13,000 finishers. Runners and spectators were instructed to park at Disney's Hollywood Studios and then shuttle to EPCOT, and the process was a nightmare. It took me (and this is not hyperbole) a complete and solid hour to get on a bus after parking my car. In fact, the bus situation that particular morning was so bad that officials delayed the start of the race by 15 minutes. Once the race did officially start, it still took almost a full hour (at least 50 minutes) for all the runners to get started, since runners are placed into corrals and each corral has multiple start waves. This process is standard, and helps spread out the crowd more evenly for the rest of the run, but also means that some of the people who get there at 3:00 AM don't start running until nearly three hours later. It's important to note that not all of the runDisney races require you park somewhere else and then use a bus to shuttle to the start, so I can't speak to those. But I can tell you that if you are doing a race that does require this, park your car no later than 3:00 AM, and keep your fingers crossed!
4. Snag character pics
During your race, the lines to get photos with characters really pile up. If you're a fast runner (at or under 8:00 min/mile for Disney standards), then lines for characters essentially evaporate after about 10k, making it really easy to jog up to the character, smile for a picture, and continue on your way. (Photos are done completely through your bib number and are available for purchase within 48 hours of the event.)
That being said, if you just want to get a picture with a character, show off your selfie game! The characters are all well lit and in great positions for you to get a selfie with them in the background without you having to wait in line. Of course, be respectful of other runners who are waiting in line for their photo opportunity and give everyone their space!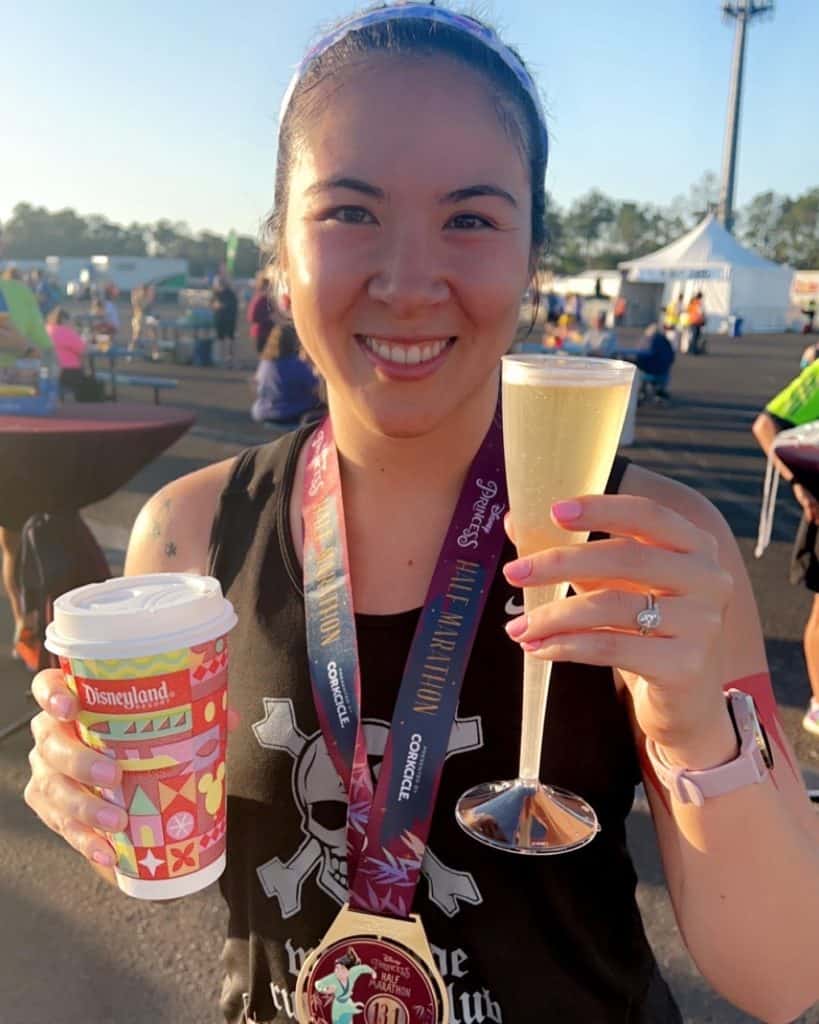 5. Have a post-race plan
After your run, you have a number of options. Of course, these options are determined by your goals for the day and your race experience, but we have some tips here to help give you an idea of what you can plan for. Thing number one: the after-race party. Champagne, beer, and snacks were available (for purchase, of course) after the race. There was also a small tent set up with miscellaneous merchandise left over from the Expo available for you to peruse the items and maybe make a last-minute selection to commemorate your achievements. In my book, this makes it worth it to run with your ID and a card. Many runners run with their phones anyway, so I would just add these items to your armband or phone case if that is your style.
My husband and I personally enjoyed the after party for two full hours. I finished the race a little after 7:00 AM and we got on a bus back to our car around 9:30. This amount of time was highly enjoyable, since crowds were relatively low and we got to watch runners come in and finish their races as the sun rose over EPCOT. The after party is equipped with a robust medical tent, a good deejay, and plenty of photo opportunities.
After the after party, some people go home for the day to shower and catch up on some much-needed sleep. You can also go back to where you're staying, shower, and then come back out for a day at the parks (this is what we did and it worked out great since we were staying close by). But after my experience, I offer a third option: throw a change of clothes in your car and just stay! As a runner and the mother of a toddler, I have an assortment of towels, wipes, and sunscreen in my car at all times. A quick change of clothes and some toiletries to freshen up can have you ready to go right back to the parks from your car, particularly in the Florida weather that makes you sweat by 10:30 AM anyway.
That's it!
I hope this information has helped answer some questions and cement some race strategies for all you running enthusiasts out there. I truly can't emphasize how incredible this event was, and really encourage everyone interested in things like this to take a chance sometime and participate! runDisney races have been held since 1994 and have expanded internationally over the past two decades with no end in sight. My personal interest in them is sure to span decades as well. Speaking of which…
Anyone out there registered to run the Tower of Terror 10 Miler next month? See you at the start.
---
What do you think of the runDisney events? Let us – and thousands of other Disney fans – know in our Orlando Informer Community on Facebook. And then be sure to follow Orlando Informer on Facebook, Twitter, and Instagram for the latest news, tips, and more at Universal Orlando, Walt Disney World, and other Orlando attractions.