OrlandoInformer.com is proud to align forces with The Daily Ticket — the recognized global leader in theme park news and investigative reporting. With more than 10,000 writers in 600 countries, The Daily Ticket is the journal of record for the amusement industry.
It's an exciting time to be a Universal fan. Hollywood Drive-In Golf is opening soon, the Spider-Man upgrade comes soon after that, and new entertainment and offerings will soon revitalize the parks like a fresh coat of paint. It's not exactly like a fresh coat of paint, because due to a shift in budget, Universal is only able to purchase paint once every ten years, so the alternative is adding new attractions that are already shiny. Regardless, plenty of fan-based Universal Orlando media outlets are reporting on these updates. However, some changes to the parks are not as publicized as these additions, and it takes relentless investigative reporting to cover all changes to such a large resort. We're not relentless (hey, we have other stuff to do) but we're pretty good. So keep your hands and feet inside the moving sidewalk at all times, because we're going to Universal Orlando to examine the State of the Parks.
Let's start with Hollywood Rip Ride Rockit. Since it admitted its first riders in 2009, it's been thrilling riders with its vertical lift, blasting soundtrack, and oboe-clef uppy-downy loop-de-loops. It's not just thrilling riders; it's setting records too. No, it does not have the record for the highest number of mid-course brake runs. This is not a reference to the number of times a train has valleyed either. It probably does have that record, but it's not documented. No, Hollywood Rip Ride Rockit has the record for the longest soft opening of any attraction in Orlando. In fact, it's still in soft opening, though it's open pretty regularly (we'd still recommend calling Guest Relations to see if it's open). Fans speculated about why it has not received a grand opening ceremony. Some said Universal pushed back the ceremony because they were trying to resolve the capacity issues. It's true that it is not up to par, but many people had unrealistic expectations. It is a bit unfair when Disney fans compare Rockit's wait time to Tomorrowland Transit Authority's because the trains never stop moving and neither attraction has inversions. Some wondered if they were negotiating a lawsuit with New York New York Casino in Las Vegas. Still others thought they were waiting to finally build that Sid Vinyl tunnel. But after some researching, Universal might finally be giving the attraction a grand opening ceremony. A party supply company based in Central Florida recently received a large order for "Hasta!" confetti. The company would not say much, but they did say that the order was theme park related. It's pretty safe to say Universal made this purchase. Though if Universal is not the client, expect tour group celebrations to get a little more spectacular soon.
A little deeper into the park, Twister: Ride it Out is receiving some attention as well. For many years, fans have complained about the quality of the show, and Universal listened. Work started a few weeks ago with creative team members surveying the attraction and determining issues. After participating in the attraction nearly twice, they identified and initiated some improvements. The first improvement was in Twister's pre-show. The clip with Bill Paxton has now been horizontally inverted. He still informs the audience about the awesome power of tornadoes, but now he has shifted his body weight to his left leg. The main show has some enhancements as well. The majority of complaints about the show has been about the famous cow sequence. Guests would say how ridiculous it was to see a cow on a fishing line fly by in its midst of the twister. The creative department felt it was necessary to keep the cow sequence, since it is essential to the attraction's storyline. However, the string has been replaced with a KUKA robotic arm. It's not nearly as subtle as the string, but it provides much more realistic motion.
Over at Amity Alley, much progress has been made on the demolition of you-know-what for the addition of You-Know-Who. A few days ago, fans visiting the area spotted a height balloon high above the construction walls. This surprised fans for two reasons. First, it seemed very early for the creative team to be marking the height of the future attractions. Second, the balloon was strung much higher than anyone anticipated. The balloon seemed to be flying over 200 feet in the air (for the British readers, that's 61 meters). The news was so intriguing that it passed the food trucks as a Twitter trending topic for the Orlando area. Some fans speculated that maybe it was just a small balloon only 50 feet in the air, but others explained that forced perspective is not applicable to height balloons. Still, fans wondered what part of Diagon Alley could possibly be 200 feet tall. Many fans began second-guessing if the addition was Harry Potter related at all. A curious photographer successfully took a picture of the base of the balloon. Surprisingly, the balloon was tied to the wrist of none other than J.K. Rowling herself. In retrospect, it makes perfect sense. She was enjoying a day at the park, surveying the future home of Potter Phase 2, and it's typical theme park fare to have a balloon tied to one's wrist. However, this is J.K. Rowling, and as a sign of relative stature, her balloon is naturally higher than anyone else's.
Over at Islands, some interesting work is going on at Triceratops Discovery Trail. The attraction is still currently closed, and potted planters are blocking the entrance, but some activity is going on inside. A rogue photographer took some photos of the queue, and it's clear that someone has swept the concrete recently. There are significantly fewer leaves on the pavement than last week. This evidence, in addition to the approaching Spring Break season, means that Triceratops Discovery Trail is definitely opening within the week. If it doesn't, then probably right after that. And if not then, then maybe later.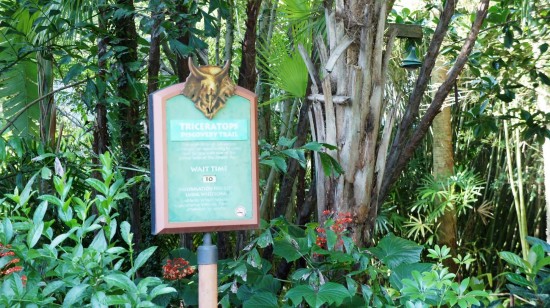 On the other side of the park, some noise was overheard at the Toon Lagoon Amphitheater. Though no one was seen inside the amphitheater, someone was definitely singing from inside, and it sounded as if it was coming from the stage. The park guest who overheard the singing was also fairly convinced that the singer may have been slightly amplified by a sound system, or possibly was just singing very loudly. Of course, the park guest immediately went to Twitter to announce the news. Tweeters wondered what kind of show might be going into the theater. Some wondered if a cartoon medley show might be coming to the park. Others noted that The Voice is an NBC show, and could be a good cross-promotional tool to incorporate into the park. Many retorted by saying that a reality television show has nothing to do with cartoons and would be wildly out of place. Still others snapped that BMX stunt shows have nothing to do with cartoons but they occupied the theater many times. Other tweeters remarked that the other tweeters were simpleminded jellybean-heads. The park guest tweeted back that a high schooler was being removed from the theater by park security.
So there are the updates from Universal Orlando. It may not be in press releases or on the evening news, but it is what true theme park fans care about. So when you want the news, all of the news, rest assured that we will type something up and post it online. When Mythos updates its menu, we're there. If RobOasis adds Surge soda and energized children beat Barney up, we're there. If a new Neo-Antartican buffet opens in CityWalk, we'll read reviews, wait until we're in the mood for penguin, and you bet we'll be there. So until next time, live the movies!
[sws_author_bio user="thedailyticket" size="105″ authorposts="More OI posts by The Daily Ticket" name_format="About the author"] [/sws_author_bio]