The School Bread experience at Epcot's Norway Pavilion
As we all know Walt Disney World is filled with little surprises and hidden treats. Perhaps one of the best examples of this is a secret I just discovered at Epcot's Norway Pavilion: School Bread!
Click any image to view it full-screen. You can also view and share all of these photos on the OI Facebook page. Scroll to the bottom of the post to view the complete photo gallery with 16 full-screen images.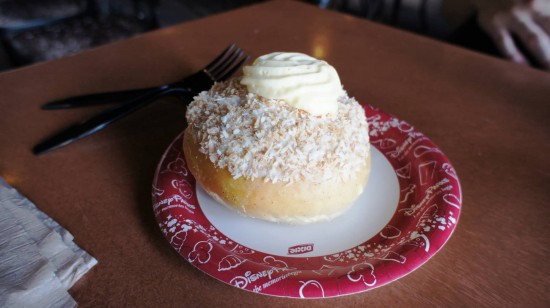 This is by no means a secret to many Disney fans. The wonders of Norway's School Bread is well known to many. It just seems that somehow it has alluded me for many years. So what's so great about this little treat?
First off, it is served at Kringla Bakeri og Kafe, a charming quick-service restaurant that feels about as authentic as you are going to get at World Showcase. (Indeed, the entire Norway Pavilion feels very genuine — see my review of the whole area with an HD video of Maelstrom!)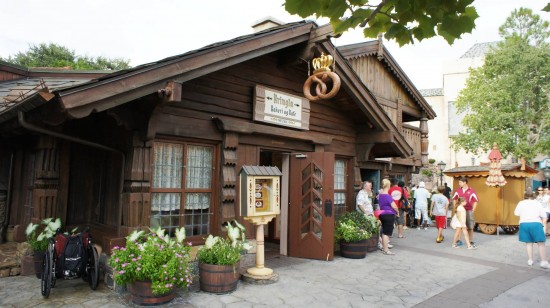 Second, and perhaps more importantly, this little slice of heaven is absolutely delicious! Stuffed with vanilla custard, surrounded by a light sweet pastry, and sprinkled with coconut, it is magnificent from first sight to last lick of your spoon. Adding to the delight is the fact that the custard is chilled, making School Bread the perfect compliment to a hot Epcot afternoon.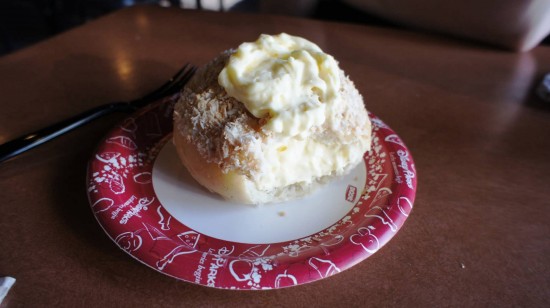 I wonder if you are thinking now what I was thinking when I first tried School Bread: What exactly is so Norwegian about a pastry topped with coconut? I thought, this really can't be all the Norwegian–it must just be a fun treat they sell. So I went back inside the bakery and asked. The cast member informed me that School Bread is "the most Norwegian item" they sell. She couldn't explain its history, but she assured me that she ate it all the time growing up in Norway.
When I got home I did a quick search on the Internet, and that did not reveal any origin story either. If anyone knows the story behind School Bread and Norway, please let me know by leaving a comment below!
Not up for the School Bread avalanche of custard goodness? Kringla also has several other items to choose from, including what seems to be their second most popular choice: the waffles.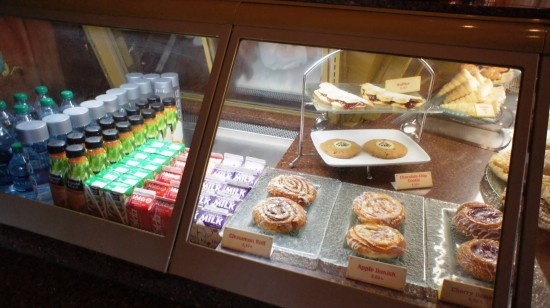 Needless to say, I highly recommend that you stop by this delicatessen next time you are making your way around World Showcase, even if you are just doing so to drink around the world.
Kringla Bakeri og Kafe – map & links
To scroll or zoom, use the controls on the top-left of the map. You may also switch to different map views by using the buttons on the top-right of the map.
Official website: http://disneyworld.disney.go.com/…norway-pavilion/
The School Bread Experience – photo gallery
Click any image to view it full-screen. When the full-screen image is open, click to the right to advance.