If you've been to Disney's Hollywood Studios or EPCOT, you've probably noticed the colorful gondolas in the air. This unique and fun mode of transportation is the Disney Skyliner, a transport that is honestly sometimes as good as any attraction. If you've ever wondered where these colorful pods are coming from or where they're going, today should illuminate some answers for you. Personally, our family absolutely loves the Skyliner. We take it every chance we get, and I fully believe that my son can name his colors because of it. One morning, when we arrived a little too early to Hollywood Studios, we stumbled upon what became my favorite breakfast tradition at the Walt Disney World Resort.
So what's the secret? Breakfast at Primo Piatto at Disney's Riviera Resort. We love doing this experience before a day at Disney's Hollywood Studios, so that is how I'll be giving out instructions today. But the concept (taking the Skyliner for breakfast before your day) can also be done from EPCOT, or from any of the following Walt Disney World Resort Hotels: Disney's Art of Animation Resort, Disney's Caribbean Beach Resort, or Disney's Pop Century Resort.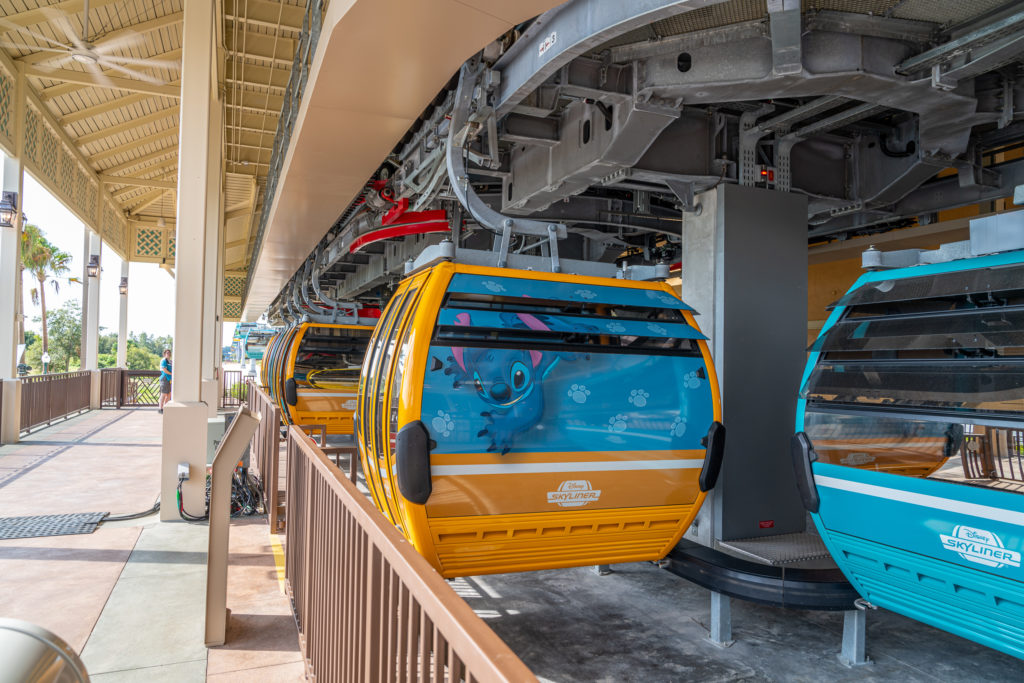 Board the Skyliner
After you arrive at Disney's Hollywood Studios, head to the Skyliner Station. You'll see it to the right of security before you even get into the park. Take the ramp to the station. Since you're doing this in the morning, there's a good chance there will be little to no wait to board.
Your first Skyliner leg will take you to the Skyliner station at Disney's Caribbean Beach Resort. From the platform here, get in the EPCOT line. Depending on how busy the wait is, you may be hanging out with some other folks during your ride.
Order Your Food Using the Disney App
While in the air on your second leg of your journey, open your My Disney Experience app and look to order food from Riviera's quick service restaurant: Primo Piatto. From there, make your selections.
Primo Piatto has some unique and delicious choices. My personal favorite is the Cinnamon Crumble "French Toast" Bread Pudding. Disney World has so many options for bread pudding, and I am absolutely in love with most of them. This particular dish has a really great cinnamon and sugar taste to it. If you were a fan of cinnamon sugar toast in your childhood, this would totally be your jam. It comes with a side of vanilla custard to pour on top of the rest of the delicious confection. I recommend creating a hash pattern with a knife on top of the bread pudding and then pouring the custard on top. That way, the custard gets all into the crevices of the bread pudding and makes it extra delicious.
My husband loves the Croque Madame sandwich. This is the companion to Primo Piatto's Croque Monsieur that they serve for lunch and dinner. The Croque Monsieur is possibly the best ham and cheese sandwich you will ever have. A bechamel sauce is slathered between two thick slices of bread and paired with ham and cheese. The whole thing is toasted and challenging to eat without a fork and knife. The Croque Madame is the same sandwich, but with an egg on top. If you're a big fan of runny eggs in your breakfast meals, you'll love this one.
Primo Piatto also has great options for kids. Like most Disney kids, our son likes Mickey waffles, which are (of course) on the menu here. We pair it with fruit and a Danimals smoothie. He loves those little Danimals so much, we have to keep it in the bag until partway through breakfast!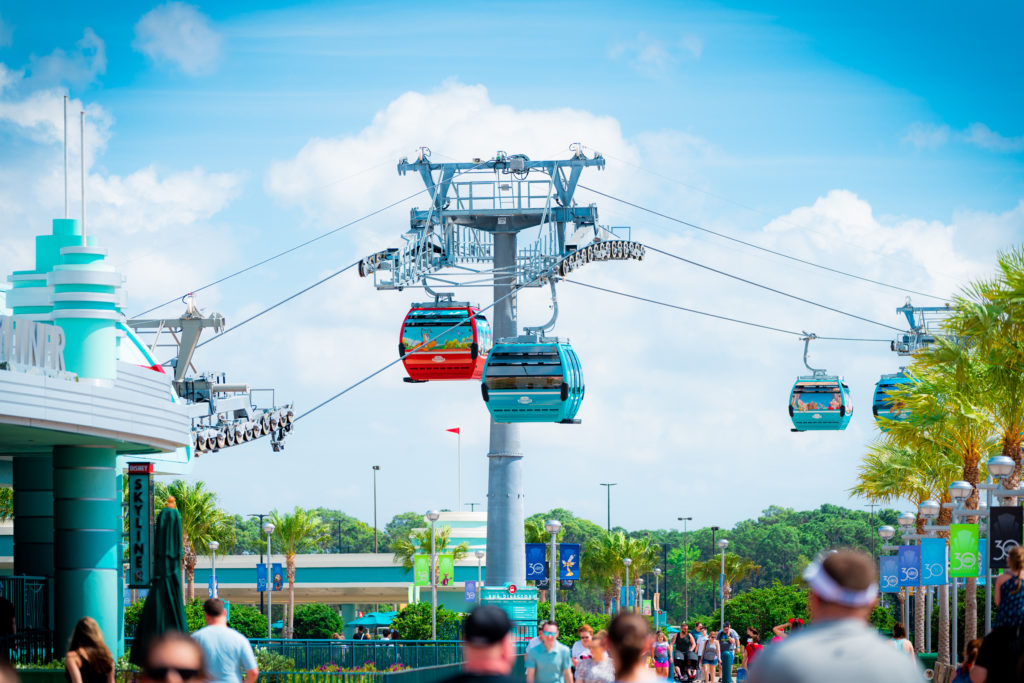 Head to Breakfast
After you've made your breakfast choices on the app, make sure you don't miss your stop! The first stop on the second leg of the Skyliner is the Riviera Resort, and after you make your selections, you'll probably be nearly there! So get off at this first stop.
When you get off the Skyliner, you'll walk down a long ramp that takes you to the resort. Walk under the arch with the beautiful mosaic murals on each side. Be sure you grab a couple of pictures too! While you're pausing for photos, notify that you have arrived for your food via your app. That way, you won't need to wait as long before you and your family eat.
Primo Piatto is on the other side of the pool you will see as you walk in. There's a sign over the doors to help ensure you're in the right place. Go right after opening the doors, and a cast member will direct you to their mobile pick-up area. After gathering your food from the counter, sit down and enjoy!
The Riviera is one of my favorite resorts, and the ambiance is outstanding. While you enjoy your meal, listen to the music playing. These are Disney classics playing in French and Italian. Can you make out the famous tunes?
Time to Go to the Park
Once your family has finished enjoying your meal, head on back to the Skyliner. You'll walk through the archway as you did before, but before the long ramp, turn left and take the path to the EPCOT loading area; it's just on the side. You may need to wait a little longer to board, but we've never waited for longer than 5 or 10 minutes. Once on your Skyliner, you'll be flying back to the Skyliner Station and Caribbean Beach. Once there, disembark and head to the Hollywood Studios line. Hopefully, your wait time will be short because many guests are already at the park.
Once you get to Hollywood Studios, head to security and on through to the entry. And that's it! Enjoy your day at Hollywood Studios, knowing that you started your day with a quick flight and breakfast!
---
Where do you enjoy a Walt Disney World breakfast? Discuss it with thousands of other Disney fans in our Orlando Informer Community on Facebook. And be sure to follow Orlando Informer on Facebook, Twitter, and Instagram for the latest news, tips, and more at Universal Orlando, Walt Disney World, and other Orlando attractions.