Universal Orlando Resort announced some head-spinning news today regarding the 2023 Halloween Horror Nights festivities – The Exorcist: Believer is confirmed for HHN 32.
This isn't the first time that The Exorcist has possessed Halloween Horror Nights, as this was a maze theme during the east coast's haunts in 2016 and joined the Universal Hollywood lineup in both 2016 and 2021's celebrations.
For those unfamiliar with this 52-year-old franchise, the original story was told through the written word and follows the demonic possession and exorcism of twelve-year-old Regan MacNeil. The 1971 novel was followed by multiple films, television series, and additional novel releases, becoming a cult classic and launching a domino effect of possession-related storytelling.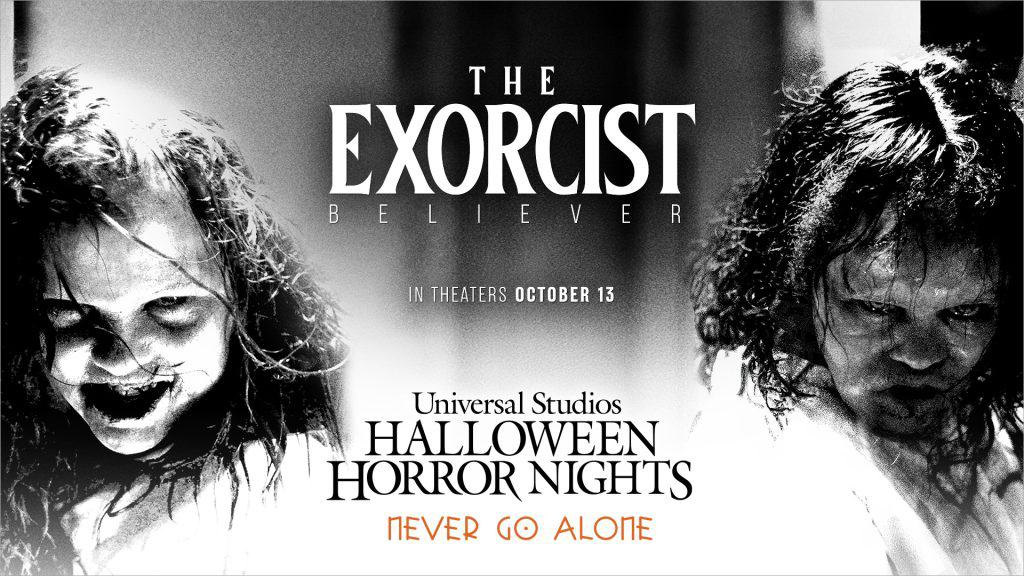 A sixth movie installment of the franchise, The Exorcist: Believer, is scheduled for release on October 13, 2023, during the height of this year's scream season. Audiences will follow the father of a possessed child seeking assistance from a familiar parent who has lived through this horror before. Ellen Burstyn will reprise her role as Regan's mother and star alongside Leslie Odom Jr., Jennifer Nettles, Ann Dowd, and many more in this renowned cast. The Exorcist: Believer will be the first film in a planned trilogy.
We highly anticipate the spirits materializing during Universal Orlando Resort's Halloween Horror Nights 2023, running select nights from September 1 through November 4. Snag your key to this excitement by purchasing discounted admission through Orlando Informer here.
---
Find out everything you ever wanted to know about HHN – plus more! – in our insider's guide. And then discuss it all with 160,000+ other Universal die-hard fans in our Orlando Informer Community on Facebook. And be sure to follow Orlando Informer on TikTok, Threads, Facebook, Twitter, and Instagram for the latest news, tips, and more at Universal Orlando, Walt Disney World, and other Orlando attractions.