Part of the fun of going to theme parks is picking out the perfect souvenir to serve as the memoir of your time there. This can be easier said than done sometimes, but don't worry – I've done most of the hard work for you and compiled a list of the best merchandise purchasable at Universal Orlando Resort. For your reference, I'll provide the price and location, when applicable, and do my best to make sure everything's worth your hard-earned money.
I should mention a couple of things before we get started, though. This list is going to focus more on merchandise category and type rather than specific items, which will give you better flexibility while searching out that perfect gift, since you'll know who you're shopping for better than I do. Additionally, I'll be refraining from including t-shirts in my list, since getting these as souvenirs is essentially like receiving socks and underwear for Christmas – they're a decent go-to, and they're always appreciated, but they aren't the best option. While I'd undoubtedly support whatever makes our readers happy, rest assured that I want nothing but the best for you.
Now, then – let's get shopping!
1. Wands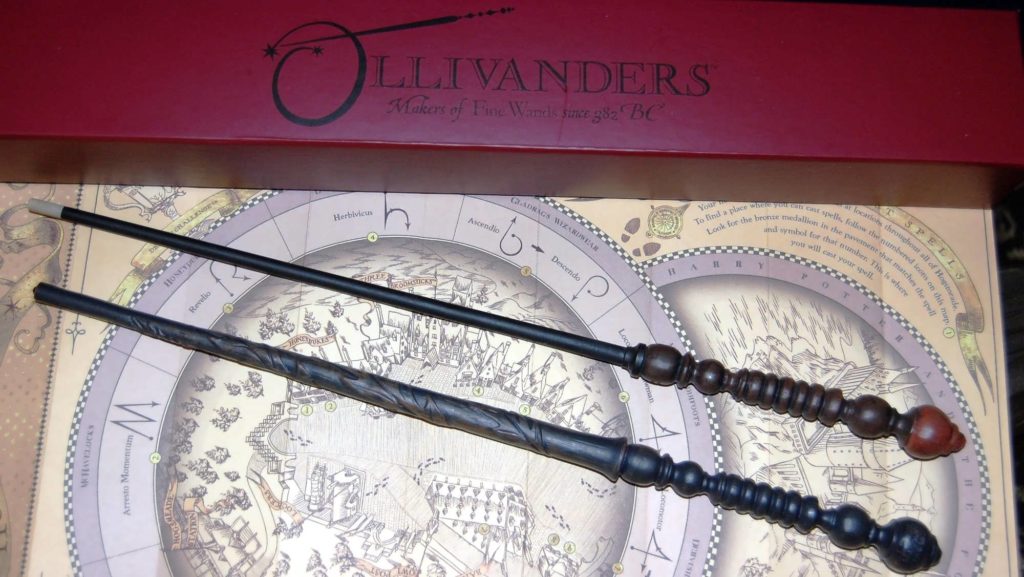 Location: Ollivanders Wand Shop (Diagon Alley), Dervish and Banges (Hogsmeade), Islands of Adventure Trading Company (Port of Entry), Universal Studios Store (Production Central and CityWalk)
Price: $49-$55, plus tax
Purchasing a wand in The Wizarding World of Harry Potter is a must for any fan, and they're the best piece of Harry Potter merchandise you can get. Although Universal offers non-interactive and interactive varieties, I'd urge you to consider the latter; for a six-dollar difference, muggles visiting the Wizarding World have the opportunity to actually cast a spell by following the motions shown on the various wand spots. This is not only a dream come true for any fanatic, but it will also create those cherished moments that are so important to a theme-park vacation. As a bonus, the interactive wands technically count as getting two souvenirs in one, since they come with themed maps showing many of the spellcasting locations.
If you already have your own wands but still want to get that magical experience, you could follow my lead. My wife and I own non-interactive wands that we purchased back in Hogsmeade's first year. After Universal added in the interactive element, we knew it'd be a hit with us, so we bought an interactive Elder Wand, which we share. This saved us some money and lets us cast a little magic when we're in the parks. (However, if non-interactive is more your speed, that's fine, too!)
2. Drinkware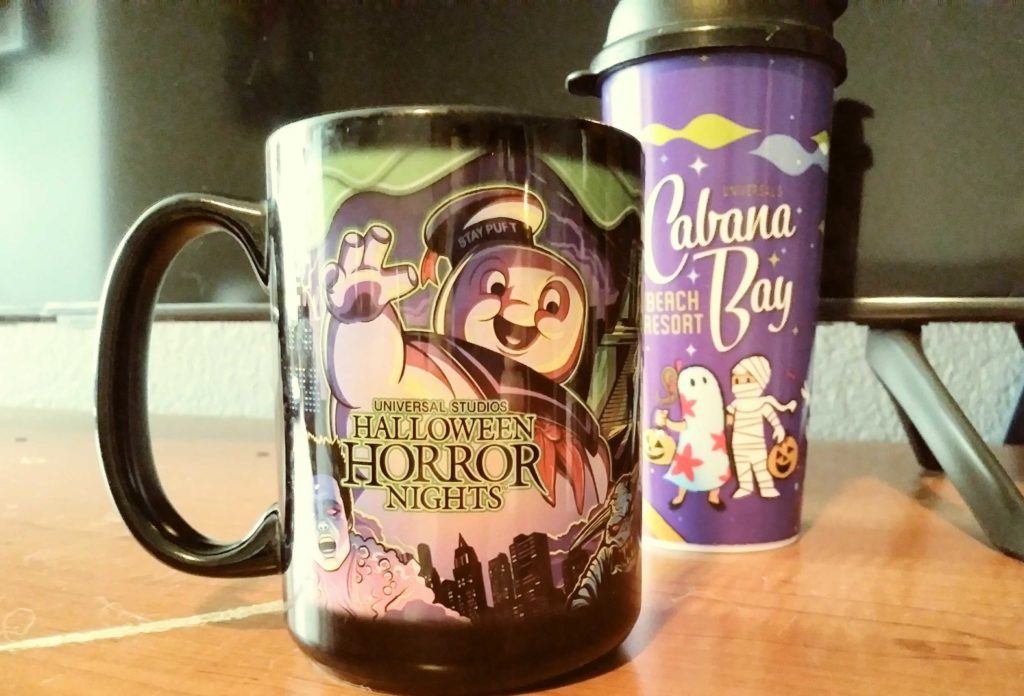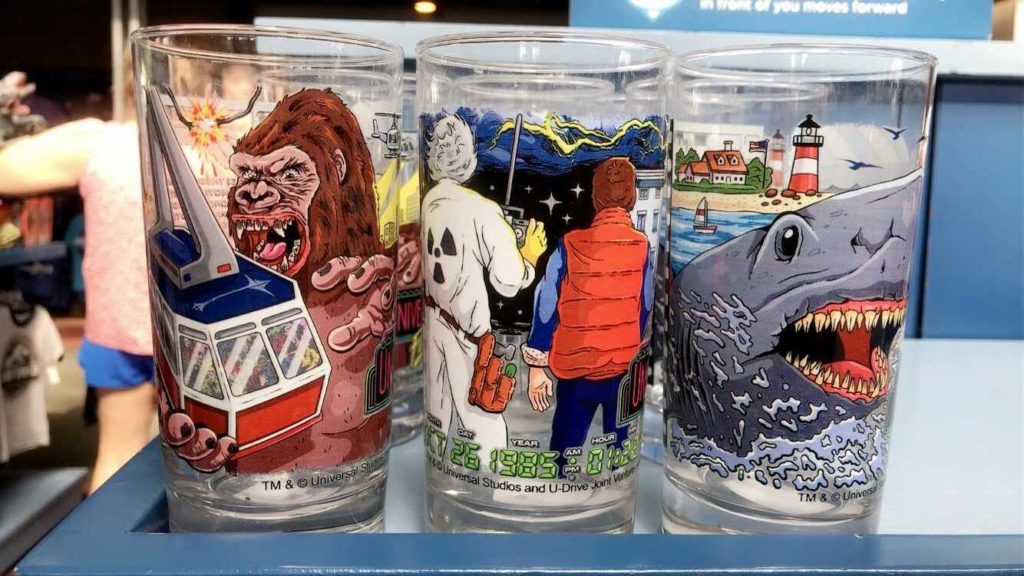 Location: just about every souvenir shop in the parks
Price: $4-$40, plus tax
If you're wondering how I can justify drinkware over t-shirts as "best merchandise," allow me to explain.
Shirts have a natural lifespan to them and aren't typically worn every day; a themed mug or a pint glass not only has a better shelf life, but it's also more practical and has potential for everyday use. Speaking for myself, I have a Cabana Bay Beach Resort mug from when the hotel first opened and another from Halloween Horror Nights 2019 that cost me $14.99, plus tax each. Trust me – they carry me though the day on the regular with both coffee and tea, which encompass half of my beverage necessities.
While mugs are my preference, the same can be said for any of the other options. If shot glasses are your thing, Universal has an assortment for the avid collector; if you prefer yours on-the-go, there's an array of themed tumblers as well as other glasses and cups for just about anyone. The prices for any of them can vary depending on factors like upgrading your in-park beverage to a souvenir cup or the drinkware itself, but the variance doesn't typically break the budget.
3. Christmas merchandise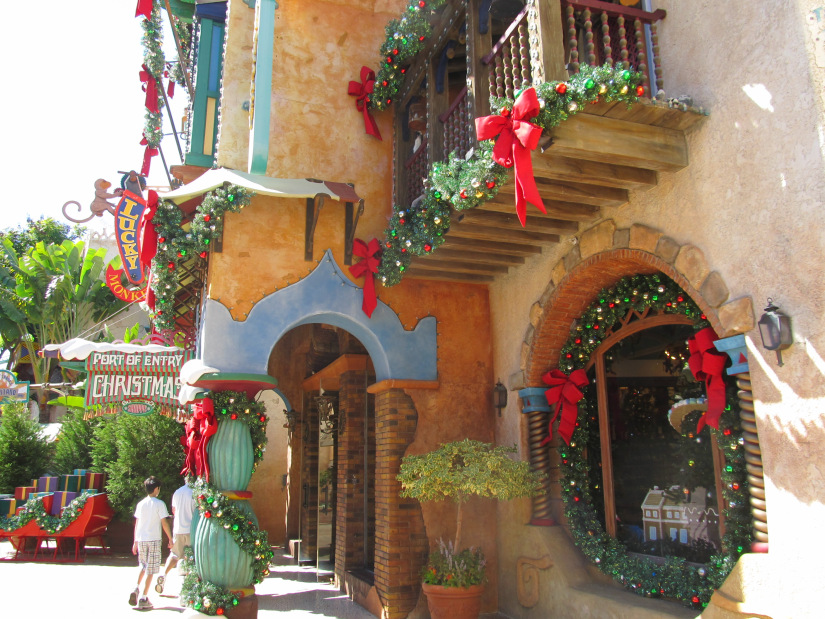 Location: Port of Entry Christmas Shoppe (Port of Entry), Park Plaza Holiday Shop (New York)
Price: $7-$40, plus tax
If I had to choose for you, I'd say bringing home a keepsake from one of the Christmas shops at Universal Orlando is the best idea for a souvenir. Christmas is a time to establish new and joyous memories and reflect upon those from years past; in my family, each ornament hanging on a branch of our tree is essentially a cherished memory, some of which originate from the theme parks. Decorating your home with pieces from the Whoville Christmas Village or with a Simpsons ornament would be a perfect way to remember your time at Universal.
If you're like me, you may fancy yourself as one of "Santa's Helpers" and, therefore, want an elf hat to wear for the holiday season. And for those who want to bring home a more personal gift, I highly recommend purchasing a customizable, hand-painted ornament from one of the specialized team members at the Port of Entry Christmas Shoppe.
Whatever suits you, there's no doubt this should be part of your purchasable possibilities.
4. Collectibles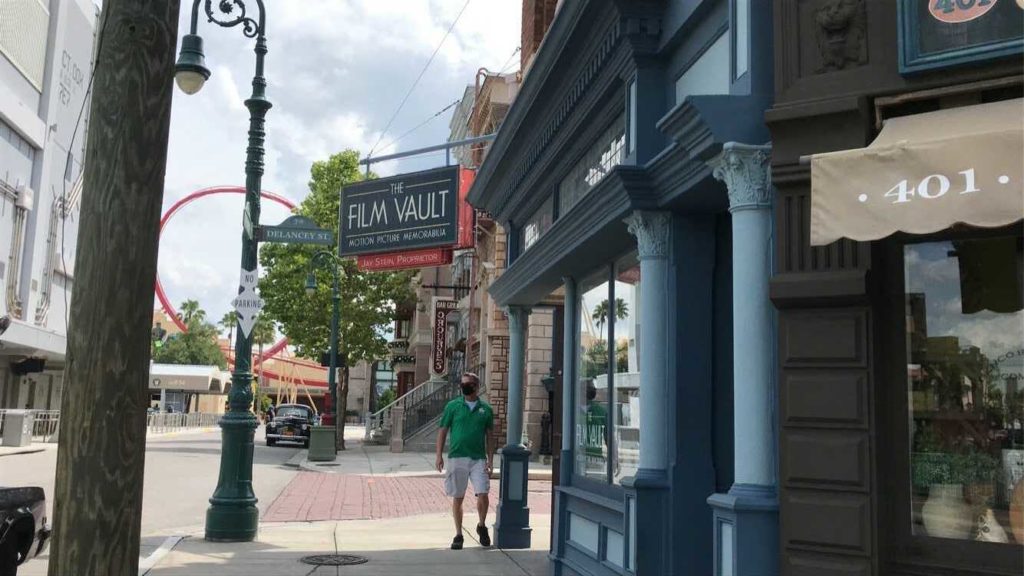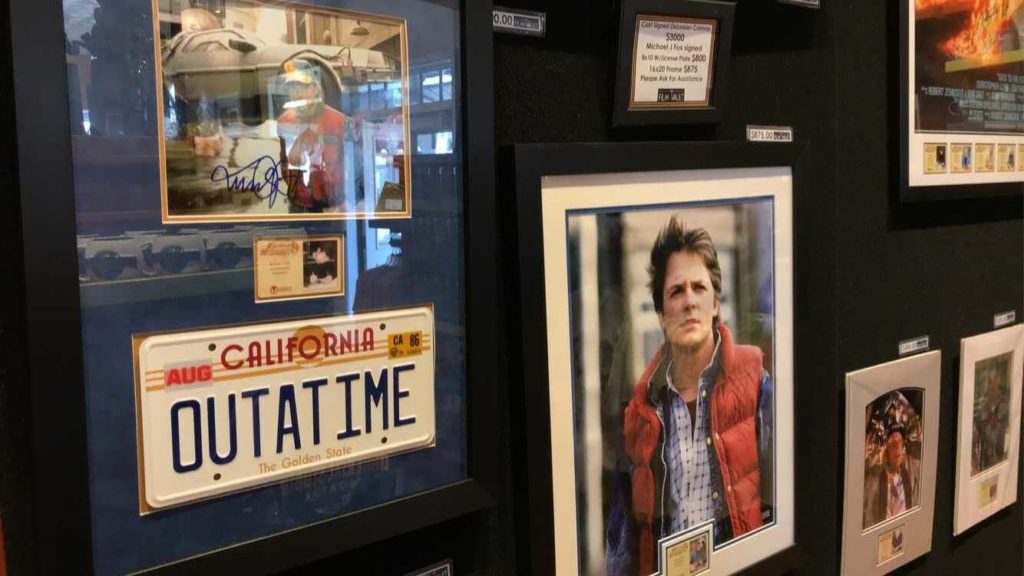 Location: Williams of Hollywood (Hollywood), The Film Vault (New York), Comic Book Shop (Marvel Super Hero Island)
Price: varies strongly
This may require a bit more in terms of financial flexibility, search effort, and, perhaps, a little luck along the way – however, I can assure you that it'll be worth it for the geekier family member you may be shopping for. The tricky parts are that while there's a ton to choose from, the quality of choices can be spotty, and some of the best items can be scattered throughout both parks. With that said, though, I've used my "geekspertise" to narrow it down for you with my favorite places to visit.
Islands of Adventure's Comic Book Shop, located in Marvel Super Hero Island, carries several statues of characters, including the Incredible Hulk, Captain America, and other Avengers. In Universal Studios Florida, The Film Vault offers collectibles from the broader library of Universal Pictures and its affiliates, such as a pair of Nike MAG power-lacing shoes from Back to the Future, Part II signed by Michael J. Fox. If you want to literally bring a piece of the park home, Williams of Hollywood should be on your radar – its inventory can be a little hit-and-miss, but it's had decor from previous years' events, like Halloween Horror Nights, and old attraction props, such as a Dorothy II replica from Twister… Ride it Out.
5. Universal hotel merchandise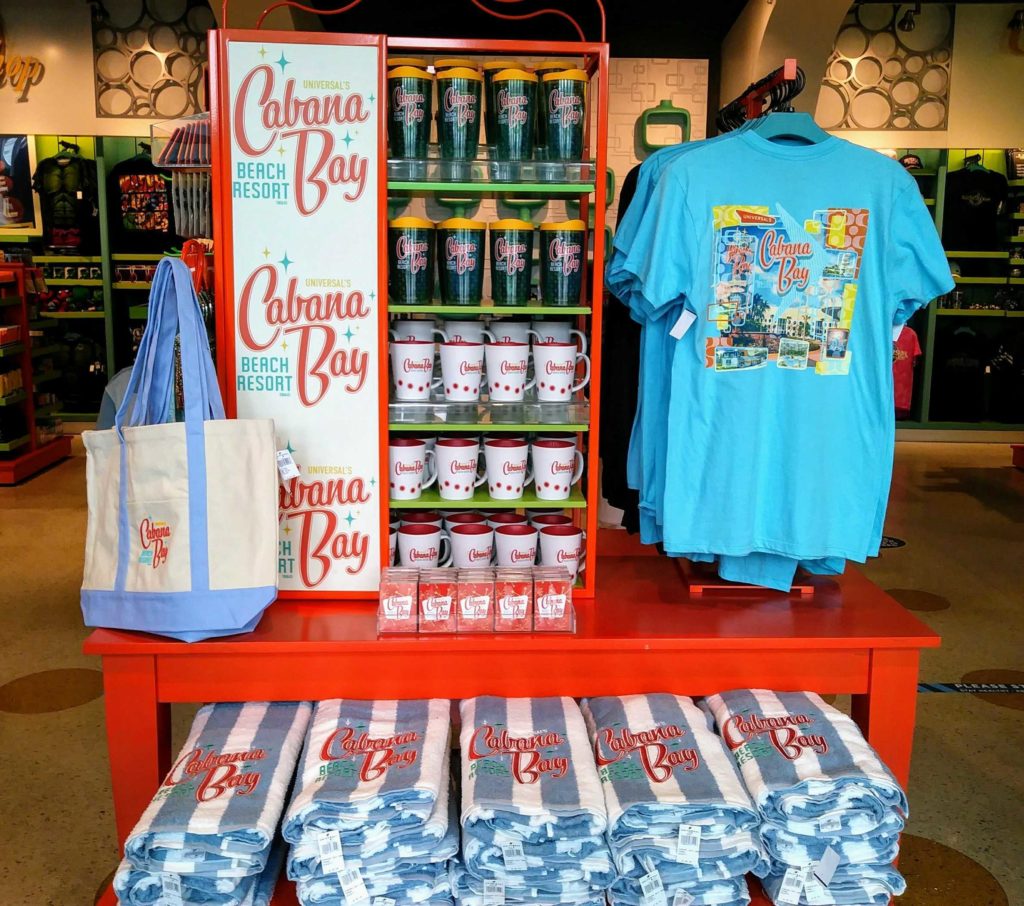 Location: Cabana Bay Beach Resort, Sapphire Falls Resort, Endless Summer Resort – Surfside Inn and Suites
Price: $7-$40
Not many people think about this one, but that's what makes this a great memento. Universal Orlando Resort's hotels have some classy merchandise to bring home whether or not you have a reservation. The best part is that the merch can fit any of the other categories or anyone's taste; for example, Cabana Bay also offers some nifty beach towels and tote bags, and if shirts are, indeed, your thing, then here's where you want to go. To that end, I've provided my favorite locations above, but you are, of course, free to explore all that's available on your visit.
It's worth mentioning here that you can't find any of the resort merchandise online or elsewhere in the parks. This means that you will have to visit the hotels in order to see and purchase their selections. While it may sound like a hassle, you shouldn't stress it – the distance of each property is easily manageable via bus or boat, and the exclusivity of the gifts would make them that much more meaningful.
---
What are your top picks for Universal Orlando merch? Let 100,000+ other Universal fans know in our Orlando Informer Community on Facebook.
And don't forget to follow Orlando Informer on Facebook, Twitter, and Instagram for the latest news and tips at Universal Orlando, Walt Disney World, and other Orlando experiences.