THE BIG 5: Top five pieces of merchandise available at Universal Orlando
Welcome to THE BIG 5, a definitive top five list of various Orlando related, uh, stuff. THE BIG 5 is wide ranging, and will run the gamut from the top five drink options at Universal Studios, to the top five restaurants on I-Drive, to the top five reasons Stitch's Great Escape should be immediately imploded, and everything in between.
To view all of THE BIG 5 posts so far, click here.
This week's list is for the top five pieces of merchandise you can get at Universal Studios Florida and Islands of Adventure.
#5 – Mounted "heads" at Seuss Landing
This is the one type of taxidermy I can get behind. Based on the art of Dr. Seuss, each one of these heads is a winning mixture of one part whimsy and one part disturbing. Unfortunately, the cheapest of these "heads" clocks in at just under $2000, a price point that even has Downtown Disney's The Art of Disney store questioning the sanity of. So if you can appreciate cool art (and have deep pockets), stop by Gertrude McFuzz in Seuss Landing.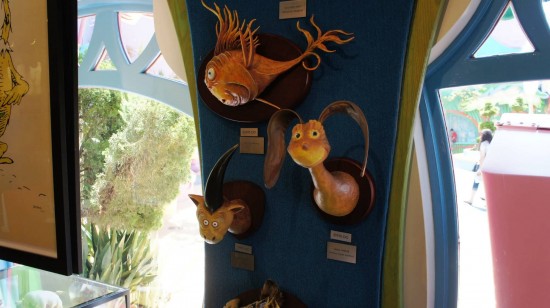 #4 – A wand from Ollivander's
There are many people who scoff at the idea of buying a wand, making the tired joke of paying money for a "stick." But just as any Star Wars fan knows a simple florescent light bulb does not equal a lightsaber, a small piece of wood does not equal a wand. The wands available at Ollivander's have style and place you directly into the world of Harry Potter.
While you can buy the "famous" wands at WWoHP (like Professor Snape's wand, Sirius Black's wand, the Elder wand, etc), there are also 13 wands creative exclusively for Universal that are based around the calendar. Besides the neat designs, these wands also come in an excellent Ollivander's box that has almost a coffin-like inside to hold the wand snugly.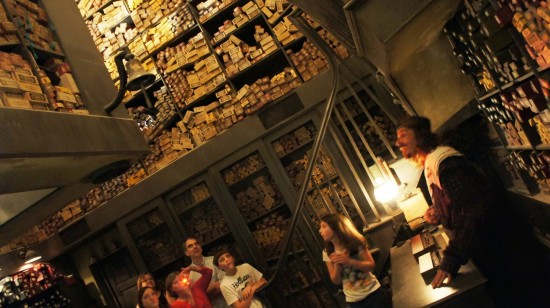 #3 Spider-pig
This is the only item on the list you can't technically "buy," but you can win him at the games of chance at various locations near The Simpsons Ride. Based on the popular character Spider-pig from The Simpsons Movie, this is the first prize I have ever seen that made me think, "Yes, I will spend $5 a shot, on a game that is possibly rigged, to try and win this!"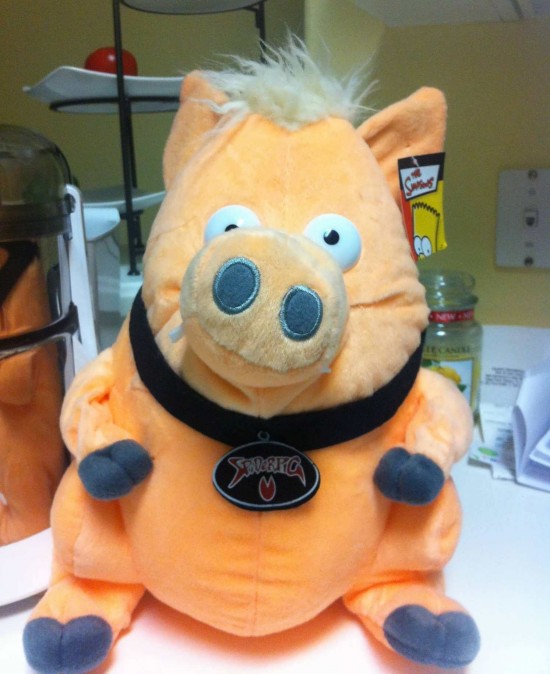 #2 Build-A-Minion
The new Despicable Me Minion Mayhem attraction at Universal Studios is a home run across the board. The outdoor façade is perfect. That leads you into an outdoor queue that has a hilarious minion-based video loop. The first room inside has jaw dropping visuals from Gru's house, including a giant taxidermy of a lion-eating-a-dog-that's-eating-a-cat which even out does the fake heads in Seuss Landing. This is followed by a five star pre-show video and then the fantastic ride itself. All of this leads you out to the Super Silly Store, which is filled with some unique and wonderful items based around the Despicable Me brand.
The Build-A-Minion is a perfect example of the type of merchandise available. A cute take on Mr. Potato Head concept, this allows everyone to have a small memento and have interactivity for kids. If I had one suggestion it's that Universal make an "accessory pack" of some sort with even more items to make Minions.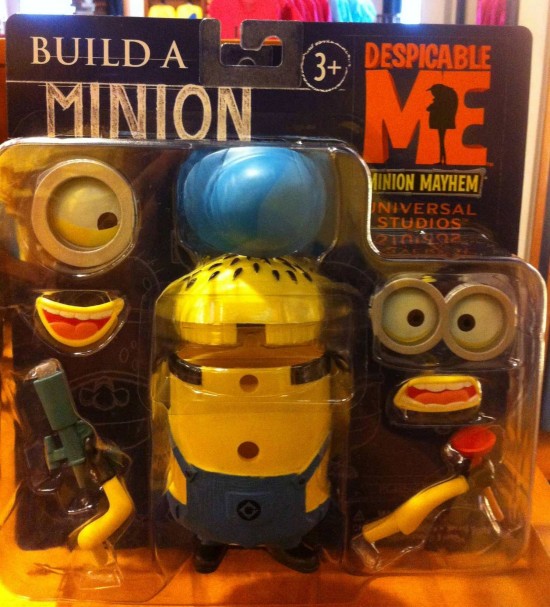 #1 Chocolate Frogs
This is the one piece of merchandise that I think every theme park should look to on how it delivers. While you can complain that the chocolate itself isn't Ghiradelli-level, but can't be knocked is the attention to detail. Harry Potter opening up his chocolate frog is a big moment in the series for the viewer, and Universal has a near perfect replication of the box and even includes a lenticular wizard trading card. And while the chocolate frog itself isn't the highest quality of chocolate, it is what it says it is, one big chocolate frog (and not hollow either). This is the type of merchandise that brings you "into the movie" and delivers it at a decent price point (under $10). How can you NOT pick up one for a friend or family member who loves Harry Potter but can't make it to Orlando?
Just make sure, if you are making your purchase in the summer, that you get it back to air conditioning as soon as possible!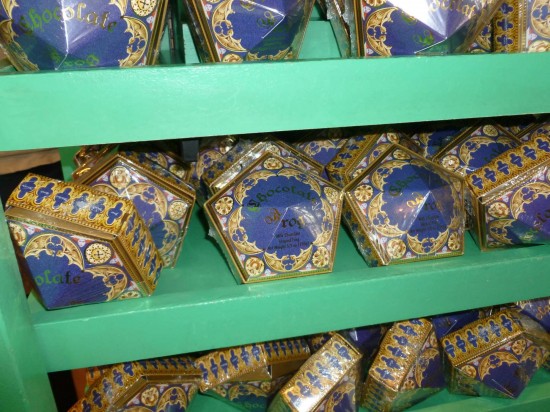 That's it for this edition of the BIG 5! We'll see you again real soon.
[sws_author_bio user="derekburgan" size="105″ authorposts="More OI posts by Derek" name_format="About the author"] [/sws_author_bio]