Welcome to THE BIG 5, a definitive top five list of various Orlando related, uh, stuff. THE BIG 5 is wide ranging, and will run the gamut from the top five drink options at Universal Studios, to the top five "hidden Mickeys" at Universal, to the top five reasons Stitch's Great Escape should be immediately imploded, and everything in between.
To view all of THE BIG 5 posts so far, click here.
This week's list is The Top Five things you didn't know you could do at Universal Orlando. These are things you may have missed or just plain might not know about, no matter how many times you've gone.
#5 – A second entrance to Universal Studios Florida
Did you know there is a second entrance into Universal Studios Florida? Follow the pathway from CityWalk to the Blue Man Group theater, and right under the Hollywood Rip, Ride & Rockit coaster you will see it. This entrance can be a time-saver, especially with how busy USF is these days. Keep in mind that this entrance may not open first thing in the morning.
If this entrance happens to be closed when you try to use it, you're not totally out of luck in terms of getting to do something new. Did you know that there is a piece of the Berlin Wall behind Hard Rock Cafe? Should you be turned away from the USF side entrance, swing over to the back of Hard Rock and check it out.
#4 – Refill any souvenir mug for 99 cents, forever
While many guests are familiar with the red "classic" refillable souvenir mugs that are available throughout both parks, what most don't know is that you can use any Universal themed souvenir mug to get the same 99 cent refill price on soda at virtually every food & beverage location. What this means is you can use your butterbeer, Homer Simpson, Transformers or any of the other themed mug to get a great deal on Coke products. And did we mention you can do this forever? That's right, there is no expiration on this discount offer.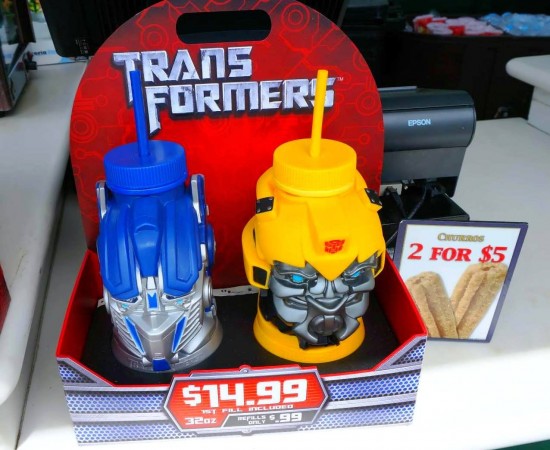 So hang onto those cups, because you can reuse them as many times — and for as many trips — as you want (until Universal changes the current policy).
#3 – Moaning Myrtle is in the bathrooms of the Wizarding World
While it may be a closer race now that Cars Land has opened at Disney California Adventure, the Wizarding World of Harry Potter is still the gold standard for overall theming in a theme park. Walking into WWoHP is the closest you can come to literally being in the Harry Potter universe. The authenticity is so great that the people from the movies actually used a model of the Three Broomsticks restaurant in WWoHP for filming a scene in the restaurant for Deathly Hallows.
How deep is the level of theming? Well, go on inside the bathrooms in WWoHP and you will hear Moaning Myrtle talking to you. Moaning Myrtle can be seen in Chamber of Secrets and Goblet of Fire; she is a ghost that primarily "haunts" the bathrooms as that is where she was killed.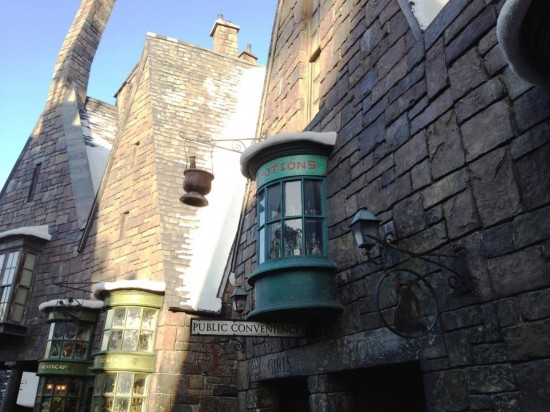 #2 – Check out the pay phone by The Simpsons Ride
Even though there are signs directing visitors to pick up the phone outside of The Simpsons Ride (next to the Kwik-E-Mart gift shop), almost no one does. Next time you stop by Universal Studios Florida, walk over to the phone and be sure to pick it up when it rings — on the other end will be a resident of Springfield!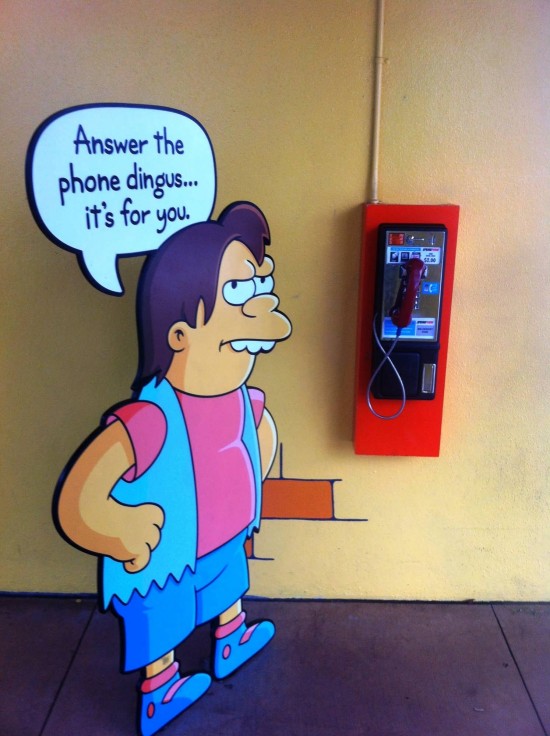 #1 – Early check-in at the Universal's on-site hotels
There is no better perk at any of the seemingly thousands of hotels in Orlando than the unlimited Express Pass access that's included with a stay at one of Universal's on-site hotels. Disney offers Extra Magic Hours, others offer free breakfast, and some will even offer free or reduced price tickets if you sit through a sales pitch. But for my money I'll take the ability to skip lines, which you get automatically if you stay at Portofino Bay Hotel, Hard Rock Hotel, and Royal Pacific Resort.
What's nice is that your unlimited Express Pass access is available on the day you check in and the day you check out. In addition, on-site guests currently receive Early Park Admission to both Universal Studios Florida and Islands of Adventure, and this perk is available on the day you check in and check out too. So, if you are staying on-site at Universal, make the most of it by getting to your hotel early in the morning on your check-in day, get up to the front desk and get registered, then make you way to the parks with all your benefits intact. Your room may not be available until after 4:00pm, but who cares! By the way, the hotel will look after your luggage while you're at the parks for the day — and you'll get a text when your room is ready.
[youtube_video]AzuxrRLFfx8[/youtube_video]
That's it for this edition of the BIG 5! If you'd like, check out the original Universal's best kept secrets page in the OI Universal Center. Otherwise, we'll see you again real soon.
[sws_author_bio user="derekburgan" size="105″ authorposts="More OI posts by Derek" name_format="About the author"] [/sws_author_bio]