Vegans and vegetarians, rejoice! The Walt Disney World Resort has great options for snacks and treats! From sweet to savory, and even fruity milk, you will love the options Disney World has for you. That said, with so many parks and so many places to eat, guests with dietary needs often use much of their time ironically hunting for veggie-friendly treats. To make your trip a little more efficient and enjoyable, I've highlighted some selections here.
I spent many years traveling to the Disney parks as a vegan. In that time, I learned that the best treats and snacks were also the ones that just happened to be vegan. In mid-2019, Disney World did a massive overhaul to include plant-based options on all menus. This inclusion certainly takes care of meals, and while this menu renovation did bring some new snacks too, I have found that the best vegan Disney snacks are the ones that were that way to begin with. So, like Universal, Disney World has many choices for vegans during mealtime, but they also have you covered when it comes to snacking.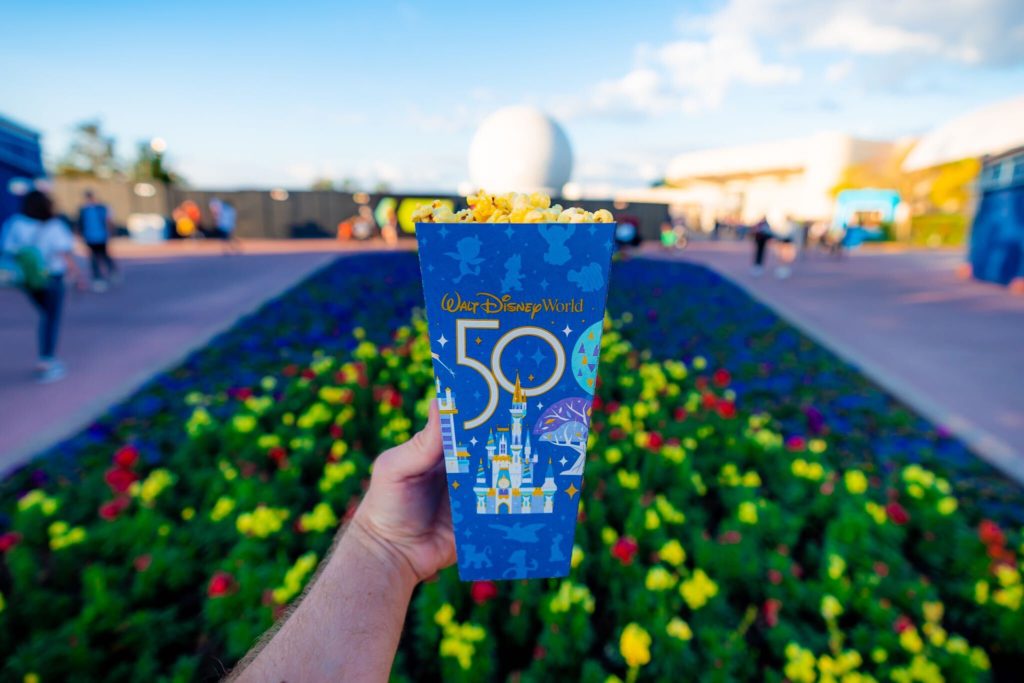 1. Popcorn
The very first item on this list is a favorite of nearly every Disney fan. That's right: popcorn! Disney popcorn is vegan and safe for anyone trying to avoid dairy or other animal products. Not only that, but it is a rather inexpensive snack. I recommend buying a popcorn bucket at the beginning of your trip if you're a popcorn fan. The standard buckets will come in at around $15.00, and it comes full of popcorn. Premium popcorn bucket prices will range from $18.00 – $25.00, and regardless of which bucket you go with, refills are only $2.00. You can use the buckets across all four parks throughout your entire stay and get the buckets at most popcorn kiosks. For example, at Magic Kingdom, there is a popcorn stand immediately as you enter the park on your left side. There are also several kiosks around the park, including just off the hub in front of the castle.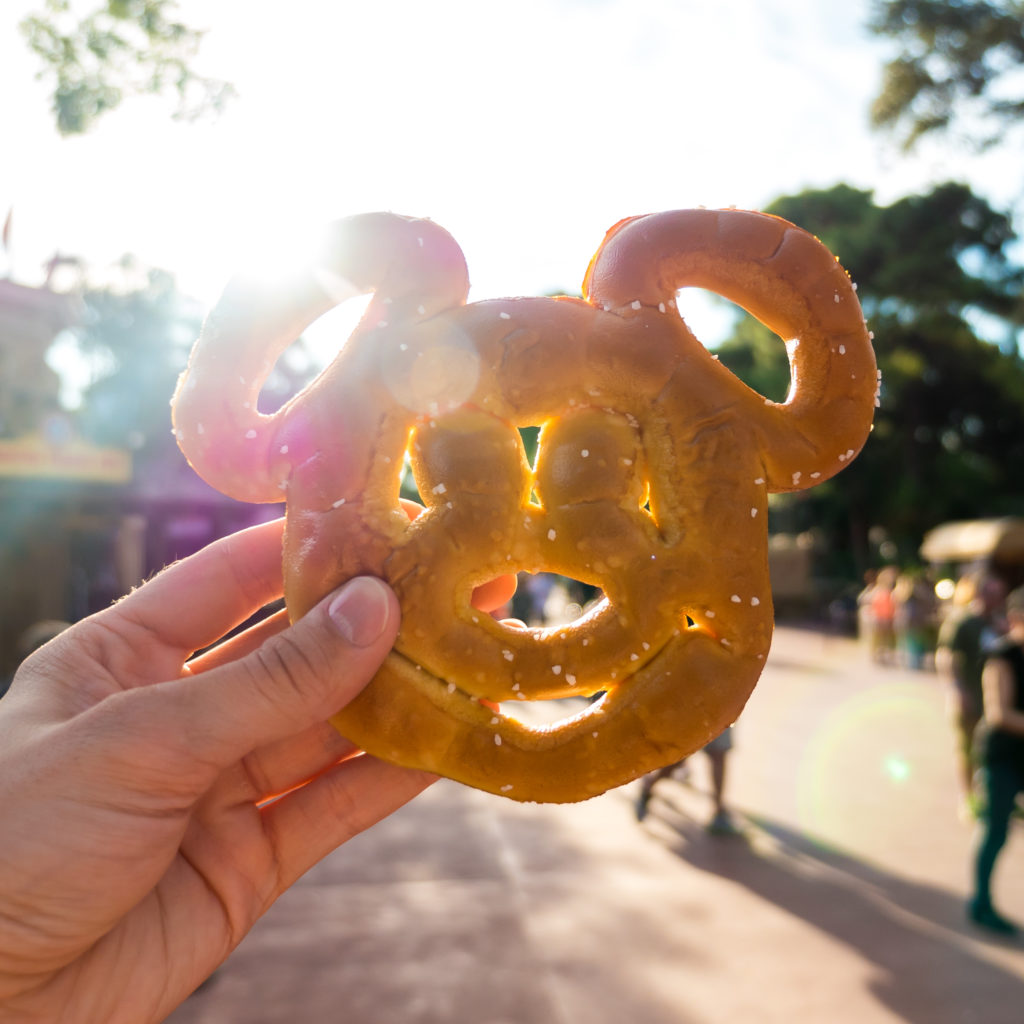 2. Mickey Pretzels
As long as you're cool with not having cheese with your pretzel, the Mickey soft pretzels across Disney property are also vegan. They're a delightful little snack, and, I won't lie, they've been a meal for me a time or two. At the Magic Kingdom, in front of the castle, you can find a Mickey Pretzel stand just across the hub from the popcorn stand, or in Liberty Square. Like the popcorn, the pretzels are available throughout the four theme parks. At EPCOT, you'll find a pretzel stand right across the walkway from a popcorn stand near The Land pavilion. At Animal Kingdom, head on over to Flame Tree BBQ and go to the nearby cart. There, you'll find your Mickey pretzels.
3. Blue and Green Milk
Are you headed to a galaxy far, far away? If you're traveling to Batuu at Disney's Hollywood Studios and want a bit of a funky drink, try the blue or green milk at the milk stand. Even though the beverages are called "milk," these intergalactic options are completely vegan, using coconut or rice milk as a base. These drinks are thicker than regular milk and are little closer to smoothie texture. To me, the blue one tastes a bit like the melted bomb pop from an ice cream truck. The green one has a fruity floral taste. My three-year-old son likes both, but he goes nuts for the blue milk in particular. Both versions come in alcoholic versions for guests 21 and older. The blue milk comes with a rum floater and the green milk uses vodka. I'd say the blue milk wins in this version as well. Pro tip: order ahead using mobile order on the My Disney Experience app to spend less time waiting in line and more time sipping your blue milk.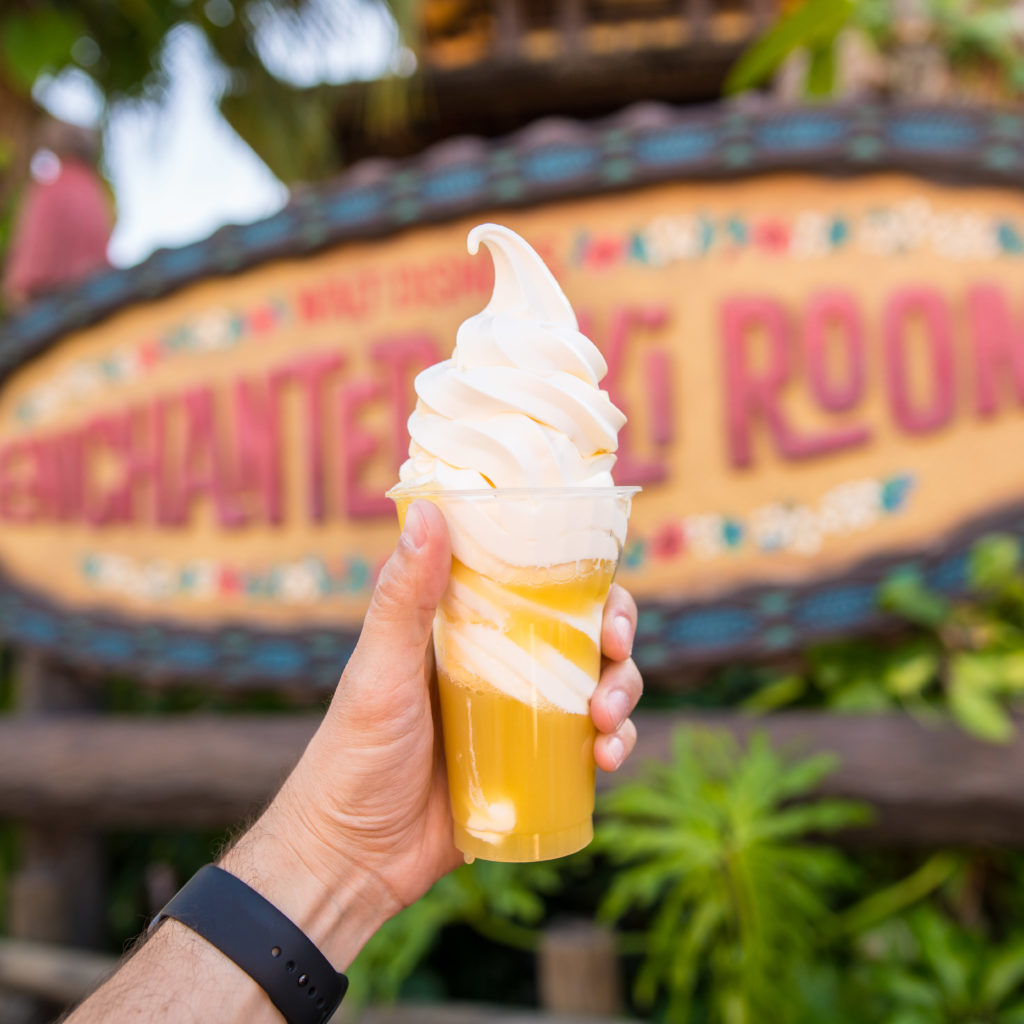 4. Dole Whip
This Disney Classic is also vegan, and so are many of the newer flavors they have brought out. It's a delightful pineapple soft serve that feels like ice cream but refreshes like fruit. To create a Dole Whip float, you can also add pineapple juice to your Dole Whip. You can find this treat in many places around Disney property, including Aloha Isle, the Polynesian Resort, and the African Outpost in EPCOT. And for what it's worth, Dole Whip goes a long way to cutting that piercing Florida heat on a hot day.
5. Erin McKenna Bakery
If you make your way to Disney Springs during your trip (which I would highly recommend), you will find an incredible vegan stop at Erin McKenna Bakery. This gem is a vegan and gluten-free paradise. Located not far from the Boathouse, this bakery has cookies, muffins, cupcakes, and dessert bread. Everything here is vegan and also delicious. They also sell a variety of merchandise, including baking mixes and other swag if you fall in love.
6. Gideon's Cold Brew
While we're at Disney Springs, I couldn't end out this list without mentioning another favorite of mine: Gideon's cold brew. There are several flavors, and though they are all vegan and all delicious, the peanut butter is my absolute favorite. It's creamy and rich with just the perfect amount of flavor. The coffees are made with oat milk, making this lactose intolerant kid extremely happy. Pro-tip: make sure you give it several good stirs to get that cocoa powder mixed throughout the coffee. I'm sorry to say that no desserts at Gideons are vegan, but this coffee may just make up for it. Consider stopping at the bakery to grab a sweet treat to enjoy with your coffee.
So whether you're vegan, vegetarian, or traveling with someone lactose intolerant, I think you'll love all of these treats and snacks throughout Disney property. So the next time you head on over to Disney World, I hope you'll give some of these go-to favorites a try.
---
What's your go-to Walt Disney World snack? Discuss it with thousands of other Disney fans in our Orlando Informer Community on Facebook. And be sure to follow Orlando Informer on Facebook, Twitter, and Instagram for the latest news, tips, and more at Universal Orlando, Walt Disney World, and other Orlando attractions.