There's nothing worse than meticulously planning out a family vacation and allowing the excitement and anticipation to build only to arrive at your destination and realize that everyone else had the same ideas you did. Managing your time and expectations is a huge part of enjoying your trip to Orlando, so today we're going to break down our recommendations on the best and worst times to go to the theme parks in 2022 and 2023. For more detailed information on our recommendations to go to Universal Orlando Resort specifically, check out our pages on the best day of the week to go to Universal and the best time of the year to go to Universal. We also have a number of touring plans for you to choose from to make the most of your time in Orlando!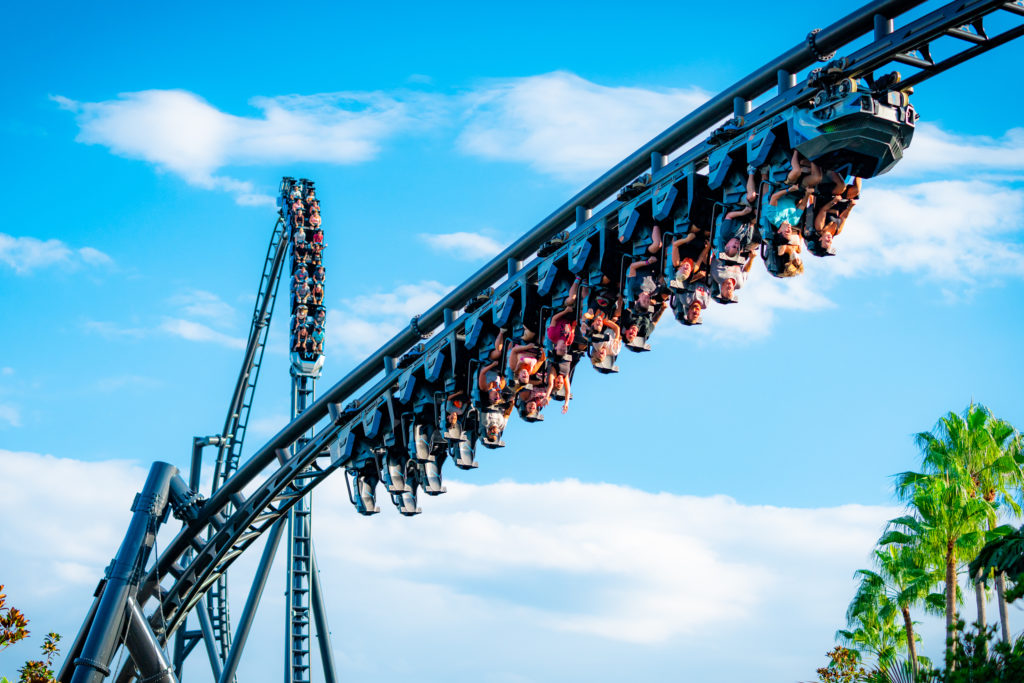 A few things to consider as you review our suggestions — the primary element we measured when making these recommendations was anticipated crowd level. However, other things to keep in mind are the fact that busier times mean (generally) more attentive and higher staffed experiences, and that closing times and experience availability in the off-seasons might also be affected by lower crowd levels, particularly during the COVID-19 pandemic, when employees and resources have to be doled out with particular care and attention. But all signs point to things getting back to normal. For example, Universal Orlando Resort is welcoming back concerts during their Mardi Gras festivities, and SeaWorld Orlando has events going on throughout the year.
It's also important to note that for many, there's really never a bad time to go to the parks. With Disney, Universal, and SeaWorld all accessible year-round, there is always something to do. Another way to make your trip to Orlando more efficient (if it's in your budget), is staying at an official resort hotel. We sincerely recommend taking advantage of these resorts for the amenities alone — the premier Universal Orlando Resort hotels offer complimentary Express Passes to guests, and all levels of their resorts offer Early Park Admission to guests. The official hotels at Walt Disney World and Universal Orlando Resort offer a number of transportation options, making access to their parks quick and easy.
One last thing to consider before we dive into the details at hand: reservations and pandemic protocols. It's no fun to think about, but these stipulations are important to consider in planning your trip and what to expect from your visit. Walt Disney World Resort still requires guests to make reservations ahead of their visit (with reservations already going into 2023), and reservations definitely fill up and hit capacity at certain parks certain times of the year. Currently, masks are required in attraction queues and on all attractions themselves (even outdoor ones) at both Walt Disney World and at Universal Orlando Resort. SeaWorld Orlando recommends guests wear masks when indoors.
Holidays for 2022 and 2023:
Although not a holiday, an overarching event in Orlando for the next fourteen months is the Walt Disney World 50th anniversary celebration. Although Magic Kingdom is the park actually celebrating its golden anniversary, commemorative festivities, specialty merchandise, and food offerings can be found throughout the resort and all four theme parks.
Martin Luther King Jr. Day: January 17, 2022 and January 16, 2023
Presidents' Day: February 21, 2022 and February 20, 2023
Easter: April 17, 2022 and April 9, 2023
Labor Day: September 5, 2022 and September 4, 2023
Columbus Day: October 10, 2022 and October 9, 2023
Veterans Day: November 11 every year
We list out these dates because any extended weekend or holiday will draw crowds to the parks. Locals take advantage of the extra day and regional visitors have extra wiggle room to make the visit and make it worth it.
runDisney Events in 2022 and 2023:
runDisney events have a significant impact on the dynamics of Orlando tourism. These increasingly popular events are famous for selling out in hours, and avid runners flock to the event weekends and frequently bring along an entourage to enjoy the festivities and make a trip out of it. While you won't necessarily notice huge increases in park attendance (particularly at the non-Disney parks), general highway traffic, routes, and hotel prices might be impacted on these weekends and are worth noting.
2022 runDisney events:
February 24-27: Disney Princess Half Marathon Weekend

March 31 – April 3: runDisney Springtime Surprise Weekend
November 3-6: Disney Wine & Dine Half Marathon Weekend
2023 runDisney events:
January 4-8: Walt Disney World Marathon Weekend
February 23-26: Disney Princess Half Marathon Weekend
April 13-16: runDisney Springtime Surprise Weekend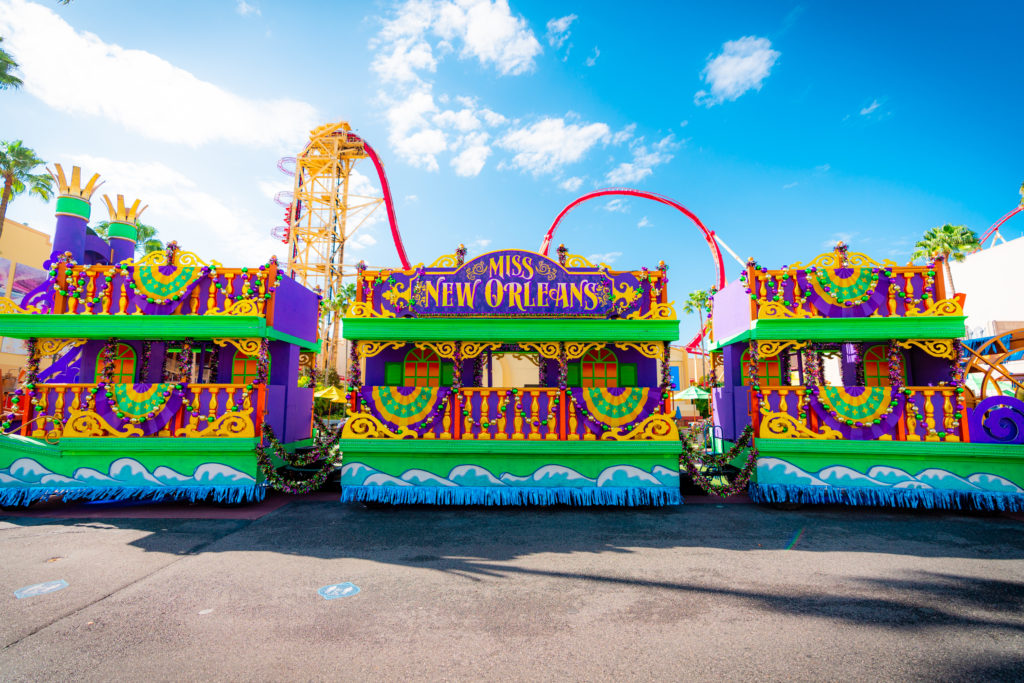 Best and worst times to visit Walt Disney World, Universal Orlando Resort, and SeaWorld Orlando in Spring 2022 and 2023
Best times to go:
January 10-14 and the end of January
First half of February
First few days of March
Here's why: The springtime is probably our favorite season to go to the parks for several reasons. For one thing, the weather is hard to beat. Orlando rarely gets uncomfortably cold, but the cooler days that emerge in January and pepper into March are the perfect temperature to enjoy your day at the park without sweating for hours on end. Crowds are generally low because the springtime follows the busy holiday season, but there are some special events (most notably, Mardi Gras) to entice visitors.
Worst times to go:
January 15 – 18
The back half of February
March 5 – end of April
Here's why: As we stated earlier, as a rule, any extended weekend will result in a spike in park attendance. In February, visits partially increase because a great deal of visitors to the Orlando area are from Louisiana, a state which gets school breaks for Mardi Gras. After that, the rush is from Spring Breakers starting to arrive, and the busy season looms just around the corner!
Best and worst times to visit Walt Disney World, Universal Orlando Resort, and SeaWorld Orlando in Summer 2022 and 2023
Best times to go:
Weekdays in the second half of April through mid-May
First two weeks of June
The second half of August
Here's why: While the summer has a notorious reputation for being jam-packed and crowded, there are pockets of time that guests will likely not have this experience. Unfortunately, these times are most easily accessible for locals. Weekdays in late April through mid-May are usually light traffic. Things ramp up and get steady for a while in the heat of the summer, but by the end of August (when school is back in session) the parks thin out again.
Worst times to go:
Second half of June
All of July
The first half of August
Here's why: Unfortunately, no matter how you slice it — summers in Central Florida can be rough. Essentially, we would block off weekends in May and every day through the first half of August if crowds and heat are not a tolerable part of your theme-park experience. One thing to keep in mind for Summer 2022 is the scheduled opening of the Guardians of the Galaxy: Cosmic Rewind roller coaster at EPCOT. This cutting-edge coaster is sure to draw crowds to the park, so keep that in mind as you make your travels. The summer is also a great time to do a number of things in Central Florida that aren't theme-park related, from airboat tours and glass-bottom boat excursions to world-class shopping or exploring trails in a number of state and community parks.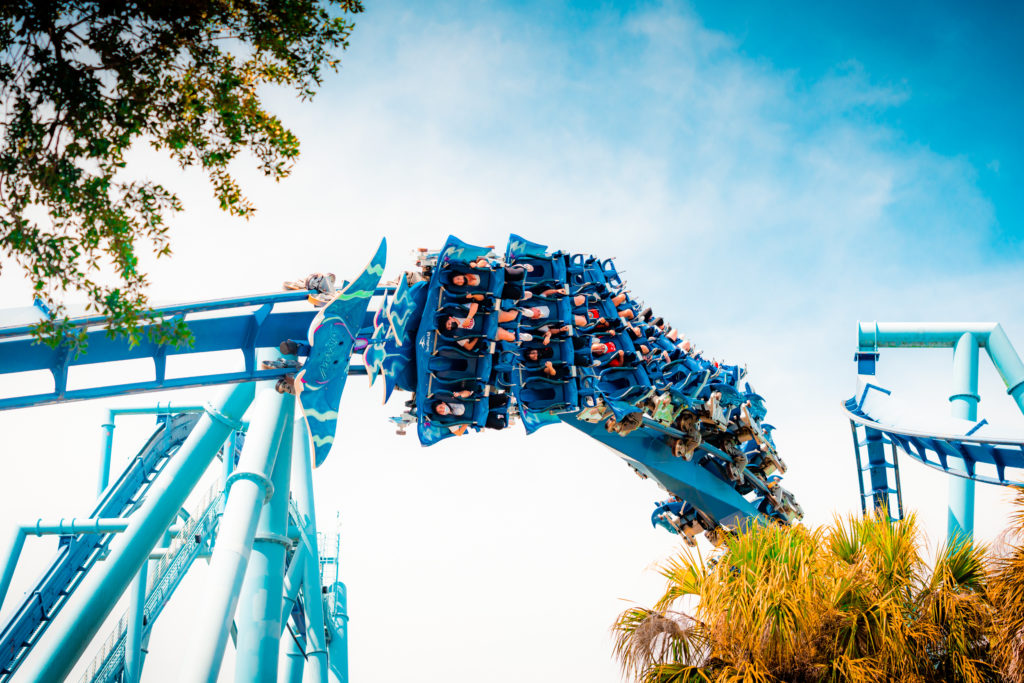 Best and worst times to visit Walt Disney World, Universal Orlando Resort, and SeaWorld Orlando in Fall and Winter 2022 and 2023
Best times to go:
Weekdays in November (except for Thanksgiving week)
Weekdays in December that don't fall on a holiday week
Here's why: A lot of families save their trips for the holidays. With so many groups relying on collective time off together with the rest of their members, the holidays tend to be incredibly busy (in some cases, even surpassing the hustle and bustle of the summertime). That being said, if your circumstances are such that you can make it during a weekday during the holiday season, the beautiful decor, special shows, and delectable treats make going at that time completely worth it, in our opinion.
Worst times to go:
Thanksgiving week
The week of Christmas through the New Year
Here's why: Holidays attract visitors, it's just that simple. Many groups decide that their trip to an Orlando theme park is their holiday gift to one another, and it's hard to blame them. Being in some of the most magical and immersive places you can think of, with those you love, during the holiday season, is just about as idyllic as you can get! Just remember that the high traffic of going to the parks on or around holidays means that all those employees can't be doing the same with their families!
We know better than anyone that sometimes, vacations plan themselves and you aren't able to have complete control over when you go. Regardless, we hope that this information will serve you well on your exciting Orlando vacation. Be sure to check out our Crowd Calendar for information on projected crowd levels at Universal Orlando Resort.
---
When are you visiting Orlando in 2022 and 2023?  Let us – and thousands of other Disney fans – know in our Orlando Informer Community on Facebook. Be sure to follow Orlando Informer on Facebook, Twitter, and Instagram for the latest news, tips, and more at Universal Orlando, Walt Disney World, and other Orlando attractions.