How do you celebrate the 30th anniversary of Halloween Horror Nights? Easy – you name-drop one of the most influential films in cinematic horror history.
The Texas Chain Saw Massacre was released in 1974 and not only represented one of the very first times that an uber-independent production could make it big in Hollywood (and around the world), but it also went on to largely influence the horror scene for several decades to come: it's largely credited with creating the slasher sub-genre, with coining the strong, silent killer that torments hapless youths, and with lacing socio-political commentary along with its scares (alongside the 1968 film Night of the Living Dead, that is, which was also the product of an indie filmmaker working well outside of California). Indeed, in ways both large and small, direct and indirect, Texas Chain Saw Massacre has helped inform many other recent Horror Nights entries, including Halloween and House of 1,000 Corpses.
The cultural thunderclap that was Massacre would, in typical Hollywood fashion, eventually spawn an entire franchise, generating three sequels over the course of the next 23 years – and once this initial series petered out, it invited two further subseries from other studios, which attempted to recapture the original's shock and societal impact. Actually, the property's history over the past two decades reads suspiciously close to that of Halloween's topsy, turvy franchise, with narrative sidebars and continuity overhauls around nearly every corner: a remake was ordered in 2003, which, in turn, got its own prequel (The Texas Chainsaw Massacre: The Beginning) in 2006. And when that cinematic take died on the commercial vine, a new series of follow-ups came along that went right back to the first entry and ignored all the subsequent installments – 2013's Texas Chainsaw 3D, a sequel, and 2017's Leatherface, a prequel.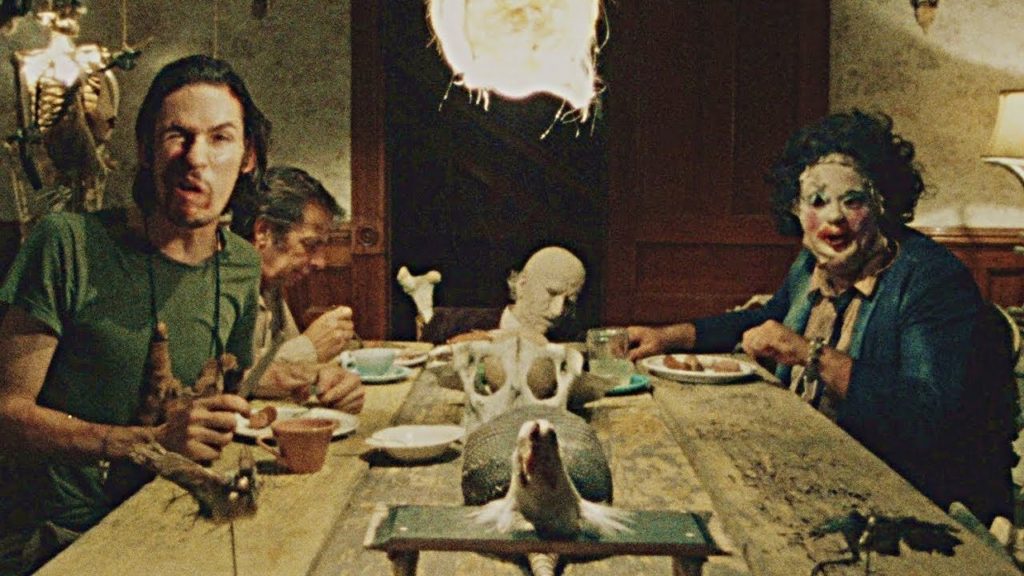 (Today, Texas Chainsaw's future looks much like it has ever since 1990: a new studio has come in with big plans to unleash a new film series. [In this case, it's Legendary Pictures, which has already started work on a new continuation from the original, along with a possible tie-in television show, as well.])
Texas Chainsaw Massacre's history at Halloween Horror Nights is only somewhat as convoluted as what we see on the big screen. In 2003, in a strictly unlicensed move, Universal united the four biggest "slashers" in filmdom – Michael Myers, Freddy Kreuger, Jason Voorhees, and, of course, Leatherface – for a haunted house called All-Nite Die-In (something which HHN, being the small event that it was, could get away with at the time). It wouldn't be until four years later that the company would ink a deal with New Line Cinema to officially bring the classic figure to Universal Studios Florida, resulting in The Texas Chainsaw Massacre: Flesh Wounds, which was based off of the '03 remake. A take on the original movie would follow in 2016 – "Experience every scene, every kill, every bone-chilling rev of the chainsaw from the original masterpiece," Universal promised at the time. (For its incarnation at Universal Studios Hollywood's Horror Nights that year, the company delivered The Texas Chainsaw Massacre: Blood Brothers – being something of a sequel to the first film, it was set five years later and featured some of the characters that were introduced in 1986's Texas Chainsaw Massacre 2.)
The Texas Chainsaw Massacre will join Beetlejuice and Haunting of Hill House at Universal Orlando's Halloween Horror Nights, which runs for a record-breaking 42 select nights, from Friday, September 3 to Saturday, October 31.
---
Find out everything you ever wanted to know about HHN – plus more! – in our insider's guide. And then discuss it all with 150,000+ other Universal die-hard fans in our Orlando Informer Community on Facebook.
And be sure to follow Orlando Informer on Facebook, Twitter, and Instagram for the latest news, tips, and more at Universal Orlando, Walt Disney World, and other Orlando attractions.