In Universal and parent company Comcast's never-ceasing effort to upgrade nearly every square inch of Universal Studios Florida, they have leveled an entire swath of older attractions, many of them dating back to the park's earliest years: Jimmy Neutron's Nicktoon Blast, Jaws, Lucy: A Tribute, Twister: Ride It Out, Disaster: A Major Motion Picture Ride Starring… You, and Beetlejuice's Graveyard Revue (which isn't to mention a number of buildings that hadn't housed attractions in years, such as where Transformers: The Ride – 3D and the NBC Media Center now stand).
In this context, it seems inevitable that the few remaining older experiences will also be shuttered to make room for the future developments that will propel the park into its fourth decade of operation. And with E.T. Adventure perpetually protected by Steven Spielberg (a long-time adviser and consultant on Universal's various theme parks), that leaves Terminator 2 3D: Battle across Time as the second-oldest attraction (minus the various stage shows, of course) at Universal Studios Florida – and the next target on the company's list of closures. The last day that guests can experience the 21-year-old show will be on October 8.
What will replace T2 3D? Universal hasn't officially said, though it has teased that it will be an "all-new live-action experience based on a high-energy Universal franchise," which will open in 2019.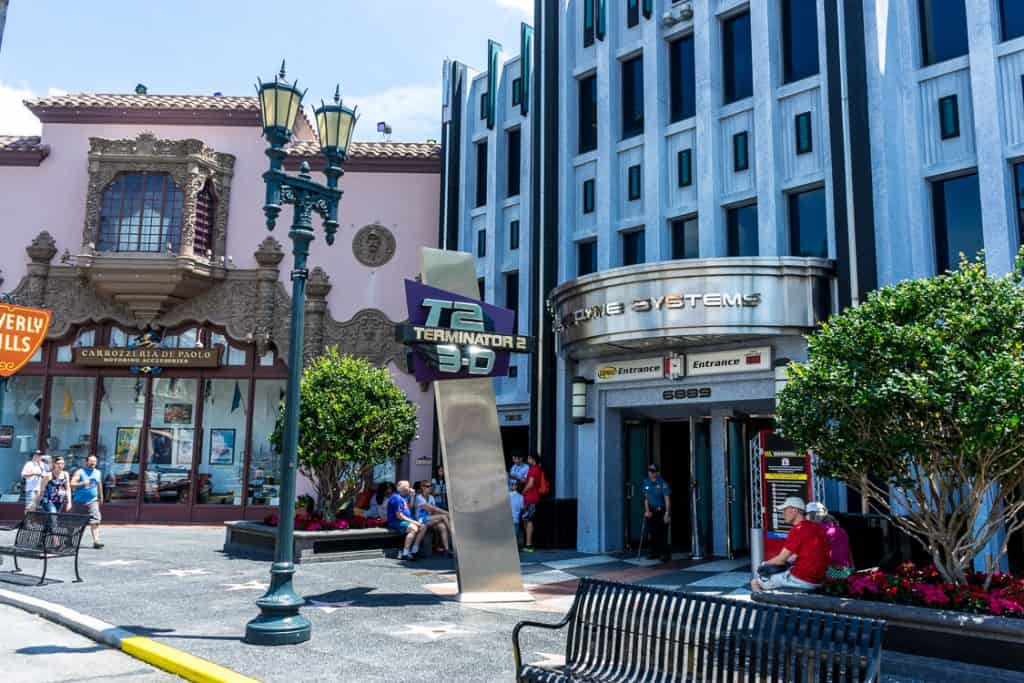 When Battle across Time first debuted in April 1996, it instantly became one of Universal's biggest hits, reaching a popularity that would help see it get exported to both Universal Studios Hollywood and Universal Studios Japan in the years that followed (in 1999 and 2001, respectively). It's easy to see why: its rather ambitious premise had it combine live actors, audio-animatronics, 3D film footage, and practical effects – including the infamous seat drop at the film's climax – to create an all-encompassing experience. Even better, the attraction sought to (ostensibly) extend the mythology of its source material instead of just rehashing it (a tack that the company would repeat with Shrek 4D seven years later), even going so far as to recruit the creator, writer, and director of the film franchise, James Cameron, to co-write and direct this new theme-park outing.
Perhaps ironically, Terminator 2 3D has been something of a Terminator itself, constantly under threat of being killed but always somehow finding a way to come back (until now, of course). Word first leaked that Universal was purportedly considering axing the show back in 2013 – just a year after its California counterpart was closed to make way for Despicable Me: Minion Mayhem and its surrounding Super Silly Fun Land area – as part of a resort-wide effort to either upgrade or replace every attraction at its two Orlando theme parks in order to fit the new theming standards that were established by The Wizarding World of Harry Potter. But then a wrinkle from the film world reportedly made executives reconsider their decision: with the Terminator franchise's rights having been scooped up by a new production company, a brand-new trilogy that would serve as part sequel and part reboot was being developed. That first installment (and the fifth movie in the overall series), Terminator: Genisys, hit theaters in July 2015; four months later, during Thanksgiving week, T2 3D emerged from a short refurbishment with new digital projectors and a surround-sound system both, an upgraded lighting package, and, most notably, a reworked preshow film, which removed all the long-since-dated "cutting edge" products that the Cyberdyne company was preparing to bring to market and replaced them with brand-new items, including a certain Genisys operating system.
With Genisys's spectacular crash and burn at the box office, obliterating any chance for its two follow-up films to ever materialize, Universal's new plan to ride the coattails, Marvel Super Hero Island-style, of a revamped Terminator franchise evaporated, and, again according to rumor, the company was right back at square one, contemplating removing the 3D film. (With a permanent Walking Dead attraction landing at Universal Studios Hollywood in July 2016, online speculation strongly indicated that the Halloween Horror Nights mainstay would make for a good replacement candidate.) This time, Terminator 2 3D was saved, funnily enough, by Terminator 2 3D, a three-dimensional conversion of the original 1991 film that was initially rumored in December 2015 and officially announced on March 3, 2017; its release date was August 25, 2017 (James Cameron had been talking about the possibility since June 2014, two years after another of his commercially-massive movies, Titanic, had undergone the same re-release process).
Whether these near-brushes with theme-park death are true or not (our sources never gave much verification to these older rumors, which is why we hardly covered them), no further extensions to the attraction's already-considerable lifespan are possible – even though Cameron himself is returning to his most famous property in order to supervise the creation of a sixth cinematic entry for sometime after 2019. So, in order to celebrate one of Universal Orlando Resort's longest-running attractions across its 27-year history, we have accumulated a number of fun facts about Battle across Time. Consider them our fond farewell to the show.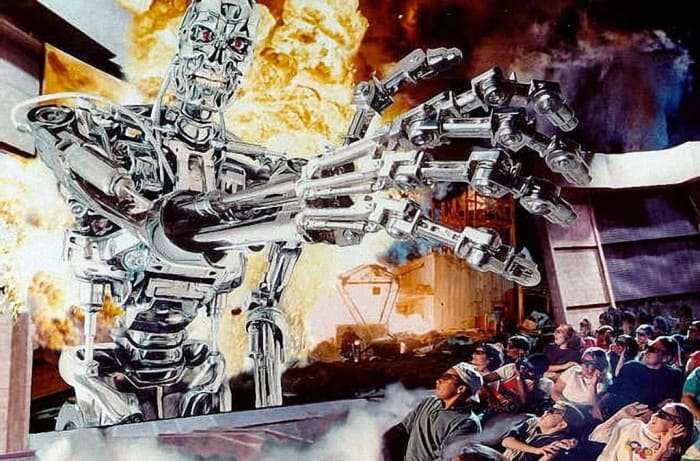 Universal only had access to Terminator 2: Judgment Day, and not 1984's original Terminator, due to a complex legal web of ownership and merchandising rights.
Universal's original conceptualization of the attraction was as a stunt show that would've gone into Universal Studios Hollywood.
Gary Goddard, the father of many classic Universal rides (including Jurassic Park: River Adventure and, most memorably, The Amazing Adventures of Spider-Man), was hired to develop the attraction, and he changed the concept to a "4D" experience.
Goddard's original design called for a 360-degree movie screen instead of the three individual screens of the final product.
T2 3D is one of the very first theme park attractions to feature the cast of its source material.
The 2015 preshow was written by Jason Surrell, one of the main driving forces behind Bill & Ted's Excellent Halloween Adventure's conceptualization and the creative lead on Race through New York Starring Jimmy Fallon.
Terminator 2 3D: Battle across Time closes on October 8.
–
Be sure to follow Orlando Informer on Facebook, Twitter, and Instagram for the latest news, tips, and rumors at Universal Orlando, Walt Disney World, and other Orlando attractions.