Wahoo! Start your engines! Super Nintendo World has begun welcoming players for a soft opening at Universal Studios Hollywood. Our resident gamers, Taylor, Francesca, Matthew, and Trevor, raced to California to check it out and give you a first look at Universal Studios Hollywood's newest experience.
The concept of a Ninendo-themed land came to life on March 18, 2021 in Universal Studios Japan and has received widespread acclaim since its opening. In addition to the locations in Japan and Hollywood, Super Nintendo World is also slated to have versions in Universal Studios Singapore and our hometown at Universal Orlando Resort's Epic Universe. As you will see below, there are numerous similarities between the renditions at Universal Studios Japan and Universal Studios Hollywood. 
Ready… set… GO! Let's discuss Super Nintendo World at Universal Studios Hollywood!
First Impressions of the Land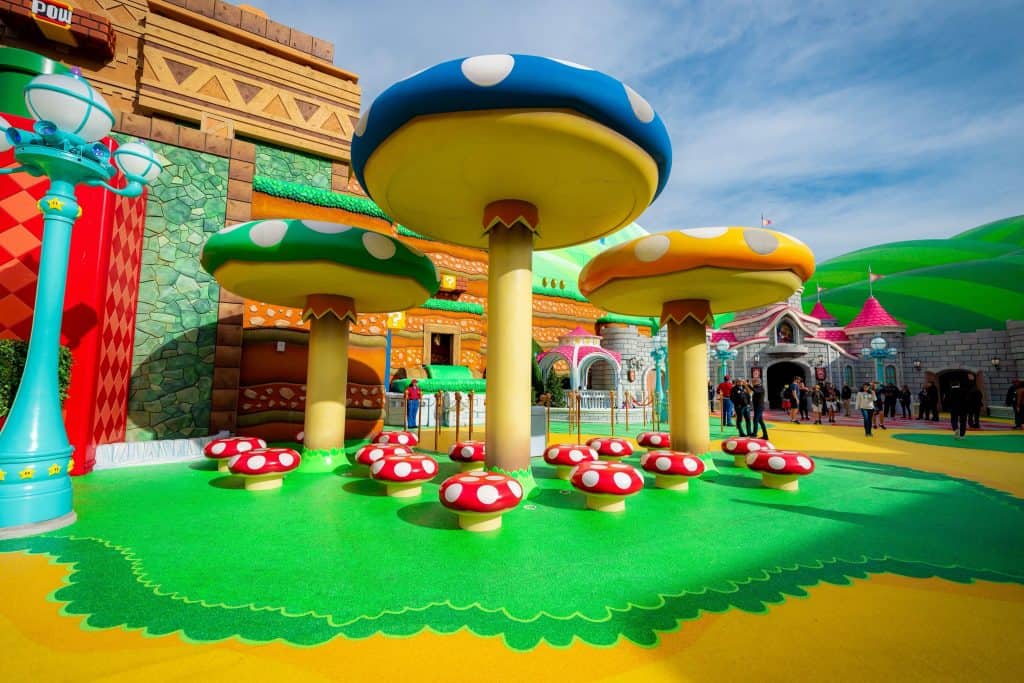 The squad entered the Warp Pipe that let out to Mushroom Kingdom. Koopa shells and Goombas were zooming back and forth on the hills, looking for their next target. Toad stools were spread around the area for gamers to rest from the action. Punch blocks were spotted at almost every corner. As fans of the franchise, we appreciate that the creative team at Universal Studios Hollywood put immaculate detail in every "bit" of Super Nintendo World. 
We would like to highlight a few points in the land that enhanced the experience. The first would be a checkpoint flag that empowers players to view their scores from the various minigames available to play throughout the land. While you can check your score on your phone, doesn't it feel more enticing to see your score as you would in Super Mario?
The binoculars on the west side of Super Nintendo World is also a fantastic offering to note. Take a look around Mushroom Kingdom with these unique lenses for some surprises that you don't want to miss!
For those with Power-Up Bands, which we go into detail below, four hidden 8-bit characters were spread throughout Super Nintendo World. Mario, Luigi, Bowser, and Princess Peach can be found in their digital form by tapping the touch point with your band at their location. Below is a list of these hidden spots: 
8-bit Mario can be found near the exit of the Bowser Jr. Shadow Showdown
8-bit Luigi is located near the previously mentioned binoculars
8-bit Bowser is inside the Thwomp Panel Panic queue
8-bit Princess Peach is found within a wing of her castle
Mario Kart: Bowser's Challenge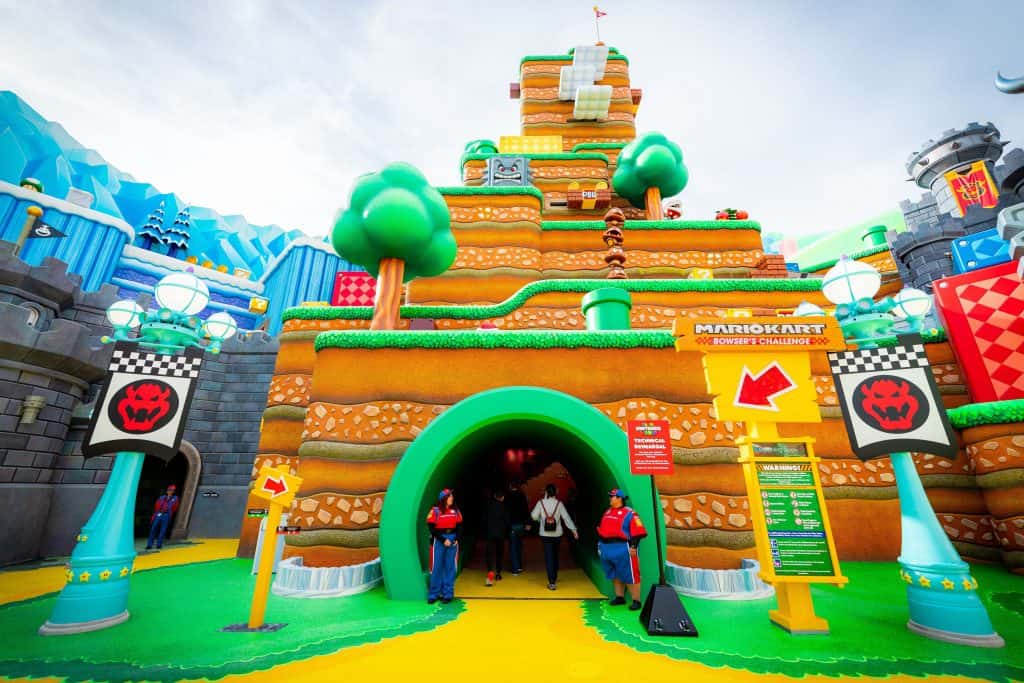 Ready to put your skills to the test? Start your engines and race over to the starting line of Mario Kart: Bowser's Challenge, the flagship attraction of Super Nintendo World. This immersive experience is every player's dream.
As they queued for the race, they were sent on a tour through Bowser's Castle. It was almost overwhelming to be surrounded by the cup trophies come to life and the array of nods to beloved characters and previous versions of this treasured racing game. 
With special goggles that augmented reality during the game, they were transported to the iconic race track. Their eyes were on the prize – the Golden Cup in this case, and nothing could stand in their way from defeating Team Bowser. Shells in hand, they raced toward the finish. With the ride's technology, you are able to steer your car, fire turtle shells, and collect coins that can add to your total score for the day if you are sporting a Power-Up band. AR goggles brought the well-recognizable characters to life racing around us while the real-world elements recreated scenes from Mario Kart courses, such as Boo's Horror Castle and Rainbow Road.
Team Mario crossed the finish line first, and Taylor even scored the highest out of the team.
Power-Up Band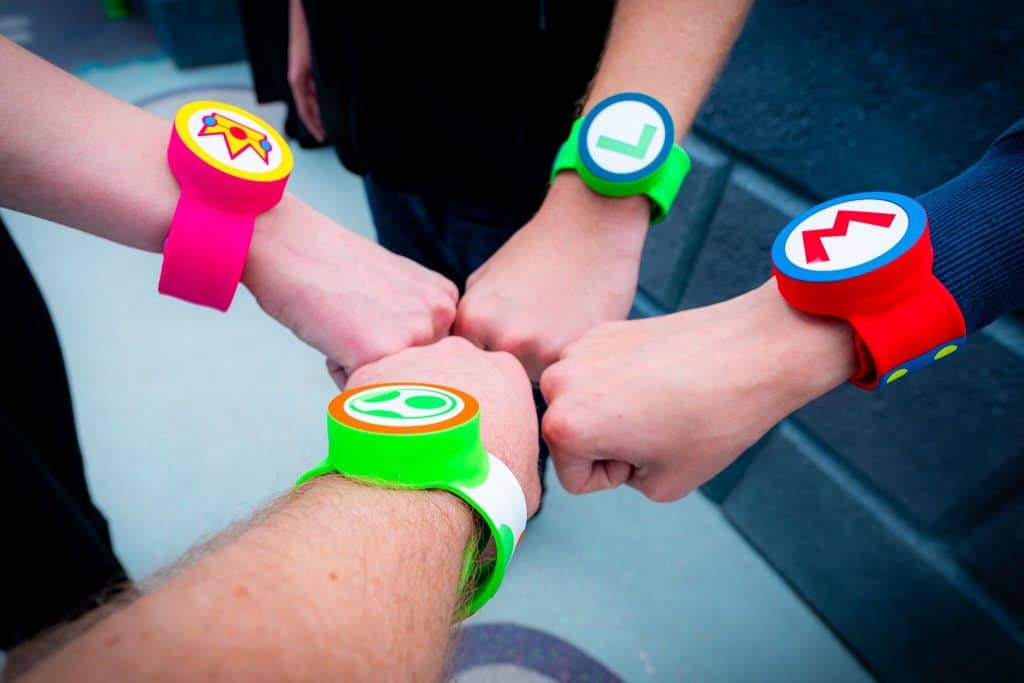 As if this land wasn't immersive enough, the Power-Up Bands really "leveled up" the experience. With six design options, they were not only able to accessorize their outfits with inspiration from their favorite characters, but also earn points from tapping punch blocks, collect their Mario Kart score, and gain access to the Bowser Jr. Shadow Showdown. Bowser Jr. Shadow Showdown is exclusive to guests with Power-Up Bands who earn three keys, or complete three tasks in simpler terms, required for admittance.
Power-Up bands can be purchased from 1-UP Factory for $40. Taylor gravitated toward the Mario Power-Up band, and Francesca opted for Princess Peach. Trevor decided on a Yoshi band, while Matthew chose a Luigi style. We were able to keep track of our rank compared to other players as well as view coins and stamps by connecting our band to the Universal Studios Hollywood app.
Our team had a blast exploring this kingdom on the hunt for punch blocks and activities that would give us a key upon completion. The four tasks that gave us a key were the Goomba Crazy Crank, Piranha Plant Nap Mishap, Koopa Troopa POWer Punch, and Thwomp Panel Panic.
Any gamer who has joined in a round of Mario Party would be familiar with the tasks on hand. Each of these mini-games takes about 1-2 minutes to complete and if you aren't successful in your first try, you can reenter the queue an unlimited amount of times until you reach success. If you happen to return to a task that you have already gained a key for, the game will move from an easy to more difficult mode as you master the game.
While it was a crazy day running around this new domain, the team joined together for the Piranha Plant Nap Mishap. The mission was to tap on all of the ringing alarm clocks to not wake the Piranha Plant that was sleeping nearby and guarding the key. They had a great time running around to tap each alarm and it was a great team-building activity!
When the required keys were acquired, it was time to enter into Bowser Jr.'s domain and begin the boss level of Super Nintendo World. This exclusive experience involved using movement to defeat this foe and win the coveted golden mushroom.
Meet & Greets
Three meetup opportunities were available throughout the land. These characters are truly on the next level as they blink and speak with guests. Mario and Luigi were hard to miss as their location is in the center of the land and on the path to Mario Kart. Princess Peach met near her castle, making for an excellent photo opportunity filled with royal flair.
Toadstool Cafe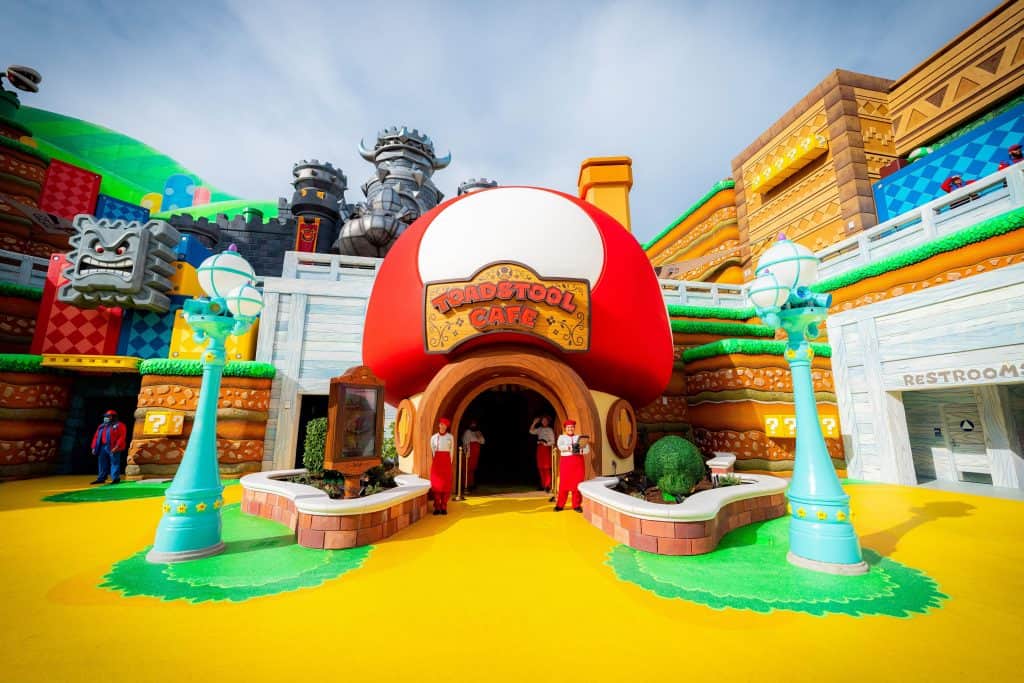 The squad had been gaming all day, so it was time to fuel up at Toadstool Cafe. In the queue for this diner, Toad can be seen in the kitchen preparing meals for the guests that eat at his cafe. Chef Toad was serving up a variety of dishes such as:
Super Star Chicken Salad – $14.99
Piranha Plant Caprese – $13.99
Yoshi's Favorite Fruit & Veggie Salad – $13.99
Toadstool Cheesy Garlic Knots – $5.99
Mario Burger (Bacon, Mushroom, & Cheese) – $16.99
Luigi Burger (Pesto Grilled Chicken) – $15.99
Fire Flower Spaghetti & Meatballs – $15.99
? Block Tiramisu – $9.99
Mt. Beanpole Cake – $8.99
Princess Peach Cupcake – $8.99
Mario Mini Burger Adventure Set – $12.99
Power-Up Spaghetti Marinara – $12.99
Super Star Lemon Squash – $8.00
Collectable Drink Sipper – $20.00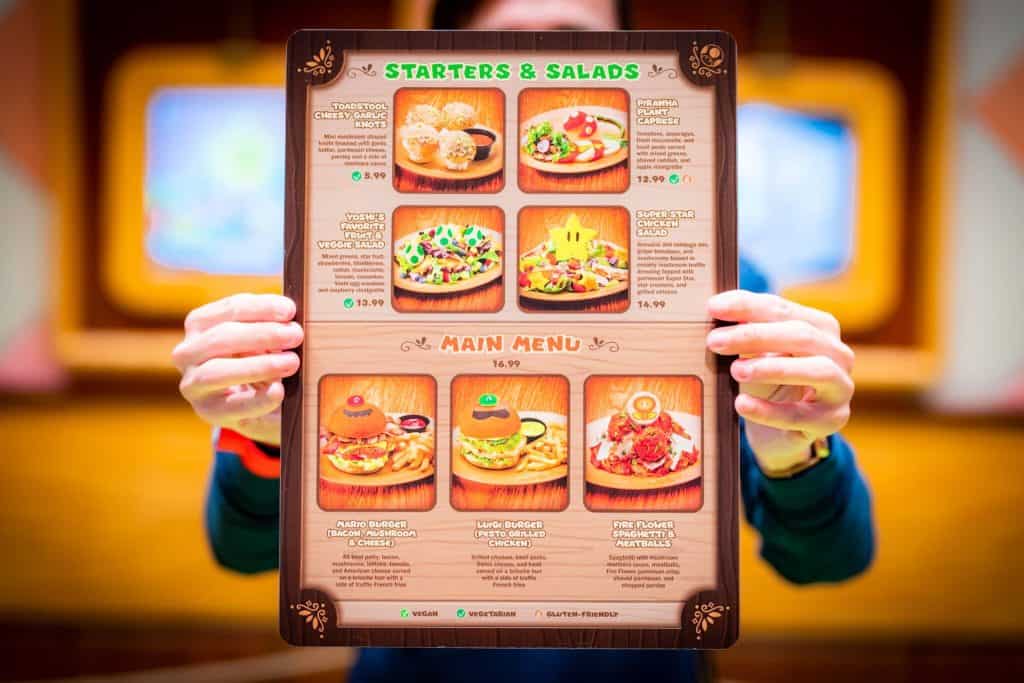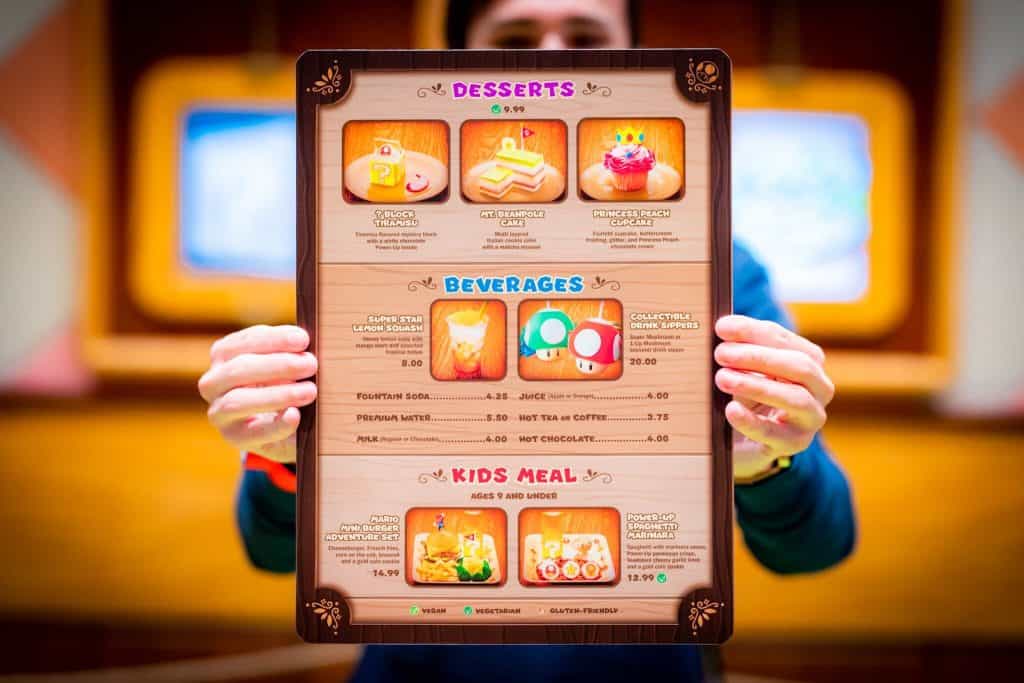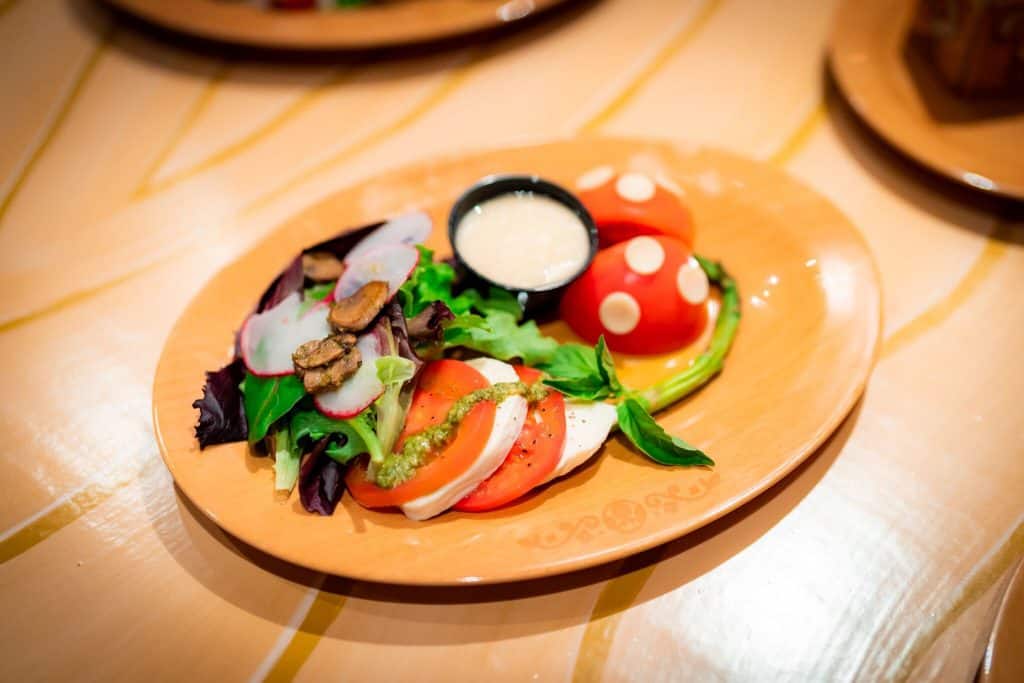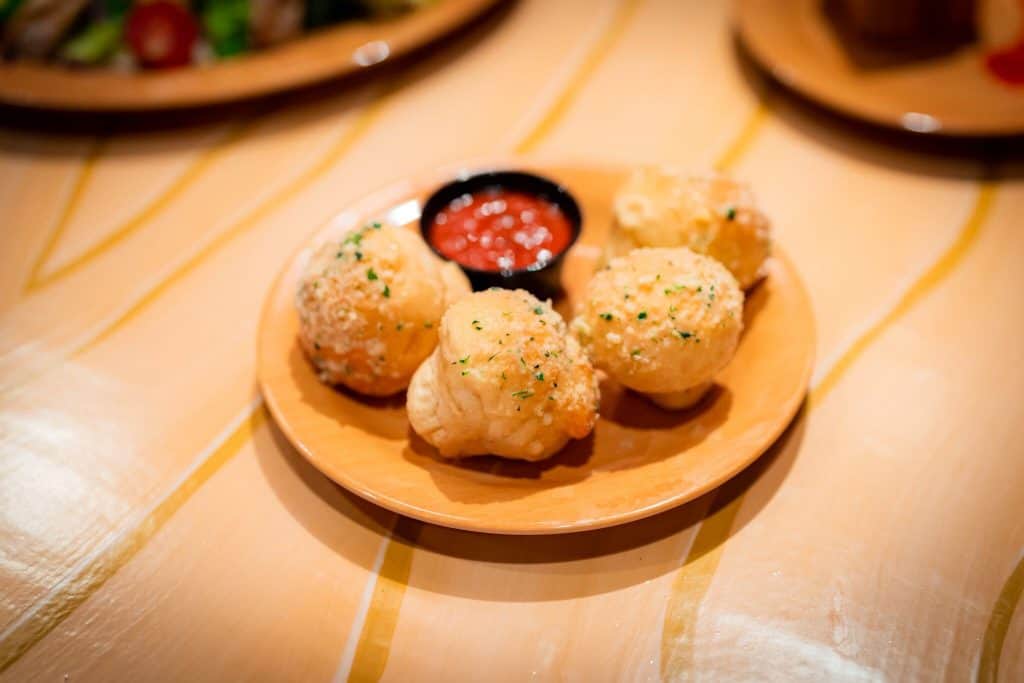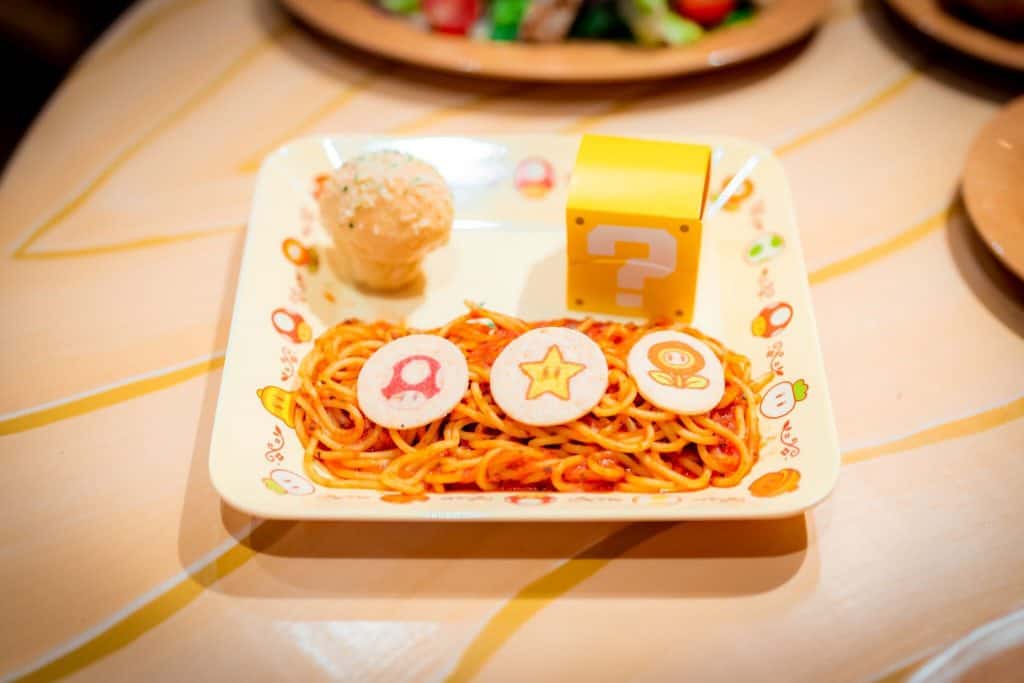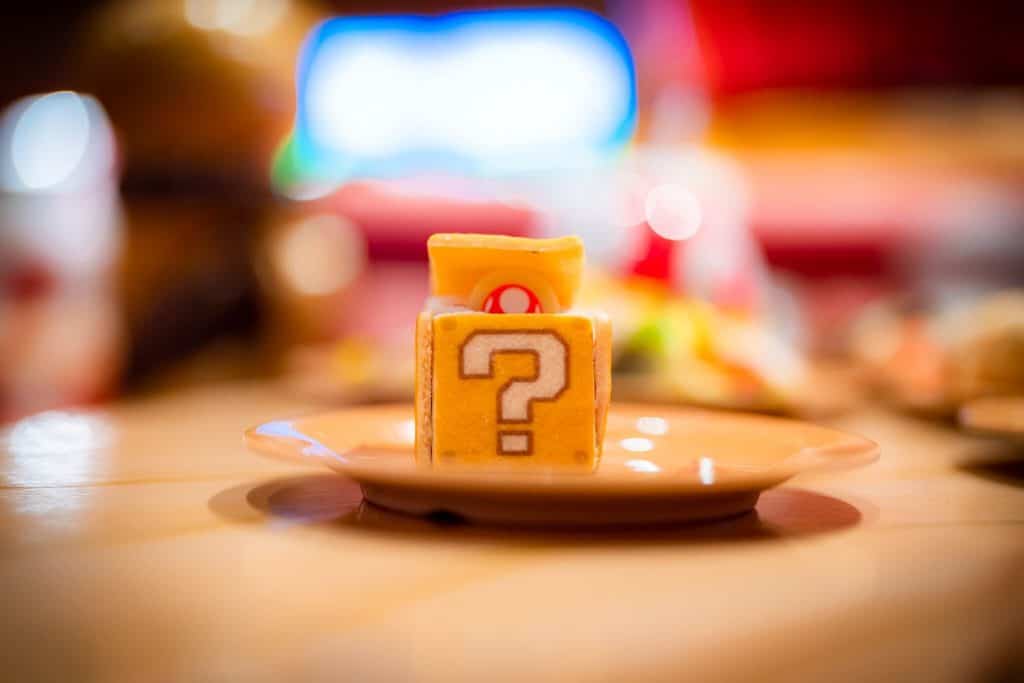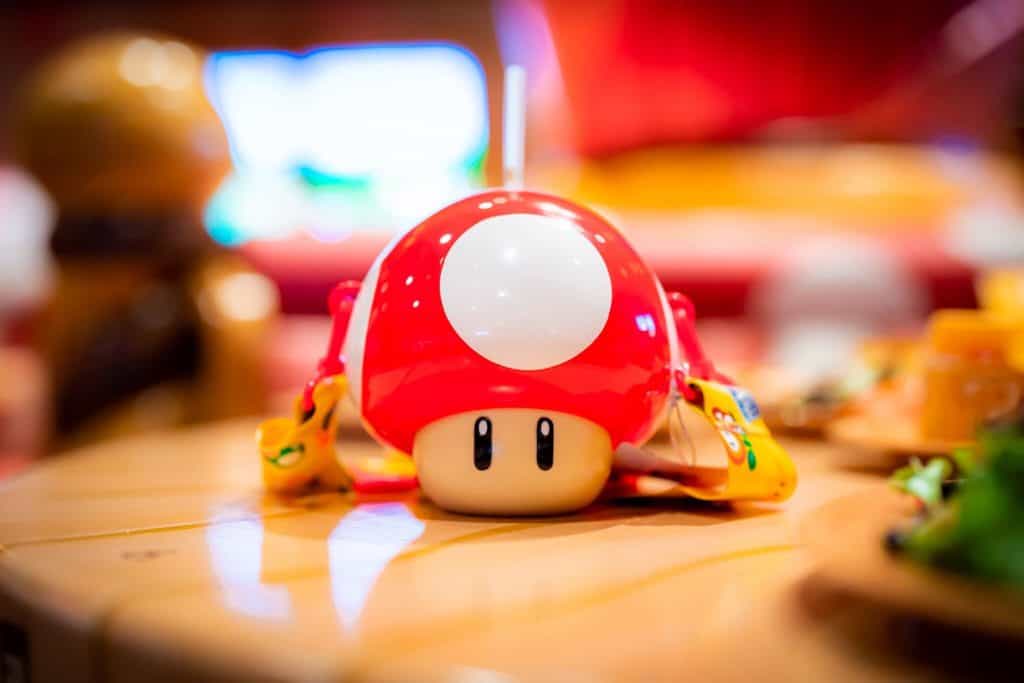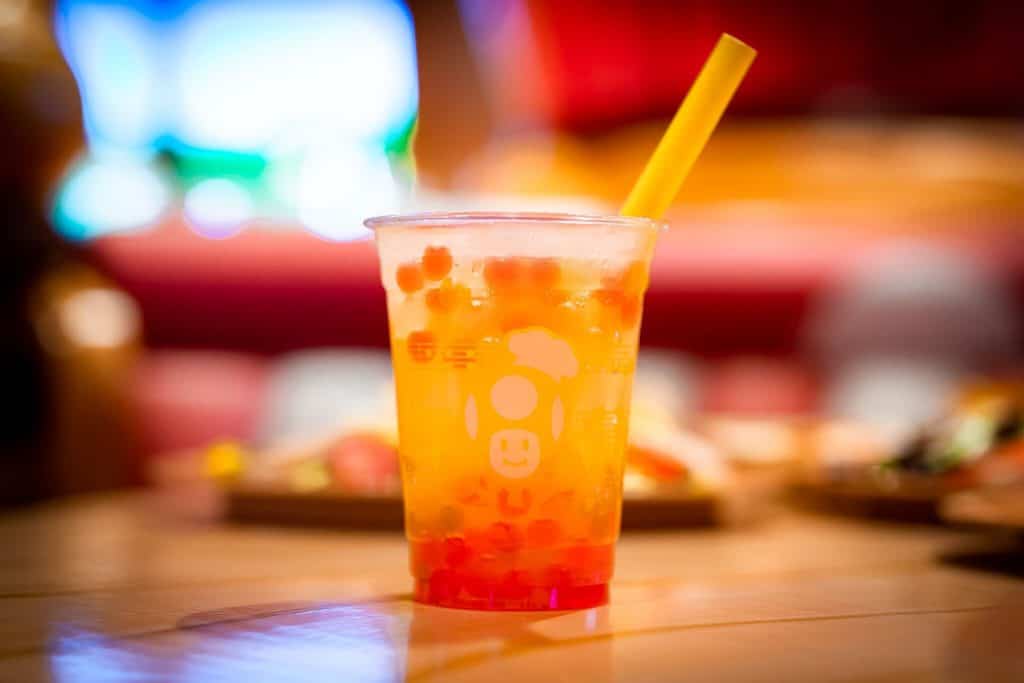 The Super Star Lemon Squash was a consistent favorite within the group. Other notable dishes were Yoshi's Favorite Fruit & Veggie Salad and the Flower Spaghetti Meatballs.
As you dine in the fungi-inspired seating, you will have immaculate views of Mushroom Kingdom and its residents.
1-UP Factory
Want to upgrade your gear? An assortment of merchandise is available at 1-UP Factory. Peruse through a selection of clothing, toys, and souvenirs that will always remind you of your lap around Super Nintendo World.
Conclusion
We are so excited to see Mario and his pals make their way to the States, succeeding a successful opening in Osaka, Japan. Once again, the two versions of these lands are similar but do have their differences.
The most significant difference is the names of select attractions. For example, in Japan, Bowser is referred to as Koopa, and the Mario Kart attraction is called Mario Kart Koopa's Challenge. Another noteworthy tidbit for gamers attempting to master the Hollywood and Japan levels – your Power-Up Band score will not be shared between the two parks. You can read more about Super Nintendo World at Universal Studios Japan here. 
We are thrilled that Universal Studios Hollywood has gained this Super Nintendo World expansion. It was not only a day filled with fun, but grew our excitement for Epic Universe to open in Orlando with its rendition of this land in 2025! GG!