Stranger Things announced for Halloween Horror Nights 2018
Ever since Netflix jumped headlong into the original-content pool with 2013's House of Cards, the streamer has managed to produce several high-profile and memorable series. None, however, has managed to top Stranger Things in terms of either cultural impact or creative synthesis – not to mention paranormal creep factor.
Part X-Files, part John Carpenter, part Goonies, and all '80s nostalgia, the series became an instant social phenomenon when its first season dropped in July 2016, making stars of its young (and older, in the case of David Harbour) cast and household names out of its creators-showrunners, the Duffer brothers. Its quirky sensibilities, engaging narrative, and other-worldly suspense all combined to make a perfect storm in the horror world, unleashing a television show that transcends the genre and explodes across the entire cultural spectrum – and it is precisely these elements that all combine to make it a perfect candidate for a Halloween Horror Nights haunted house, as well.
Luckily for us all, Universal agrees, as it has today announced that Netflix's golden goose will be making an appearance at this year's event. Based just on the first season, the HHN maze will take guests to early-'80s Hawkins, Indiana, where the US Department of Energy has been experimenting with psychokinesis and trans-dimensional travel in equal measure, inadvertently unleashing a series of alternate-reality carnivores on the sleepy town along the way. Expect to hit up both sides of the dimensional divide in the haunt, starting with the fictitious town – including its school as well as the main characters' various houses – and ending up in the Upside Down, the dimension where biology has gone all topsy-turvy and which is home to a malevolent presence that is looking to extend its control into our world.
(And the best part? Universal is already hinting that fan-favorite character Barb will be making an appearance – not a small tidbit, since that indicates Netflix is allowing all of the various actors to be represented in the haunt. While this is typically the case at Halloween Horror Nights, it's not always a given – the last mega-popular franchise at the event, AMC's The Walking Dead, steadfastly refused to have any of its characters be directly featured in any of the four houses it generated over the years.)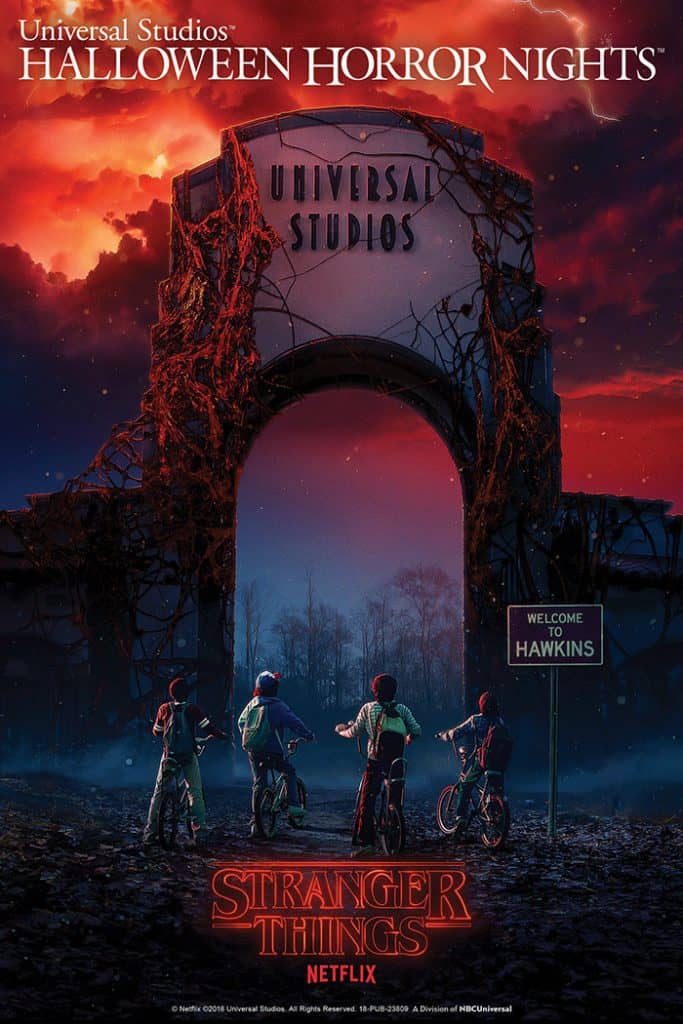 The sheer amount of retro fun that Universal's Art and Design team can have in fashioning a Stranger Things experience just might end up being worth the price of admission to the event all by itself. When combined with the series's potential impact on Horror Nights attendance – how many properties at HHN have their own, year-round dedicated section at Targets across the country? – we could potentially be looking at the very next Walking Dead or American Horror Story, a haunt that comes back year after year (especially considering that Stranger's third season is soon to commence production for a release sometime in 2019, paving the way for at least two more potential Horror Nights appearances over the next two years).
In the meantime, however, we'll need to stock up on our Eggos and grab our nail-festooned baseball bats – the Demogorgon will be on the prowl…
Stranger Things will arrive at Universal Orlando's Halloween Horror Nights, which runs for a record-breaking 34 select nights, from Friday, September 14 to Saturday, November 3.
–
Find out everything you ever wanted to know about HHN – plus more! – in our insider's guide.
And be sure to follow Orlando Informer on Facebook, Twitter, and Instagram for the latest news and tips at Universal Orlando, Walt Disney World, and other Orlando experiences.