For the past 10 months, ever since the mega-popular Star Wars: Rise of the Resistance first opened, the new flagship ride of Disney's Hollywood Studios has employed a virtual queue as the sole means for accessing the attraction. While it was somewhat functional in processing large quantities of guests overall, there have been growing criticisms about how Disney set up the boarding process, particularly having to do with the restrictions placed upon would-be riders first thing in the morning.
Today, in something of a surprise move, the company has announced a few small-but-impactful changes in its operating procedure, doing much to address attendees' frustrations – and, hopefully, to allow even more new Resistance recruits to take the fight to Kylo Ren and his vile First Order each and every day.
We should first start with what remains the same: visitors will need both a ticket to Hollywood Studios and a Disney Park Pass, the new reservation system that was first implemented when the theme parks of Walt Disney World Resort reopened after the COVID-19 closure, in order to then nab a spot in Rise of Resistance's virtual line. (Are you unfamiliar with the Park Passes? No problem – we walk you through it right here.) And if you missed getting sorted into a boarding group that morning, Disney will still have (availability willing, that is) a second round of spots open up each afternoon at 2:00 pm – and, yes, you'll still be required to be physically present in the theme park in order to be eligible for this back-up batch.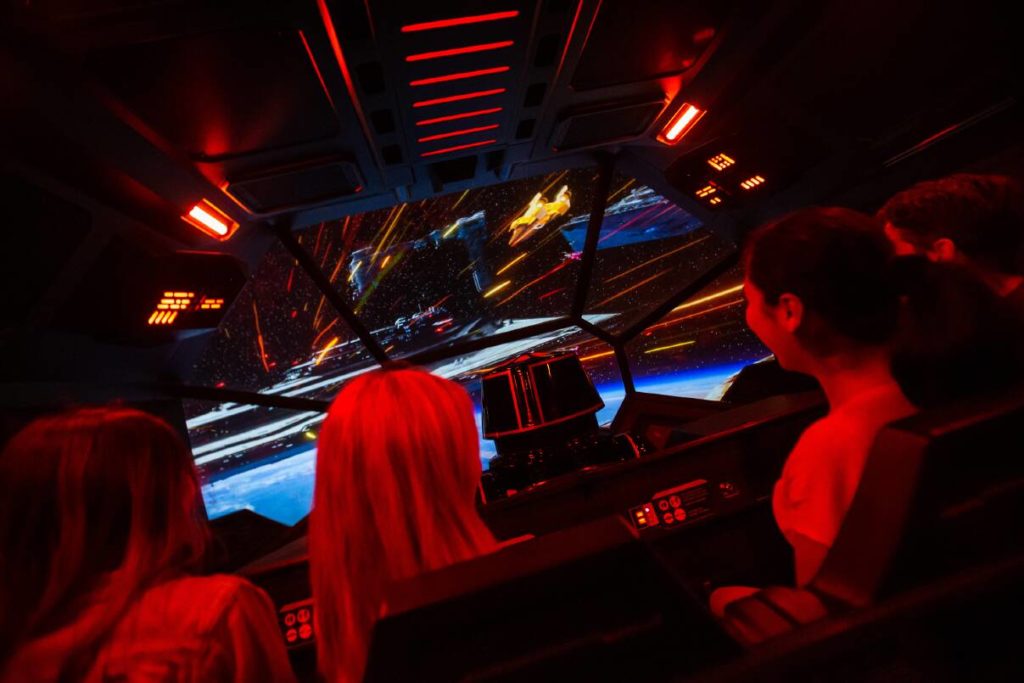 What's different, then, is how those morning boarding groups are cobbled together. Previously, the process fired up right at 10:00 am, when Hollywood Studios first threw open its doors – meaning lines to get in (and nab a spot alongside Poe Dameron in the fight against the neo-Imperials) were arduously long well before park open. (Another problem was the preponderance of guests congregating at the park's entrance while attempting to log on with their phones, thereby creating social-distancing difficulties that just haven't been seen at the other Disney parks.) Now, virtual queuing will start much earlier, at 7:00 am, and it'll be accessible by anyone who is in the general vicinity of the theme park, giving guests a lot more time – theoretically, at least – to climb aboard the attraction.
Of course, having a three-hour period before Disney's Hollywood Studios opens necessitates the other really big change: you no longer have to be inside the theme park in order to become part of a boarding group that day. The company says being in the general vicinity will do the trick, and though it only specifically mentioned being in an on-site hotel, it seems safe to conclude that simply being on Disney World property will do the Star Wars trick. (We will, needless to say, be sure to test this hypothesis out and report back with our findings.)
The final piece of this new, increased Rise of the Resistance capacity puzzle is the extra plastic barriers that the company just recently installed between the two rows of seats aboard the attraction's ride vehicles, thereby potentially allowing two different parties to board it at the same time – and thereby possibly doubling the capacity. When combined with the operational changes, we might be looking at quite a difference in daily output.
Expect to see these new virtual-queue procedures be put into place starting on Tuesday, November 3.
---
How do you feel about these new changes to Star Wars: Rise of the Resistance? Let us – and thousands of other Disney fans – know in our Orlando Informer Community on Facebook. And then be sure to check out our in-depth review of the ride.
You can also follow Orlando Informer on Facebook, Twitter, and Instagram for the latest news, tips, and rumors at Universal Orlando, Walt Disney World, and other Orlando attractions.