Over this past weekend, we were treated to a special panel at Star Wars Celebration Orlando that offered up a few tantalizing glimpses into Star Wars Land, the 2019 expansion that is going into Hollywood Studios in Orlando and Disneyland Park in Anaheim. (We also got a behind-the-scenes video, to boot, which was low on specifics but high on genuine hype.) It was enough to both whet our whistles and help satiate us until that distant day when more info could be divulged.
Then the big hammer dropped: just yesterday, word broke that Disney is looking into building a Star Wars-themed hotel, one that would be placed directly inside (or adjacent to) Star Wars Land and which would offer up a whole vacation package's worth of story, experiences, and excursions. The unprecedented nature of the concept seemed to fit the general vibes coming out of the Celebration panel, and some of Orlando Informer's own contacts within Disney confirmed that the plans are absolutely in play over at Walt Disney Imagineering (which is a long way from seeing them fully funded and implemented, but is still incredibly exciting).
Now comes the third domino in this sudden chain, thanks to a full-blown feature by Bloomberg: our first concrete details on how the land will be laid out, what the attractions will entail, and what guests can expect when they sidle up to the much-talked-about cantina to order some of the equally-talked-about food and drinks. While still very small nuggets of information, they're nonetheless our first real look at what, exactly, the overall experience will entail.
We think you'll agree with us – we couldn't be more excited for Disney's potential Wizarding World of Harry Potter-killer.
The lay of the land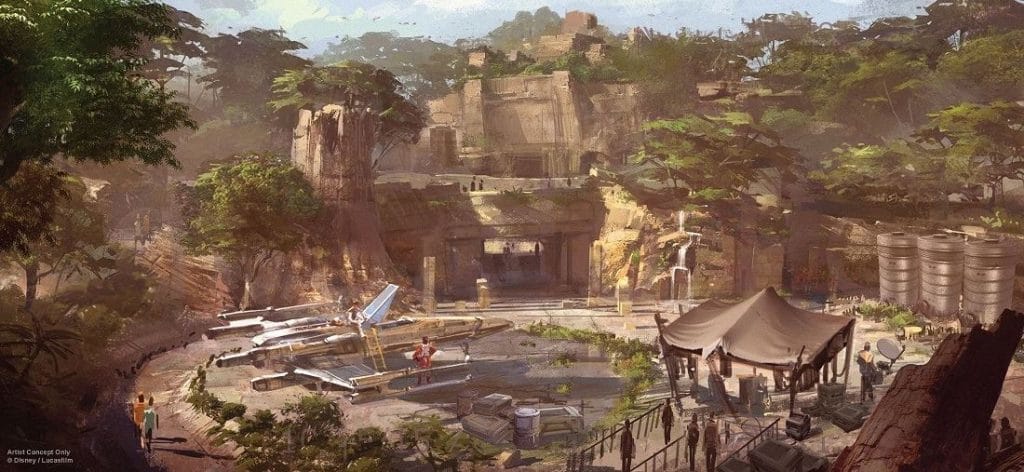 The first big revelation Bloomberg drops for us is the entrance to Star Wars Land itself: taking a cue from Universal's Diagon Alley, a berm will surround and hide the area from the whole rest of the park, ensuring privacy for the Star Wars denizens and absolute immersion for guests. To enter, visitors will have to make their way through one specific "doorway," although no details were provided as to what it will be themed to. (This is a practice that seems to similarly be implemented for Animal Kingdom's Pandora: The World of Avatar and is also heavily rumored to be featured for Universal Studios Florida's upcoming Super Nintendo World – meaning it's a bona fide tradition that is here to stay for the foreseeable future.)
(Note: after publication, some of our sources at Disney reached out to us to let us know that Orlando's Star Wars Land will actually have two entrances, while Anaheim's will sport three.)
The first area guests will see upon entering the land is described as an "exotic marketplace," one filled with low, circular buildings. Merchants here will sell all sorts of merchandise, including those that hail from the galaxy's black market (since Star Wars Land is set right smack dab in the middle of the sequel trilogy, might this include lightsabers from all those still-fallen Jedi Knights and Sith Lords?).
After this introductory section comes the corner of the land dominated by the First Order (a spaceport) and another by the Resistance (an "ancient forest compound"). No further mini-areas were mentioned, but it's still possible that a few side streets can branch off from these main thoroughfares, again in a Diagon Alley fashion. Populating the streets will be aliens, droids, and beasts – picture Mos Eisley from Episode IV: A New Hope, and you'll have a good idea of what the Imagineers are going for. Oh, yeah – there's also going to be several familiar faces from the films (and, presumably, television shows), although Disney isn't mentioning any names beyond the already-announced Chewbacca.
The attractions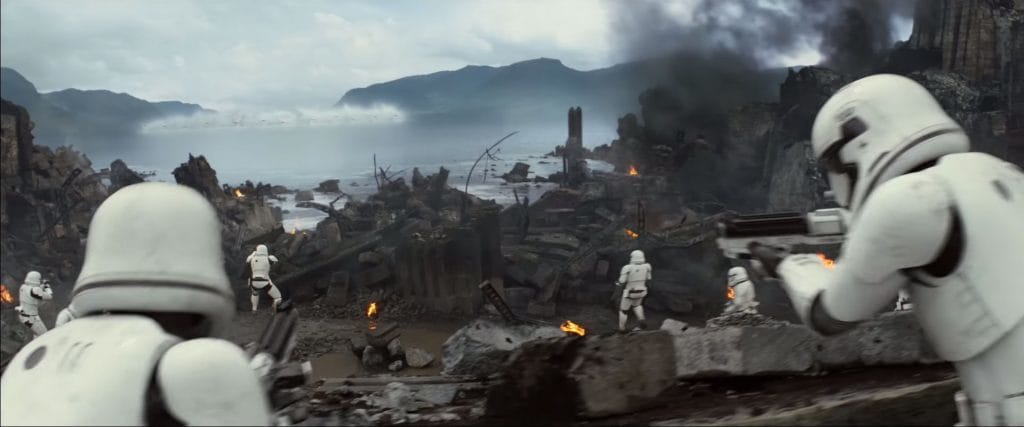 We have known for the past two years that Star Wars Land, just like Pandora, will be home to two major attractions – a ride aboard the legendary Millennium Falcon and a deployment in some sort of "epic battle" between General Leia Organa's Resistance and Supreme Leader Snoke's neo-Imperials.
Now we have a few more details that we can insert on these (very) bare bones. For the latter, expect to see references not only to 2015's Episode VII: The Force Awakens, but also this year's Episode VIII: The Last Jedi and, even, 2019's still-untitled Episode IX, which is currently scheduled to release in May – right around the same time Star Wars Land will presumably throw open its doors (er, doorway). "We're looking at this," Scott Trowbridge, the head Imagineer on the project, told Bloomberg, "through the lenses of an audience that's arriving in 2019 and what they know." Our guess is that the huge, climactic clash between the light and dark sides that ends Episode IX – exactly how the original trilogy ended back in 1983 – will be the conflict that is represented in the ride. If true, expect something truly epic, indeed.
As for the Falcon ride, Trowbridge and his cohorts at Celebration Orlando revealed that guests would not only pilot the famous vessel, but that they would also have their friends and family members double as their flight crew. We can now add to this what the ride vehicle itself will be: the ship's actual cockpit, which passengers will actually sit in and see the ride footage through. You'll start in a docking bay, be expected to lead the Falcon through takeoff, and then go off on some sort of mission or another against the First Order – one that you can absolutely botch, as also previously noted a few days ago. Said Trowbridge: "Ultimately, we're in the fun business. People have to laugh and scream. It's okay to hit things."
Food, dude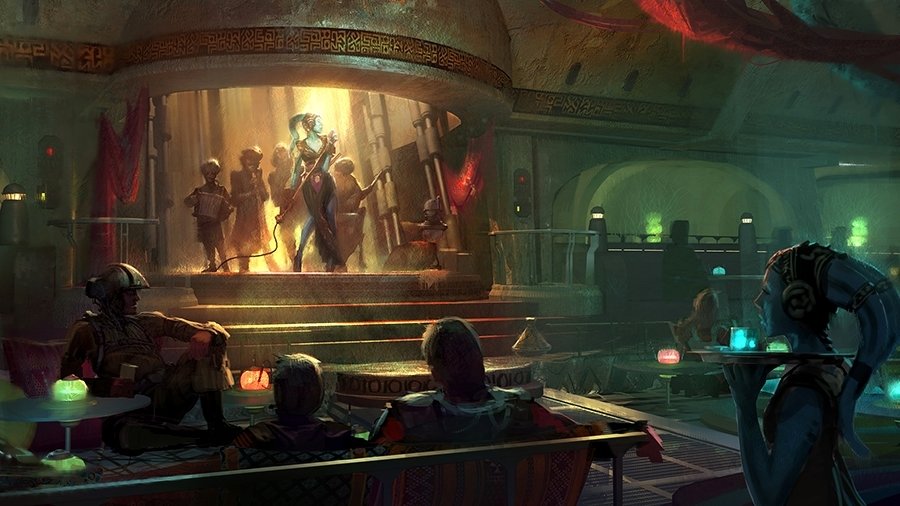 It's unknown whether Star Wars Land's cantina will be table- or counter-service, or whether it'll represent the area's flagship eatery, but we do know that it'll be stocked with some rather impressive scenery – call it the next generation of Universal's Three Broomsticks or Disney's own Be Our Guest. (Last weekend, concept art of a podracer engine being used to cook patrons' meals was revealed. The cantina seems to be a perfect fit for this little bit of showmanship.)
Bloomberg only had one tidbit to offer on the restaurant front, but it's more than enough to get us salivating. An alien cook, who is described as having a large fish head, will be present, he will be an audio-animatronic figure, and he will factor into the venue's atmosphere and immersion – just as the titular hog head in the Hog's Head Pub in Hogsmeade will come to life when customers tip the bartender, this alien will perform some special feat when diners request the special.
We can't wait to find out what it is – or, for that matter, what the whole rest of the experience will entail.
–
Be sure to follow Orlando Informer on Facebook, Twitter, and Instagram for the latest news, tips, and rumors at Universal Orlando, Walt Disney World, and other Orlando attractions.