This weekend's D23 Expo has been huge for Star Wars Land; on Thursday night, we got a sneak peek at the absolutely mammoth model Disney brought to the convention floor of the 14-acre area, and, now, we have a whole slew of official confirmations that fans have been waiting for ever since the development was first announced in August 2015 (at the last biennial D23 show, incidentally).
First up, let's get the official name out of the way: as we reported last night, it will, indeed, be called Star Wars: Galaxy's Edge.
Its meet-'n-greet characters have now been confirmed to include Kylo Ren, Darth Vader's grandson and the big baddie of the sequel trilogy, and Hondo Ohnaka, one of Star Wars: The Clone Wars's recurring nemeses. In fact, he's been trying to negotiate a deal with Chewbacca to use the Falcon on some type of secret mission – which is where you, dear guest, come into play, and why you'll be asked to be the new flight crew. And, yes, it's been confirmed that different riders will have different functions to perform aboard the legendary ship, whether that be piloting her, manning her quad lasers, or preparing her hyperdrive.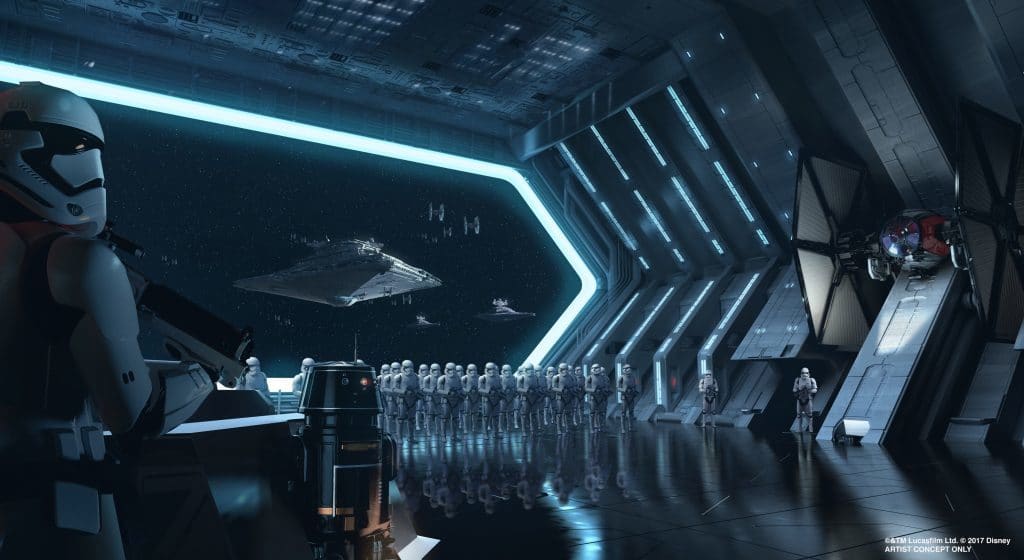 Finally, we got just a few quick details about the still-unnamed cantina that serves as the land's main eatery. Firstly, yes, it will serve the much-fabled blue milk, and, secondly, it'll have a special cameo: RX-24, the pilot from the original Star Tours attraction that debuted in 1987, will serve as its DJ.
But the biggest Star Wars-related announcement of them all, but of course, has to do with the confirmation that a Star Wars-themed hotel will be arriving at some point, somewhere on Walt Disney World property. You can read all the rumored details about its placement next to Galaxy's Edge and price points in our in-depth article.
(Need even more D23 goodness?  Don't fret – Disney came loaded to bear. There are massive new E-ticket rides for Magic Kingdom [Tron Lightcycle Power Run], Epcot [Guardians of the Galaxy], and Hollywood Studios [Mickey and Minnie's Runaway Railway]; new transportation options for Walt Disney World Resort [gondolas and Uber-like Minnie Vans]; and an opening date for Toy Story Land. Phew!)
–
For everything you could ever want to know about Star Wars Land – plus more! – be sure to check out our complete guide.
And for even more from D23, follow Orlando Informer on Facebook, Twitter, and Instagram.