We may still be some five years(!) before Star Wars Land opens up at Hollywood Studios at Walt Disney World Resort, but that doesn't mean new information isn't turning up at nearly every turn. And there's good reason behind the sudden uptick: Star Wars: Episode VII – The Force Awakens has broken all sorts of box office records (and is still climbing up the worldwide charts, even a month after its release), and Disney looks set to finally start construction within the next few months. Indeed, Screamscape has broken word that a formal announcement unveiling the land's final, full name is possibly just around the corner, perhaps to coincide with the groundbreaking at both Hollywood Studios and Disneyland.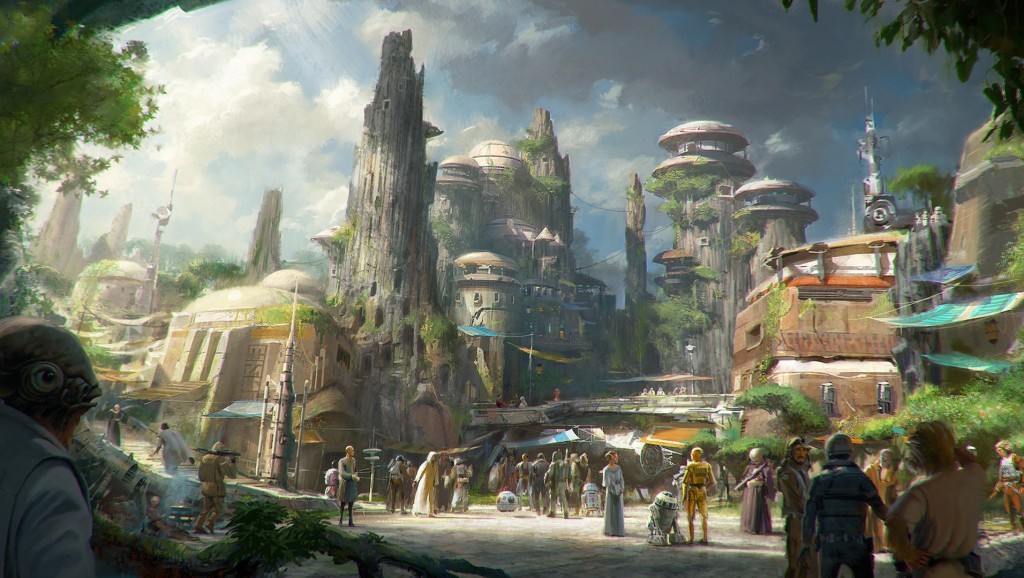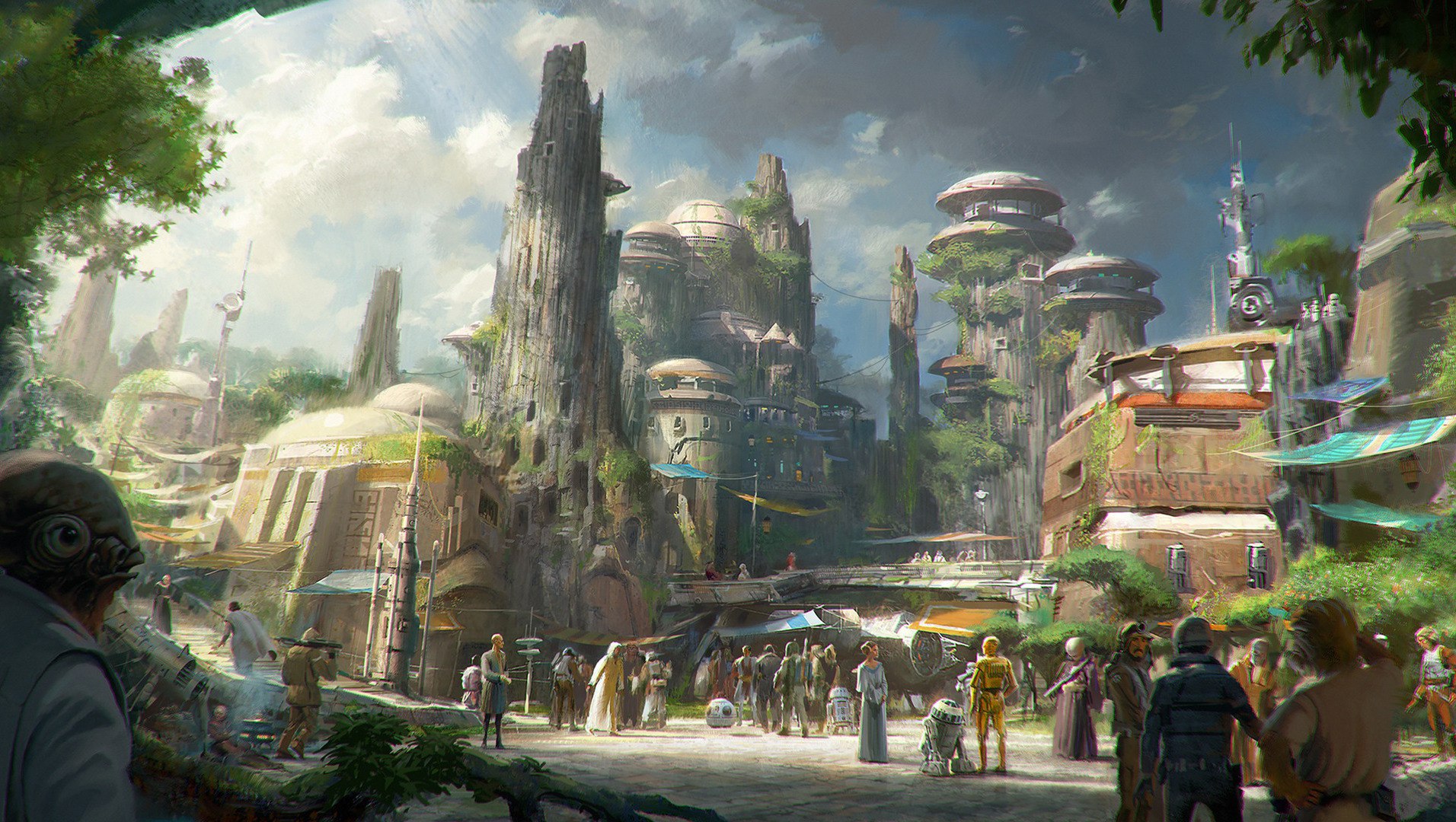 Disney's (official) concept art for Star Wars Land
What has been making the rumor rounds since the start of the New Year, and what kind of picture is it painting for guests who want to visit that galaxy far, far away? It's actually rather intriguing, potentially raising the theming bar after Universal's recent deployment of The Wizarding World of Harry Potter – Diagon Alley and Disney's own upcoming Pandora: The World of Tomorrow at Animal Kingdom.
Let's dive in, shall we?
#1 – ILM has been recruited to help out
Business Insider reported last week from the Consumer Electronics Show, where Jon Snoddy, Executive Vice President of Imagineering, held a small presentation talking about a new partnership between two of The Walt Disney Company's most hallowed business units.
The king of VFX for the past 41 years
Industrial Light and Magic, the visual effects company George Lucas created in the mid-'70s in order to make the first Star Wars, has been drafted to help create "unprecedented" attractions across all of Disney's parks and resorts. Although not much in specifics was laid out in Snoddy's talk, it was revealed that the Hollywood company will help mix "super-high-resolution projections" with physical sets and audio-animatronics in an effort to make the experiences as immersive as possible.
Not surprisingly, ILM is already hard at work on one of the Star Wars Land rides, though which one it may be was left unconfirmed. Additionally, the collaboration has also already touched upon a boat ride at, presumably, a different theme park land – or, indeed, a different park altogether – which will more than likely act as a next-generation version of the famed Pirates of the Caribbean mainstay at Magic Kingdom. The most likely culprit here is Pandora's family-friendly Na'vi River Journey, which already looks to be a highly engrossing experience.
#2 – Total immersion
A new piece of leaked Star Wars Land concept art has been making its way across the online landscape, and MakingStarWars.net – which has been an extremely accurate source of spoilers and advance information during The Force Awakens's production – has published a rather thorough rundown of it. The site believes the illustration is actually older, as it features the desert planet of Tatooine as the basis of its aesthetics instead of the brand-new "trading port" planet that was officially revealed last summer, but it still seems to be a rather good indicator of what guests should expect at Hollywood Studios next decade.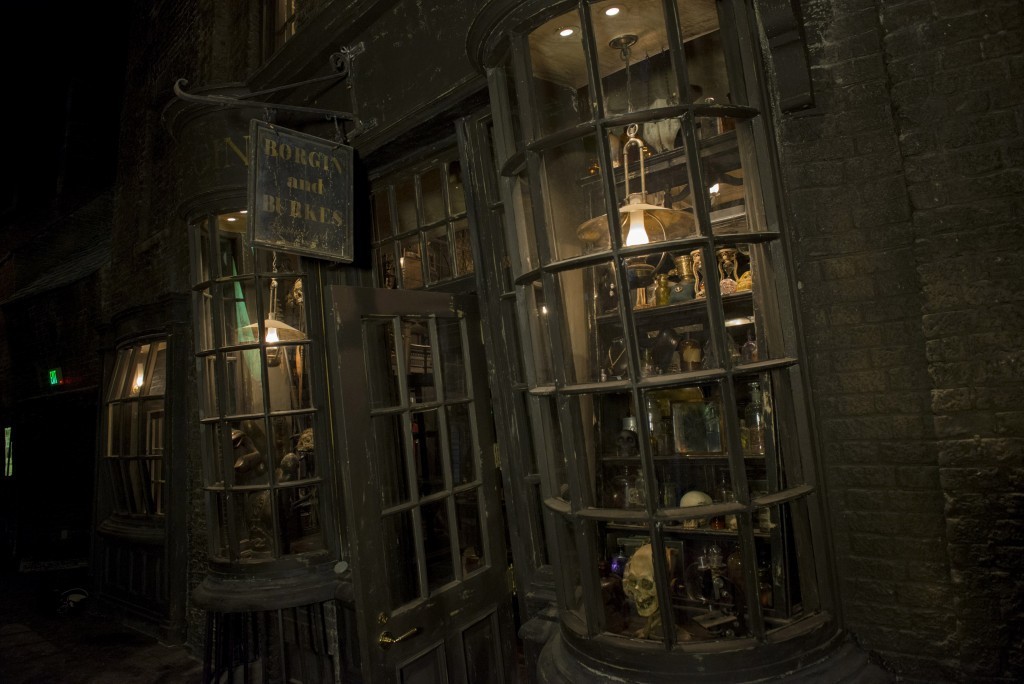 Diagon Alley's Knockturn Alley, in all its ghastly splendor
Guests are shown walking side-by-side with cast members decked out in full costume, traversing an environment that is – at least, in this early conceptual phase – even more detailed and atmospheric than either of Universal's two Wizarding Worlds (or California Adventure's Cars Land, which, the site claims, is an internal barometer for Disney to best). Starships are parked off to the side; stormtroopers stand guard at a cantina of some sort. The land will be populated with both classic Star Wars denizens – from fighter pilots to droids to alien creatures – and a series of holograms that serve as advertisements for in-universe products (shades of Knockturn Ally here).
When combined with ILM's time-tested magical touch, the sky truly can be the limit here.
# 3 – The latest word on the new attractions
When initially announced by Disney CEO Bob Iger at last year's D23 event, Star Wars Land was said to have two "signature" attractions: a ride that puts guests on a secret mission aboard the Millennium Falcon, and an "epic adventure" that places guests in "the middle of a climactic battle between the First Order and the Resistance." MakingStarWars believes it has at least a little new information on the latter, which it claims may utilize the First Order snowspeeder (the basis of a cut chase sequence in The Force Awakens that was set on the snowy Starkiller Base) as its ride vehicle. Perhaps given this little tidbit – and given Jon Snoddy's rather nebulous phrasing from the CES show – news spread like wildfire that the Resistance/First Order attraction would, indeed, be a boat ride, but this would appear to be an incorrect assumption.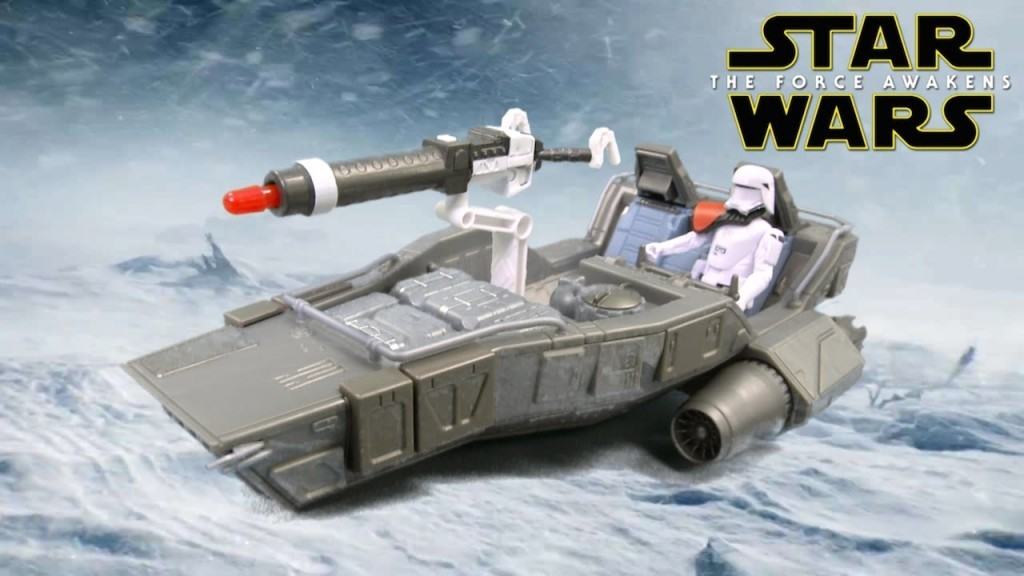 The First Order snowspeeder, in toy form
In various articles, the site goes on to say that it's heard just a fleeting glimpse of two additional experiences that will be on-hand at Star Wars Land: some type of building that may be a recreation of Maz Kanata's castle from Episode VII (that's the 1,000-year-old watering hole on the jungle planet of Takodana, if you'll recall) and a ride that will be based on the upcoming spinoff film Rogue One: A Star Wars Story (a military-focused, Jedi-less side story that tells how the Rebel Alliance got its dirty little hands on the first Death Star's blueprints). If even just one of these is true, that would mean that Disney has decided to abandon the "geographical recreation" philosophy of either the Wizarding World or Cars Land and revert back to the traditional grab-bag approach from decades past – an intriguing decision, to say the least.
#4 – More Star Tours updates
For the currently ongoing Season of the Force event at both Hollywood Studios and Disneyland, Disney inserted Episode VII's flagship planet of Jakku in Star Tours: The Adventures Continue's rotation (making it a permanent addition for every ride until the event's end date, and then allowing it to be fully randomized thereafter). MakingStarWars.net is back yet again to state that it's heard a few more Force Awakens pieces of content are currently on the drawing board.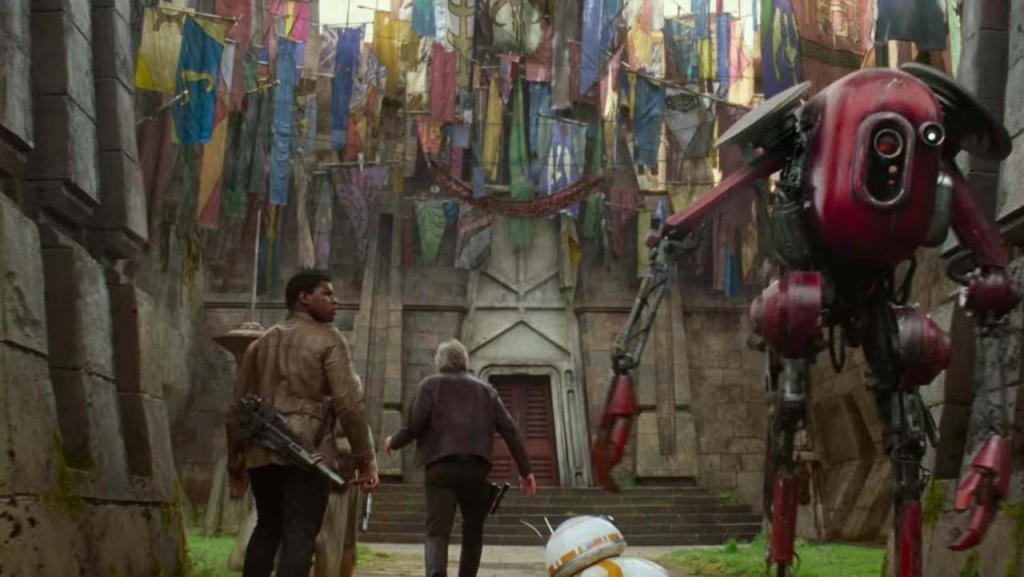 Welcome to Takodana
For starters, Maz Kanata's Takodana and the First Order's Starkiller Base are said to be added into the seven-planet roster, fulfilling Disney's promise to continually update its screen-based ride. And then one further "sequence" is being planned as "the capstone to these new Star Tours additions," at least for the time being, though the wording here is so vague that it could be any one of a number of possibilities.
The best news in all of this for Star Wars fans is the timing factor: it is currently believed that all of these new updates will be implemented well before Star Wars Land is installed all around Star Tours.
#5 –Star Wars Land sneak peek
Word has surfaced that we should expect a special preview center to be set up – most likely in Hollywood Studios, since so much of that park's real estate is currently sitting unused – showcasing all of Star Wars Land's many wonders.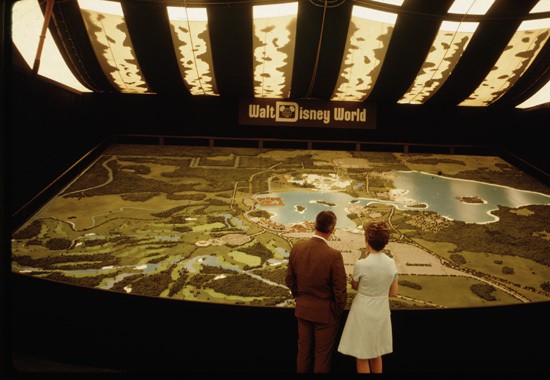 The Walt Disney World Preview Center
Preview centers are a time-honored tradition for the various Orlando parks: Universal had one instituted at Universal Studios Florida for the year before Islands of Adventure opened, and Disney has used them dozens of times throughout Disney World's four decades of operation, with a recent example being for Magic Kingdom's multi-phase New Fantasyland expansion. But perhaps the biggest, most successful, and, to this day, most celebrated sneak peek of them all was for Magic Kingdom itself – the Walt Disney World Preview Center became the first building on Disney's Florida property in January 1970, offering concept art, models, a short film, and, of course, the ability to make reservations at the resort's first two hotels: the Contemporary and Polynesian Village.
When should guests start looking for this Star Wars Land preview center? If the above rumor about Disney's announcement of the land's real name is true – and knowing the company's penchant for announcing its attractions literally years before they debut – there's no reason to doubt the sneak peek's arrival as early as sometime this year.
Are you excited for Star Wars Land? How would you handle its design if you were in charge? Let us know in the comments below.