There has been a recent trend in the themed industry to have theme parks couple the real-world experiences they offer with virtual-reality components – think Kraken Unleashed, SeaWorld's new VR upgrade to its 17-year-old floorless roller coaster, or Universal's new slew of patents, which includes a virtual window that can wrap around a building or ride vehicle and provide multiple angles on a digital landscape that's spread out all around you. The idea is to marry the virtual with the real and, therefore, more fully immerse guests into a particular narrative.
Disney is now angling to throw its (mouse-ears) hat into the ring with its own take on this ever-evolving mixed-reality movement – and beyond the sheer amount of resources that the company can devote to the project, the truly notable element here is what its theme will be: Star Wars, a property that The Walt Disney Company purchased in October 2012 and has since been slowly-but-steadily expanding at its various theme-park locations (a prime example: just last month, it was revealed that the Fun Finds store at Walt Disney World Resort's Disney Springs shopping complex has been shuttered and will be getting a makeover into a Star Wars-exclusive shop).
Called Star Wars: Secrets of the Empire, this "first-of-its-kind" hyper-reality experience will debut at both Disney Springs and Disneyland Resort's Downtown Disney this holiday season. In order to appreciate the scope of what's going on here, we'll need to break down each of its components step by step.
What is "hyper-reality"?
Hyper-reality is the newest – and, it can safely be said, the most experimental thus far – development of the mixed-reality sub-industry. Tick Tock Unlock, a British company that is trying to position itself at the forefront of this new spinoff market, is perhaps the best at explaining this nascent art form:
"[The hyper-reality experience merges] virtual-reality technology with physical sets and stage effects to create an incredibly immersive and unique experience. The hyper-reality experience is a new type of entertainment and new way to explore different realities; it works by combining real-world physicality with videogames, movies, and stories."
The Void, a company devoted exclusively to hyper-reality, puts it this way:
"We combine the magic of illusions, advanced technology, and virtual reality to create fully-immersive social experiences that take guests to new worlds. A truly transformative experience is so much more than what you see with your eyes – it's what you hear, feel, touch, and, even, smell."
Void's take on the matter, it turns out, is rather important: it's the company that Disney has tapped to fashion Secrets of the Empire at both Florida and California. And the technology upstart has already made waves on this front, with one hyper-reality experience, Ghostbusters: Dimension, already in place at several locations around the world (Madame Tussauds in New York, New York; Void's headquarters in Lindon, Utah; The Rec Room in Toronto, Canada; and The Beach in Dubai), and a second, Curse of the Serpent's Eye, set to debut this month in Utah. Both "games" have users strap on VR googles and a backpack and physically move through a maze-like environment; various physical sensations – puffs of air, vibrations in the floor, blasts of either heat or cold – are rigged all throughout the location and supplement the virtual imagery guests experience. (The age and height requirements are 10 years and 48 inches, respectively.)
It is precisely this set-up that will be brought to the two new Void "experience centers" at Disney World and Disneyland Resorts at the end of this year.
How nearly all the rest of Disney is getting involved
Although The Void is at the heart of Star Wars: Secrets of the Empire, it turns out that quite a few other aspects of the mammoth Disney Company are getting involved in the endeavor, as well.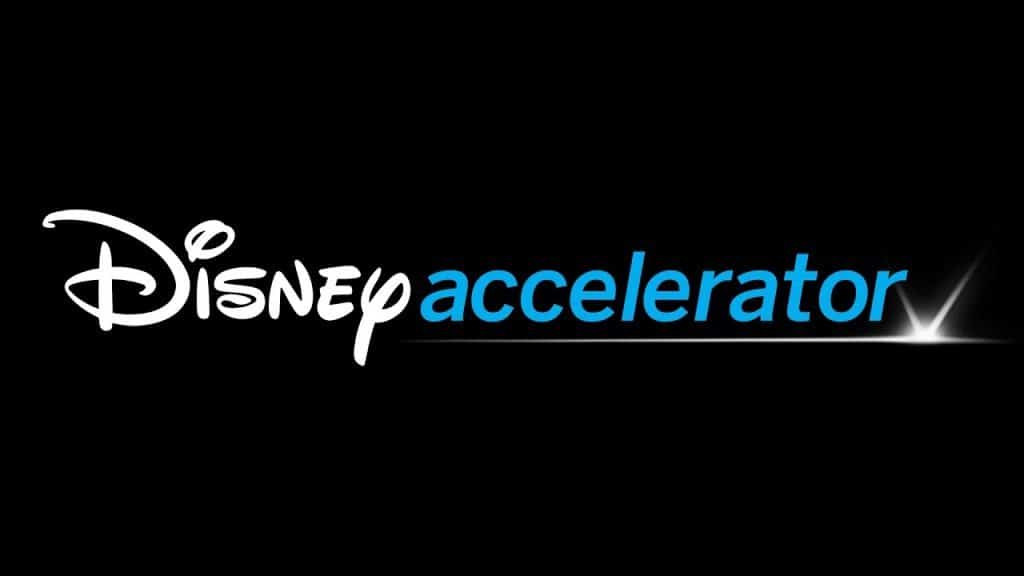 For starters, there's the Disney Accelerator program, an imitative that "provides entrepreneurs with mentorship and immersion into the media and entertainment industry" for a period of three months. Although Accelerator is only three-years-old, it's already had several notable companies participate (including Sphero, the brainchild of the magical BB-8 and Lightning McQueen remote-controlled robots), and Void was accepted into its ranks just last month.
Then there's Industrial Light & Magic, the visual-effects company that George Lucas himself founded back in 1975 in order to create the visual and special effects for a little movie of his called Star Wars; the firm has since, of course, gone on to become the biggest VFX provider in the world, and in the current era of Mouse House ownership, it's been collaborating with various designers, engineers, and Walt Disney Imagineering itself in order to realize Disney's various Star Wars-themed experiences (such as Star Wars: Galaxy's Edge, which is coming to both Disneyland and Hollywood Studios in 2019) as authentically as possible. Secrets of the Empire is no exception.
In fact, ILM has just recently created a whole imprint to deal with situations exactly like this: called ILMxLAB, it's a joint effort between Industrial Light & Magic, Skywalker Sound (another 1975 company Lucas created, this time in order to provide for Star Wars's various sound needs, from the mixing of music to the creation of sound effects), and Lucasfilm itself (Lucas's own production company). For the past two years, this "immersive entertainment laboratory" has been working to reinvent "the way stories are told and experienced, connecting artists with their audiences like never before," pulling off such projects as the Star Wars: Trials on Tatooine VR experience that was released in July 2016.
Finally, Lucasfilm's own involvement can't be overstated. The studio's new president, Kathleen Kennedy (hand-picked by George Lucas himself), has worked hard to integrate every new Star Wars project, whether it be a new film or comic book issue, into one cohesive canon, and these mixed-reality experiences are no exception; it seems as if the Lucasfilm Story Group that she has formed (and which is already involved with furnishing the backstory for Galaxy's Edge) is working hard with The Void in order to ensure that Empire's narrative fits perfectly in with the new multimedia storytelling intiative that was started with 2014's Rebels television series and 2015's Episode VII: The Force Awakens.
(It should also be noted that Void's new CEO, Cliff Plumer, who came aboard just six months ago, was the former chief technology officer of Lucasfilm.)
So, what is Secrets of the Empire about?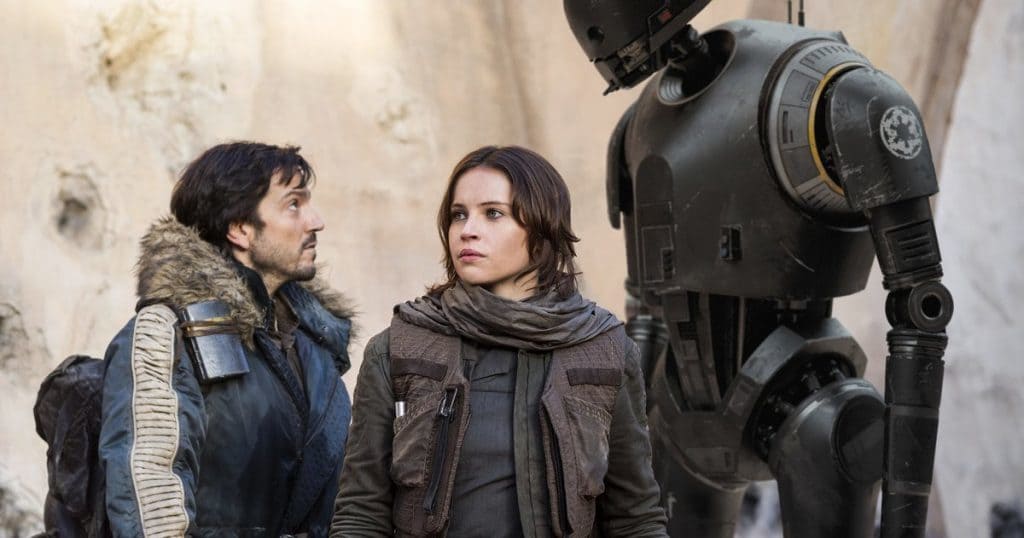 Here's the short answer: we don't know. Here's the longer answer: there's a fair bit we can guess.
Cliff Plumer, the head of Void, has said that his still-fledgling company is already learning a lot from Disney, starting with the fact that theming has to start well before patrons strap on their headsets and backpacks; at these two new Void experience centers in Orlando and Anaheim, the immersive experience will begin as soon as guests step foot into the building, taking more than just a page out of Imagineering's playbook. We imagine this will translate into an elaborate queue/waiting area, along with some pre-show materials that will be more than what either Ghostbusters: Dimension or Curse of the Serpent's Eye currently offer.
More importantly to Star Wars fans, however, is the setting of Secrets of the Empire itself. Though Disney didn't offer one official word in today's press release, the concept art and logo offer more than enough clues: given the fact that Imperial stormtroopers are seen as the hyper-reality experience's baddies, and given the fact that a KX-series security droid (like what the lovable K-2SO is in last year's Rogue One: A Star Wars Story – if, in fact, it isn't Kay-Tu himself) is seen next to users, the time period is set firmly within the Galactic Civil War, most likely immediately before (or during) both Rogue One and 1977's Episode IV: A New Hope.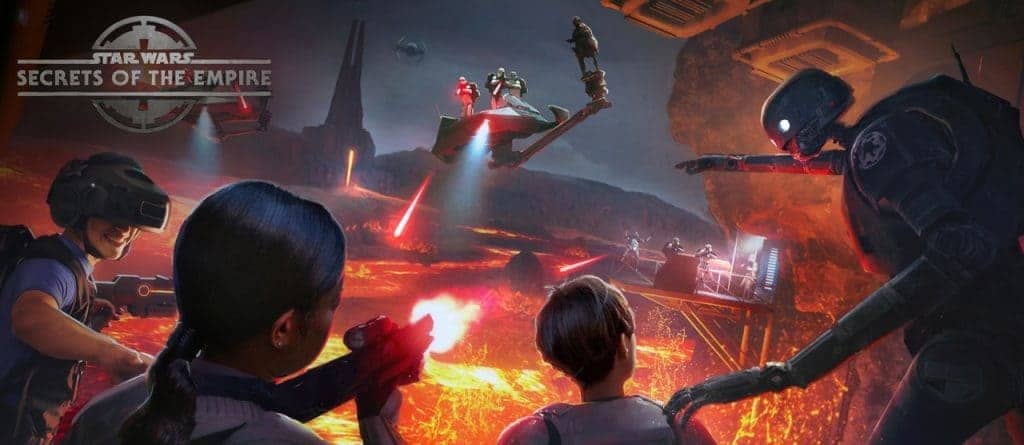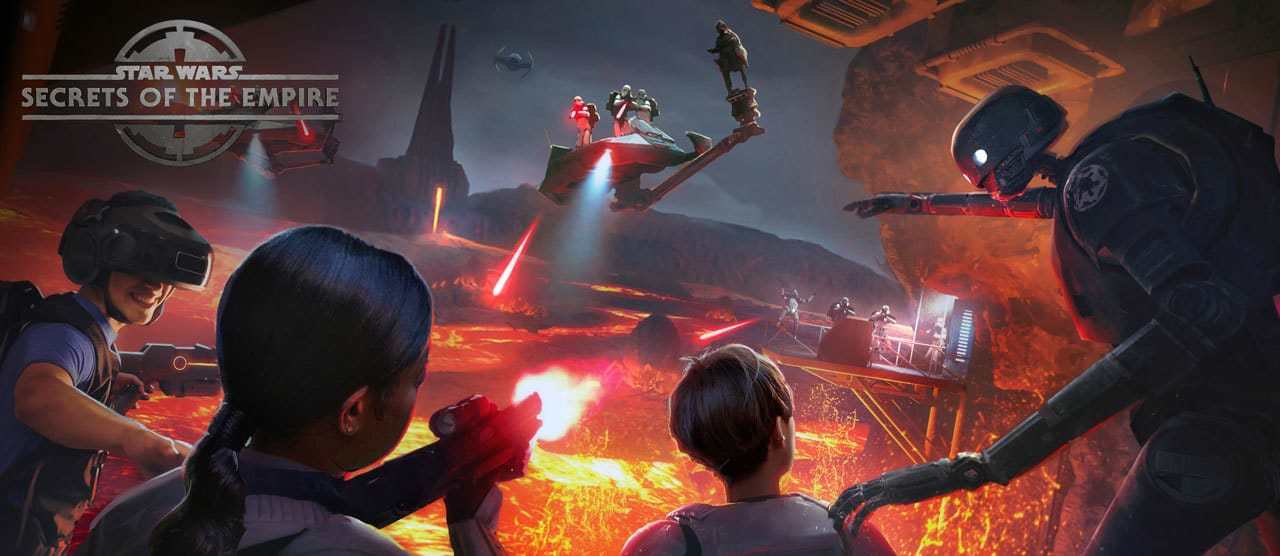 And although one might expect to find guests playing the role of plucky Rebel Alliance soldiers fighting against the tyranny of the evil Galactic Empire, it may very well be that users will don the garb of stormtroopers, as the sole piece of concept artwork shows players dressed to fill that part – and firing on other, perhaps rival legions of troopers. If this is, indeed, the case, it would represent a small-but-fundamental shift in the experience's story, immediately making it one step more interesting than all the other products in the ever-more-crowded Star Wars Expanded Universe.
The Void experience centers at both Disneyland and Walt Disney World Resorts are expected to open by the end of the year and will eventually feature other hyper-reality experiences beyond Star Wars: Secrets of the Empire.
–
Be sure to follow Orlando Informer on Facebook, Twitter, and Instagram for the latest news, tips, and rumors at Universal Orlando, Walt Disney World, and other Orlando attractions.