The news has been running rampant today that Disney is currently surveying guests about a possible Star Wars-themed hotel that would potentially be installed on-property at Walt Disney World Resort. This is understandably exciting – thus all the headlines, social media posts, and, even, local news coverage(!) in Orlando – but it's actually only one-third of the story
The really intriguing part of the development is where, exactly, the venue would be located (inside Hollywood Studios, right next to Star Wars Land) and, even more importantly, what vacation package it would exclusively be part of.
This could, in fact, represent the future of theme parks as we know them.
The Star Wars hotel experience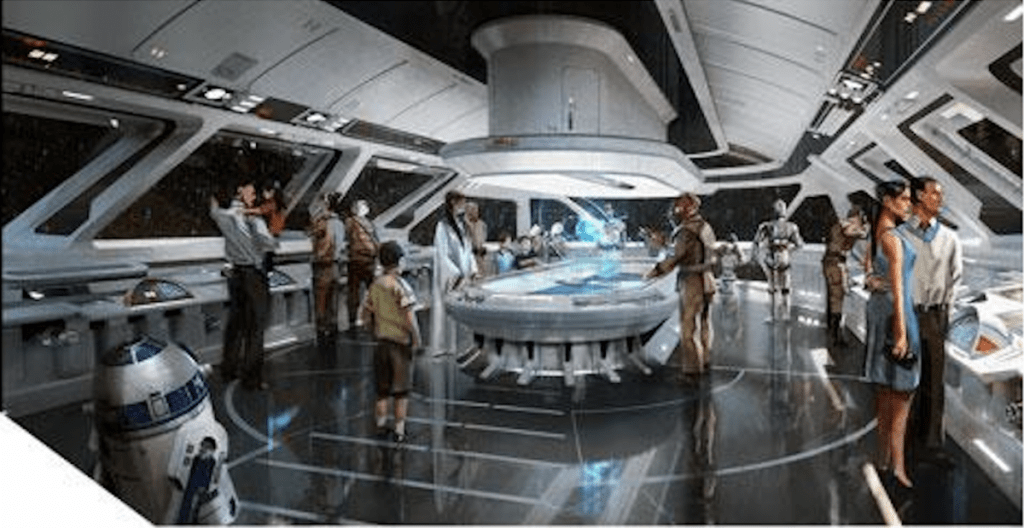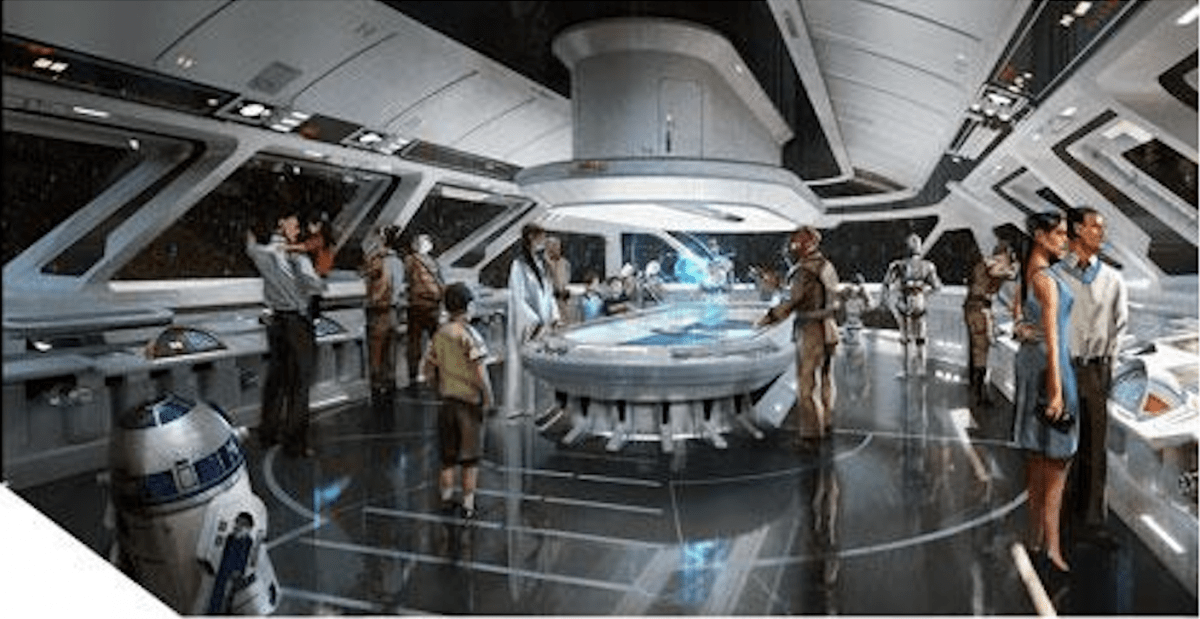 This is what we've come to learn from Swagbucks, the third-party survey site that's been handling the questionnaire for Disney: guests would book a two-night stay at the new hotel, which would be themed like a starship from the Star Wars universe. The ensuing experience would be a pre-arranged event, consisting of several different components that would all be arranged as part of one specific ongoing narrative – namely, your resort-that-is-a-ship is transporting you and all the other patrons to a specific destination. Think of it more as a cruise, then, that just so happens to take place in a hotel that just so happens to be in a theme park.
The experiences that guests would be exposed to include meet-'n-greet opportunities with various SW characters (including droids), live entertainment (that you can opt to participate in, if the Force so moves you), and individualized encounters that could include "ship exploration, flight or lightsaber training, and personalized secret missions." Since the property would be situated right next to Star Wars Land's still-unnamed planet, the "starship" would dock there and allow you to disembark to explore the area and continue your personal storyline (presumably, the vacation package's narrative would finally include the "transit" time back home, as well).
As one might imagine, the price tag for such an experience is hefty: between $900 and $1,000 per person (with up to four people per room). On the plus (light?) side, however, this price is all-inclusive, so that both days' breakfast and lunch buffets and both evenings' Disney Signature dinners wouldn't cost you anything additional. (It is also worth mentioning that the rooms would come with either pool/atrium or "galactic" window options, and that the hotel's amenities would include a pool, water garden, "cantina," and the obligatory fitness center.)
The tip of the theming iceberg

While all of this sounds wonderfully, deliciously immersive, we've heard from our sources at The Walt Disney Company that this is merely the first of several possible themed hotel packages to be greenlit; there are others at one stage of development or another, and each of them would offer similar dizzying experiences – including, we have to assume, locations inside one of the four Disney World theme parks.
What are these other hypothetical properties? We don't know for certain, but that can't stop us from making some pretty educated guesses.
First up, a no-brainer: Frozen. Disney's most successful animated film of all time has already provided plenty of themed activities at the parks, culminating in last year's Frozen Ever After ride at Epcot. One could assume that a themed resort would be situated right next to the Norway Pavilion in World Showcase and would, thus, offer its visitors a continuous, unbroken loop of Frozen encounters, including a plethora of exclusive food and beverages and new meet-'n-greets at Norway. Across the park, in Future World, Finding Nemo could be attached to The Seas with Nemo and Friends, offering the same benefits but also coming bundled with an amazing exclusive – underwater hotel rooms (thereby differentiating the new property from the pre-existent Art of Animation's Nemo family suites).
The most intriguing scenario we envision, however, has to do with that other legendary Lucasfilm property: Indiana Jones. Rumors have long swirled that the Indiana Jones Stunt Show Spectacular at Hollywood Studios isn't much longer for the theme-park world – why not replace it wholesale with an entirely new, in-depth, exclusive experience that can only be booked when staying at the adjoining venue? The rooms could be themed to any number of ancient ruins or civilizations – including those of the extraterrestrial variety – and the hotel's opening could be timed to coincide with the still-unnamed Indiana Jones 5's release date of July 19, 2019 (just imagine getting Star Wars Land and an Indy area in the same summer!).
If Star Wars successfully paves the way, we should expect to see any of these potentialities – or, what's more, even at the nearby Universal Orlando Resort (a Harry Potter hotel, anyone?). This could very well be the next iteration of the entire themed industry… something which Disney has already started teasing, we should add.
What does Disney have to say about all this?

We're glad you asked – because, apparently, Richard Bilbao did, as well.
Here's what #Disney told me when I asked about the @starwars hotel rumors. Isn't a denial, but not a confirmation either … pic.twitter.com/Nh4Dvr82X6

— Richard Bilbao (@RichOBJ) April 18, 2017
Although it's a non-committal response that seems to skew more towards a denial than a confirmation, we'll take it.