"Star Tours 2.0: The Adventures Continue" launches May 20, 2011 at Disney's Hollywood Studios
Update 4/20/11
Disney releases new Star Tours 2 details for 'bustling spaceport' queue pre-show and 'series of mishaps' leading to 3D intergalactic ride
Update 4/16/11
The buzz is really starting to pick up as we get closer to the May 20, 2011 launching date of the new Star Tours at Disney's Hollywood Studios.
Disney got fans excited yesterday by putting up a new Star Tours Facebook page and these new photos from the ride: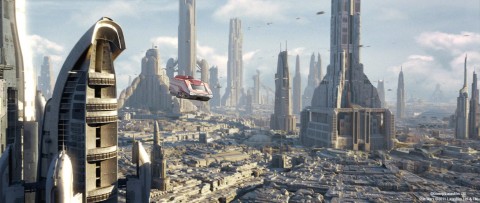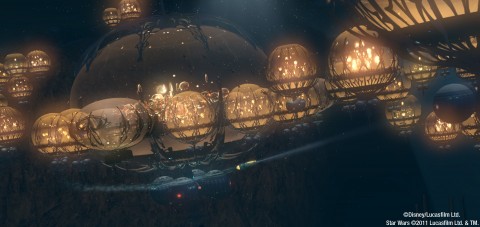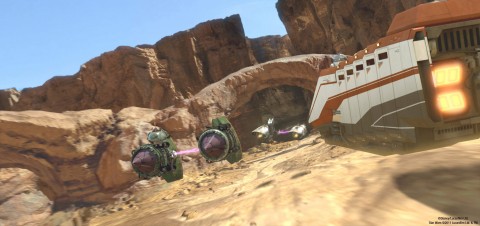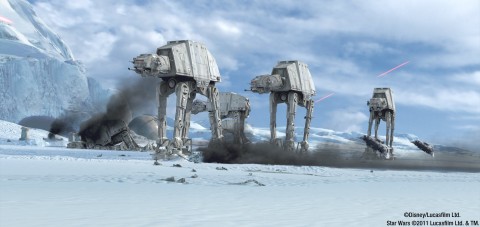 The Star Tours Facebook page also has this new logo:
In addition Disney is hosting four FL Sneak Peak Events:
SAT. APRIL 16 – AVENTURA MALL – MIAMI (11a – 7p)
SAT. APRIL 30 – ORANGE PARK MALL – JACKSONVILLE (10a – 6p)
SAT. MAY 7 – WESTFIELD CITRUS PARK MALL – TAMPA (10a – 6p)
SAT. MAY 14 – THE FLORIDA MALL – ORLANDO (10a – 6p)
Find out more about all this fun stuff here: http://www.facebook.com/StarTours
Last but not least, if you really want to get waist-deep in Star Tours 2.0 new coverage, you'll find friends here: http://www.startours2live.com/
Original post
The completely renovated "Star Tours 2.0: The Adventures Continue" prepares for launch at Disney's Hollywood Studios in Walt Disney World on May 20, 2011. The launch is being held in conjunction with Hollywood Studios' Star Wars Weekends, a celebration of the film and the culture held annually at the Hollywood-themed park.
In anticipation of the opening I went into Hollywood Studios yesterday. I was hoping to get some photographs of what might be in store for us. Well, not surprisingly, there wasn't much to see. Here's what I got:
Like I said, not much.
But there has been some new updates about the renovated attraction. Disney's own blog reported just a few days ago:
It won't be long now before Star Tours re-launches and "The Adventures Continue" at both Walt Disney World Resort in Florida and Disneyland Resort in California! But where in the galaxy are we going?

We know a lot of you have been wondering and asking, and today we are happy to reveal the final destinations you can expect to visit when Star Tours resumes service. You already know we're going to Tatooine for the Boonta Eve Podrace and to Coruscant.

Additional destinations include a visit to the beautiful planet of Naboo, a rare tour of the Wookiee planet of Kashyyyk, and a trip to the icy planet Hoth (seen above in a still image from Star Wars: Episode V The Empire Strikes Back).

Of course, no Star Tours adventure would be complete without an unexpected visit to the Death Star, this time above the planet Geonosis.

In addition, we'll be departing from a spectacular new Spaceport, created just for the new Star Tours voyages.

As revealed earlier, these destinations will be combined in more than 50 different story adventures, so you'll never know where the Force will take you!
Also, InsideTheMagic.net posted this picture of the new team member wardrobes:
The "stars" of Star Tours 2.0 were announced quite a while ago on the Disney blog:
One of our goals for the new Star Tours show was to pack as much Star Wars into the attraction as possible. That meant traveling to different planets, and meeting up with classic characters from the saga.

Of course you already know that R2-D2 and C-3PO are back, reprising their roles in the pre-show, and taking on bigger roles (especially C-3PO) in our Starspeeder adventures. And some time ago, we introduced you to two new droids in our show…Star Tours Pilot Ace (AC-38) and Spokesbot Aly San San.

So who else is joining the cast?

Well, it wouldn't be a Star Wars adventure without Darth Vader. The Dark Lord of the Sith will be accompanied by legions of stormtroopers and some new "skytroopers," designed especially for our show. Boba Fett, everyone's favorite bounty hunter, also will be after us, as well as an assortment of nasty droids and creatures.

Balancing out the villains are some classic good guys – and even a princess! Master Yoda, Admiral Ackbar (pictured above in a still image from Star Wars: Episode VI Return of the Jedi) and Princess Leia will appear in the show to help guide our adventures. We may even run into Chewbacca along the way!
I will keep updating this post as we move closer to the Star Tours 2.0 opening.
Star Tours 2.0 official website: http://disneyworld.disney.go.com/parks/hollywood-studios/attractions/star-tours/
Star Wars Weekends official website: http://disneyworld.disney.go.com/parks/hollywood-studios/special-events/star-wars-weekend/
Originally posted on April 7, 2011 – updated April 16, 2011