Alongside Big Thunder Mountain Railroad and Space Mountain, Splash Mountain earned fame as part of the trifecta of thrilling, mountainous landmarks at Disneyland, Walt Disney World, and Tokyo Disney Resorts. Each iteration towers above its respective park at almost 90 feet and features more than a five-story drop at a 45-degree angle into the "Briar Patch" below, where riders can expect a serious splash. The ride combines countless audio-animatronics with an approximate 10-minute log flume ride, on which you risk being soaked (or, at least, getting a bit damp).
Splash Mountain opened to Disneyland guests on July 17, 1989 – at which point, the surrounding Bear Country land was renamed Critter Country to fit the new assortment of animals that would occupy Splash Mountain's Briar Patch. Disney World followed on July 17, 1992, fittingly enough, in the Frontierland portion of Magic Kingdom.
The current characters and thematic setting of the legendary attraction are inspired by Walt Disney's 1946 film Song of the South – as is its soundtrack, as the ride borrows such musical numbers as "Zip-a-Dee-Doo-Dah" and "Everybody Has a Laughin' Place." In its time, Song of the South featured a groundbreaking combination of live-action and vibrant animation, but since its release, the movie has often been criticized for its outdated cultural depictions, offensive stereotypes, and failure to address the brutal contextual reality in which it takes place. (The story follows a live-action Uncle Remus as he shares cautionary tales with the help of B'rer Rabbit within an animated animal world. )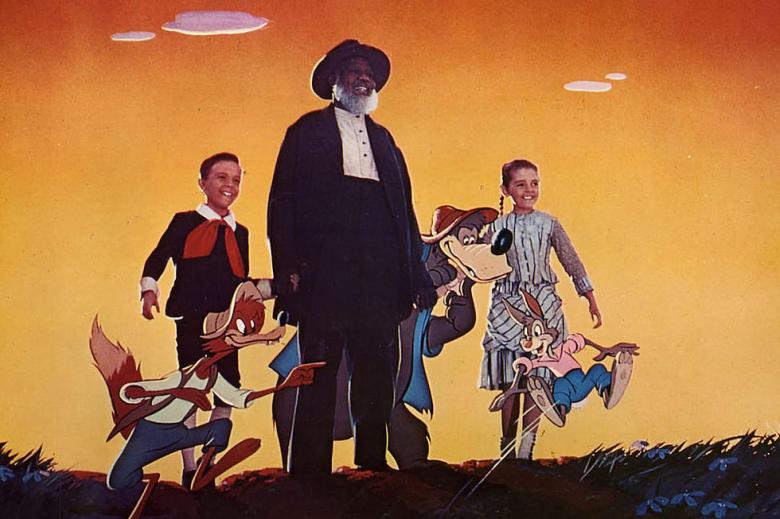 Controversy surrounding Song of the South is almost as old as the movie itself. Just a month after its 1946 premiere, the New York Times reported protesters outside of Manhattan's Palace Theater, voicing concern over Disney's portrayal of African-Americans. A Congressman called the movie "an insult to American minorities" in a letter to the Commissioner of Licenses, and a New York Times film critic published a letter to Walt Disney, calling it "peculiarly gauche." The NAACP (National Association for the Advancement of Colored People) stated that Song of the South "gives the impression of an idyllic master-slave relationship, which is a distortion of the facts."
The film was re-released in theaters several times but, to this day, has never been issued on any home video format. In fact, after a 40th anniversary return engagement in 1986, Disney locked Song of the South away in its "vault," and it hasn't been seen since – with the exception of ample, unregulated copies that can be found floating around online. Upon the launch of the Disney+ streaming service in November 2019, Disney Executive Chairman Bob Iger confirmed that the movie would not be available on the new streaming platform, as it "is not appropriate in today's world." And, most recently, a petition has been circulating for the past several weeks, demanding that Splash Mountain's current narrative be replaced with the story and characters of The Princess and the Frog.
Despite the censorship of Song of the South, Splash Mountain has remained a headlining attraction at Walt Disney World and Disneyland Resorts. Both the California and Florida versions of the attraction boast bountiful gift shops full of corresponding merchandise, including highly-sought-after collectibles, like Funko Pop! figures. Indeed, last year, Disneyland celebrated Splash Mountain's 30th anniversary with "Wishables" – plush versions of the B'rer animals you can find on the ride.
Now, however, Disney's "Zip-a-Dee-Doo-Dah" tone is changing. The company announced that both coasts' Splash Mountain will be completely reimagined with a theme inspired by The Princess and the Frog, making those petition-signers' dream come true. (The future of Tokyo Disneyland's attraction remains to be seen.) Expect the makeover to pick up the story of the new film after its final kiss; guests will follow Princess Tiana and Louis on a musical adventure in preparation for their first-ever Mardi Gras performance. (Also expect Splash Mountain to feature Princess and the Frog's music, of course.)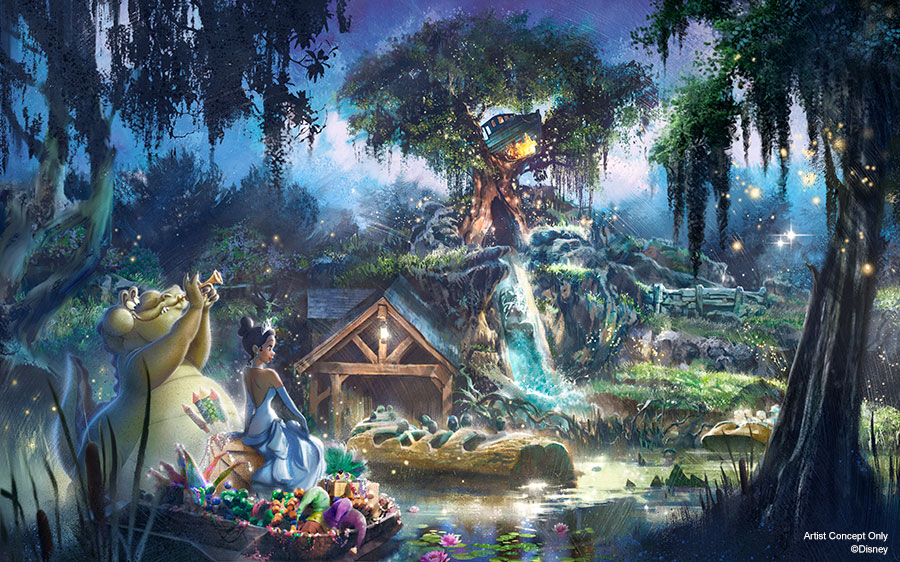 The Disney Parks Blog announcement states:
"[T]he retheming of Splash Mountain is of particular importance today. The new concept is inclusive – one that all of our guests can connect with and be inspired by, and it speaks to the diversity of the millions of people who visit our parks each year."
While visitors have been able to meet Princess Tiana (and the occasional Prince Naveen) at the Disney parks for some time now – and see her featured in select parades and shows – this will be the first attraction inspired by Tiana's source material. The film has only elsewhere been brought to life in the form of Tiana's Place, a restaurant aboard the Disney Wonder cruise ship that serves up Southern cooking and jazz music.
In similar fashion to Epcot's Maelstrom being transformed into Frozen Ever After, and Disneyland's Tower of Terror receiving a Guardians of the Galaxy overlay, Disney has referred to these sort of changes as "plussing" the attraction. How do you feel about the upcoming transformation? Share your thoughts in our WDW Community on Facebook.
And don't forget to follow Orlando Informer on Facebook, Twitter, and Instagram for the latest news and tips at Universal Orlando, Walt Disney World, and other Orlando experiences.