Welcome to the next edition of our Special Needs Are Universal column, featuring questions and answers to help those with disabilities plan their day at Orlando's theme parks. Our ultimate goal is to give families the confidence to enjoy all there is to do across this amazing vacation destination!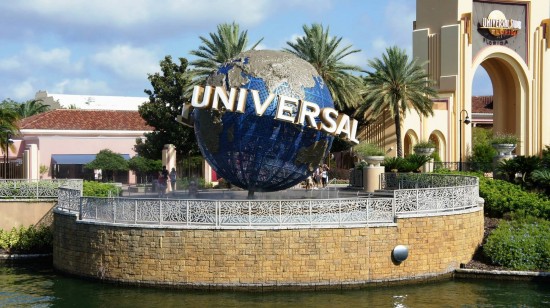 Now that we in the lull between Spring Break and summer, the immediate need for questions involving disabilities at the Orlando theme parks has diminished. Therefore, today I'd like to take some time to discuss the Handicapped Parking areas at Universal Orlando and Walt Disney World. Last week we talked about Universal, so this week we'll discuss Disney World.
Handicapped parking at Walt Disney World
After counting the available spaces at the four Disney parks using Google Earth, and seeing just how few there really are, I checked the Americans with Disabilities Act (ADA) requirement for disabled parking lots. The U.S. Department of Justice's 2010 Standards for Accessible Design states that for 1001 spaces and over, there must be 20 plus 1 for each 100, or a fraction thereof, over 1000. That's not very many, considering how many people now have these coveted parking permits. Again, I will not be addressing hotel parking.
The cost of parking at any Disney theme park is $14.  Keep your receipt if you want to park at any other park for the day. General information can be found here. All Disney handicapped parking lots have complimentary wheelchairs available to use for park entry and to help you to the wheelchair rental stands.
Getting to the handicapped spaces
After paying for your parking at the toll booths, look for the BLUE line painted on the pavement – it will direct you to the handicapped parking areas. (Images are included further down the post.) Because parking can be a problem during busy times of the year and later in the day, here are some hints to help you find other parking if the lots are blocked off: Just in case rules have changed for parking, you might ask the toll booth attendant WHERE you can park if the handicapped lot is full or blocked off to keep you from having to drive out and back in again. If you do have to park in an alternate lot, remember that there will be NO marked spaces on the sides of your vehicle for transferring into a wheelchair or ECV. You may also have to move your vehicle out of your space to get your disabled family member back in your car at the end of the day, unfortunately.
You would think that Disney would have plenty of disabled parking, but they basically have just what the law allows. After counting the spaces viewable on Google Earth, I'm amazed we've been able to find spots because, driving from the other side of Florida, we never arrive much before noon. Arrive early if you can. If you park hop using your own vehicle and arrive at a park later in the afternoon, there usually are no cast members available to help guide you to the handicapped parking, let alone alternative parking if the lot is full. You do have the option of using Disney transportation, but to be honest, we have not found that to work for us. Because our daughter is in a wheelchair, we need to use buses that have chair lifts and have found only 1 in 3 or 4 are equipped with them. We end up having to wait up to an hour for a bus, which eats into our time actually spent in the parks. It can take up to 10 minutes just to load, the time the trip takes, allowing other passengers to disembark at the destination, then another 5-10 minutes wait to unload the wheelchair. Some drivers are better than others at this process, but it's still time consuming. We can drive, park and BE in the next park in the time it takes to get a bus!
The exception is the monorail between Epcot and the Magic Kingdom, which is really convenient and lovely to use, but sometimes even that system can be down.  The last time this happened and we had to take the buses to return to Epcot, what should have been about a 15 minute trip turned into an hour and a half.  The bus depot at Epcot is at the far west end of the park and we just happened to be parked in the far east of the east lot; there is no way to drive your vehicle from one lot to the other, so my husband couldn't even go to get the car and pick up my daughter and me.  We would have been HOME on the west coast of Florida in the time it took to get from the entrance of the Epcot monorail at the Transportation and Ticketing Center and back to our car, all due to the monorail being out of service. It's just easier, faster and more dependable for us to just use our own transportation for park hopping.
A closer look at the Disney World parking lots
Magic Kingdom
This is actually the lot for the Transportation and Ticketing Center Disney hub.  For the size of this lot, it seems strange there are approximately only 172 handicapped parking spaces. This lot fills up quickly. (You can click any image to view full-screen.)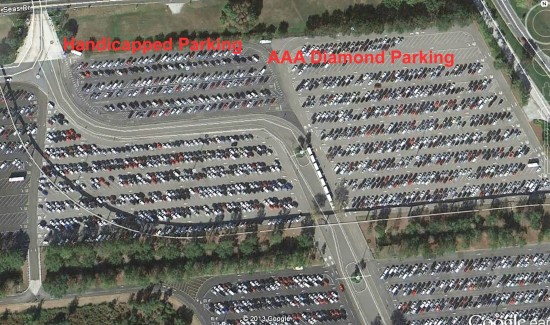 Try to find a spot in AAA Diamond Parking as close as possible to the handicapped parking ONLY if the lot is full. We HAVE been placed there on occasion, so I am assuming this is the overflow lot. If you can't get into the handicapped lot and SEE open spaces and there is no parking attendant to help, just get out of your car and MOVE the cones so you can get in. We have driven out of the park and back to the toll plaza only to be told to do exactly that!
Disney's Animal Kingdom
This is the ONE lot where we have never had a parking problem, no matter the time of day.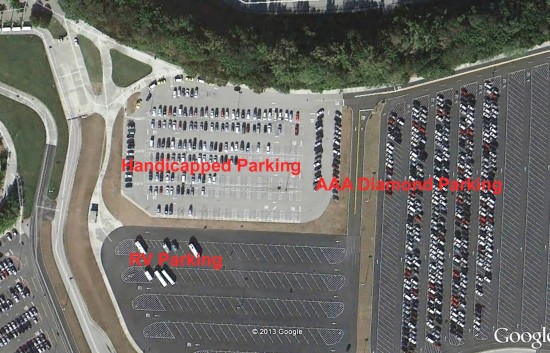 This lot contains approximately 244 spaces. As overflow park in the RV parking first, as the AAA Diamond parking also fills up quickly. I have never seen more than a few RVs in the lot.
Epcot
Epcot has two lots, east (approximately 115) and west (about 107).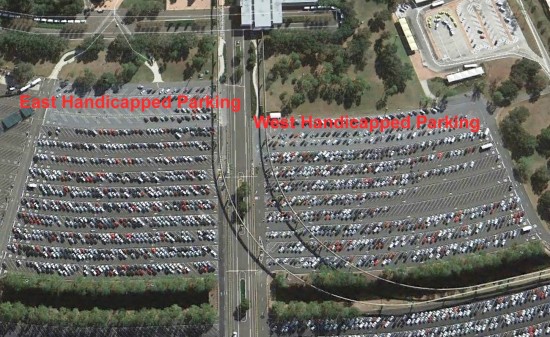 When the west lot if full, we have been placed in the lanes just south of the west lot; it looks as though cast members actually hold a couple lanes just for overflow parking. It is NOT marked for wheelchair access.
Disney's Hollywood Studios
To be perfectly honest, this is the WORST handicapped parking situation in all of Disney's property, with maybe the exception of Downtown Disney. Many people go to this park later in the day because they want to see the nighttime production, Fantasmic!. Yet, this lot only has around 140 spaces.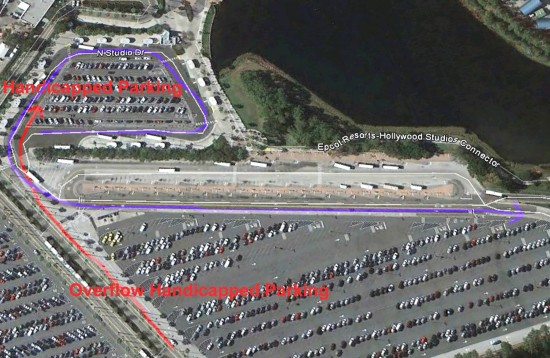 One time we drove around the entire parking lot FOUR TIMES before finally finding a cast member who told us to park in row 22 of the AAA Diamond parking — but it was full so around we went again. This time the cast member told us to park wherever we could find in that area! We were in row 26, very far from the complimentary wheelchairs, too. Another problem is how you even access the handicapped lot: First of all, handicapped parkers have to jockey for position with the buses (red line are guests, blue line is buses), as they have to turn in front of you to exit the depot, not to mention the walkers. Yet, I have never seen anyone directing traffic at this intersection. I don't understand why handicapped patrons can't be sent to the open spaces in the employees' lot just to the south — especially later in the day, when much of that lot is empty and it has around another 118 spaces. After finally getting off this 'merry-go-round', we counted 30 empty spaces, and this was at 6pm. Even if you have to park in the overflow parking, you'll need to drive almost all the way back to the toll booth and back in again as you are forced to follow the buses out of the lot. This is a terrible, if not dangerous situation that really needs to be revisited by Disney transportation. I spoke to a transportation official who was standing on the sidewalk before entering the park on our last visit; he just shrugged his shoulders at my comments. It is obvious to me that Disney really needs to consider keeping their handicapped lots always covered by cast members so that as spaces open, they can be filled by incoming guests.
When you have a person in a wheelchair in your party, it can be really dangerous to transfer from the car into a wheelchair in an unmarked parking space, only to have a parking car not pay attention and pull in on the person in the chair. Yep, it's happened to us. That's why I hope I have been able to give you an overview of what the handicapped parking situations are like at both Universal Orlando Resort and Disney World parks, and what to expect when you park.
If you'd like to skip back to my Universal post, click here.
DISCLAIMER: Please be advised that neither the author of this post nor any of us here at OrlandoInformer.com is an official representative of any theme park in Orlando. While we work diligently to provide you with the very best advice from our collective expertise and experience, it is still your responsibility to verify your plans with each theme park.
View all of our Special Needs Are Universal posts
Do you have a
Special Needs Are Universal
question for Debi? She is available to assist your family in the
SNAU section of the OI Forums
. Registration is free, and once you have an account, we invite you to join the conversation or ask a new question.
[sws_author_bio user="iamdollie" size="105″ authorposts="More OI posts by debi" name_format="About the author"] [/sws_author_bio]