Welcome to the next edition of our Special Needs Are Universal column, featuring questions and answers to help those with disabilities plan their day at Orlando's theme parks. Our ultimate goal is to give families the confidence to enjoy all there is to do across this amazing vacation destination!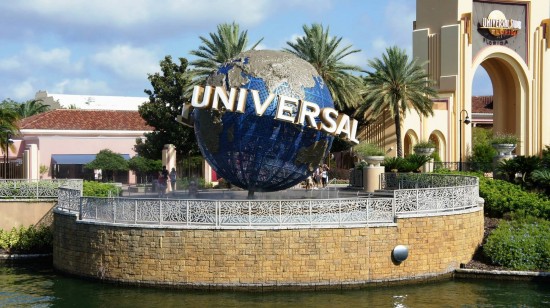 Now that we in the lull between Spring Break and summer, the immediate need for questions involving disabilities at the Orlando theme parks has diminished. Therefore, today I'd like to take some time to discuss the Handicapped Parking areas at Universal Orlando and Walt Disney World, starting with Universal Orlando. Over the years I have encountered situations that guests driving their own cars or a rental to Orlando's theme parks, especially for the first time, should be aware of. Please note that we'll be discussing general parking for visiting the parks, not parking at any on-site hotel.
Handicapped parking at Universal Orlando
I consider Universal Orlando Resort's parking garages to be unbeatable! Not only are you able to park your vehicle out of the Florida weather – with the exception of the top floors — the walk to CityWalk is completely covered and has moving walkways. (Please observe the posted signs and don't use wheelchairs or strollers on the moving walkways.)
General parking is $18.00. Preferred Parking is $22, but it's on the same level as the disabled parking and will not have the marked spaces for wheelchair entry and exit.  The other option is Valet Parking.  If this is something you would like to use, just follow the signs. Cost for Valet is $15 for the first two hours, $30 for over two hours and $40 for Red Carpet (ensures your car will be delivered back to you at the end of your visit in 5 minutes). There are other benefits for Annual Passholders, please visit Parking & Universal's transportation hub in the OI Universal Center for more information.
Getting to the handicapped spaces
Handicapped parking is on Level 3, the same level with direct access to the covered walkways, so there is no need to use stairs or elevators.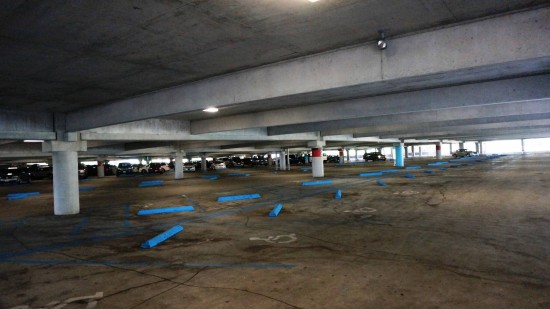 If you can, get to the parks early. Most traffic enters the toll plaza between the garages. The handicapped traffic seems to be sent to the north garage (left) first, but on occasion you may be sent to the south garage. If this happens, please be careful navigating crossing the lanes after paying your parking fee.  All drivers, PLEASE be aware of the cars crossing in front of you and allow them to do so. Universal team members have requested that these drivers crossover – they're not doing it to inconvenience you. Guests using handicapped parking (as well as those using Preferred Parking) are asked to turn on their flashing hazard lights, so give them the right-of-way and allow them to move. Yes, we have almost been hit a couple of times.
I would guesstimate that there are around 180 handicapped parking spaces in each garage.
Handicapped overflow
The option Universal has, which to me is a bonus, is if all these spaces are taken you can pull into the section behind the handicapped parking where you will find regular, double parking spaces — same as on the rest of the general parking floors. Please know that there are no striped lines beside the parking spaces in the overflow area, so be careful when unloading/loading your special needs passenger into a wheelchair/ECV. However, these spaces are better for longer vehicles that can't fit into the handicapped spaces (extended trucks, larger vans, or those with trailers for ECVs), so the back of those vehicles will not be poking out into the driving lane, blocking traffic. The lanes are very tight, so be sure and pull up as far as you can in all spaces. There are also marked striped walkways between the designated handicapped spaces leading to the covered walkways, so you don't have to walk in the way of vehicles entering the parking lanes.
Wheelchair and ECV rental
Wheelchair rental is available in the Universal parking hub, just off the garages, as well as in Universal Studios and Islands of Adventure. ECVs are limited and must be rented inside the parks.
It can be very stressful during the planning stages when you or a family member is disabled, trying to have all your bases covered before you leave home. Hopefully, knowing what to expect when you park will help make it a bit easier. Thanks for reading!
If you'd like to read my post covering Walt Disney World parking, click here.
DISCLAIMER: Please be advised that neither the author of this post nor any of us here at OrlandoInformer.com is an official representative of any theme park in Orlando. While we work diligently to provide you with the very best advice from our collective expertise and experience, it is still your responsibility to verify your plans with each theme park.
View all of our Special Needs Are Universal posts
Do you have a
Special Needs Are Universal
question for Debi? She is available to assist your family in the
SNAU section of the OI Forums
. Registration is free, and once you have an account, we invite you to join the conversation or ask a new question.
[sws_author_bio user="iamdollie" size="105″ authorposts="More OI posts by debi" name_format="About the author"] [/sws_author_bio]