Shrek 4D at Universal Studios Florida will close on January 10, 2022 after an 18-year career, during which it welcomed millions of visitors. Shrek's Ye Olde Souvenir Shoppe will also close, but have no fear – Donkey will continue to dish out digs from his wall even in the attraction's absence.
As Universal continues to add an ever-bigger selection of new experiences for guests to encounter all across its resort, it's had to shutter an ever-larger amount of older attractions that have since passed their prime: Terminator 2 3D: Battle across Time, Cinematic Spectacular, and Dragon Challenge, just to name a few of the more recent ones. Now, it's time to add one more entry to the list, as the company has today announced that Shrek 4D will be joining its former brethren in the theme-park sky.
That the 4D movie is coming to an end should be no surprise to anyone, as it is older, remains only partially culturally-relevant, and is rather below the theming standards set by The Wizarding World of Harry Potter, which has become the de facto baseline for any new undertaking at Universal Orlando Resort. (In fact, when T2 3D's termination was announced at the end of 2017, many a fan's response was simply, "They're closing that before Shrek 4D?" It'll likely remain the most-asked question even now.) And adding to the film's impending sense of doom was the fact that its sister attraction over in Universal Studios Hollywood was closed down in the summer of 2017 in order to make room for a new DreamWorks Animation-themed experience.
But even with all these detractions, Shrek 4D still has its own list of accomplishments, as well. Taking lessons it learned from Terminator 2 3D (ironically enough), Universal recruited the original cast from the source material and opted to create an experience that actually extended its story instead of simply rehashed it (sorry, Harry Potter and the Forbidden Journey – for all the wonder and joy you manage to consistently conjure, you've been caught red-handed in this department). Debuting just one year before Shrek 2 hit theaters in 2004, the attraction serves as a sequel to the original 2001 film, showing how Lord Farquaad's ghost lingers on to seek revenge against Shrek and Fiona; when he's finally dispatched for good, it paves the way for the couple to get married, thereby setting the stage for the sequel. (While this narrative may not seem like much, it's easily one of the strongest continuations of an originating mythology seen in the themed world.)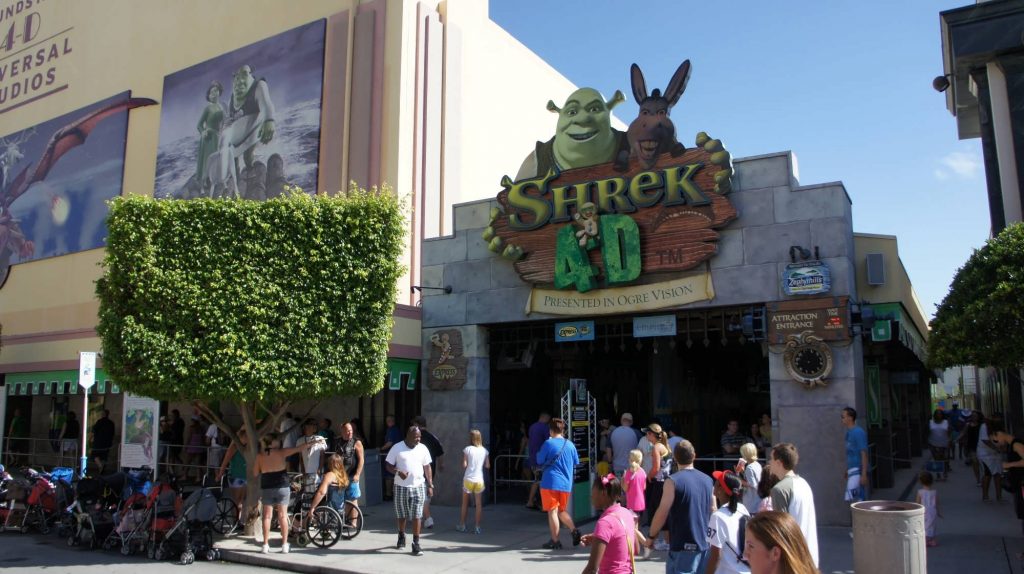 Adding to this is Shrek 4D's worldwide popularity. Given the mammoth success of the overarching Shrek property (it still ranks as the second-most-successful cinematic animation franchise), Universal worked quickly to get the 4D experience into every one of its four theme-park locations around the world, starting with Hollywood in May 2003, moving on to Florida and Japan just a month later, and ending in Singapore in 2010 (which was just two years after the park itself opened and was alongside the release of Shrek Forever After, the fourth movie). It has since proven to be one of the more long-lived attractions Universal has in its global portfolio – even after the 17-year-old Orlando version is closed down, it'll still be survived by its overseas counterparts, especially at Universal Studios Singapore, where it anchors an entire land devoted to the big green ogre called Far Far Away. And given DreamWorks Animation's interest in monetizing its various properties as much as possible, the company even worked out an agreement to bring Shrek 4D to two non-Universal-owned parks: Australia's Warner Bros. Movie World (where it enjoyed a five-year stint, from 2005 to 2010) and Germany's Movie Park (2008 to 2011).
But worry not, Shrek fans – Shrek 4D will live on in different media, as the 3D film (minus all the in-the-theater effects, of course) has already seen release as a special feature on the first Shrek DVD, as a streaming episode in Netflix's DreamWorks Spooky Stories collection, as a television special on Nickelodeon (look for recorded copies from 2007), and, even, as a comic book in a Dark Horse Comics miniseries from 2003. What's more, with Universal's purchase of DreamWorks Animation in April 2016, the two studios are already plotting how to rejuvenate the franchise – yes, even though four movies, a spinoff (that would be 2011's Puss in Boots), various television excursions, a Broadway musical(!), and scores of other themed experiences around the world (highlighted by Merlin Entertainments's Shrek's Adventure in London) are already all on-hand, Shrek 5 is currently in some stage of development, with a projected release date sometime over the next few years and a newly-assigned mission to "reinvent" the property for a potential second round of franchise developments.
–
What do you think about this announcement? Discuss all things Universal with 50,000 other theme-park fans in our Universal Community Facebook group.
And also be sure to follow Orlando Informer on Facebook, Twitter, and Instagram for the latest news and tips at Universal Orlando, Walt Disney World, and other Orlando destinations.