SeaWorld is continuing its annual Seven Seas Food Festival tradition for 2021, and for this coronavirus-infused year, it's actually expanding the lineup to be the biggest yet in SeaWorld Orlando's history. This comes after 2020's showing, which was both delayed and shortened due to the initial COVID-19 closures, and which had the "A Taste of" appellation appended to the front of its title (much like Disney continues to do with its various EPCOT festivals).
That "biggest yet" mantle applies to both the event's duration and its culinary roster. Let's tackle the former first: Seven Seas will kick off on Friday, February 5 and wrap up on Sunday, May 9, running every Friday, Saturday, and Sunday in the interim (along with a special showing on Presidents' Day, Monday, February 15). As for the latter, SeaWorld itself puts it this way:
This year at Orlando's largest theme-park food festival, foodies and families alike can discover the widest variety of chef- and mixologist-curated tastes inspired by cultures from across the seven seas.
That breaks down thusly: over 50 dishes (some of which are vegan), over 75 craft brews, and over 75 wines/spirits, for a grand total of 200-plus gastronomical options. That sets a record for the park's biggest drink menu – something which is helped along by another first: the Seven Seas Beer Garden, an open-air and social-distanced venue. (Additionally, to make tasting and sampling that much more convenient, SeaWorld also has a Food & Beverage Sampler Lanyard on hand, which costs $60 for the 10-item version and $75 for 15 items.)
Here's a map of the full roster, along with a complete listing of the various locations' names: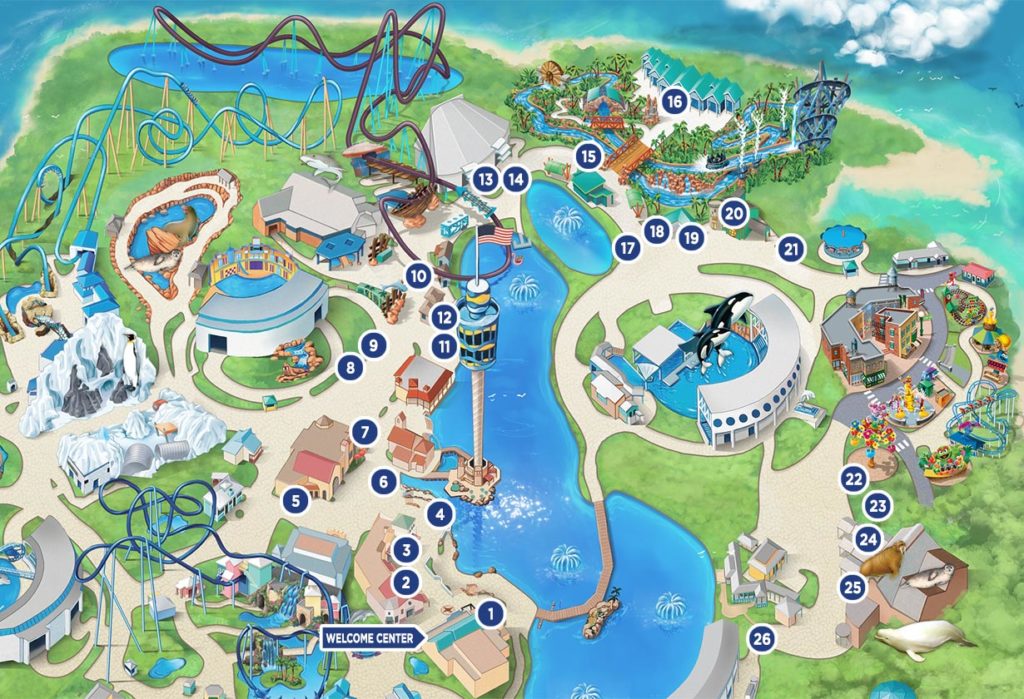 Flamecraft Bar
Dogfish Head Brewery & Cupcake Vineyards
Café de Mar
Caribbean Market
All-American Market, Presented by Kraft Heinz
Matua Vineyards and Main & Vine Wine Spritzers
Polynesian Island Market
Italian Market
Ivanhoe Park Brewing and Benziger Family Winery
Fintastic Cocktails
North Atlantic Market
Jack Daniel's Cocktails
Mediterranean Market
Cutwater Spirits
Brazilian Market
Waterway Grill
Asian Market
Vegan Market
Sweets Market
Mama's Pretzel Kitchen
German Market
Crooked Can Brewing Company and Motorworks Brewing
Gulf Coast Market
Mexican Market
Glacier Bar
Big Storm Brewing and Seltzer City
Each stop of the Seven Seas Food Festival opens at either 11:00 or 11:30 am and remains so until park close.
Finally, 2021 will also see the return of the event's concerts (something which was cut last year), but, so far, only a few acts have been revealed: Air Supply takes the stage at 6:00 pm on Saturday, February 6, with the likes of Chris Janson, Blue Ӧyster Cult, and Jeremy Camp lined up for sometime thereafter.
The Seven Seas Food Festival begins at SeaWorld Orlando on Friday, February 5. You can secure your tickets here.
---
Which dish or drink would you try first? Share your thoughts of and plans for SeaWorld's popular annual event with 150,000+ other die-hard vacation planners in our Orlando Informer Community on Facebook.
And be sure to follow Orlando Informer on Facebook, Twitter, and Instagram for the latest news, tips, and more at Universal Orlando, Walt Disney World, and other Orlando attractions.